Über Agile CRM
Agile CRM ist eine cloudbasierte CRM-Lösung für kleine und mittlere Unternehmen. Sie bietet Kontaktverwaltung, Telefonie-Tools, Terminplanung, Marketingautomatisierung, Projektmanagement, einen Zielseiten-Ersteller und Wissensbasis-Funktionalitäten.
Mit dem Kontaktverwaltungsmodul können Nutzer Kundendaten wie Kontaktinformationen, Interaktionsaufzeichnungen, Social-Media-Konten und Lead-Scores aufzeichnen und auf sie zugreifen. Die Software bietet auch eine E-Mail-Integration, mit der Nutzer Daten mit E-Mail-Diensten wie Gmail, Microsoft Exchange und Office 365 sowie mit IMAP-Diensten synchronisieren können.
Nutzer können Website-Besucher verfolgen, um das Kundenverhalten zu analysieren, und Tools zur Marketingautomatisierung helfen Nutzern, Marketing-Workflows mit einer Drag-and-drop-Schnittstelle zu erstellen. Nutzer können auch automatische Erinnerungen basierend auf Zeit- und Kontaktoptionen senden.
Agile CRM umfasst auch Aufgabenmanagementfunktionen. Nutzer können Aufgaben in Listen ziehen, Aufgaben sortieren, Notizen hinzufügen und den Aufgabenstatus aktualisieren.
Social-Media-Integrationen ermöglichen es Nutzern, Posts auf sozialen Kanälen wie Facebook, LinkedIn und Twitter zu veröffentlichen und auf sie zu reagieren. Preise sind pro Nutzer und Monat festgelegt. Telefon- und E-Mail-Support ist verfügbar.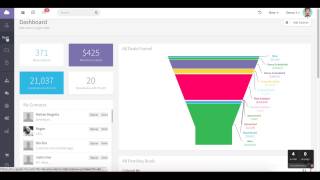 Agile CRM bietet eine Gratisversion und eine kostenlose Testversion. Die kostenpflichtige Version von Agile CRM ist ab 8,99 $ verfügbar.
Kostenlose Testversion:
Ja
Alternativen für Agile CRM
Branche: Programmentwicklung
Unternehmensgröße: 51–200 Mitarbeiter

Täglich

für

Mehr als 1 Jahr

genutzt
Quelle der Bewertung
Preis-Leistungs-Verhältnis
0
---
Easy to use and integrate
I have found it to be a great tool for managing customer relationships, automating marketing tasks and tracking leads. It is easy to use and has a lot of features that make it a great choice for small businesses.
Vorteile
Agile CRM is an ideal CRM for small business owners and professionals looking for an easy-to-use tool to help manage their customer relationships. Its user-friendly design and array of features, such as email marketing, sales automation, customer service, and a mobile app, make it an ideal choice for streamlining workflow and maximizing customer interactions. Additionally, its reporting feature allows me to track customer relationships and sales performances, which is invaluable to any business.
Nachteile
One of the main drawbacks of Agile CRM is its limited customization options. The software is designed to be used in a specific way, and customizing it to fit your business requirements can be a challenge.
Branche: Unternehmensberatung
Unternehmensgröße: Selbstständig

Täglich

für

6-12 Monate

genutzt
Quelle der Bewertung
Preis-Leistungs-Verhältnis
5
---
Good little CRM for a great price
Great system for tracking and following up with clients through the sales, marketing and implementation phases of the customer relationship.
Vorteile
Agile has a very expansive set of features that I could not find on other similarly priced products. It is reasonably priced for solopreneurs and offers a grown-up set of features for even small companies. The system is very configurable and offers user-defined fields for contact, company, and deal records - most other CRM solutions don't.
Nachteile
It looks like it needs a facelift - the UI could be improved as it doesn't look like there has been an update in many years. I would like to see a view that combines the information from contact, company, and deal records on one screen.
Warum Agile CRM gewählt wurde
Hubspot was much more money for similar features
Branche: Kunst & Handwerk
Unternehmensgröße: 2–10 Mitarbeiter

Täglich

für

1-5 Monate

genutzt
Quelle der Bewertung
Preis-Leistungs-Verhältnis
1
---
A jumbled mess of features that don't work.
I wasn't able to solve any business problems with Agile, as every feature I tried to use was broken or flawed in some way. From importing contacts from a CSV, to Facebook, to any other feature like newsletters and html templates.
Vorteile
The automated features, when they did work, were nice.
Nachteile
Pretty much every feature had some sort of flaw. From doing absolutely nothing when I clicked on it, to having some requirement that I had to call customer service for to find out. Their customer support is also a joke. After choosing your selection on the phone it will ring and ring then send you to voicemail without notification of doing so. Once you receive a call back, IF you do, you speak with someone you can barely understand, who basically told me that there is nothing they can do for me, their "teams" are working on fixes for my miscellaneous problems, and suggested I try other integrations as a work around. They couldn't give me an expected time they issues will be resolved. Upon trying their work around it wasn't what I needed at all. I was basically told "too bad" and to just sit and wait for a fix. Also, when you try to cancel your subscription it tells you that someone will have to call you to do so, and it could be over 48 hours until they do.
In Betracht gezogene Alternativen
Signpost
Gründe für den Wechsel zu Agile CRM
Had better pricing options.
Antwort von

Agile CRM

Hello David!
Thank you for taking the time to review us. We see that you have canceled your account due to some issues with Agile CRM and really sorry to hear about the cancellation. However, we have not are just limited to Call support, rather, we also have Chat and email support for immediate help. With Recent Implementation of Privacy norms, we are restricting on API's but our team is continuously working on Tickets. We have found many customers coming back to us to undo this cancellation request and thus, our team tries to explain the outcomes of the cancellation process and more importantly helps you to meet your business requirements by exploring the various features of our tool. Once the account is canceled, your data gets erased automatically and hence is an irreversible process. Also, we would like to you let you know that we are coming up with 500apps.com which is an ALL-IN-ONE Suite of apps including Social Suite and many useful apps. Write to us at [email protected].

Beantwortet am 19.9.2019
Branche: Informationstechnologie & -dienste
Unternehmensgröße: 11–50 Mitarbeiter

Täglich

für

Mehr als 2 Jahre

genutzt
Quelle der Bewertung
Preis-Leistungs-Verhältnis
4
---
Agile - More than just CRM
With an enormous set of automated tools and processes, using Agile has become absolutely essential to our operation. Potential sales are monitored along with KPIs and success rates. Another aspect I personally appreciate is that dashboards are modular/extendible, allowing me a complete overview of everything that matters to my work at a glance.
Vorteile
Having all our tools unified in one system, all our databases automatically completed and maintained, all interactions logged, and all processes tracked - has made Agile CRM the foundation of every department in our establishment. Given the price point over functionality and support, there is simply no alternative to Agile.
Nachteile
Although it would be difficult to find fault with Agile on the surface, Agile CRM lacks integration with a few niche APIs we happen to use.
Branche: Unterhaltung
Unternehmensgröße: 11–50 Mitarbeiter

Täglich

für

Mehr als 2 Jahre

genutzt
Quelle der Bewertung
Preis-Leistungs-Verhältnis
5
---
Great Customer Support and Features
Vorteile
Their customer support is great as the hability to send personalized bulk emails.
Nachteile
User interface and report customization.
Warum Agile CRM gewählt wurde
The relationship beetween price and features
Gründe für den Wechsel zu Agile CRM
It's a platform full of great features with no surprises in the fee.