Über Agile CRM
Agile CRM ist eine cloudbasierte CRM-Lösung für kleine und mittlere Unternehmen. Sie bietet Kontaktverwaltung, Telefonie-Tools, Terminplanung, Marketingautomatisierung, Projektmanagement, einen Zielseiten-Ersteller und Wissensbasis-Funktionalitäten.
Mit dem Kontaktverwaltungsmodul können Nutzer Kundendaten wie Kontaktinformationen, Interaktionsaufzeichnungen, Social-Media-Konten und Lead-Scores aufzeichnen und auf sie zugreifen. Die Software bietet auch eine E-Mail-Integration, mit der Nutzer Daten mit E-Mail-Diensten wie Gmail, Microsoft Exchange und Office 365 sowie mit IMAP-Diensten synchronisieren können.
Nutzer können Website-Besucher verfolgen, um das Kundenverhalten zu analysieren, und Tools zur Marketingautomatisierung helfen Nutzern, Marketing-Workflows mit einer Drag-and-drop-Schnittstelle zu erstellen. Nutzer können auch automatische Erinnerungen basierend auf Zeit- und Kontaktoptionen senden.
Agile CRM umfasst auch Aufgabenmanagementfunktionen. Nutzer können Aufgaben in Listen ziehen, Aufgaben sortieren, Notizen hinzufügen und den Aufgabenstatus aktualisieren.
Social-Media-Integrationen ermöglichen es Nutzern, Posts auf sozialen Kanälen wie Facebook, LinkedIn und Twitter zu veröffentlichen und auf sie zu reagieren. Preise sind pro Nutzer und Monat festgelegt. Telefon- und E-Mail-Support ist verfügbar.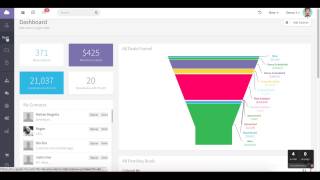 Agile CRM bietet eine Gratisversion und eine kostenlose Testversion. Die kostenpflichtige Version von Agile CRM ist ab 8,99 $/Monat verfügbar.
Alternativen für Agile CRM
Täglich

für

Mehr als 1 Jahr

genutzt
Quelle der Bewertung
Preis-Leistungs-Verhältnis
5
---
Agile CRM is a Great First Step into the CRM World
Vorteile
I used this platform for a solid year and put in hundreds if not thousands of contacts into this CRM. I liked how many categories there were to define a lead or a contact, the system that you set up to see how much potential revenue you had to win based on your leads was helpful, and the price is unbeatable. I mean truly, you can use this platform for free for up to 50,000 contacts. That's pretty amazing.
Nachteile
There's a reason why I call this particular platform a good "first step." Agile CRM says it offers marketing automation, gamification, and project management - but this is a far from complete product. In the free version you can only create so many marketing automation blocks before it makes you pay, but even if I did upgrade I'm not sure the platform could handle the sales process I wanted to have set up. Something else to mention about this platform is there customer service. I'm fairly certain the CEO is their only customer service rep. Every time I had a problem with the platform (roughly 1-2 times a month) it was the same man who picked up the phone - and when my problem was solved he made me delete the Tweet I sent out when I asked for help, and then made me publicly thank him. I found that very strange. Overall you should try this platform out if you're just starting out, but upgrade to something like Infusionsoft if you're really looking to up your game.
Branche: Bildungsmanagement
Unternehmensgröße: 2-10 Mitarbeiter

Täglich

für

6-12 Monate

genutzt
Quelle der Bewertung
Preis-Leistungs-Verhältnis
5
---
All I need to work in one place
The biggest benefit that this software has given me has been to optimize everything that has to do with the world of sales and marketing, generating the reports I need to demonstrate in the company how useful our strategies are, what aspects to improve, and generate our own leads, all in a very organized way and as its name says "agile".
Vorteile
I started working with this platform a little less than a year ago. My job consisted (and still is) in generating leads for the company and developing marketing and sales campaigns from scratch.
Agile CRM has been fundamental, since it integrates perfectly with everything I need. I have my contacts in one place, which I can follow very easily. Its greatest strength is the ease of use and integration with multiple tools. Something as simple as managing notifications and alerts make the most of my time and organize my agenda in a practical way.
I can generate reports where the effectiveness of the different strategies is established. For example, the result of phone calls, mail campaigns, newsletters, and more.
I was able to import all the contacts in a very simple way and clean my list in a short time.
Another great thing: the mobile app and the possibility of integrating with other programs. Today I have it integrated with Bria and Skype, also linkedin and facebook. Everything in one place, is the most practical CRM platform that someone like me (who has just started and was analyzing options) has found, and I´m very satisfied with this software.
Nachteile
I think it would be convenient that in the future they made some training videos to explain how to correctly configure the automation tools, since I think it has been the most difficult to understand.
Branche: Informationstechnologie & -dienste
Unternehmensgröße: 11-50 Mitarbeiter

Täglich

für

Mehr als 2 Jahre

genutzt
Quelle der Bewertung
Preis-Leistungs-Verhältnis
4
---
Agile - More than just CRM
With an enormous set of automated tools and processes, using Agile has become absolutely essential to our operation. Potential sales are monitored along with KPIs and success rates. Another aspect I personally appreciate is that dashboards are modular/extendible, allowing me a complete overview of everything that matters to my work at a glance.
Vorteile
Having all our tools unified in one system, all our databases automatically completed and maintained, all interactions logged, and all processes tracked - has made Agile CRM the foundation of every department in our establishment. Given the price point over functionality and support, there is simply no alternative to Agile.
Nachteile
Although it would be difficult to find fault with Agile on the surface, Agile CRM lacks integration with a few niche APIs we happen to use.
In Betracht gezogene Alternativen
Neon CRM
Gründe für den Wechsel zu Agile CRM
Agile CRM was somewhat cheaper at the lower price point for SMBs, and offered greater functionality.
Branche: Gesundheit, Wellness & Fitness
Unternehmensgröße: 2-10 Mitarbeiter

Täglich

für

Mehr als 2 Jahre

genutzt
Quelle der Bewertung
Preis-Leistungs-Verhältnis
1
---
Do not use Agile if you want a service that you can trust
My overall experience with them was awful. They refused to give me any compensation for all the months of their product not working. trying to extract my data was a living nightmare and they wont give refunds even when their product fails.
Vorteile
when i first signed up for agile it was quite good. it had a few bugs that i overlooked and decided not to use like webhooks and scheduling.
Nachteile
I used only the campaigns and tags. Over the last year the campaigns stopped sending emails and the last 6 months they stopped sending altogether. I was told this would be fixed time and time again for over 6 months and it got to the point where the guy on the chat told me to make an appointment call. I never received that call or any of the othersi tried to book in. They never sent me correspondence as they promised and if you try to call their customer care number it is cancelled.
They did finally get my emails working and all of the email that had been in a cue for the past year got email that had thousands of dollars worth of updates that they werent entitled to in them.
Then when i wanted to cancel they wouldn't call me to cancel (they require a phone call to cancel) and charged me ANOTHER month.
you also cannot download your campaigns and have to apistakingly go through and either have a replacement app ready or post everything into a word document so you dont lose your data.
Branche: Vorstandsbüro
Unternehmensgröße: 2-10 Mitarbeiter

Wöchentlich

für

Mehr als 2 Jahre

genutzt
Quelle der Bewertung
Preis-Leistungs-Verhältnis
4
---
Easy to Use, Configure, and Implement
I have used and recommended Agile CRM for many years. It is very easy to use and configure and the cost is low compared to other CRM systems.
Vorteile
It is very user friendly. You can add custom fields and setup pipelines without the need of a developer.
Nachteile
Having to add DNS records to synch email makes it difficult to setup email with agile.
In Betracht gezogene Alternativen
Zoho CRM
Gründe für den Wechsel zu Agile CRM
The UI and functionality is just better than Zoho