Über EngageBay
EngageBay ist eine integrierte Marketing-, Vertriebs-, Support- und CRM-Lösung, die kleinen und mittleren Unternehmen dabei helfen soll, Website-Besuchende zu akquirieren, zu binden und in Kunden zu konvertieren. Die cloudbasierte Plattform ermöglicht es Unternehmen, Marketing-Tools zum Aufbau von Kundenbeziehungen zu nutzen und diese Kunden ein Leben lang an sich zu binden. Zu den Funktionen von EngageBay gehören E-Mail-Marketing, Startseiten, Live-Chat/Helpdesk, Ticketing, Telefonie, Terminplanung, Kontaktverwaltung und mehr. Das Tool verfügt über ein integriertes CRM, mit dem Unternehmen alle Aktivitäten über Kunden, Leads und Geschäfte hinweg verwalten und verfolgen können, während sie die Pipelines durchlaufen. Zusätzlich bietet es Marketingfunktionen für Nutzer, um Leads durch automatisierte E-Mail-Vorlagen, anpassbare Formulare/Pop-ups, Engagement in sozialen Medien und vieles mehr zu generieren. EngageBay ermöglicht es Unternehmen, mithilfe der Zapier- und Xero-Integration die Plattform mit verschiedenen Anwendungen von Dritten wie Salesforce, Intercom, MailChimp, Hubspot und mehr zu verbinden. Die Preise verstehen sich als Monatsabonnement. Support wird über E-Mail, Telefon und Dokumentation geboten.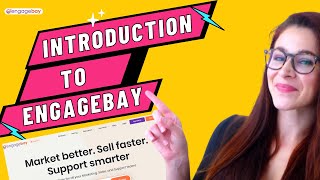 EngageBay bietet eine Gratisversion und eine kostenlose Testversion. Die kostenpflichtige Version von EngageBay ist ab 14,99 $/Monat verfügbar.
Startpreis:
14,99 $/Monat
Kostenlose Testversion:
Ja
Alternativen für EngageBay
Branche: Rechtsberatung
Unternehmensgröße: 2-10 Mitarbeiter

Täglich

für

6-12 Monate

genutzt
Quelle der Bewertung
Preis-Leistungs-Verhältnis
5
---
Most valuable CRM for it's price
Can have many capabilities that much more expensive CRMs offer, paying down to 15% of the price.If you are looking for a solution for testing your business idea, or want to save $, without compromising on capabilities - this is your answer.
Vorteile
Automations are graphicalMany rules and optionsQuite a lot of integrations
Nachteile
Not full of integration as bigger, more expensive CRMSRequire a little bit more time to understand how to use it than other CRMS
Gründe für den Wechsel zu EngageBay
Price
Branche: Marketing & Werbung
Unternehmensgröße: 2-10 Mitarbeiter

Täglich

für

Kostenlose Testversion

genutzt
Quelle der Bewertung
Preis-Leistungs-Verhältnis
5
---
It Keeps Getting Better
This software made my day, month, and year. Everything is easier now.
Vorteile
We started out looking for an affordable CRM/Email Marketing System that didn't charge by # of Contacts.
EngageBay was the most affordable of those we found, but since we had never heard of it, we were skeptical it would be very useful.
We were so wrong.
This is one of those products that gets better, not worse, the more you dig in into it. It feels like I know a secret that no one else knows.
IT HAS EVERYTHING. All in one app.
We're saving so much money.
We got an entire suite of software with at least 40 modules that we would have had to pay for from other apps (Social, SMS, Sales Management, Appointment Calendar, Ticket System, Live Chat, Integrated Automations, Etc..)
We can cancel so many services thanks to this software.
We had one issue logging in with the WordPress Apps, but it turned out to be our fault for not reading the manual. We sent a quick chat, and customer service answered on almost instantly. They were fast, very knowledgeable, patient, and kind.
That 5-star service made the sale for us.
We moved 22,000 contacts from another service that has 5% of the capability of EngageBay.
I don't write reviews. But I feel like we got so much for so little that I had to give back.
We will be recommending this to all of our small business clients.
Nachteile
I can't think of anything yet. We're still on the Honeymoon.
Branche: Bildungsmanagement
Unternehmensgröße: 2-10 Mitarbeiter

Täglich

für

Mehr als 1 Jahr

genutzt
Quelle der Bewertung
Preis-Leistungs-Verhältnis
4
---
Customer Support
We are able to manage our customers and prospects well. With automations and workflows we are able to set up drip campaign which keep lead warmer and help in conversions.
Email handling is very good, we are able to do email campaigns
We are also using ticketing tool for customer support.
Chat widget is good and used in our multiple sites.
Loved pop up and messages displayed on my different sites , intelligent control through engage bay. If two step pop up capturing phone number with country code and email is given would really solve our business problem and improve our whatsapp integration
Vorteile
Found a very good customer support. My couple of issues were resolved realy fast appreciate same.
Easy to use tool, workflows and automations are easy to set up and very useful
Nachteile
Additional email purchase is very very expensive. Would love this tool and blindly recommend to all of my community if additional email purchase can be reduced.
One additional functionality which can be very useful for business can be scheduling a batch job to run workflow or automation on specific date and time or with specific frequency like daily or weekly.
In forms phone number field need to be improved - country code should be captured correctly associated with main phone number
Warum EngageBay gewählt wurde
More functions and features - single crm tool with most features
Zuvor genutzte Software
Jira
Gründe für den Wechsel zu EngageBay
Click funnels is very expensive - but landing pages are awesome will switch to click funnel for landing pages once I have budget Convertkit is very good for email marketing - but engagebay offers full crm solution which both product does not have. Engage bay email functionality is very expensive so will look for integration with convertkit in near future.
Branche: Onlinemedien
Unternehmensgröße: 2-10 Mitarbeiter

Täglich

für

6-12 Monate

genutzt
Quelle der Bewertung
Preis-Leistungs-Verhältnis
5
---
Sophisticated Software
We run a number of businesses and use Engagebay for some of our clients. If you need to sort contacts, pick them out based on certain factors and send individual or broadcast emails and/or put them through a pipeline, this is for you. You know you need Engagebay when you're trying to organise your contacts by tags and have so many you're going mad.
Vorteile
How you can really drill down into sorting contacts. It's almost like have a spreadsheet to organise different contacts. We use it for sending individual booking emails alongside broadcast emails. We searched for ages for software that could combine a sophisticated CRM/contact management system alongside email and newsletters - this is the best on the market. The other thing we love is the customer response - there's a chat service and usually someone is on there within minutes of a request and they stick with you until it's fixed. Best on the market - and certainly at this price.
Nachteile
The training manuals could be improved - that said, they are always happy and prompt to help - but some of my queries could are general and could have been covered in a manual/video.
Warum EngageBay gewählt wurde
Lack of features
Gründe für den Wechsel zu EngageBay
Features mainly and then support - they answered questions promptly. I also tried other products before I arrived at Engagebay but although they initially said they could do what I needed, after weeks of frustrating try outs - they didn't - and the support hadn't really listened to what I'd said I needed - Engagebay listened to what I actually needed before I got started and it did what they said.
Antwort von

EngageBay

Thanks for the review Sian.

Beantwortet am 16.10.2020
Branche: Marketing & Werbung
Unternehmensgröße: 2-10 Mitarbeiter

Täglich

für

Mehr als 1 Jahr

genutzt
Quelle der Bewertung
Preis-Leistungs-Verhältnis
5
---
Feature-rich without breaking the bank
We love EngageBay and highly recommend it to our clients who want/need a full featured platform that will work across multiple departments, automate regular tasks, and that don't want to pay the high-price and add-on that you have to with many other tools. EngageBay's support team is AMAZING!! Anytime I have a question about something, they are quick to respond, very helpful and knowlegable, just a breath of fresh air to know that I can get a hold of someone when we have issues (which isn't that often, but when we do they are there!).
Vorteile
It is amazing to me how feature-rich the platform is at the cost. More features and functionality than some of the 'big guys' for a fraction of the cost. It is easy to use and train clients on the system, so that is ALWAYS a huge plus for us.
Nachteile
Learning curve at first just to understand how it works differently from other systems, but that is not necessarily a con of EngageBay because that is the same for every new platform as each has their own little intricacies.
Antwort von

EngageBay

Thanks for the great review Cameron. Your words are super encouraging.

We will continue to build great features to help small businesses grow their businesses without breaking the bank on expensive bloated software.

Beantwortet am 13.10.2020