Über RingCentral MVP
RingCentral MVP is a cloud-based business communications solution that offers tools for Messaging, Video and Phone. Core features of the solution include conferencing, auto-recording and unlimited long-distance and local calling. RingCentral MVP is a fully integrated mobile-based phone system that helps keep employees connected via a variety of business and personal devices including smartphones, tablets, desktops and phones. The RingCentral mobile app is integrated with the phone system and keeps employees connected to customers and colleagues from anywhere. Additionally, RingCentral integrates with basic email platforms and other applications such as Salesforce CRM, Box, Dropbox and Google Docs. RingCentral MVP gets businesses up and running within minutes. All phones are ready for immediate use and setup. Users can manage their own phone preferences without IT help.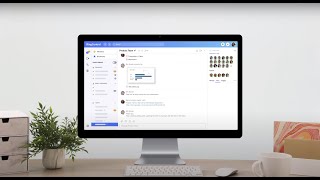 RingCentral MVP bietet eine Gratisversion und eine kostenlose Testversion.
Startpreis:
Nicht vom Anbieter bereitgestellt
Kostenlose Testversion:
Ja
Alternativen für RingCentral MVP
RingCentral MVP Erfahrungen
Branche: Informationstechnologie & -dienste
Unternehmensgröße: 11-50 Mitarbeiter

Täglich

für

6-12 Monate

genutzt
Quelle der Bewertung
Preis-Leistungs-Verhältnis
4
---
RingCentral Great For Business
RingCentral has been a great stride forward compared to our previous VoIP solution which was buggy and had issues. It's simple, easy to use and just works.
Vorteile
Having used a competitor software previously I find that using RingCentral is quick, easy and bug free. It's relatively simple to load on your PC or mobile and does the exact job it is designed to do well.
Nachteile
Contact management could be improved on RingCentral, but overall, there really isn't much to complain about.
Branche: Finanzdienstleistungen
Unternehmensgröße: 2-10 Mitarbeiter

Täglich

für

Mehr als 2 Jahre

genutzt
Quelle der Bewertung
Preis-Leistungs-Verhältnis
0
---
Ring Central is better than the trendy apps for business calls!
With Ring Central, we're able to record calls for training, make seamless transfers to other team members, block spam callers, and our team is able to have access to one shared company line as well as private extensions. It's a business-saver when we all work remotely!
Vorteile
The call recording has been huge for training our team members. The ability to transfer a call to someone with the Ask First is a feature not many apps allow, AND the fact that if my team member can't answer, I can then transfer the call back to myself for taking a message is something we haven't found in any other phone app. In other apps, if I did an Ask First transfer then the person was just lost entirely which was not good for business.
Nachteile
The one thing that has been less favorable is that your native phone app can/will ring over top of the Ring Central app. So it's possible to be on a Ring Central call and then have your native app ring in a call on top and you can't hear the Ring Central call. I also wish that if one of my other team members answers a call on our shared line, it wouldn't show as a missed call for me. But these are little things compared to all the benefits of the RC app.
Branche: Bau
Unternehmensgröße: 2-10 Mitarbeiter

Täglich

für

Mehr als 2 Jahre

genutzt
Quelle der Bewertung
Preis-Leistungs-Verhältnis
1
---
Good from far, far from good.
Horrible experience. We stayed with them because we signed a contract without fully evaluating the platform. Tech support was pleasant, but insincere, and seemed more concerned with getting you off the line rather than the resolve the issue, and they used the expression 'system limitation' so much that I stopped calling. The icing on the cake was that after honouring the two-year contract with a platform that did not meet our needs and we were not using, the contract auto-renewed itself for another two years. 2 or three hours on the phone with various representatives later, they would not budge and would charge us a full cancellation fee. Sat part is that I will spend more in legal fees to get out of this mess, but I'll be damned if they will see another dime from us.
Vorteile
Initially, it looked good, and it had all the features we wanted. Signed up for it, and once we started doing testing we realized it was not a good fit for us.
Nachteile
Where do I start? First off, while this may affect Canadian users, whenever we received an incoming call, the CNAM lookup would only show the name of the city the call was originating from. Not the name or the number. After hours of talking to tech support, the only workaround was to turn the CNAM lookup off so we could at least see the number. Getting this half-fast workaround to work was one of the most frustrating experiences of my life. Talking to people a world away and getting them to understand what the issue I was experiencing, including screenshots and videos, felt like talking to a wall. They could not understand why I had an issue with only seeing the name of the city on call display. The tech support kept referring to system limitations whenever they could not solve something. The salesperson has mislead us and told us we could manage multiple lines from one interface. That is not the case. You have to log into each line separately. As a small team, we wanted to have everyone have access to certain lines and be able to jump in on a conversation. That could not be accomplished. This platform was clearly not a good fit for us, but we signed a contract, and made the best of it.
Gründe für den Wechsel zu RingCentral MVP
It seemed to have more features for the price.
Branche: Outsourcing/Offshoring
Unternehmensgröße: 1.001-5.000 Mitarbeiter

Täglich

für

Mehr als 2 Jahre

genutzt
Quelle der Bewertung
Preis-Leistungs-Verhältnis
5
---
Excellent tool
Excellent, it is efficient, easy to use, and reliable.
Vorteile
It is a completely efficient tool; it can be easily used with either a small or large team. It has all kinds of tools useful to keep efficient call tracking, performance log, and analytics.
Nachteile
I do not consider I have something I do not like from this software at the moment.
Warum RingCentral MVP gewählt wurde
The previous tool did not include half of the features found in RingCentral
Gründe für den Wechsel zu RingCentral MVP
The reviews, pricing, support during the purchase, and general information
Branche: Telekommunikation
Unternehmensgröße: 1.001-5.000 Mitarbeiter

Wöchentlich

für

Mehr als 1 Jahr

genutzt
Quelle der Bewertung
Preis-Leistungs-Verhältnis
0
---
RingCentral MVP
Overall, RingCentral is a very useful tool, for online meetings, since its very user-friendly, it gives very helpful options and it serves as a tool to monitor and share information with my coworkers. As mentioned before, I don't use the app, but the browser version is fairly good. It shows the participants (which is a useful tool to make sure no one else is added to the call), in this section of the call, also shows who's the monitor, and the rest of the participants, along with the camera and microphone option, which allows us to let the other participants know if they are talking but we can hear them or vice-versa. It's just as useful as other video conferencing apps. Fair price and easy to use.
Vorteile
I like the fact that I can get on my weekly meetings with my coworkers. Sent them the invitation and they can join right away. I have the option to schedule meetings with them and share my screen and the communication is very efficient. I have never experienced errors or delays while in a meeting.
Nachteile
Sometimes it takes a while to log in when I'm not the one hosting the meetings.Since I use the website version and not the app when I click on the invitation link to get into a call, it always tells me to download the app, and that prevents me from going right into the call. Also, after I click on the link, the waiting time to show me the screen and the call window is longer than other apps I have used.