Über GloriaFood
GloriaFood ist eine Online-Plattform für die Bestellung und Lieferung von Lebensmitteln, die Restaurantbesitzern hilft, Bestellungen zu verwalten und den Point-of-Sale-Betrieb zu optimieren. Die Lösung verfügt über ein Verwaltungspanel, mit dem Fachleute mehrere Standorte für Lieferungen auswählen, den Mindestbestellbetrag definieren und zonenbasierte Liefergebühren festlegen können. GloriaFood ermöglicht es Unternehmen digitale Menüs erstellen und anpassen können, indem sie Lebensmittelkategorien, Bilder und Preisinformationen hinzufügen. Manager können Widgets in Unternehmens-Websites und offizielle Facebook-Seiten einbetten, um die Sichtbarkeit der Marke über mehrere Kanäle hinweg zu verbessern. Außerdem können Nutzer automatisierte Benachrichtigungen über neue Bestellungen erhalten und Bestellanfragen je nach Lebensmittelverfügbarkeit annehmen/ablehnen. GloriaFood erleichtert Integrationen in verschiedene Anwendungen Dritter wie QuestTag, Tookan, GetSwift, ItsaCheckmate, Ordermark und andere. Das Produkt ist kostenlos verfügbar. Der Support erfolgt per Chat mit schnellen Antwortzeiten.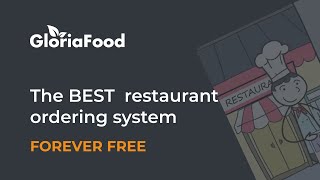 GloriaFood bietet eine Gratisversion und eine kostenlose Testversion. Die kostenpflichtige Version von GloriaFood ist ab 9,00 €/Monat verfügbar.
Alternativen für GloriaFood
Branche: Marketing & Werbung
Unternehmensgröße: 11-50 Mitarbeiter

Täglich

für

Mehr als 2 Jahre

genutzt
Quelle der Bewertung
Preis-Leistungs-Verhältnis
5
---
What a GREAT delivery system
Vorteile
It capabilities to multi location and draw delivery areas are great. They offer lots a possibilities when setting up promotions and discounts. It is a no brainer if you are looking to set up a delivery system for your business
Nachteile
Would be great if they could offer more 3rd party integrations such as online payment systems.
Branche: Essen & Trinken
Unternehmensgröße: 2-10 Mitarbeiter

Täglich

für

Mehr als 1 Jahr

genutzt
Quelle der Bewertung
Preis-Leistungs-Verhältnis
5
---
Lifesaver during the first and second Covid-19 Social Distancing in Vietnam
As I mentioned GloriaFood helped our restaurant a lot. It was a surprise feature during the first social distancing campaign here. A competitors system went offline the first week and this GloriaFood system really helped. Right now we are using both this system and GrabFood. GrabFood may get more orders but per order, GloriaFood brings in higher revenue. Our loyal customers will use GloriaFood even though they know they can always get a good discount with GrabFood.
Vorteile
The software is easy to setup and implement with Facebook or website (WordPress in our case). We got it up and running just in time for the first social distancing which closed the restaurants except for deliveries. Customers were easily able to adapt to this app. Training the staff to use it was a breeze.
What is good about this software was the ability to add photos to each food item if needed. Our customers needed it.
The reports and heatmaps are another valuable asset to the this app as well. We can see exactly where we need to focus on our deliveries more.
Nachteile
Not related to the app but if a customer ordered via Facebook, then they tended to message us on whether we got their order or not. Other issues, if there was bad bandwidth, the restaurant would tend to blame me, rather than the bandwidth, if there were issues with the app.
One thing I would like to see are tabbed menus. Restaurants like the one I manage the IT for have many food items. A tabbed menu will be helpful.
Gründe für den Wechsel zu GloriaFood
The software boutique took forever to get a basic menu to delivery system ready. In the end, I chose GloriaFood because it was the easiest, and fastest, to set up.
Branche: Essen & Trinken
Unternehmensgröße: 2-10 Mitarbeiter

Täglich

für

Mehr als 2 Jahre

genutzt
Quelle der Bewertung
Preis-Leistungs-Verhältnis
4
---
very help full during pandemic
Vorteile
easy to set up, customer service on point, very user friendly
Nachteile
not able to pause order from tablet, very inportant
Gründe für den Wechsel zu GloriaFood
cost
Branche: Restaurants
Unternehmensgröße: 2-10 Mitarbeiter

Täglich

für

1-5 Monate

genutzt
Quelle der Bewertung
Preis-Leistungs-Verhältnis
4
---
It's a good app but just one vital problem is plagueing it
Setting up was easy. Using it is intuitive. Only issue is order management and that awful forced max volume alert. Every other food ordering app (Ubereats, Skip, Fantuan, Doordash, and their direct competitors) have volume control and notification settings! I don't understand why GloriaFood think they need to force this on owners. Their only recommendation is to add an external bluetooth speaker but you know what? You aren't the only food ordering app, we can't add a bluetooth speaker JUST for you when restaurants typically use multiple food ordering apps at a time... seriously arrogant developers. Otherwise the app is good. If it weren't for this single problem that makes the app simply unusable in our quiet restaurant, we would've highly recommended this app.
Vorteile
The base features are free allowing you to test the application before committing to a subscription. The set up was easy and the website builder creates a nice looking website. The ordering process works fine. It's also available in multiple languages which is nice.
Nachteile
As per the title, there is one outrageous issue with the software and it's fully intended by the developer. The notification/alert is an very obnoxious sound and it is on FULL volume. Even if you lower your devices volume or mute it, it doesn't matter. The app will force your device back to full volume and blast the hideous alert repeatedly until you accept/deny the order.
This is a fully intended "feature" by the developers. If you look at the reviews on the application store, there are loads of reviews requesting this to be turned off or add a setting to control the volume. However the developers say it's intended so restaurants do not miss the order. But that's an extremely ignorant take on the issue. First of all, every restaurant has a different level of ambience. Some are crowded and bustling which could use the higher volume while some have a quiet and relaxing ambience which would be destroyed by the shrilling alert. Some devices can have an extremely high volume at max settings. It's utterly ridiculous that this widely complained problem is the hill that the developers choose to die on. I understand they don't want restaurants to miss an order, but it should be up to the restaurant how they choose to do so not the developer.
Again, I can't stress how loud the hideous alert is. It makes customers at the front desk JUMP, every head in the restaurant turns to see what this god awful sound is coming from, and my employees are begging me delete this app.
Branche: Verbraucherdienste
Unternehmensgröße: 11-50 Mitarbeiter

Täglich

für

Mehr als 2 Jahre

genutzt
Quelle der Bewertung
Preis-Leistungs-Verhältnis
5
---
Probably the best system to manage restaurants
Vorteile
Being able to set a webpage in just a few steps, including domain, hosting etc.
Ease of use in terms of adding/editing items in a menu.
The great support team behind it.
Nachteile
Being able to edit just a few things in terms of the web design.