Über eLogii
eLogii ist eine cloudbasierte Liefermanagementlösung, die kleine und große Unternehmen in den Bereichen Logistik, Getränke, Einzelhandel, Gesundheitswesen, Bau und Gastgewerbe dabei unterstützt, den Außendienst und die Fahrzeugdisposition zu verwalten und Routen zu planen. Zu den wichtigsten Funktionen gehören Echtzeit-Standortverfolgung, Signatur- oder Fotoerfassung, Aktivitätsprotokoll, Zeitstempel und E-Mail-/SMS-Benachrichtigungen. Die Lösung verfügt über eine Routenoptimierungsfunktion, mit der Administrationsteams die Route einzelner Fahrer auf der Karte, die voraussichtliche Ankunftszeit in Echtzeit ETA (Expected time of Arrival), die Gesamtentfernung, den Service und die Wartezeiten anzeigen können. Vorgesetzte können das Fahrzeugmanagementmodul verwenden, um Flottendetails hinzuzufügen und sie über Funktions-Tags für schwere und leichte Lasten zu kategorisieren. eLogii unterstützt Führungskräfte bei der Planung von Routen für mehrere Lieferungen oder Abholungen basierend auf dem Zeitfenster sowie auf Schichten, Produktgrößen, Fahrerfähigkeiten und mehr. eLogii bietet mobile iOS- und Android-Apps für Fahrer. Die Lösung ist sowohl als Monats- als auch als Jahresabonnement verfügbar und der Support erfolgt per E-Mail.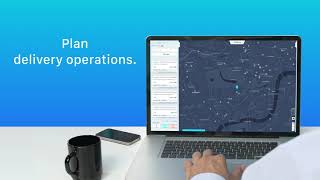 eLogii bietet keine Gratisversion und keine kostenlose Testversion. Die kostenpflichtige Version von eLogii ist ab 359,00 $/Monat verfügbar.
Startpreis:
359,00 $/Monat
Kostenlose Testversion:
Nein
Branche: Baumaterial
Unternehmensgröße: 51-200 Mitarbeiter

Täglich

für

6-12 Monate

genutzt
Quelle der Bewertung
Preis-Leistungs-Verhältnis
5
---
Transport Planning
I found the start up process easy to grasp and the more you use it like everything else it gets easier.
Would not be without it now.
Vorteile
The ease of the planning of the orders. The notification's to the customers.
Nachteile
Multi day routing sometimes difficult. But that could be down to our order sizes.
Antwort von

eLogii

Hi Colin - thank you for your positive review. We are so happy to see that eLogii has lead to an improved planning as well as customer service experience.
We are working hard to make the multi-day routing process even more seamless for our customers who make a lot of adjustments to the multi-day / long-haul routes post planning. On our next catch up together it would be good to review some of the issues you are still having and we can see how we could best support and make easier.

Beantwortet am 11.5.2022
Branche: Lebensmittelproduktion
Unternehmensgröße: 11-50 Mitarbeiter

Täglich

für

1-5 Monate

genutzt
Quelle der Bewertung
Preis-Leistungs-Verhältnis
5
---
Angelic Organics
This was our first time creating and implementing a home delivery system for our CSA farm. We did a lot of research to find the appropriate software that included everything we thought we needed and Elogii Not only provided that but also included other features we didn't even know we needed. We have had many learning curves and growth in our business through the process of fitting this software into our operation. Every question we've had, got an immediate and comprehensive response and we could not be more grateful for the support we've had and how this software has allowed us to succeed in providing in house, home delivery this year.
Vorteile
The dashboard is really easy to navigate once you get the hang of it. Every feature is easy to understand and makes sense for the purpose of the APP which is very beginner friendly given that we hadn't had any experience with distribution before this. Elogii has very thorough training and support for the software. Anything that we came across that we needed help adapting to our needs was possible with the understanding and help of the Tech team.
Nachteile
The integration process was a bit complicated for us but it was probably more because of our lack of experience and Understanding when it came to handling the data. Other than that I would like to see the driver app be a little bit more developed to have an option to go back on a task or select a date to have an overview of the week perhaps. As we continue to grow and take note we will also love to share our thoughts and work to collaborate on a more efficient solution. But elogii and their team definitely Have thought things through and are very Mindful of foreseeing what one may need for a more satisfying and effective experience with the software
Antwort von

eLogii

Hi Alina,

Thank you very much for your review, your feedback and support is very much appreciated.

We have some exciting developments on our product roadmap, including further enhancements to the Driver App, which will streamline the solution further.

Kind Regards,
eLogii Team

Beantwortet am 10.7.2020
Branche: Essen & Trinken
Unternehmensgröße: 51-200 Mitarbeiter

Täglich

für

6-12 Monate

genutzt
Quelle der Bewertung
Preis-Leistungs-Verhältnis
3
---
batureview
Vorteile
Its fresh. Warehouse and map are looking good.
Nachteile
UI is complicated. Date chosing can be rearrange at the page.
Antwort von

eLogii

Batuhan - we are surprised to see 3* and somebody from our support team is getting in touch as we speak.
Strangely enough our UI being simple and intuitive is something we receive a lot of positive feedback on from customers so we are sorry you don't seem to have had quite the same experience.
Changing the date should not re-arrange the page apart from showing tasks for the particular new date in question.
Our support and customer happiness teams will be on hand to make sure you are fully satisfied with eLogii!

Beantwortet am 17.3.2022
Branche: Logistik & Lieferkette
Unternehmensgröße: 2-10 Mitarbeiter

Täglich

für

6-12 Monate

genutzt
Quelle der Bewertung
Preis-Leistungs-Verhältnis
5
---
We couldn't have done it without Elogii
Onboarding was very easy, with ongoing support.
Bugs are very rare, and get reported, flagged and fixed in reasonable time.
New features are being added every month, some we didn't even knew we needed.
The customer support goes above and beyond to make sure our needs get catered.
Vorteile
A solid all-round DMS. You get a nice package of all the features you need to set up your day to day operations.
Best features:
- several different ways to input tasks (different customers have different needs): API, csv import and Customer Dashboard all in one place is very valuable for a business like ours.
- solid routing and re-optimization
- very fast, no loading times and no lag between dispatcher and driver apps.
- excellent customer support on demand
Nachteile
The driver app needs some polish, but it's functional. Apparently it will be revamped soon.
Gründe für den Wechsel zu eLogii
Because of all the features already implemented and a streamlined experience. It just solved our needs and we made a bet that Elogii would support also future needs. So far, beyond expectations.
Antwort von

eLogii

Manuel - thank you for this amazingly positive review. We are so glad to see your business benefitting from eLogii.
You are quite right - the driver app is going to be completely overhauled with a new version being targeted later this year. Watch this space!

Beantwortet am 17.3.2022
Branche: Logistik & Lieferkette
Unternehmensgröße: 2-10 Mitarbeiter

Täglich

für

6-12 Monate

genutzt
Quelle der Bewertung
Preis-Leistungs-Verhältnis
5
---
Dispatch and driver management made easy
It's a time saver to have so many features in one place. It replaces 3 or 4 different tools, combined into one. This is a huge time saver on day-to-day operations.
Vorteile
How smooth is the drag and drop, and how reliable is the data management.
Nachteile
Some drivers need 2 profiles for easier route management (morning/afternoon), but only a couple of exceptions.
Gründe für den Wechsel zu eLogii
It combined more of the features we needed.
Antwort von

eLogii

Hi Rui - thank you very much for your positive review. We are glad to see eLogii is saving you time and money on a daily basis and we can't wait to show you and the team some of the releases we have planned for 2022. Watch this space!

Beantwortet am 24.3.2022