Über Zoho Desk
Zoho Desk ist eine cloudbasierte Helpdesk-Lösung von Zoho Corporation, die Unternehmen jeder Größe bedient. Zu den wichtigsten Funktionen gehören die Verwaltung von Kundenbetreuungstickets, ein Kundenbetreuungsportal, die Vertragsverwaltung und Erstellung von Berichten. Zoho Desk sammelt Interaktionen aus verschiedenen Medien (E-Mail, Telefon, Chat, sozialen Medien, ein Self-Service-Portal, Foren und Formulare) und präsentiert sie an einem Ort. Aufgaben wie Ticketzuweisung, Service-Eskalationen, Benachrichtigungsregeln und zeitbasierte Aktionen können durch Festlegen von Workflowregeln automatisiert werden. Die Lösung bietet anpassbare und geplante Berichte, Zufriedenheitsbewertungen und ein grafisches Dashboard zur Analyse der Kundenzufriedenheit. Die Integration mit Zoho CRM erleichtert die Einspeisung von Kundeninformationen in Tickets, die in Zoho Desk protokolliert werden, sodass Serviceagenten mehr über die Kunden erfahren können. Mit der Lösung können Nutzer auch nutzerdefinierte Änderungen vornehmen, z. B. Registerkarten umbenennen, neue Abteilungen hinzufügen, E-Mail-Vorlagen anpassen, Geschäftszeiten definieren und Hilfeordner hinzufügen. Zoho Desk kann auch in die internen Systeme der Kunden integriert werden.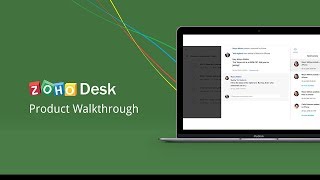 Zoho Desk bietet eine Gratisversion und eine kostenlose Testversion. Die kostenpflichtige Version von Zoho Desk ist ab 20,00 €/Monat verfügbar.
Alternativen für Zoho Desk
Branche: Bau
Unternehmensgröße: 1.001-5.000 Mitarbeiter

Täglich

für

Mehr als 1 Jahr

genutzt
Quelle der Bewertung
Preis-Leistungs-Verhältnis
2
---
Work and communicate with your clients safely
The great utility that this tool offers is fascinating, it has served me both for work and personal use. Within my company we usually use this tool to communicate with our clients from all over the country, it also makes our work easier since it is available on mobile phones and we can use it wherever we are.
Vorteile
Zoho Desk is a great tool for both work and personal use since it allows us to carry out different actions such as sending emails, sending text messages, making live chats, and making calls to our clients, among others. In addition, this tool is one of the most used in my industry since it has greatly benefited us with its ease of use and the variety of options it contains.
Nachteile
This tool offers several options for its use and the way it can work is amazing. However, what I don't like about this tool is that it is somewhat expensive and has competition with other software.
Branche: Bankwesen
Unternehmensgröße: 10.000+ Mitarbeiter

Täglich

für

Mehr als 1 Jahr

genutzt
Quelle der Bewertung
Preis-Leistungs-Verhältnis
4
---
Zoho Desk: easy to use, customizable, and evolving service desk suite
We looked at a few others (Salesforce, FreshDesk, and others) and were surprised by many of the features. There were many Zoho branded products and services available that seemed to work well during testing. The interface and mobile apps were fairly intuitive and we were able to get a fully functional demo up and running in a matter of hours without much trouble. We evaluated it with other software at the same time, so let's compare how long it took us to get it up and running and use it functionally with other systems.
Vorteile
The initial setup wizard worked smoothly. Navigation through the configuration menus is simple and intuitive. The customer access portal home page is in place and ready for further customization of content. A clean design that displays the functions that are needed at this time.
Nachteile
The initial 14-day trial period is fine for "getting started", but trying to juggle a new set of desktop services and day-to-day work seems to work against the clock. A 30 to 45-day trial period would be excellent, as it allows you to become so familiar with the software that you are more willing to use it.
Warum Zoho Desk gewählt wurde
We are creating the first in-house service solution for the company. Having a managed solution to handle requests that other team members can monitor and resolve is much better than trying to handle email support requests that sit in an inbox with many other unrelated emails.
Gründe für den Wechsel zu Zoho Desk
We are a growing company and we need to track our issues not only by the customer but also by specific serial number. We had a very rudimentary system to do this, but our size is pushing us to modernize to stay on top of everything. This system should help us.
Branche: Computer-Software
Unternehmensgröße: Selbstständig

Wöchentlich

für

Mehr als 1 Jahr

genutzt
Quelle der Bewertung
Preis-Leistungs-Verhältnis
3
---
Zoho Desk isn't a favourite option of mine, but it works.
Zoho Desk is a great tool with many features, it seems some features may need ironing out or better documenting but otherwise it is a very useful tool that could be extremely valuable to many businesses in all different industries and niches. It is perfect for anyone who just wants a simple email ticketing solution but for those wanting to use the help desk knowledgebase solutions you may want to set aside some time to fully understand how it works and how to best use it.
Vorteile
Zoho Desk offers a range of tools to make sure that customer success rates are high. Their self service options are empowering and wouldn't be possible without their awesome ticketing tools which allow for agents to identify regular questions and support individual customers in a per-user tailored way. Being able to receive tickets in many different ways is also a great feature enabling customers to contact us in many different ways and always get the same level of support from the same great knowledgeable team. The ability to send branded emails directly from Zoho Desk with correct SPF records to keep the email safe is also a great feature that I couldn't be without.
Nachteile
Unfortunately the creation and customisation of the help desk and the posts within it come across as difficult to create and maintain even from the perspective of someone working in computer software. It is unclear what features are available for this and how they should be used to create a perfect self-service help desk to enable customers to get help immediately and free up time for agents to answer more complex and user specific problems.
Gründe für den Wechsel zu Zoho Desk
I was already a Zoho Mail user and it made sense to me to try to use all tools by the same company to keep everything more simple and make connecting two tools easier. This also meant less account creations and such.
Branche: Informationstechnologie & -dienste
Unternehmensgröße: 10.000+ Mitarbeiter

Täglich

für

Mehr als 2 Jahre

genutzt
Quelle der Bewertung
Preis-Leistungs-Verhältnis
4
---
The gold standard in customer service!
Invaluable progress has been made in facilitating communication. Helping us more effectively assist and guide customers who have questions or concerns about our offerings. Because of the faster resolution of customer issues, we have also seen a rise of at least 10% in the number of new customers requesting our services.
Vorteile
Currently, we're using the Zoho Desk application to aid our customers and foster deeper connections between our products and services. And in this way, we can speed up the resolution of any issues or complaints our users may have inside the service.
Nachteile
If we were using an issue tracking application, the ability to drag and drop items across categories would be really helpful. To my knowledge, the ability to receive and transmit voice memos has also been introduced. What you propose is novel in the extreme.
Branche: Computer-Hardware
Unternehmensgröße: 2-10 Mitarbeiter

Täglich

für

Mehr als 2 Jahre

genutzt
Quelle der Bewertung
Preis-Leistungs-Verhältnis
5
---
Zoho Desk, a great tool within the Zoho One platform
All issues related with our hardware and software are logged and tracked byt creating tickets. Customers can follow-up tickets themselves, and issues that come back often can be moved to a knowledge base (some kind of FAQ) to lower the support load. It has good features to divide tickets between our products and departments.
Vorteile
Does not involve a lot of configuration to start with, and it is rather easy to add functions when required. It does not take a lot of user training for colleagues to get started (more or less self-explaining)
Nachteile
It offers a customer portal, but the design of that portal cannot be matched with the "house style" guidelines of the company