Über Zoho Desk
Zoho Desk ist eine cloudbasierte Helpdesk-Lösung von Zoho Corporation, die Unternehmen jeder Größe bedient. Zu den wichtigsten Funktionen gehören die Verwaltung von Kundenbetreuungstickets, ein Kundenbetreuungsportal, die Vertragsverwaltung und Erstellung von Berichten. Zoho Desk sammelt Interaktionen aus verschiedenen Medien (E-Mail, Telefon, Chat, sozialen Medien, ein Self-Service-Portal, Foren und Formulare) und präsentiert sie an einem Ort. Aufgaben wie Ticketzuweisung, Service-Eskalationen, Benachrichtigungsregeln und zeitbasierte Aktionen können durch Festlegen von Workflowregeln automatisiert werden. Die Lösung bietet anpassbare und geplante Berichte, Zufriedenheitsbewertungen und ein grafisches Dashboard zur Analyse der Kundenzufriedenheit. Die Integration mit Zoho CRM erleichtert die Einspeisung von Kundeninformationen in Tickets, die in Zoho Desk protokolliert werden, sodass Serviceagenten mehr über die Kunden erfahren können. Mit der Lösung können Nutzer auch nutzerdefinierte Änderungen vornehmen, z. B. Registerkarten umbenennen, neue Abteilungen hinzufügen, E-Mail-Vorlagen anpassen, Geschäftszeiten definieren und Hilfeordner hinzufügen. Zoho Desk kann auch in die internen Systeme der Kunden integriert werden.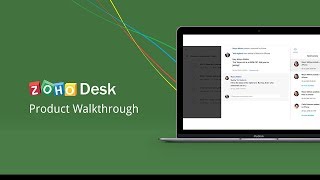 Zoho Desk bietet eine Gratisversion und eine kostenlose Testversion. Die kostenpflichtige Version von Zoho Desk ist ab 14,00 $/Monat verfügbar.
Startpreis:
14,00 $/Monat
Kostenlose Testversion:
Ja
Alternativen für Zoho Desk
Branche: Informationstechnologie & -dienste
Unternehmensgröße: 2-10 Mitarbeiter

Täglich

für

Mehr als 2 Jahre

genutzt
Quelle der Bewertung
Preis-Leistungs-Verhältnis
5
---
Review for Zoho Desk
Business problems which I am solving with Zoho Desk are as such:-
1) Solving customer quries.
2) Solving internal teams queries.
3) Tracking pendign tickets.
4) Collecting tickets from multiple channels.
Benefits:-
1) Saving time.
2) Making our customers happy by timely solution of their queries.
Vorteile
Things which I like most about ZohonDesk are as such:-
1) Inexpensive
2) Easy to customize, manage and use.
3) User firendly UI.
4) one of the best in the industry.
5) Variety of Functions and customizations available.
6) Easily integrate with multi-channel for collecting tickets.
Even more..
Nachteile
Things which I like least about Zoho Desk are:-
1) Speed at which it works
and apart from point 1, there is nothing else which I like least about zoho desk.
Branche: Bau
Unternehmensgröße: 1.001-5.000 Mitarbeiter

Täglich

für

Mehr als 2 Jahre

genutzt
Quelle der Bewertung
Preis-Leistungs-Verhältnis
5
---
An ideal tool to achieve the best tracking and interaction with customer requests
Zoho Desk has enabled us to interact in an innovative way with customers and increased the cooperation of team members to ensure that all open tickets are closed and all inquiries are answered in the specified times and without delay, which raised the level of satisfaction of our customers with the rapid response to them.
Vorteile
I appreciate the ease of use and ease of setting up operations in Zoho Desk, as it makes everything go smoothly and the staff can also be in harmony with each other when performing jobs. I love the design of the customer portal, where you find all the information, as well as requests and pending tasks, as well as the dates required to be completed with it. I also love the communication channels that Zoho Desk provides, which keeps the work team connected at all times and under all circumstances. I also like the capabilities that Zoho Desk provides, which also enables customers to easily know the status of their orders, which enhances customer confidence in the organization in general.
Nachteile
It is not a lot of negative or complicated matters, as it is easy to enable all members of the work team to use it optimally. I really appreciate the very helpful support provided by the Zoho Desk team as well as their regular email guides, which have been instrumental in simplifying things and making the best use of the system.
Branche: Computer- & Netzwerksicherheit
Unternehmensgröße: Selbstständig

Täglich

für

1-5 Monate

genutzt
Quelle der Bewertung
Preis-Leistungs-Verhältnis
1
---
Everything is in BETA, after you are sold into a purchase...
I realized I need a product that will fully integrate with my Google contacts and calendar, be able to track time spent on site or on a remote support session and be able to do this without switching and spending 5 minutes trying to get all of the information together for an invoice from: contacts; reentering the same job in Invoices instead of it linking to Desk, and move on to the next client.
Vorteile
It was pretty easy to setup, they did have issues on their end with the custom domain pointing, but were willing to help out.
HTTPS had to be requested and is not a part of the package unless you call up and request it.
Nachteile
I purchased a package from Zoho – Desk and Invoicing – so I can bill clients for time spent on a service call. Calls can be a remote support session or onsite.

After trying out their product and setting everything up with just Desk, their sales pitch led me to believe that their Invoicing product would be needed to integrate with Desk in order to bill clients directly.

The company then sent me an invoice to pay for an annual subscription for Desk and Invoice. I was told multiple times that I could use it on my phone and on the web. It would led me open a timesheet and connect it to the Desk ticket. Nope. Not on the phone though I was told otherwise.

So far, everything does not work as advertised.

The support reps keep telling me that their integrations are in BETA.

BETA was never mentioned during any of the calls or email until it did NOT work as advertised. I even have screen shots of the word BETA on the screens.

I would not recommend this product and would put up an advisory on your website indicating that most of their "integrations" are in BETA.

I am further contacting my bank and the Attorney General for California.

I don't pay for BETA software.

Is there another company that actually fulfills their sales pitches?
Branche: Computer-Software
Unternehmensgröße: 11-50 Mitarbeiter

Täglich

für

Mehr als 2 Jahre

genutzt
Quelle der Bewertung
Preis-Leistungs-Verhältnis
5
---
Very user-friendly support desk
Overall its a very good software in terms of usability. Happy with this.
Vorteile
User friendly
Easy to setup
Handles almost all requirements
Knowledge base functionality is also good
Good Automation
Nachteile
- Searchability of tickets is an issue. Search with ticket number and many other parameters does not work properly
- Zoho changes it pricing/ features in certain tier to make us shift in pricing tiers. The features once subscribed should not be changed for old users.
- Once started, switching this software is not possible because of so many support articles added in knowledge base
Branche: Finanzdienstleistungen
Unternehmensgröße: 201-500 Mitarbeiter

Täglich

für

Mehr als 2 Jahre

genutzt
Quelle der Bewertung
Preis-Leistungs-Verhältnis
0
---
zoho desk
Vorteile
Tracking customer's challenges and resolving them.
Also being able to get a report of the highest number of cases each team member has treated.
Nachteile
The feedback rating system. An angry customer is able to give a bad rating even when its not the customer experience staff, that annoyed him.