Über Zoho Desk
Zoho Desk is a cloud-based help desk solution from Zoho Corporation, catering to businesses of all sizes. Key features include management of customer support tickets, a customer support portal, contract management and report creation. Zoho Desk collates interactions from various media (email, phone, chat, social media, a self-service portal, forums and forms) and presents them in one place. Tasks such as ticket assignment, service escalations, notification rules and time-based actions can be automated by setting workflow rules. The solution provides customizable and scheduled reports, happiness ratings and a graphical dashboard for analyzing customer satisfaction. Integration with Zoho customer relationship management (CRM) facilitates feeding of customer information into tickets logged in Zoho Desk, which enables service agents to know more about the customers. The solution also enables users to make custom changes, such as renaming tabs, adding new departments, customizing email templates, defining business hours and adding of help folders. Zoho Desk can also be integrated with clients' in-house systems.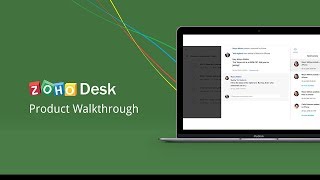 Zoho Desk bietet eine Gratisversion und eine kostenlose Testversion. Die kostenpflichtige Version von Zoho Desk ist ab 14,00 $/Monat verfügbar.
Startpreis:
14,00 $/Monat
Preisinformationen:
● Free - up to 3 users, forever! ● Standard - $14/agent/month ● Professional - $23/agent/month ● Enterprise - $40/agent/month
Zoho Desk Alternativen & Ähnliche Produkte
Branche: Informationstechnologie & -dienste
Untern. Größe: 2-10 Mitarbeiter
Verwendet:

Täglich

für

Mehr als 1 Jahr

Quelle der Bewertung
Preis-Leistungs-Verhältnis
5
---
Great on its own, OUTSTANDING when synced with Zoho CRM
Vorteile
The integration with Zoho CRM is game-changing. It's so simple to set up and gives our Sales + Customer Service teams complete transparency into what the other is doing.
It's really intuitive — of all the Zoho apps, Desk is the best for ease-of-use and straightforward UI. I like it even more than Zendesk.
Powerful automation features.
Love the customer portal + knowledge base, we use it every day.
Nice little features like snippets or copy-pasting knowledge base articles mean that ticket response is a breeze.
Nachteile
Sometimes some of the default email templates can be a little bit funky, but that was an easy fix.
Branche: Non-Profit-Organisation Management
Untern. Größe: 51-200 Mitarbeiter
Verwendet:

Täglich

für

Mehr als 1 Jahr

Quelle der Bewertung
Preis-Leistungs-Verhältnis
5
---
One of the best investments for our organization
Great - and their customer service is great as well.
Vorteile
We got this software after using another vendor for about two years. During that time we learned what our needs were and had Zoho Desk on our shortlist. The criteria that we used was:
+ Easily integrate into the Knowledge Base (KB)
+ KB easily integrates into tickets
+ Tickets can be handled by multiple departments and permissions can be restricted to those departments
+ Single Sign On (SSO) integration for customers
+ A robust API
+ ASAP(TM?) integration that we can dump onto our website, which allows us to point directly to a particular page in the KB
+ A good mobile app (I personally use it on the iPhone)
+ Customizable reporting
~ A semi-workaround to integrate with Github (via Zoho Project)
We're looking forward to Guided Conversations that's in development right now
We look forward to additional releases
Nachteile
It can sometimes get too bloated on your browser because it has a lot of data under the hood, and search can be finicky at times - but it's quite manageable.
The above would not impact me choosing this platform again.
Branche: Einzelhandel
Untern. Größe: 2-10 Mitarbeiter
Verwendet:

Täglich

für

Mehr als 2 Jahre

Quelle der Bewertung
Preis-Leistungs-Verhältnis
3
---
Handy but still irksome...
Business - customer relations. We are able to amass a great wealth of product and customer feedback that we can reference in the future as needed. This alone is quite valuable and makes wanting to change services a less attractive option for us.
Vorteile
Software facilitates customer - service relations and enables notes, attachments and status tracking to better serve our clients. Somewhat streamlined in appearance, which helps to keep the screen uncluttered.
Nachteile
Software is still clunky -- oftentimes, standard hotkeys end up changing the page settings where they otherwise would perform as expected on another interface. This happens surprisingly often and disrupts workflow when we strive to perform more efficiently when handling customer requests.
Branche: Computer- & Netzwerksicherheit
Untern. Größe: Selbstständig
Verwendet:

Täglich

für

1-5 Monate

Quelle der Bewertung
Preis-Leistungs-Verhältnis
1
---
Everything is in BETA, after you are sold into a purchase...
I realized I need a product that will fully integrate with my Google contacts and calendar, be able to track time spent on site or on a remote support session and be able to do this without switching and spending 5 minutes trying to get all of the information together for an invoice from: contacts; reentering the same job in Invoices instead of it linking to Desk, and move on to the next client.
Vorteile
It was pretty easy to setup, they did have issues on their end with the custom domain pointing, but were willing to help out.
HTTPS had to be requested and is not a part of the package unless you call up and request it.
Nachteile
I purchased a package from Zoho – Desk and Invoicing – so I can bill clients for time spent on a service call. Calls can be a remote support session or onsite.

After trying out their product and setting everything up with just Desk, their sales pitch led me to believe that their Invoicing product would be needed to integrate with Desk in order to bill clients directly.

The company then sent me an invoice to pay for an annual subscription for Desk and Invoice. I was told multiple times that I could use it on my phone and on the web. It would led me open a timesheet and connect it to the Desk ticket. Nope. Not on the phone though I was told otherwise.

So far, everything does not work as advertised.

The support reps keep telling me that their integrations are in BETA.

BETA was never mentioned during any of the calls or email until it did NOT work as advertised. I even have screen shots of the word BETA on the screens.

I would not recommend this product and would put up an advisory on your website indicating that most of their "integrations" are in BETA.

I am further contacting my bank and the Attorney General for California.

I don't pay for BETA software.

Is there another company that actually fulfills their sales pitches?
Branche: Internet
Untern. Größe: 2-10 Mitarbeiter
Verwendet:

Täglich

für

Kostenlose Testversion

Quelle der Bewertung
Preis-Leistungs-Verhältnis
0
---
MUY COMPLETO
Vorteile
Es de los más completos que conozco, pero en la versión más cara, que aún así, es la más económica del mercado, con onmicanal, voz, chat, etc.
Nachteile
Es un poco engorroso encontrar las funciones en los menus, pero hace tan tantas cosas que es normal.