Über OnBoard
OnBoard, der Gewinner des "Ease of Use"-Abzeichens von Capterra für Board-Management-Software, ist ein virtuelles Meeting-Management mit einer kompletten Suite von Tools, um intelligentere Entscheidungen aus der Ferne und in Echtzeit zu treffen. Mehr denn je brauchst du heutzutage eine umfassende, sichere und einfach zu bedienende Software zur Verwaltung von Vorstands- und Führungstreffen. Rationalisiere die Sitzungsvorbereitung und stelle deinen Führungskräften genaue und rechtzeitige Informationen auf allen Geräten zur Verfügung. Bereit für die Bedienung aus der Ferne, damit du von überall aus zuversichtlich handeln kannst.
Nutzer können Vorstandsbücher und -materialien kompilieren und codieren. Aktualisierungen der Materialien werden automatisch gespeichert und sofort auf allen Geräten der Nutzer synchronisiert, einschließlich Desktops, Laptops, Tablets (Android, iPad, Kindle Fire und Windows Surface) und Smartphones (Android und iPhone). Notizen und Anmerkungen können direkt in die Materialien eingegeben und auch durchsuchbar gemacht werden. OnBoard umfasst Funktionen für Remote-Datenswipe, Umfragen und Unterstützung für mehrere Vorstände. Mit dem sicheren Messenger können Nutzer Gespräche einzeln oder in Gruppen durchführen.
Die Software bietet ein personalisiertes Dashboard, in dem Führungskräfte auf Materialien zugreifen, anstehende Besprechungen betrachten und Ankündigungen erhalten können. Die Software enthält auch Berechtigungsmanagement, um Administratoren die Möglichkeit zu geben, zu bestimmen, wer Zugriff auf welche Materialien und Kommunikationen hat. Mit der Aufgabenmanagementfunktion können Nutzer Aktionselemente während der Besprechungszyklen verwalten, organisieren und verfolgen. Mithilfe von Engagementanalysen können Nutzer erkennen, wann die Vorstandsbücher gelesen werden, wo Anmerkungen gemacht werden und welche Abschnitte die meiste Aufmerksamkeit vom Vorstand erhalten.
Onboard kann in Microsoft Office 365, Zoom und Outlook integriert werden, um die Kommunikation zu unterstützen. Nutzer haben 24/7-Zugriff auf Kundenbetreuung per Telefon, E-Mail und Online-Helpdesk. Die Software wird pro Nutzer pro Monat berechnet.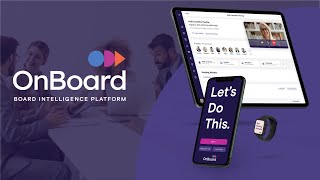 OnBoard bietet keine Gratisversion, aber eine kostenlose Testversion.
Branche: Bildungsmanagement
Unternehmensgröße: 201-500 Mitarbeiter

Wöchentlich

für

Mehr als 1 Jahr

genutzt
Quelle der Bewertung
Preis-Leistungs-Verhältnis
4
---
Glad we switched to OnBoard
The software is easy to set-up, administer, and use. OnBoard customer service and technical support is great!
Vorteile
The easy of use of OnBoard is great. The flexibility of the tools allow us to use the software for surveys, signatures, and document storage. This places all of our material in one location
Nachteile
Some added products/features come with and added cost that is not cheap.
Branche: Krankenhausversorgung & Gesundheitswesen
Unternehmensgröße: 10.000+ Mitarbeiter

Wöchentlich

für

Mehr als 1 Jahr

genutzt
Quelle der Bewertung
Preis-Leistungs-Verhältnis
5
---
OnBoard is the Backbone of Our Board & Committee Meeting Materials
A few small downs, but overall the team has proven ready and willing to help address concerns and challenges. The platform allows our entire organization to maintain a large number of organized meeting materials, and consistently enables creative solutions to fit our needs.
Vorteile
Ease of use. The platform is intuitive, easy to get accustomed to, and and functionality is logical.
Nachteile
The directory and groups. With over 500 users, it can be a bit cumbersome to manage all of our groups with the current functionality.
Branche: Finanzdienstleistungen
Unternehmensgröße: 11-50 Mitarbeiter

Täglich

für

Mehr als 1 Jahr

genutzt
Quelle der Bewertung
Preis-Leistungs-Verhältnis
0
---
Onboard is super helpful
I've had a very good experience with onboard. I've helped to integrate it into our advisory team and they love the fact that we can be more digital and print less. Our clients appreciate that we are taking on this green initiative within the company as well.
Vorteile
-saves a ton of money on printing costs
-can easily replace and add documents to a presentation
-you can add users with different permissions to different sections of the meeting
-you can save resources to the resources tab for offline use (no need to access a network drive)
-great for meetings when the team is travelling
Nachteile
-it is not easy to view documents within the software. Every time you upload a new document, the book re-builds so you cannot see the document until the book is done building
Antwort von

Passageways

Thank you for taking the time to review OnBoard! I'm so glad you are happy with the software and that it's helped your team. As for the builder, that can be a bit of a blessing and a curse. It updates, so your board members will have always up-to-date information, but it can be tough for you and it always updating.

Beantwortet am 22.11.2019
Branche: Bildungsmanagement
Unternehmensgröße: 51-200 Mitarbeiter

Wöchentlich

für

Mehr als 1 Jahr

genutzt
Quelle der Bewertung
Preis-Leistungs-Verhältnis
5
---
Excellent combination of value and options
OnBoard has streamlined my work as the Board Admin and has allowed board members access to all files they should have access to whenever they need it. Not all board members are quick to adopt the new system and this is causing a lag in the full usage for our company but this is a people issue, not a tech issue. The tech is very easy and fairly intuitive.
Vorteile
OnBoard is easy to administer and easy to use. It allows me to configure the different areas as I need to and grant granular permissions. It is a great value for the non-profit business that needs to be agile with reliable access to all the items board members could need.
Nachteile
The only item I wish could be better is the integration with Zoom. The feature works fine but when board members or hosts use the Zoom link inside OnBoard they lose some functionality. To get around this I have taken to posting the Zoom link for the meeting in its title and ask the board members to copy and paste the link into their browser. If they didn't want full use of all Zoom options they are welcome to use the link provided inside the portal.
Branche: Non-Profit-Organisation Management
Unternehmensgröße: 201-500 Mitarbeiter

Monatlich

für

Mehr als 1 Jahr

genutzt
Quelle der Bewertung
Preis-Leistungs-Verhältnis
5
---
Simple and Effective Board Managment
OnBoard has completely revolutionised the way we organise and hold board meetings. Due to the nature of our organisation, our trustees and board sub-committees hold a large number of meetings throughout the year. In the past, this caused a huge amount of overhead for our Company Secretary and EA's who organise the meetings, put together board packs, etc.
OnBoard provides us with an easy to use platform for our admins to organise these meetings, create board packs, hold votes/approvals, and obtain signatures when necessary. What would previous take days our hours, now takes minutes.
Vorteile
Overall, the simplicity of OnBoard is it's strongest feature. With minimal training, our admins were able to quickly begin creating meetings and board packs. Simply put, OnBoard is a highly effective system that does exactly what we need it to do, without a mass of unnecessary features.
It's also worth commenting on the strength of Passageways customer support. Our account manager worked very closely with us through every step of the implementation process, helping us with the initial setup of the system as well as training for our admins. Passageways also setup a number of training sessions for our Trustees, ensuring they were completely comfortable using the platform before go-live, which has lead to a high level of user adoption.
Nachteile
There is very little to dislike, however the left to right menu layout may be slightly confusing to some users who may be more familiar with a traditional top-down/webpage layout.
Antwort von

Passageways

Thank so much for taking the time to review OnBoard Board Management Software! We really try to make ease of use our top priority when incorporating updates into our software. Our Customer Success Team was thrilled by the huge compliment as well.

Beantwortet am 29.8.2019