Über Streak
Streak is a cloud-based customer relationship management (CRM) solution that helps small to large enterprises manage projects and fundraising campaigns via Gmail. Users can automatically receive task details in the inbox and sort through messages to retrieve specific results using the search functionality. Streak lets businesses send invitation links to various organizational departments and grant permissions to specific employees. Users can utilize performance reports to gain insights into product development processes and sales operations. Additionally, it offers mobile applications for iOS and Android devices, which lets users update customer details and share critical information with team members even from remote locations. Streak comes with an application programming interface (API), which allows enterprises to modify the system and integrate it with various third-party systems. It is available for free and on monthly or annual subscriptions. Support is extended via live chat and other online measures.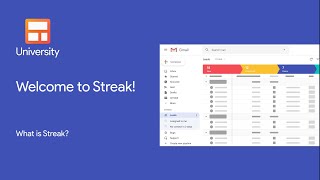 Streak bietet eine Gratisversion und eine kostenlose Testversion. Die kostenpflichtige Version von Streak ist ab 19,00 $/Monat verfügbar.
Startpreis:
19,00 $/Monat
Kostenlose Testversion:
Ja
Branche: Fotografie
Unternehmensgröße: Selbstständig

Täglich

für

Kostenlose Testversion

genutzt
Quelle der Bewertung
Preis-Leistungs-Verhältnis
0
---
Avaliação Streak
Utilizo a versão gratuita que, até o momento, me serviu muito bem. Minha empresa conta com apenas um funcionário e é preciso administrar muitos pontos em comum, por isso um sistema de CRM intuitivo pode fazer muita diferença. Ainda estou me acostumando e quero, em breve, passar à versão paga.
Vorteile
A integração do Streak com o Google e todo o sistema da caixa de entrada do Gmail é sem dúvida meu ponto favorito sobre o software. A ferramenta se apresenta como uma forma bastante intuitiva de introdução ao CRM e é possível gerenciar muito bem suas ferramentas. Também me agrada muito o rastreamento de emails, um aspecto importante no meu dia a dia para saber o que foi entregue e/ou não foi respondido.
Nachteile
Ainda que intuitiva, não é tão simples se acostumar à ferramenta e saber como ela funciona especificamente para seu uso. É preciso dedicação até entender como ela pode trazer os melhores resultados no dia a dia. O sistema de rastreamento de emails por vezes fica confuso quando há muitas respostas ao email original.
Branche: Buchhaltung
Unternehmensgröße: Selbstständig

Täglich

für

Mehr als 1 Jahr

genutzt
Quelle der Bewertung
Preis-Leistungs-Verhältnis
4
---
Excellent CRM for Gmail
Overall, I love it - I am able to organize workflow & client communications in one place and that is terrific.
Vorteile
I love that Streak allows me to manage directly from my Gmail inbox - I don't have to juggle multiple platforms to acheive what I need to do.
Nachteile
The task management does not allow for recurring tasks and it while it does a great job of keeping all communications with a client in one place, it can stil be difficult to find something specific - I wish you could search within a box that would be really helpful!
In Betracht gezogene Alternativen
Asana
Warum Streak gewählt wurde
I wanted to reduce the number of platforms I had to keep active throughout the day to manage my workflow - being able to use my Gmail inbox is the best & is incredibly time saving.
Zuvor genutzte Software
Asana
Gründe für den Wechsel zu Streak
Similar pricing, ease of use, highly customizable & most importantly I can manage everything from my inbox.
Branche: Freizeit, Reisen & Tourismus
Unternehmensgröße: 2-10 Mitarbeiter

Wöchentlich

für

Mehr als 1 Jahr

genutzt
Quelle der Bewertung
Preis-Leistungs-Verhältnis
3
---
Rough around the edges
I used Streak to follow acquisition of customers from cold contact to successful contract, and then, in another pipeline, how far along we are in our business relationship. If things would not move for a while, that identified a red flag I would investigate. If it wasn't for the inherent bugginess and general sluggishness of Streak, we would still be using it to this day as its integration with Gmail is just a fantastic idea.
Vorteile
It integrates directly to Gmail, and that alone makes it good. You open your Gmail, like you open it every morning and your CRM is good to go!
Nachteile
This thing is riddled with bugs and glitches. Often it would just not load and I would sit staring at a blank screen. Other times, it would load, but would completely choke my processor. A few times, it crashed my browser.
Gründe für den Wechsel zu Streak
We felt it was incredible how well it integrated in our processes and how easy it was to open it every morning without even thinking about having to do it.
Branche: Krankenhausversorgung & Gesundheitswesen
Unternehmensgröße: 10.000+ Mitarbeiter

Monatlich

für

Kostenlose Testversion

genutzt
Quelle der Bewertung
Preis-Leistungs-Verhältnis
4
---
Maintain your streak
Vorteile
Data analysis of emails in easy. We can use it to with our gmail to monitor sales etc.
Nachteile
I have not used it enough to know what could be improved.
Branche: Marketing & Werbung
Unternehmensgröße: 2-10 Mitarbeiter

Täglich

für

Mehr als 2 Jahre

genutzt
Quelle der Bewertung
Preis-Leistungs-Verhältnis
4
---
Streaks ahead
It's been a consistent part of several businesses for me for some years now and it's a rock-solid performer that saves me time and helps win new business.
Vorteile
It's flexibility. I have used Streak in many varied (CRM type mostly) ways and have been able to mould Streak to deliver what we needed. As it resides within Google Workspace it's one less app for the team to deal with and training time is reduced. The email snippets (templates) are super helpful.
Nachteile
It takes quite an investment in time to set up for your business - but it is worth it.
Gründe für den Wechsel zu Streak
It's integration with Google Workspace.