Über Streak
Streak is a cloud-based customer relationship management (CRM) solution that helps small to large enterprises manage projects and fundraising campaigns via Gmail. Users can automatically receive task details in the inbox and sort through messages to retrieve specific results using the search functionality. Streak lets businesses send invitation links to various organizational departments and grant permissions to specific employees. Teams can utilize performance reports to gain insights into product development processes and sales operations. Additionally, it offers mobile applications for iOS and Android devices, which lets users update customer details and share critical information with team members even from remote locations. Streak comes with an application programming interface (API), which allows enterprises to modify the system and integrate it with various third-party systems. It is available for free and on monthly or annual subscriptions. Support is extended via live chat and other online measures.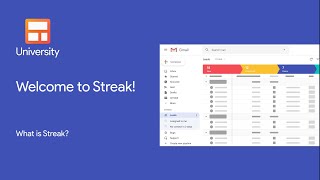 Streak bietet eine Gratisversion und eine kostenlose Testversion. Die kostenpflichtige Version von Streak ist ab 19,00 $/Monat verfügbar.
Startpreis:
19,00 $/Monat
Kostenlose Testversion:
Ja
Branche: Personalbeschaffung & -besetzung
Unternehmensgröße: 1.001-5.000 Mitarbeiter

Täglich

für

Mehr als 2 Jahre

genutzt
Quelle der Bewertung
Preis-Leistungs-Verhältnis
4
---
Personalized Email Blast? Streak is the man!
This is the best platform so far out there that I've used in terms of sending emails, managing emails, and tracking the open rate and the acceptance rate of my emails.
You can also schedule an email sending time using Streak which is pretty awesome!
Vorteile
I've been in the recruiting field for more than two years now, and it has been a bottleneck for me sending emails outside of our candidate database. I usually do this whenever I need to update the candidates regarding next steps, and also if they have been turned down by the client after our presentation call with them.
What I usually do before is to send each candidate an email even if the context is just the same. This dilemma has been resolved by Streak! I was able to maintain the personal connection atmosphere with my candidates with the use of just a few seconds. All you need to do is to put the details of the candidate plus any personalized matter you want to add in the email context on a csv comma delimited excel sheet.
One more good thing about Streak is that you can schedule when an email should be sent. You can also monitor the acceptance and the open rate of your emails via Streak. Truly, Streak is the best platform for sending and email management.
Nachteile
I really don't have negative experience with Streak! I really love how the platform helped me do my job responsibilities without compromising human touch. Maybe this message is a sort of recommendation. I hope they can upgrade their system so that they too will upgrade to an applicant tracking system. If that time come, I will propose this to our company since I know Streak will help us in driving great ROI, and client engagements.
Branche: Buchhaltung
Unternehmensgröße: Selbstständig

Täglich

für

Mehr als 1 Jahr

genutzt
Quelle der Bewertung
Preis-Leistungs-Verhältnis
4
---
Excellent CRM for Gmail
Overall, I love it - I am able to organize workflow & client communications in one place and that is terrific.
Vorteile
I love that Streak allows me to manage directly from my Gmail inbox - I don't have to juggle multiple platforms to acheive what I need to do.
Nachteile
The task management does not allow for recurring tasks and it while it does a great job of keeping all communications with a client in one place, it can stil be difficult to find something specific - I wish you could search within a box that would be really helpful!
In Betracht gezogene Alternativen
Asana
Warum Streak gewählt wurde
I wanted to reduce the number of platforms I had to keep active throughout the day to manage my workflow - being able to use my Gmail inbox is the best & is incredibly time saving.
Zuvor genutzte Software
Asana
Gründe für den Wechsel zu Streak
Similar pricing, ease of use, highly customizable & most importantly I can manage everything from my inbox.
Branche: Computer-Software
Unternehmensgröße: 2-10 Mitarbeiter

Täglich

für

Mehr als 2 Jahre

genutzt
Quelle der Bewertung
Preis-Leistungs-Verhältnis
1
---
Support INEXISTENT
We are on a paid "Pro" plan and spend over 5.000USD per year for Streak. We are not talking the free plan - for free is a good tool (but limited to personal use and basic features).
Probably all the good reviews come from free users.
We are cloud software developers, so understand the technicalities and if we raise a question is always well described. But we NEVER get a competent answer, in the last case it took 13 days and three nonsense one-line semi-automatic reply to discover that the Streak "support" person did not even know that streak.readme.io is not just documentation to read, but is supposed to be interactive, you can test your API there, but it does not work and they don't bother. You can test this yourself, just try to use streak.readme.io...
Vorteile
easy to use and setup, integration with Gmail, but it' a toy
Nachteile
Support is completely inexistent, they do not answer AT ALL or send canned answers without any brain in them. We are on a paid Pro plan and we have been consistently experiencing this problem for one year. Going to appoint a lawyer to get our money back.
Branche: Marketing & Werbung
Unternehmensgröße: 2-10 Mitarbeiter

Täglich

für

Mehr als 2 Jahre

genutzt
Quelle der Bewertung
Preis-Leistungs-Verhältnis
5
---
Best Free CRM for Gmail
Overall, it is one of the best CRM for Gmail. The free plan is recommended for personal use, but for working with a team upgrading to the Pro plan may be needed.
Vorteile
I used this software mainly for email tracking purposes. I used the free plan. It provides data about when the recipient opened the email, its location, and its devices.
The CRM is easy to integrate on Gmail. It is not needed to log in to another website, everything can be done within the Gmail workspace. Different pipelines can be created for managing projects, sales leads, hiring, fundraising, and other tasks. Emails can be scheduled to send at a later time.
Nachteile
Sometimes email tracking does not work as the recipient's server does not allow tracking. There is another concern of privacy as Streak can access and delete all emails and information within Gmail account.
Branche: Informationstechnologie & -dienste
Unternehmensgröße: 1.001-5.000 Mitarbeiter

Täglich

für

Mehr als 1 Jahr

genutzt
Quelle der Bewertung
Preis-Leistungs-Verhältnis
5
---
Everything for free
We were looking for email tracking. Categorising emails based on conversations. Only thing is streak would integrate every email of the customer in a single thread. Though it is a great advantage, sometimes the feature has downsides too. We need to sit and pre edit and then send email to our customer.
Vorteile
It's very difficult to get any tool for free and streak does it with no strings attached. Now you can easily track emails and send attachments via streak. Best part of streak being you can integrate it with gmail and easily classify them.
The eye icon is exciting and turns green when a person has opened his or her email. I like the fact you can categoris data.
Nachteile
It occupies entire Gmail. UI can be a bit better.
Like I need to scroll to see how many opens have been made by clicking the eye icon.
No other cons so far.
In Betracht gezogene Alternativen
Hunter
Warum Streak gewählt wurde
Looked at a free crm tool to track emails and also integrate my customers emails and not just look at Gmail separately and track customer conversation and data in a different window.
Gründe für den Wechsel zu Streak
We were only looking at free tools as we did not have a budget. Streak came as a blessing in disguise. It was suggested by another colleague.