Über Vagaro
Vagaro ist eine cloudbasierte Business-Management-Lösung für Salons, Spas und Fitnesszentren, mit der Fachleute Termine buchen und verschiedene Einrichtungsfunktionen verwalten können. Die Software bietet eine integrierte Lösung zur Verwaltung der Buchhaltung, Gehaltsabrechnung, Kundendatenbanken und Bestandsverwaltung sowie E-Mail- und Textbenachrichtigungen an Kunden und automatisiertes E-Mail-Marketing. Nutzer können verfügbare Termine auflisten und Kunden können dann nach Saloneinrichtungen in der Nähe suchen und Termine über die Vagaro-Website oder die Vagaro-App buchen. VagaroPro, die Business-App, ist für Android- und iOS-Smartphones erhältlich. Nutzer können anpassbare Werbewebseiten erstellen, um bevorstehende Veranstaltungen und Sonderangebote über die Website von Vagaro zu präsentieren oder sich mit ihren Kunden über E-Mail und Social-Media-Plattformen zu verbinden. Kunden können auch personalisierte Profile mit ihren Kontaktinformationen, ihrer Buchungshistorie und ihrem Feedback erstellen. Nutzer können Aufzeichnungen über ihre Kundenservice-Historie führen und anpassbare Berichte mit Grafiken und Diagrammen erstellen, um die Geschäftsleistung, die Kundenbindung und mehr zu verfolgen.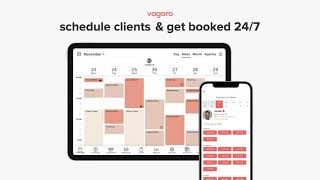 Vagaro bietet eine Gratisversion und eine kostenlose Testversion. Die kostenpflichtige Version von Vagaro ist ab 25,00 $/Monat verfügbar.
Startpreis:
25,00 $/Monat
Kostenlose Testversion:
Ja
Branche: Psychische Gesundheitsfürsorge
Unternehmensgröße: 501-1.000 Mitarbeiter

Monatlich

für

1-5 Monate

genutzt
Quelle der Bewertung
Preis-Leistungs-Verhältnis
4
---
Meine Erfahrungen mit Vavaro
Vorteile
Die Einfachheit der Bedienöberfläche der App
Nachteile
Die Sicherheit der Bezahlmöglichkeitenfinde ich prima,ebenfallsdie Erinnerungmails
Branche: Computer-Software
Unternehmensgröße: 201-500 Mitarbeiter

Täglich

für

6-12 Monate

genutzt
Quelle der Bewertung
Preis-Leistungs-Verhältnis
0
---
It's Awesome!
Vorteile
One of the standout features of Vagaro is its user-friendly interface, which makes it easy for business owners and their staff to navigate the system and complete tasks quickly. The platform also offers a mobile app, which allows businesses to manage their operations on-the-go.
Nachteile
While Vagaro offers a wide range of features and benefits for businesses, there are some aspects of the platform that users have criticized. One common issue that users have reported is a lack of flexibility in customizing the software to suit their specific needs.
Branche: Gesundheit, Wellness & Fitness
Unternehmensgröße: Selbstständig

Täglich

für

Mehr als 2 Jahre

genutzt
Quelle der Bewertung
Preis-Leistungs-Verhältnis
4
---
Over the past four years, Vagaro has been a huge help for me!
I have never had any problems in communications with Vagaro. They have always sent advance notice when they will not be in the office. Customer service has been excellent with rapid response any time that I have needed them. This is an excellent software to use for someone like myself, who is busy and running the business on my own.
Vorteile
Vagaro is an excellent, simple, moderate-budget scheduling tool. There are add-on options that can improve your reach and your marketing, depending upon how much you need. They have improved their scheduling capabilities for fitness studio owners/administrators. As for set-up, on-ramping is simple and does not require long hours of education.
Nachteile
I have had a lot of trouble getting the clients to use the software on their end. They haven't found it too user-friendly, but I do work with an older generation. I get about 50% compliance with account and scheduling tasks. It would be so helpful if a video were developed so they can easily set up on their own.
Warum Vagaro gewählt wurde
MindBody was getting outrageously expensive. And they had WAY too many features that I was not interested in using. It got very complicated, very quickly.
Gründe für den Wechsel zu Vagaro
Vagaro had simplicity and pricing for a business owner that was trying to simplify her tasks and shrink her business at the same time.
Branche: Gesundheit, Wellness & Fitness
Unternehmensgröße: 2-10 Mitarbeiter

Täglich

für

1-5 Monate

genutzt
Quelle der Bewertung
Preis-Leistungs-Verhältnis
3
---
Vagaro has been in business 9 years?!
Even though Vagaro is an improvement in a lot of ways compared to what we had, I wouldn't recommend it to another salt therapy spa. You say you are a salon and spa software. We operate a lot like a massage spa does, but your software does not function well for our needs.
Please make the following changes:
Allow for relationships between members
Allow for a membership to be shared with others, where on person pays for it
Allow employees who use the Vagaro system to also use the same email to be a client somewhere else.
Allow recurring scheduling for classes to be unlimited
Allow the business owner/manager to make the decision of what Vagaro permissions they give to their
employees
Make merging profiles easy
Keep duplicate profiles from happening for no reason
Vorteile
I own a salt therapy spa. The color coded calendar is really nice. It is easy to book clients into classes and appointments. Checking clients out is not perfect, but ok most of the time).
I will put the rest of my complaints here, since it limits characters in the Cons. Clients cannot use the same email if they have used another Vagaro merchant. Families also can't use the same email on different profiles.
We have a client who has been with us for over a year. She recently went to work for a massage therapist who uses Vagaro. Now, we are locked out of her account and cannot even change to a different email she gave us. The answer from Vagaro was to have her use our work computer to sign into her employee Vagaro account and make changes on our system. When I told tech support that is unprofessional and ridiculous to have my clients making changes to their account on our system, I was told that's not unprofessional at all. Uhm! Yes it is. I asked to speak to a Vagaro manager, was told they don't work on the weekends and that I couldn't leave a message to get a call back. I was told I would be responsible for calling back myself.
I am also not happy that I cannot give permissions to my employees that I need them to have. I need them to be able to upload excel sheets for certain things. That is only a manager permission. What's going to happen when I open other locations? I pay employees to get things off my plate so I can run my business.
Nachteile
I don't think this system is good for a business with several employees.
I do not like that we can not make family relationships. We sell family memberships and need for one person (usually the parent) to sign everyone out under the one membership. However, the way it is set up, we check the parent out and the have to comp the kids. That makes it look like we do a lot of comping of sessions. It makes me wonder how a fitness facility using Vagaro does their family memberships?
Scheduling a client for a recurring class is also not very friendly. You can only schedule them for 20 classes and no more. I have clients that come 3 times a week faithfully. There is no way for a reminder to add them back in. However, you can book recurring appointments forever. It should be consistent for classes as well.
We have had trouble with client profiles duplicating themselves. We can't figure out why that happens. Then, merging the clients is a problem. Half the time we try to do that, it doesn't let us, because it says they are the same person.....very confusing and difficult to deal with.
I'm not totally happen with the merchant processing. On more than one occasion, we've had clients try to pay for services or retail with a gift card they got. When we try to use it, it won't process. The answer that we got from Vagaro is that about 50% of the time, the merchant bank doesn't allow certain gift cards to be used. As a small business owner, that is very embarrassing.
Branche: Gesundheit, Wellness & Fitness
Unternehmensgröße: 11-50 Mitarbeiter

Täglich

für

Mehr als 2 Jahre

genutzt
Quelle der Bewertung
Preis-Leistungs-Verhältnis
4
---
After 7 years with another booking software, we switched to Vagaro in 2019 and have been very...
We really like Vagaro. We have improved/streamlined our online booking thanks to it.
Vorteile
The interface is easy to navigate and is much more client-user friendly than other booking software. And Daily Deals are great!
Nachteile
Vagaro still doesn't have a lot of little features/extensions that would make doing business even easier, but they keep adding new things, which is helpful.
Warum Vagaro gewählt wurde
Booker's interface was very rudimentary. The site was regularly down for maintenance, making it difficult to schedule or check out clients standing in front of us! And the cost kept going up for no additional features or services.
Gründe für den Wechsel zu Vagaro
Vagaro had better features.