Über Productboard
productboard ist eine cloudbasierte Produktmanagement- und Roadmap-Lösung, die Nutzer dabei unterstützt, Kundenbedürfnisse, Fortschritte, Verbesserungen und die Marktpriorisierung zu verstehen. Die Lösung wurde für Start-ups, großen Unternehmen und allem, was dazwischen liegt, entwickelt und ermöglicht dem agilen Produktmanagement, Daten und Einblicke für die Entwicklung und Einführung von kundenorientierten Produkt-Roadmaps zu nutzen. Zu den wichtigsten Funktionen von productboard gehören Kollaboration bei der Ideensammlung, Ressourcenmanagement, Priorisierung, Roadmapping, Feedbackerfassung, Meilensteinverfolgung, Überwachung von Anforderungen und Workflows. Darüber hinaus können Unternehmen mit der Kundengemeinschaft interagieren und anonymes Feedback von Kollegen erfassen. Die Lösung bietet auch White-Label-Lösungen für die Einrichtung von Produktportalen, die das Teilen, Prüfen und Einführen von Ideen zwischen Teammitgliedern und Kunden unterstützen. productboard ermöglicht die Integration in Drittanbietersoftware für Entwicklung, Benachrichtigungsverfolgung, E-Mail, Projektplanung usw. Das Produkt ist im Rahmen eines monatlichen Abonnements verfügbar und bietet Support per Online-Chat, E-Mail und Telefon.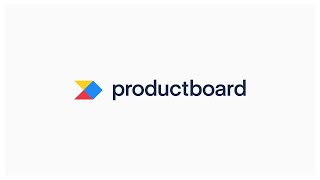 Productboard bietet eine Gratisversion und eine kostenlose Testversion. Die kostenpflichtige Version von Productboard ist ab 25,00 $/Monat verfügbar.
Alternativen für Productboard
Branche: Computer-Software
Unternehmensgröße: 11-50 Mitarbeiter

Täglich

für

1-5 Monate

genutzt
Quelle der Bewertung
Preis-Leistungs-Verhältnis
5
---
Simplest way for sophisticated insight consolidation, prioritization, and roadmap management
We had an alignment and communication problem that we had to solve. Plain and simply, productboard gives us a clear way to communicate and collaborate on our product roadmap. And gives our team insight into how we think about and prioritize initiatives.
Vorteile
Consolidating insights from myself, our customers, and our team. I also really like the different views I can create and ways I can prioritize things by release and various scores. The public feedback forum is also really, really nice. Then the beautiful roadmap view is just icing on the cake.
Nachteile
Doesn't integrate to Clubhouse, which we are moving to from JIRA. We also didn't use the JIRA integration because we were on New JIRA. Which is why we are now on Clubhouse, which I'll save for another review. Also, I feel there are a couple of elements missing when looking at reporting and ongoing maintenance of tickets... but that's hard, and is probably something they're thinking about.
In Betracht gezogene Alternativen
Aha!
Warum Productboard gewählt wurde
Well, JIRA isn't really a great tool for roadmap planning and prioritization. So the reality is that we _needed_ to do more strategic product planning, and JIRA didn't cut it.
Zuvor genutzte Software
Jira
Gründe für den Wechsel zu Productboard
Aha! was simply just too much software for what we needed. productboard gave us exactly what we needed at our stage, and was more intuitive to pick up and get going.
Branche: Eventservice
Unternehmensgröße: 11-50 Mitarbeiter

Täglich

für

1-5 Monate

genutzt
Quelle der Bewertung
Preis-Leistungs-Verhältnis
5
---
Alas! We found our product management solution
Over the past two years, we've tried about every product management solution under the sun. While many have been good, we hadn't found the best solution for *us* (a small team, 3 product people, 5 engineers). This is the first solution that's been adopted by the entire team, a big part due to the easy shared inbox for customer insights.
Vorteile
In order of benefit, here's what I like most so far about Productboard:
(1) Aggregating product insights / customer requirements across all of our inboxes + Slack into one place
(2) Ability to build a quarterly roadmap w/ existing tickets in Jira + w/ ability to write new features back to Jira as tickets
(3) Ability to outline all of the components of our platform w/ features under each component - something we've never had before.
Nachteile
Some small nit-picks around interactions (eg. bulk selecting rows), but so far customer support has responded instantly to guide me in right direction.
Warum Productboard gewählt wurde
After trying many other solutions we resorted back to spreadsheets. Ultimately, it becomes managed chaos in spreadsheets, so we knew we needed something to fit our growing team. We went back to demoing solutions and productboard fit our needs best.
Gründe für den Wechsel zu Productboard
See above. All were good, but productboard wound up fitting our specific needs the best. The quick support during our trial period helped seal the deal.
Branche: Kosmetik
Unternehmensgröße: 5.001-10.000 Mitarbeiter

Täglich

für

1-5 Monate

genutzt
Quelle der Bewertung
Preis-Leistungs-Verhältnis
1
---
The billing mechanism of individual plan is awful experience
After spending some time on working with the tool and really enjoying its quality, I was sure that I would stay with it. But experiencing tricky non-transparent billing is just cold shower making the tool same as any other, just half way through to full value.
Vorteile
It is for sure well thought through tool.
Nachteile
It is not mandatory or sole source ... so charging individual for adding member without any alert or notice that just selecting someone as member from drop down menu automatically apply charging to your card is really awful experience ruining any value for the product
Branche: Automotive
Unternehmensgröße: 51-200 Mitarbeiter

Täglich

für

6-12 Monate

genutzt
Quelle der Bewertung
Preis-Leistungs-Verhältnis
5
---
Product Roadmapping Made Easy
Overall, our experience has been fantastic. It has changed the way that we discuss and digest our Product Roadmap.
Vorteile
It was not until we started utilizing Productboard that we were able to visually see our Product Roadmap come to life. We were previously attempting to see this through JIRA, but prefer the customization of Productboard much more.
Nachteile
So far, we have yet to find any major gripes. My only request so far has been the ability to adjust timeframes for Sub-Features.
Branche: Informationstechnologie & -dienste
Unternehmensgröße: 51-200 Mitarbeiter

Täglich

für

1-5 Monate

genutzt
Quelle der Bewertung
Preis-Leistungs-Verhältnis
0
---
A simple yet powerful tool for managing and communicating the product roadmap
Productboard did enable us to create a manageable, customer value driven product roadmap that is in alignment with our corporate objectives and product vision. The communication of our product roadmap to different stakeholders is much easier now thanks to the customizable and stunning views.
Vorteile
Productboard has a very easy to use user interface, but still manages to provide you the functionality of customizable views with its powerful aggregations, filters, tags and view options. With the insights feature of productboard, it is very easy to parse the ideas and requirements of customers to product features and keep track of the customer demand for each feature in detail. The beautiful roadmap views which you can export for presentations are also a real timesaver.
Nachteile
An internal file viewer for common file formats (e.g. pdf, doc, xls) is needed for attachments.
It would be preferred if the internal insights could be seperated from customer insights when calculating the user impact score which we utilize to measure the customer demand of features.
Warum Productboard gewählt wurde
We could not maintain our product roadmap in a structured way. The release and objective models of productboard were really useful for managing and presenting the data for us.
Gründe für den Wechsel zu Productboard
The simple to use interface despite the underlying complex features and aggregations was the biggest selling point for us.