Über HoneyBook
HoneyBook ist eine cloudbasierte CRM-Lösung für kleine und mittlere Unternehmen. Die Lösung hilft Nutzern, Geschäftsprozesse von der Anfrage bis zur Rechnungsstellung zu verwalten. Mit HoneyBook können Nutzer Projekte verwalten, Kunden buchen, Verträge online unterzeichnen, Rechnungen senden und Zahlungen abwickeln. HoneyBook bietet ein Aufgabenmanagement, mit dem Nutzer verschiedene Phasen eines Projekts anzeigen und verfolgen können. Nutzer können ihre Rechnungen, Verträge und andere Dokumente an einem Ort aufbewahren. Nutzer können mit automatisierten Terminanforderungen und Follow-ups über personalisierte Vorlagen und Benachrichtigungen auf Kunden reagieren. Darüber hinaus können automatisierte Zahlungserinnerungen gesendet und projektbasierte Aufgabenerinnerungen erstellt werden. HoneyBook lässt sich in Tools wie QuickBooks, Calendly, Zapier, Gmail und Google Kalender integrieren. HoneyBook bietet seine Dienste im Rahmen eines monatlichen Abonnements an. Die Lösung bietet eine mobile Anwendung für Android- und iOS-Nutzer. Der Support erfolgt über E-Mail, ein Online-Helpcenter, ein Community-Forum und das Telefon.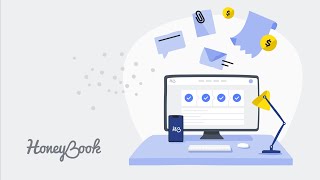 HoneyBook bietet keine Gratisversion, aber eine kostenlose Testversion. Die kostenpflichtige Version von HoneyBook ist ab 39,00 $/Monat verfügbar.
Startpreis:
39,00 $/Monat
Kostenlose Testversion:
Ja
Alternativen für HoneyBook
Branche: Rechtsberatung
Unternehmensgröße: 2-10 Mitarbeiter

Täglich

für

Mehr als 2 Jahre

genutzt
Quelle der Bewertung
Preis-Leistungs-Verhältnis
5
---
The Best Client Management Resource-- goes beyond normal software
Before I used HoneyBook, I had tried several other client management platforms. All of them were clunky, and often I'd have to hunt around for things in the interest of the app developer's attention to folders and organization. What a mess! I'm so glad I switched to HoneyBook. They've consistently made product improvements and seem to really care about their customers. It gets easier and more fun to use every day, with just enough features to accomplish what I need without overwhelming me. I highly suggest this to anyone who is managing multiple clients, especially if you have client projects that tend to go dormant for awhile then pick back up.
Vorteile
I love how easy it is to use, and how amenable the HB team is to updating the software if you have a feature request or complaint. It provides very visual, easy user prompts that allow me to easily accomplish what I need in a fraction of the time of other software apps I've tried.
Nachteile
It's annoying that I can't delete the default emails that came with my account to replace them with my own workflow, so myself or a team member doesn't get confused with their suggested emails vs. the ones I actually want to use.
Antwort von

HoneyBook

Christina, thank you for you being a HoneyBook member! We are so happy to hear that HB allows you to manage your clients in a fraction of time of other systems! Our Product Team works hard to consistently meet and exceed our members expectations. Thank you for the feedback on the default email templates. I will share with our team. Incase you didn't know, you can edit the default templates text and format to meet your needs.

Beantwortet am 23.9.2019
Branche: Fotografie
Unternehmensgröße: Selbstständig

Täglich

für

1-5 Monate

genutzt
Quelle der Bewertung
Preis-Leistungs-Verhältnis
5
---
Best I've Used So Far
Overall it has been a Godsend. I am feeling much better about how I manage my business with Honeybook.
Vorteile
I love using Honeybook! I've tried a couple other CRM softwares, and this one is by far the easiest to deploy and keep me on track. It is logical and feels easy to use, which has kept me using it rather than reverting to inefficient paper tracking. The customer service has been great: always quick and friendly to answer questions and help me through something I didn't understand. I would highly recommend Honeybook to anyone.
Nachteile
The calendar sync is sometimes glitchy, but that could also be user error. One thing that would make it better would be an easy way to override when I am considered "busy" on my Google Calendar that syncs in. I'd also love to have SMS communication with my clients, but rumor has it they are working on this.
In Betracht gezogene Alternativen
17hats
Warum HoneyBook gewählt wurde
Zoho was just too confusing - I love that it's one big suite to manage Social, and Website, and Accounting, and CRM, and washes my windows...but it was overwhelming, and to have someone help me set it up would require an additional subscription. Studio Cloud was just clunky. I may not have given it enough effort, but it just wasn't quite there for me.
Branche: Personalwesen
Unternehmensgröße: Selbstständig

Wöchentlich

für

1-5 Monate

genutzt
Quelle der Bewertung
Preis-Leistungs-Verhältnis
0
---
HoneyBook Administration
HoneyBook didn't work for what I needed
Vorteile
It was supposed to be tailored for coaching / consulting services.
Nachteile
The functionality was difficult to utilize.
Branche: Marketing & Werbung
Unternehmensgröße: 2-10 Mitarbeiter

Täglich

für

6-12 Monate

genutzt
Quelle der Bewertung
Preis-Leistungs-Verhältnis
5
---
Solid Payment Invoicing & Proposal Tool
8/10. Once the client has paid the first time, their automated recurring payment solution is working really well for me.
Vorteile
I moved away from Quickbooks online because they didn't have an easy way to send customers automatic recurring invoices. Honeybook had pre-built service agreements along with the automated recurring payments feature I needed for my business. It was appealing to work with them because set up was very easy to get what we needed up and running
Nachteile
After a client pays their invoice, it usually takes 12-24 hours for Honeybook to send me a confirmation email saying they've paid. This is (I don't use this word often) absurd. With Quickbooks, I know payment confirmation comes in within 10 minutes.
Especially if I am going to start work with a client right as they pay, this hurdle in their platform stops me from getting to work right away.
It usually leads to me emailing my customer "Did you pay the invoice?" then them replying "I did!" then me looking into Honeybook wondering why the heck it hasn't come in and making me look foolish to my client... Then I finally get the notification the next day.
It's the #1 feature request they need to get updated.
Gründe für den Wechsel zu HoneyBook
Because they have online scheduling, and pre-built proposals/service agreements to use. More of an all-in-one platform.
Branche: Grafikdesign
Unternehmensgröße: Selbstständig

Täglich

für

1-5 Monate

genutzt
Quelle der Bewertung
Preis-Leistungs-Verhältnis
5
---
Honeybook is a game-changer for Service Oriented Small-Businesses
The biggest problem that I've struggled with since launching my business is obtaining payment in a timely fashion. Honeybook totally fixed that problem for me. I don't have to give a laundry-list of payment methods or pay for additional payment services, wait around for physical checks, or process e-checks. My customers just plop in their card information and then it hits my bank account.
SO. NICE.
Vorteile
Honeybook took my booking process to a massively higher level of success. My contracts are all signed, and invoices are paid before I even start designing. I walk my customers through the process and we discuss TAT and rates, next steps, and then I kick them over the Proposal with the same details we discussed during the sale.
With other software I've struggled to receive timely payments, or contract signatures.
Not anymore!
Nachteile
The contract templates are pretty limited to social media management and marketing ops. I think that every business needs their own contracts, period, but it would be nice to have a better starting place for other service providers.
Additionally, the emails that Honeybook kicks out for proposals, payments, contracts and the like have reportedly found their way to many of my customer's spam box. I just warn them ahead of time, but it's not super reassuring to some more leery customers.