Über Thryv
Thryv is an all-in-one business management solution designed to help small businesses with essential business functions. With Thryv, business owners can expand their online presence, improve any customer relationship, and streamline payment processing. Features include an integrated CRM system, appointment scheduling, billing and invoicing, contact management, marketing automation, reputation management, social media management, automated reminders, and more. As a cloud-based marketing and CRM software solution, Thryv helps any small business owner manage interactions with their clients, run marketing campaigns with email marketing and manage activities on various social media platforms such as Facebook, Instagram, Twitter, LinkedIn, and Google+. The solution also features an appointment booking module that enables users to manage team schedules, synchronize calendars, and book appointments from a single location. Additionally, Thryv features a payment module that helps users to send customized quotes, estimates, and invoices to clients and accept payments via credit card. Thryv integrates with multiple third-party applications such as QuickBooks, Gmail, Slack, MailChimp, Yelp, and more and also offers a mobile app for iOS and Android devices.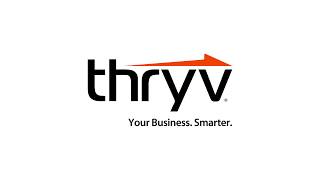 Thryv bietet keine Gratisversion und keine kostenlose Testversion.
Startpreis:
Nicht vom Anbieter bereitgestellt
Preisinformationen:
Thryv offers a variety of price points, and works closely with small business owners to identify the right plan that meets their needs. It offers three different packages for: 2 Users, 5 Users or 10 Users. Each package offers tools for reaching customers, generate reviews, staying organized and online payments. Add-ons are also offered.
Kostenlose Testversion:
Nein
Branche: Versicherung
Unternehmensgröße: Selbstständig

Täglich

für

1-5 Monate

genutzt
Quelle der Bewertung
Preis-Leistungs-Verhältnis
5
---
THRYV is helping my business grow
Thryv and the staff has been amazing in helping me get my small business off the ground (during a ppandemic!). Every day I learn something new. I believe it is going to further assist in growing and maintaining my business.
Vorteile
Thryv is easy to set up and use. The training and customer service are the best I have found. They are very attentive, even reaching out to me to make sure I am getting the most from my system. I am so pleased that I can post to ALL my social media sites at once and set up my posts for the future. I am pleased that my birthday greetings are also automated and that I can schedule special "announcments" and campaigns.
Nachteile
There are some functions that I don't use in my business and I feel they clutter my dashboard.
Gründe für den Wechsel zu Thryv
I felt that Sales Force did not meet my needs and Thryv was the best value.
Antwort von

Thryv

Hi Neta, thank you for this review and for making our day! We are proud to hear that the Thryv software and team are helping you with your business. We always say it is the little things that impress your customers and the automated birthday shoutouts put that extra little touch to connecting with them. Whenever you need assistance, please call our Free 24-Hour Thryv Support line at 844-998-4798. - Gabe

Beantwortet am 30.4.2021
Branche: Professionelles Training & Coaching
Unternehmensgröße: Selbstständig

Täglich

für

6-12 Monate

genutzt
Quelle der Bewertung
Preis-Leistungs-Verhältnis
5
---
Thryv is the superior online small business management platform.
Again, the customer service and tech support is top notch, and blows all the competition away. As does the platform. Stop reading my review and join now! You can get a free demo customized to your needs by contacting [SENSITIVE CONTENT HIDDEN] Tell him John V sent you and that he owes me a steak.
Vorteile
Often, systems that try to be everything tend to have weak spots, or fail to fulfill promises. Not Thryv. The system is so robust and comprehensive, I still can't believe how amazing it is, and how few people I know who use it. I do all of my client, scheduling, billing, marketing, social media and web site management through Thryv. I would have taken me months or longer for me to set up what Thryv offers essentially out of the box, and it simplifies all those business facets by both consolidating them in to their platform and making them either easy to use or automated.
Nachteile
There is a learning curve to it, but any robust system will have one. However, Thryv customer support is the best I have ever experienced anywhere. Yes, ever. They call me to ask if I have any needs, and set up personal appointments by Zoom to walk me through the system to learn and customize it. I don't know of any other company doing that. Plus, there is 24/7 live chat and phone support.
Gründe für den Wechsel zu Thryv
The unparalleled business solutions all in one package and integrated, and the customer support.
Antwort von

Thryv

Hi John, it always makes our day when we hear how great Thryv is working for our valued clients. From the sound of it, you are a Thryv Expert, and reaching your clients on a whole new level. To get even more out of Thryv, feel free to join our Facebook Group - High Thryver's. You can engage with other Thryv Users and get the latest updates on Thryv. - Gabe

https://www.facebook.com/groups/highthryvers

Beantwortet am 8.3.2021
Branche: Bau
Unternehmensgröße: 2-10 Mitarbeiter

Weitere

für

Mehr als 2 Jahre

genutzt
Quelle der Bewertung
Preis-Leistungs-Verhältnis
1
---
Poor Customer Support, still withdraw full price from your account even though they said not
I had to reach out to their [SENSITIVE CONTENT HIDDEN] about 1+ years ago in order to get my website fix because they keep on pushing from one team to another. I have been frustrated with their unprofessional customer services since 2017 and I'm about to send another email to the [SENSITIVE CONTENT HIDDEN] about this ridiculous charge of $199. This is a scam and rip-off from their customers who decided to leave.
Vorteile
If you have a full-time staff to use this software to run your business then it should be okay.
Nachteile
1. You need to constantly check your website because you know when they mess it up to become a blank page. You will not get an easy resolution from their CSR without a request to speak with the manager.
2. If you terminate the agreement earlier then they hold you accountable to pay them until the term expired. On the other hand, when the term is expired and they continue to charge you month-to-monthly without giving you the courtesy email to let you know about the term being the change.
3. I was 3 or 4 days into the new month and request to terminate because my contract has been expired for I don't even know how long. [SENSITIVE CONTENT HIDDEN] promised me that she will wave the 1-time pro-rate fee that give me the weekend to retrieve all the emails that I need and forward it to my Google account. That was a lied and on Monday I got charge for the full-price $199. I have appeal with my bank and call Thryv, they have the nerve to tell me that they are not going to refund the charge. If you are looking then stay away from Thryv.
Antwort von

Thryv

Hey Jenny! Very sorry for all the trouble! I sent your concerns over to our Client Care Escalations team! They'll be getting back to you as soon as possible! Please let us know what else we can assist you with. -Chandlor

Beantwortet am 20.4.2020
Branche: Hausmeisterservice
Unternehmensgröße: 2-10 Mitarbeiter

Täglich

für

6-12 Monate

genutzt
Quelle der Bewertung
Preis-Leistungs-Verhältnis
5
---
Excellent Product with Even Better Customer Service
Vorteile
The software offers a multitude of features and product offerings that are above and beyond most in their field. The customer supports is wonderful and always ready to teach or lend a helping hand.
Nachteile
As a novice it is a little confusing navigationg the software and inputting customer contact information
Antwort von

Thryv

Hi Ben, thank you for your review and kind words. We know there are a lot of features with Thryv. That is why we recommend working with our team to make sure you become the Thryv expert. You can reach our team 24 hours a day at our Free Thryv Support line at 844-998-4798. - Gabe

Beantwortet am 13.9.2021
Branche: Bildungsmanagement
Unternehmensgröße: 11-50 Mitarbeiter

Täglich

für

6-12 Monate

genutzt
Quelle der Bewertung
Preis-Leistungs-Verhältnis
5
---
Great Product Great Support
enrollment for our school and engagement for our families
Vorteile
I liked the integration of the system with all of our functions Additionally, the support from our teams at Thryv has been phenomenal Love this product and this group!!!!
Nachteile
I am pleased with the software cannot think of anything
Gründe für den Wechsel zu Thryv
I was trying to use both systems and it was much better to use Thryv and have all of these items coordinated and maintained in one central location- being able to load documents and easily share them with families is incredibly useful
Antwort von

Thryv

Hi Maher, we are glad to hear that Thryv was easy to integrate and makes your day-to-day run smoother. As you know, anytime you need assistance, feel free to call our 24-Hour Thryv Support line at 844-998-4798. - Gabe

Beantwortet am 30.4.2021