Über Clover
Clover POS is an integrated point-of-sale (POS) system with custom hardware designed for several types of retailers. This POS system is available in both web-based and server-based deployment versions and offers countertop hardware options, a mobile POS option, contactless payments, plus more. Clover Dining is the main POS app built specifically for restaurants. With the Clover POS system, businesses can streamline payment processing, sales, and inventory management, plus more. Clover can replace outdated processes involving a cash register, paper receipt printer, label printer, barcode scanner, plus others. Payment processing supports PIN and chip card payments, credit card swipes, Apple Pay transactions, and contactless payment types. Additionally, the Clover POS program integrates with QuickBooks, includes a time clock to track clock-in and clock-out times, and manages vendor maintenance and purchase orders. Hardware components offered include the countertop Clover Station, Clover Go card reader, Clover Mini POS station, the Clover Flex mobile payment processor, plus more. Additionally, the Clover App Market offers various solutions including gift card branding, marketing promotions, detailed analytics, online store integration, plus more. With the Clover POS dashboard, businesses can visualize key data metrics in real-time. Other features include order tracking, menu editing, and data reporting.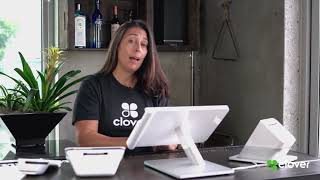 Clover bietet keine Gratisversion, aber eine kostenlose Testversion.
Kostenlose Testversion:
Ja
Branche: Krankenhausversorgung & Gesundheitswesen
Unternehmensgröße: 1.001-5.000 Mitarbeiter

Täglich

für

Mehr als 2 Jahre

genutzt
Quelle der Bewertung
Preis-Leistungs-Verhältnis
0
---
Use in my small businees
Clover has been an excellent option for taking payments in my stores.
Vorteile
My coffee shop uses clover devices as our POS system. The software is convenient and easy to place in a store. It features many apps that make it applicable to nearly any market. They also have many accessories- the main one we use are the receipt printers (small and regular size), the handheld tablet, and the customer interface screen.
Nachteile
Over time the clover tablets do slow down. We frequently reboot them to rev up the speed.
Branche: Unterhaltung
Unternehmensgröße: 2-10 Mitarbeiter

Täglich

für

6-12 Monate

genutzt
Quelle der Bewertung
Preis-Leistungs-Verhältnis
3
---
Almost Great...
My overall experience with clover has spanned from the creation of menus and items with sub menus and add ons for each item, as well as specials for days of the week as well as happy hour times to daily usage for pos transactions. Overall I have been very happy with everything, other than the need to set up account through bank, as I mentioned before.
Vorteile
I love how easy it is to use clover for grab and go, sit down service, or retail services. It is the only pos system I know of that is easy to use for one or all three of the above type of service. With one pos you can easily switch apps and have optimized layout and design for each of the above, while keeping the same items and menus/submenus.
Nachteile
I dislike that it has to be used through your bank. It makes it really hard for management to have the ability to access customer support and full features, since most owners dont want their employees, even management, to have access to full banking info.
Warum Clover gewählt wurde
Better overall bundles and all inclusive services made clover a sole replacement for multiple previous softwares.
Gründe für den Wechsel zu Clover
Again it allowed for the use of only one company/software versus having to use multiple items for different needs such as pos transactions, inventory, scheduling etc.
Branche: Gastgewerbe
Unternehmensgröße: 2-10 Mitarbeiter

Täglich

für

Mehr als 1 Jahr

genutzt
Quelle der Bewertung
Preis-Leistungs-Verhältnis
2
---
Reports of 30+ days must be requested and can take days ... NOT INSTANT!!!
Vorteile
Slick look, easy to setup and use, clover mini
Nachteile
Reporting is substandard. Reports for a period of 3 months or more can take several days to get! Poor customer service. Clover Support staff could use more training.
Branche: Einzelhandel
Unternehmensgröße: 2-10 Mitarbeiter

Täglich

für

6-12 Monate

genutzt
Quelle der Bewertung
Preis-Leistungs-Verhältnis
2
---
Clover Pos
From the pos system itself, we are multistore, so that is added complications for the clover system. On the register side, looking up customer names is complicated, you type the last name, but cannot enter the full name or it will not find it, so you enter the last name and have to scroll through the list of lets say 50 last name of smith, takes way to much time, and really difficult on the mini with the small screen. To increase quantity you have to go to another screen and then back again, more time, If one person does a price check by entering an item because a customer wants the total with tax, even though you delete the item, or clear open order, if a second sales person then logs in to check someone out the order still reads with the first person doing the sale even though they logged out. From the dashboard side, no ability to print many things such as transfer slips from HQ to the other 3 stores, once it is transferred it is on the screen until the store accepts the item in, after that the info is gone, and you cannot access for questions, etc. the lack of alphabetical order on many functions, the tax functions, if you use different tax rate for each of our 3 taxing authorities, as we did (and would prefer) say you have 10,000. in sales, 3 tax rates, when they are done separately the total income would then become 30,000.00, so many of the reports are not accurate as they read.
Vorteile
clover has been making some updates in the months since we have been using them, which have been good and helpful, but much is needed to make it functional for a multistore, without having to pay way to much monthly for apps to do things
Nachteile
to get even what I would consider basic functions, purchase more apps that would raise the monthly cost out of reach, sometimes the apps will show different figures, when creating an item, for our multistore setting, I can create for all 4 locations at once, with name, label, category, cost, price, but the tax rate, I have to go into a different screen for each location and fix all tax rates, very time consuming
Branche: Einzelhandel
Unternehmensgröße: 2-10 Mitarbeiter

Täglich

für

Mehr als 1 Jahr

genutzt
Quelle der Bewertung
Preis-Leistungs-Verhältnis
3
---
Too Simple without the Addition of Add-Ons
In our experience, clover has been nothing more than a fancy credit card reader. Our entire company runs through a third party app that manages clover from the other side. The only use clover has become to us is, to accept payment and we are currently looking into changing to a system that better suits our needs.
Vorteile
The aesthetic of the hardware fits on par with what is trending. The ability to utilize the barcode scanner is also nice.
Nachteile
In order to run our business effectively we had to download so many third party apps to do what we had been doing for 30 years on an outdated system. It felt like a slap in the face as it was a turning point for us to upgrade all the systems only to find it was nearly useless for what we needed it to continue doing for us.
Warum Clover gewählt wurde
We were running the old versions of Microbiz (not Microbiz Cloud POS.) We were making the change to integrate our brick and mortar into an online store as well and the options were not ideal for staying with Microboz. Our payment processing provider recommended clover so we went with them in order to not have to change our longstanding relationship with the local payment processing company.
Gründe für den Wechsel zu Clover
Cost efficiency and apparent easy of use.