Über Clover
Clover POS ist ein integriertes POS-System mit nutzerdefinierter Hardware für verschiedene Arten von Einzelhändlern. Dieses POS-System ist sowohl in web- als auch in serverbasierten Bereitstellungsversionen verfügbar und bietet Hardwareoptionen für Arbeitsflächen, eine mobile POS-Option, kontaktlose Zahlungen und mehr. Clover Dining ist eine POS-Anwendung, die speziell für Restaurants entwickelt wurde. Mit dem POS-System von Clover können Unternehmen die Zahlungsabwicklung, den Vertrieb, das Inventarmanagement und viele weitere Prozesse optimieren. Clover kann veraltete Prozesse, für die eine Registrierkasse, ein Papierbelegdrucker, ein Etikettendrucker, ein Barcode-Scanner oder andere Geräte erforderlich sind, ersetzen. Clover unterstützt PIN- und Chipkartenzahlungen, Kreditkarten-Swipes, Apple-Pay-Transaktionen und kontaktlose Zahlungsarten. Darüber hinaus lässt sich das Clover-POS-Programm in QuickBooks integrieren, enthält eine Stempeluhr zur Verfolgung der Ein- und Ausstempelzeiten und verwaltet die Pflege von Lieferantendaten und Bestellungen. Zu den angebotenen Hardwarekomponenten gehören die Clover Station für Arbeitsflächen, der Clover-Go-Kartenleser, die Clover-Mini-POS-Station, der Clover-Flex-Zahlungsabwickler für mobile Zahlungen und vieles mehr. Darüber hinaus bietet der Clover App Market verschiedene Lösungen, einschließlich des Brandings von Geschenkkarten, Marketingaktionen, detaillierte Analysen, Online-Shop-Integration und mehr. Mit dem Clover-POS-Dashboard können Unternehmen wichtige Datenmetriken in Echtzeit visualisieren. Weitere Funktionen umfassen Auftragsverfolgung, Menübearbeitung und Datenberichterstattung.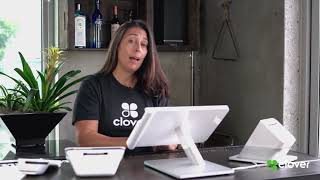 Clover bietet keine Gratisversion, aber eine kostenlose Testversion.
Startpreis:
Nicht vom Anbieter bereitgestellt
Kostenlose Testversion:
Ja
Branche: Essen & Trinken
Unternehmensgröße: 11-50 Mitarbeiter

Täglich

für

Mehr als 2 Jahre

genutzt
Quelle der Bewertung
Preis-Leistungs-Verhältnis
5
---
Easy, simple and effective
Very positive. It's ease of use makes it suitable for every demographic and It integrates well with our other systems like Shopify and Shopventory.
Vorteile
Since this system uses android OS so it follows a familiar mobile OS layout.
The system is extremely easy to use. I repeat, EXTREMELY easy to use. So easy that the boomers in our company did find it too difficult to learn.
It's large buttons and integrated barcode scanner makes transactions quick and smooth.
It integrates with most common applications such as Quickbooks & Shopify.
The option to search for products by typing the name is extremely useful.
As one of our owners put it, "It's pretty hard to make a mistake on it, even for a caveman like me."
Nachteile
It's certainly not as advanced as other point of sales systems I've used in the past.
Sometimes simple commands are buried in sub folders. For example, if you want to delete an entire order, you are required to push three dots at the top of the order, then select the "delete order" option from a list of commands. While simple is steps, the lack of clarity when while locating the the action can slow you down when you are busy.
A massive con is the that it does not natively support variable priced items by weight. In order to add this as an option, we're required to pay an extra $10 a month.
Something that has also been massively disappointing is that you can not increase the price of an item during the sale. If an item is at a fixed priced, you can not increase the price, you can only reduce the price or provide an item discount. This is a disadvantage if you don't necessarily need an item to be a variable priced item, of if an item is priced incorrectly. It forces you to use the open item option.
Branche: Einzelhandel
Unternehmensgröße: Selbstständig

Täglich

für

6-12 Monate

genutzt
Quelle der Bewertung
Preis-Leistungs-Verhältnis
1
---
Not for Retailers
The problems come with the back office.
The inventory system is basic to say the least, items sold at the till do decrease the totals, but all purchase quatities have to be done manually, you cannot set min and max stock levels, or re-order levels with the bundled system, so re-orders have to have a physical stock check, I am still trying to work out how this saves me time and money.
Clover relies heavily on thrid party APPs, which they absolve themselves of all responsibility in their T's & C's. These Apps are expensive
(The Shopventory APP is £40 Pm +VAT)
The E-Commerce integration does not work.
The Magento integration is for Magento 1m which was made obsolete in June 2018, and is no longer supported.
The Shopify integration does not work either, and for me failed at the first hurdle, (I have now been waiting 14 days for a fix).
I purchased a barcode reader they recommended, not even their support staff could get it to work, I was promised a fix, five months ago.
In my opinon this system out of the box is not for retail, unless you want to see your profits dwindle through the purchase of expensive APP's.
The actual helpdesk staff are very helpful, but they can only do so much.
The actual management are a nightmare to deal with.
I first presented some of these issues within 30 days and was promised a fix, five months later I am being told that even though I registered those issues it will cost me over £1500 to get out of a 48 month contract.
Vorteile
The till itself is fantastic, it looks ultra sleek and ultra modern, customers love it.
And that is about it
Nachteile
It was sold to me as a solution to me retail needs it certainly is not
Branche: Unterhaltung
Unternehmensgröße: 2-10 Mitarbeiter

Täglich

für

6-12 Monate

genutzt
Quelle der Bewertung
Preis-Leistungs-Verhältnis
3
---
Almost Great...
My overall experience with clover has spanned from the creation of menus and items with sub menus and add ons for each item, as well as specials for days of the week as well as happy hour times to daily usage for pos transactions. Overall I have been very happy with everything, other than the need to set up account through bank, as I mentioned before.
Vorteile
I love how easy it is to use clover for grab and go, sit down service, or retail services. It is the only pos system I know of that is easy to use for one or all three of the above type of service. With one pos you can easily switch apps and have optimized layout and design for each of the above, while keeping the same items and menus/submenus.
Nachteile
I dislike that it has to be used through your bank. It makes it really hard for management to have the ability to access customer support and full features, since most owners dont want their employees, even management, to have access to full banking info.
Warum Clover gewählt wurde
Better overall bundles and all inclusive services made clover a sole replacement for multiple previous softwares.
Gründe für den Wechsel zu Clover
Again it allowed for the use of only one company/software versus having to use multiple items for different needs such as pos transactions, inventory, scheduling etc.
Branche: Einzelhandel
Unternehmensgröße: 51-200 Mitarbeiter

Täglich

für

Mehr als 1 Jahr

genutzt
Quelle der Bewertung
Preis-Leistungs-Verhältnis
4
---
An out of the box solution that works well for small business
Clover is an excellent and good looking choice for a small to medium size business in need of a reliable and cost effective solution. You will be pleased as I have been. The system offers quite a bit of integrations and once implemented you will be amazed at the power of this system. I wish we could have linked all stores together but we were only allowed three machines to link per location. Overall, an excellent POS!
Vorteile
I was in search for s POS for three thrift stores my nonprofit operated. The old cash register no longer fits the internal control environment and a switch was desperately needed. After researching multiple platforms I opted for Clover. The others were simply too expensive and too complex for our needs. The Clover system worked brilliantly and continues to power the sales desk at all three stores. Each store has three registers and we were able to link the three to the main server to aggregate totals for each store. Sales increased and customer satisfaction went up as well. Clover has a host of apps to integrate including inventory management, time and attendance, markdowns, and a customer loyalty program which was a hit with our customers. The Clover system is truly a remarkable POS for the price of entry. The sleek modern look keeps the cash wrap looking clean and updated. The Digital receipt and signature has cut down on paper waste and makes us feel like we are doing out part to create less stress on the environment. Overall this is a simple and powerful solution that powers millions in annual retail sales for the organization.
Nachteile
The one setback is the operating system is Android. I find Android to be clunky and prone to security threats. We had to ensure we had it on a secure network and well protected by firewalls. Additionally it took some time to learn the system. Disclaimer- we operated on a complete iOS ecosystem until we bright on Clover. So not a big setback just more learning.
Branche: Einzelhandel
Unternehmensgröße: 2-10 Mitarbeiter

Täglich

für

Mehr als 1 Jahr

genutzt
Quelle der Bewertung
Preis-Leistungs-Verhältnis
3
---
Too Simple without the Addition of Add-Ons
In our experience, clover has been nothing more than a fancy credit card reader. Our entire company runs through a third party app that manages clover from the other side. The only use clover has become to us is, to accept payment and we are currently looking into changing to a system that better suits our needs.
Vorteile
The aesthetic of the hardware fits on par with what is trending. The ability to utilize the barcode scanner is also nice.
Nachteile
In order to run our business effectively we had to download so many third party apps to do what we had been doing for 30 years on an outdated system. It felt like a slap in the face as it was a turning point for us to upgrade all the systems only to find it was nearly useless for what we needed it to continue doing for us.
Warum Clover gewählt wurde
We were running the old versions of Microbiz (not Microbiz Cloud POS.) We were making the change to integrate our brick and mortar into an online store as well and the options were not ideal for staying with Microboz. Our payment processing provider recommended clover so we went with them in order to not have to change our longstanding relationship with the local payment processing company.
Gründe für den Wechsel zu Clover
Cost efficiency and apparent easy of use.