Über Creatio CRM
Creatio ist eine einzigartige Synergie aus einheitlichem CRM und intelligenter BPM-Plattform (Business Process Management) für Marketing, Vertrieb und Serviceautomatisierung. Die Lösung ermöglicht es mittelständischen und großen Unternehmen, den Kundenlebenszyklus vom Lead über den Vertrieb bis hin zum laufenden Kundenservice zu verwalten. Die Lösung gibt Nutzern die Möglichkeit, Marketing-, Vertriebs- und Dienstleistungsaktivitäten über eine einzige CRM-Plattform einzusehen. Creatio bietet drei integrierte Produkte, die separat oder in einem einzigen CRM-Paket genutzt werden können: Marketing Creatio, Sales Creatio und Service Creatio. Marketing Creatio ist eine Multichannel-Marketinganwendung, mit der Marketingspezialisten eine kontinuierliche Kommunikation mit Kunden erstellen und unterstützen können. Sales Creatio ist ein SFA-Tool (Sales-Force-Automation) zur Verwaltung des Vertriebszyklus von der Lead-Generierung bis zur Verwaltung von Bestandskunden. Service Creatio bietet Kundenservice-Tools, die beim Kundenengagement helfen. Die Bereitstellung von Creatio kann bei Bedarf als cloudbasierte Lösung oder vor Ort erfolgen, wo die Daten dann intern auf den Servern des Unternehmens gehostet werden. In beiden Fällen können Nutzer über einen Webbrowser oder die mobile App auf Creatio zugreifen. Das System ist sowohl mit Windows als auch mit iOS kompatibel.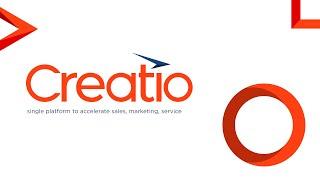 Creatio CRM bietet keine Gratisversion, aber eine kostenlose Testversion. Die kostenpflichtige Version von Creatio CRM ist ab 25,00 $/Monat verfügbar.
Startpreis:
25,00 $/Monat
Alternativen für Creatio CRM
Branche: Gastgewerbe
Unternehmensgröße: 51–200 Mitarbeiter

Täglich

für

1-5 Monate

genutzt
Quelle der Bewertung
Preis-Leistungs-Verhältnis
5
---
Best CRM
With the deployment of the bpm'online software, we aligned the work of our marketing, sales and service teams and integrated data from different locations and channels. What our agents liked is that the bpm'online system enabled them to deliver personalized services and to support each client. Business process management capabilities are a huge advantage of bpm'online for us. Moreover, the bpm'online platform is scalable and flexible and meets the changing needs of the travel market. Finally, the implementation process was thoroughly planned which ensured the success of the project.
Vorteile
People like the personalized approach and high-class service that we deliver when they travel. That enabled us to grow very fast. Unfortunately, our CRM system was failing to keep up with the pace of our growth. Hence, there was a need for a more effective CRM solution. We were looking for a software that would support and foster our business expansion and growth. Thanks to the intelligent bpm'online software, we reduced technology costs, and improved productivity. We achieved considerable improvement of sales and marketing productivity. Our improved interactions with clients resulted in increased revenue and customer loyalty.
Nachteile
There wasn't anything to dislike. The project was carefully planned and thought through – thus, everything worked fine.
Branche: Bildungsmanagement
Unternehmensgröße: 2–10 Mitarbeiter

Täglich

für

Mehr als 1 Jahr

genutzt
Quelle der Bewertung
Preis-Leistungs-Verhältnis
4
---
Creatio CRM
Before Creatio, basically all that we did was manual and we attempted to offer our types of assistance at a quick speed. We are currently outfitted with clever answers for handle all client confronting processes: deals, showcasing, client assistance tasks, clinical guaranteeing, and claims the executives. Creatio holds cornerstone information of our individuals. The capacity to assemble work processes made Creatio a flat out fit for our business. We tweaked the lead the board cycle, and computerized deals pipe. We convey fundamentally better client care as our representatives have moment admittance to client profiles and see every one of their exercises. The specialists can follow the situation with client cases and give exact data on the goal.
Vorteile
Catching data about clients and their workers
Making leads from the site
The board of gatherings of the outreach group
The board reports for promising circumstances
The vital strength of the stage is its adaptability.
Creatio accompanies out-of-the-case arrangements, yet theyre configurable for your business.
Nachteile
At the point when clients go on-prem, there are some additional expenses for microservices. The mix with web-based media requires outsider applications
It would be extraordinary to make the framework more easy to use by adding further developed separating and information perception. On a side note, we have as of now seen some critical enhancements in this space this year.
Branche: Computer-Software
Unternehmensgröße: 11–50 Mitarbeiter

Täglich

für

1-5 Monate

genutzt
Quelle der Bewertung
Preis-Leistungs-Verhältnis
4
---
With much to improve, but proven alternative.
The idea of ​​using bpm / online, indicated a change in the terms of use and escape of the domain and the monopoly of the great tools that BPM offers.
This tool allows us to manage small processes that, in other occasions, we would have to design and leave in files.
Vorteile
Simple and basic user interface for any principle that uses BPM as a serious management for business processes.
The BPM tool is solid, you can design and implement any process of a slightly simple tranche. Since the coding is in the background (automated by the tool), we take care of the technical and procedural management of each project.
Nachteile
A technical level requires many updates, it has basic but powerful features. Its larger competitors incorporate truly powerful tools to create correct BPM flows of guaranteed quality.
The incorporation of external services has not yet matured.
Wöchentlich

für

Mehr als 2 Jahre

genutzt
Quelle der Bewertung
Preis-Leistungs-Verhältnis
5
---
All business processes are automated within bpm'online CRM
My company works in service business (education) and we need to do the best we can for our clients. Having marketing, sales and service in a single platform has easily been one of the best benefits to date. Outlook integration works perfectly and really saves time for everyone. And from a support standpoint, they provide top-notch service 24/7. Within bpm'online we automate sales processes and pipeline management, email marketing, event management, billing clients' hours.
Vorteile
We have had the full bpm'online CRM for marketing, sales and service for several years now and can't imagine our business without it. Implementation was very fast and we started using the out-of-the-box processes right away. The best part of the implementation was sales module. Integration was seamless with our other systems. No coding experience or extensive training was needed.
Nachteile
To some extend it can be a bit complicated for non-techy users. At the same time, once our team started using it daily, they absolutely loved it.
Branche: Bankwesen
Unternehmensgröße: 1.001–5.000 Mitarbeiter

Täglich

für

Mehr als 2 Jahre

genutzt
Quelle der Bewertung
Preis-Leistungs-Verhältnis
5
---
Bpm'online helped us improve performance
Sales and marketing management system. With this application we have got great results with minimal time spent and maximum success. We are happy with results!
Vorteile
With bpm'online we managed to integrate and our processes and operations in one application. Our sales reps have access to all the information they need, even if it's lead's website behavior data. We automated a standard sales process for the entire team and it helped us improve performance.
Nachteile
Would be good to have a bit more modular pricing so that we could adjust it and pick what we really need.