Über Drip
Drip ist eine cloudbasierte E-Mail-Marketinglösung, die Unternehmen jeder Größe in verschiedenen Branchen wie Marketing und Werbung, Konsumgüter und E-Learning bedient. Zu den wichtigsten Funktionen gehören Workflow-Automatisierung, Multi-Channel-Marketing, personalisierte E-Mail-Kampagnen und Berichterstattung über Kundenaktivitäten. Drip bietet einen textbasierten und einen visuellen E-Mail-Builder zum Erstellen personalisierter E-Mails für verschiedene Kundengruppen. Die Kundengruppen können nach Segmenten, Aktivitäten, Demografie und mehr definiert werden. Das Website-Tracking von Drip ermöglicht es den Nutzern, die Customer Journey zu verfolgen und erlaubt es Führungskräften, die Kundenloyalität durch Leaderboards zu verfolgen. Marketingmanager können Workflows mithilfe der vordefinierten Vorlagen erstellen und sie für bestimmte Kampagnen anpassen. Workflows können mithilfe einer URL oder in Form von eingebetteten Codes mit Teammitgliedern geteilt werden. Die Lösung bietet native Integrationen mit Facebook Ads, 3dcart, Justuno, Shopify, Magento, ClickBank, Zapier und mehr. Drip bietet Dienste im Rahmen eines Monatsabonnements an und bietet Kundenbetreuung über Live-Chat und eine Online-Wissensdatenbank.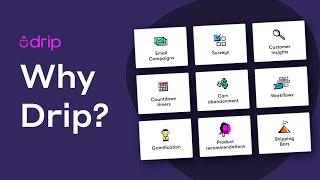 Drip bietet keine Gratisversion, aber eine kostenlose Testversion. Die kostenpflichtige Version von Drip ist ab 39,00 $/Monat verfügbar.
Startpreis:
39,00 $/Monat
Kostenlose Testversion:
Ja
Täglich

für

Mehr als 1 Jahr

genutzt
Quelle der Bewertung
Preis-Leistungs-Verhältnis
4
---
Best email marketing automation software I've used...and I've used A LOT!
Vorteile
I've seriously tried it all over the past 5 years. From Campaign Monitor, to Get Response. Infusionsoft to Mailchimp. Convertkit, Active Campaign, and that's just the well-known ones. Some for small stints (think 1 - 3 months) others for longer stints (6 - 12). Drip is the only one that I've been using for well over 12 months and am feeling very comfortable with. Down to why this software is great - simply put, most of it's core functionalities are well thought out and easy to use. But then advanced things can still be done even if you're a novice to marketing automation. Sending drip campaigns, setting up subscribe forms and linking with other software to create automatons, all super easily done. Overall is a really well thought out piece of software, and the easiest to use considering its power.
Nachteile
Some things are quite tricky to do. For example, you would expect to be able to set a simple trigger link in an email, except that requires setting up a completely separate automation. You can't set triggers to happen at certain times, and it can be a pain to get your email template looking good (plain templates are awesome but sometimes you just want to be able to adjust things to make it more personal). Adding call-to-action buttons to emails is also insanely difficult, simply getting the colors to match your own brand is impossible. But all these are minor gripes in the grand scheme of things!
Antwort von

Drip

Hi Steve,

Everyone here at Drip appreciates the time you took to write us a review!

Since your review just a couple of months ago, we have actually launched the Visual Builder for all of your emailing needs! No more trouble adding call-to-action buttons or getting the colors to match your brand. The new Visual Builder allows you to easily build big, beautiful emails outfitted with images and brand styling for when you need to do more showing instead of telling¿ All the formatting. Zero coding.

Thanks again,
Sam from Drip

Beantwortet am 22.8.2018
Branche: Marketing & Werbung
Unternehmensgröße: 2–10 Mitarbeiter

Wöchentlich

für

Mehr als 2 Jahre

genutzt
Quelle der Bewertung
Preis-Leistungs-Verhältnis
3
---
ok, but looks like it has no UI updates or improvements in the last 2 years
it's been a good two years, the tool is very reliable, but it's just not worth the price compared to the competition. it is slower, difficult to handle and to create automations.
Vorteile
reliable, good segmentations and data processing possibilities.
Nachteile
too expensive, UI not so good, constantly slow.
Antwort von

Drip

Hi Lucas

I'm glad you've had two good years with Drip and find it very reliable.

The UI is a focus area for us. Most find it really good. But we are always open to hearing constructive feedback from customers - thank you for that, Lucas.

I wish you Happy Holidays.

Best regards,
Sebastian from Drip.

Beantwortet am 23.12.2022
Branche: Informationstechnologie & -dienste
Unternehmensgröße: 2–10 Mitarbeiter

Täglich

für

1-5 Monate

genutzt
Quelle der Bewertung
Preis-Leistungs-Verhältnis
2
---
Difficult to use - Extremely slow and poor customer service - Dubious pricing model
Very, very disappointing. I've tried several automated email marketing platforms platforms before Drip and had high hopes for Drip when we made the move over with one of our top client sites. I was actually genuinely excited to implement this system. In retrospect I wish I had stayed with my previous platforms. Even after several months of spending hours and hours reading support articles, raising numerous support tickets, waiting for unacceptably long delays for a response each time, we are still trying to get a basic setup implemented. This is the most frustrated or disappointed I think I have ever been with a technology provider, and I've used a lot of them over the years.
Vorteile
Very powerful system and integrates easily with Shopify.
Nachteile
Drip's pricing model is and system design is geared around charging you for people who are "active" in their system even if they are unsubscribed from email marketing and you can't legally email market to them. So you end up with an ever growing list in Drip that you are paying for, but not able to market to. You can implement rules/automations to overcome this, however it is extremely complicated to do and their system will reactivate previously deactivated people when a new orders comes back in from Shopify. So you end up with a tangled web of rules and automations just trying to maintain a reasonable list size of customers who you can actually market to. I don't know, but maybe they have designed their system to be unnecessarily complicated to maximise their revenue by charging for people you can't market to? Support is extremely slow and generally only half answers questions. There seems to be absolutely no regard for customer satisfaction or any assistance to actually onboard customer adequately. I won't be referringing any other client sot use Drip.
Täglich

für

Mehr als 1 Jahr

genutzt
Quelle der Bewertung
Preis-Leistungs-Verhältnis
5
---
Drip is the best email/marketing automation software on the planet! I know as I have tested...
Drip integrates with just about everything and it is pretty easy to use.
The future of marketing from your website is "website personalization" which will create a unique experience for each and every person.
Your business also needs to track prospect/customer activity across multiple channels and deliver a customized experience.
Nothing makes me leave a website faster than when a website asks me to download something i have already downloaded.
The days of one size fits all marketing have come and gone.
With Drip, and a few 3rd party apps, I believe you can deliver an online experience like no other that will surely get you noticed and help you stand above your competition.
Vorteile
Drip is the dream marketing software I was dreaming of back in 2012 when I first started with another expensive email/marketing automation platform.
Out of the box, Drip doesn't need 3rd party apps to format data like making sure names are capitalized.
I am a marketing automation geek, and Drip allows you to add just about any other type of marketing software layer like surveys, onsite retargeting, send text messages, and even integrate Facebook messenger and Facebook ads just to name a few. (Some 3rd party apps required)
Using Drip and a few items I mentioned above, you can passively profile and lead score all of your prospects to see:
- which ones are hot (Drip can send an email to your sales team so they make contact),
- which ones are still in research mode (send these leads more content to help them make a decision via email, SMS or a Facebook message),
- and which ones are just tire kickers.
No sense running paid ads to tire kickers, right?
You can even personalize your website so that people who downloaded your freebie, don't get asked to download it again. That is powerful! (3rd party app needed)
I have moved all of my clients over to Drip from 3 other platforms and we are seeing much better results.
If you are considering email & marketing automation automation software for your business, take a good look at Drip.
They have a certification program, so you might want to check out graduates to lend you a hand if needed.
Branche: Internet
Unternehmensgröße: 2–10 Mitarbeiter

Täglich

für

Mehr als 1 Jahr

genutzt
Quelle der Bewertung
Preis-Leistungs-Verhältnis
5
---
Automates ALL THE THINGS in my e-commerce business
Overall, it has been a game changer for our digital products e-commerce business.
Instead of just sending out bi-monthly email blasts to all of our audience, we're now able to put people through specific sequences of emails with relative ease.
We can then separate people based on their activities and run specific promotions to those groups only.
We have a long way to go and are only scratching the surface of what we can do in Drip, but already it has been a huge improvement in the way we handle our email marketing.
Vorteile
It's very simple create workflows for automating email flow. This has allowed us to completely transform the way we do our email marketing in our digital product e-commerce business.
I also like how simple it is to setup a new campaign. Most other tools put you through complicated settings to setup new sequences. In Drip you just see a list of the emails on the campaign and you can quickly and easily adjust the days/timing of when people receive those emails after subscribing to the campaign.
There is no over the top process for editing the actual emails and you have a choice between a simple editor (which I like as it gets great engagement) or for more visual promotions you can use the graphical editor which is really just as simple to use.
Nachteile
I found it better to utilise a third party software like Optinmonster to handle the actual signup forms because I get more flexibility surrounding the design of the popup. That is one area in which I think Drip could improve by offering more control surrounding that popup editing experience.