Über QuickBooks Desktop Enterprise
QuickBooks Enterprise ist eine Buchhaltungslösung für KMU in verschiedenen Branchen wie Bauwesen, gemeinnütziger Vertrieb, Fertigung und Einzelhandel. Mit der QB-Enterprise-Lösung können alle Geschäftsinhabende ihren Geschäftsbetrieb durch fortschrittliche Inventar-, Berichterstattungs- und Rechnungstools erweitern sowie Premium-Support von den Kundenbetreuungs- und Gehaltsabrechnungsteams von Enterprise erhalten. QuickBooks umfasst Multi-User-, Gehaltsabrechnungs- und Inventarmanagement, Inventar- und Ausgabenverfolgung, Rechnungsstellung, erweiterte Berichterstattungstools und mehr. QuickBooks Enterprise bietet anpassbare Berichterstattungstools, mit denen Nutzer Daten analysieren und fundierte Geschäftsentscheidungen treffen können. Mit über 200 automatisch ausgefüllten Vorlagen und 70 branchenspezifischen Berichten hilft diese Buchhaltungssoftware von QuickBooks Unternehmen, QuickBooks-Daten zu finden, um jedes Geschäftsproblem zu lösen. Mit den fortschrittlichen Inventartools von QuickBooks können Unternehmen den Inventarmanagementprozess einsehen und kontrollieren, indem sie Inventarbewegungen verfolgen, Inventarartikel automatisch scannen und aktualisieren, Bestellungen/Verkaufsaufträge von einem Dashboard aus verwalten und vieles mehr. Mit QuickBooks Enterprise können Unternehmen Finanztransaktionen mit Auftragskalkulationstools, Batchfakturierung, Rechnungsverfolgung, Cashflow-Management, Sachanlagen- und Verkaufsverfolgung, Zahlungsabwicklung und anderen Funktionen steuern, anpassen und automatisieren. Unternehmen können auch mehrere Dokumente scannen und anhängen, einschließlich Belegen und Angeboten für mehrere Buchhaltungsaufgaben. Das Tool ermöglicht es Unternehmen, Dokumente in Kategorien einzuteilen und wichtige Buchhaltungsdateien zu verfolgen. Diese Lösung führt auch ein Änderungsprotokoll, um Änderungen in jedem Dokument mit dem richtigen Datum und Zeitstempel aufzuzeichnen. QB bietet auch verschiedene QuickBooks-Software wie QuickBooks Premier und QuickBooks Pro an, die verschiedene Funktionen enthalten.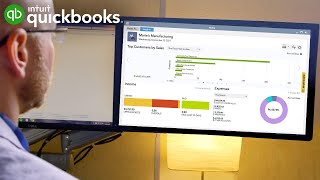 QuickBooks Desktop Enterprise Preis
QuickBooks Desktop Enterprise bietet keine Gratisversion, aber eine kostenlose Testversion.
Startpreis:
Nicht vom Anbieter bereitgestellt
Kostenlose Testversion:
Ja
Alternativen für QuickBooks Desktop Enterprise
QuickBooks Desktop Enterprise Erfahrungen
Branche: Finanzdienstleistungen
Unternehmensgröße: 11–50 Mitarbeiter

Täglich

für

Mehr als 2 Jahre

genutzt
Quelle der Bewertung
Preis-Leistungs-Verhältnis
4
---
Fast, Simple to use, Easy to Integrate, Support is light, and price is a touch higher than...
Overall, I have no intention of leaving QuickBooks.
Vorteile
QuickBooks is easy to import into, export out of and directly integrate with certain platforms. The software was built with the user experience in mind.
Nachteile
The price is a bit higher than the competition, so technically its a con. However, I don't consider this a negative because sometimes you get what you pay for and I found QBO to have better features and a better reputation as a whole.
The support is not as easy to work with as I would like. But compared to some of the competiton, its better than not having any.
Warum QuickBooks Desktop Enterprise gewählt wurde
Excel even with automations doesn't cut the mustard as an accounting solution.
Gründe für den Wechsel zu QuickBooks Desktop Enterprise
Reputation was the primary reason. Secondary to that, it is well known in the industry and integrates with other related solutions.
Antwort von

Intuit

Hey, William. Thanks for being such a loyal member of the QuickBooks family. We appreciate all the kind words you have to say about our product. Aside from phone and chat support, you can also go to the Community for assistance (https://community.intuit.com/). Once there, you can communicate with other users as well as our experts. All the best in your business endeavors.
Caitlyn, The QuickBooks Team

Beantwortet am 6.8.2020
Branche: Buchhaltung
Unternehmensgröße: Selbstständig

Täglich

für

Mehr als 2 Jahre

genutzt
Quelle der Bewertung
Preis-Leistungs-Verhältnis
5
---
Quick books
Vorteile
It makes accounting easier to use and comfortable
Nachteile
It's helpful for the growth of your product
Branche: Gesundheit, Wellness & Fitness
Unternehmensgröße: 11–50 Mitarbeiter

Täglich

für

Mehr als 1 Jahr

genutzt
Quelle der Bewertung
Preis-Leistungs-Verhältnis
5
---
Beware before importing transactions! There's no way to bulk delete them!
My bad experience erased all the good that could've come from Quickbooks. I just wasted two years of bookkeeping, two weeks of non-stop work in QBs preparing my 2017 Tax return that is on extension and I'm now going to get penalty fees from the IRS. They can't pay me for those fees and they can't give me back my time, but the least they can do is refund me for the two years of service fees that their representatives have rendered useless to me. I can't get any higher than a Supervisor Kayson in the Accounting Dept. I've begged and pleaded and told her that I know Quickbooks doesn't want this for their customers and that they should be informed of this disaster to make sure it doesn't happen to anyone else and she refused, after begging for almost an hour, she said there was no one higher she could pass me onto. It just can't be possible, but that's how I was treated when the worst possible thing could happen to me and my business. It's not worth the risk. Please do your research and make sure this doesn't happen to you!
Vorteile
No pun intended, but for the features that actually work well, they are very intuitive. They accommodate such a huge range of detail and diversity in what each business would require. Beautiful interface.
Nachteile
No one should use this product if you have to import a lot of transactions! 1. There is no way to batch delete transactions that you may import by mistake or that you decide later on you don't want (which is likely to happen because once you get over the learning curve and figure out how you want to use the software, you may have entered data that you no longer want). I found this out the hard way. After two years of data was entered, I was encountering issues related to how I originally added the transactions to my register and that I needed help fixing. But then multiple representatives kept only solving small portions of the problem. After the fourth or fifth rep saw my issue, she said that I had to start all over again entering two years of data into QBs. She had me disconnect my bank accounts, then "delete" them from the Chart of Accounts. This makes the account "inactive" BUT she failed to tell me that those transactions would never actually go away. They stay there in the background and mess up your reports. So because she had me then reconnect all my accounts and re-import two years of data for me to start over again, it essentially duplicated every transaction (thousands of them). Now my only option is to either manually delete every duplicate, which is not possible OR cancel my acct, create a new one and start over again. All the reps and supervisors I have spoken to have blocked me from anyone higher in the company. They refuse to refund me for any more than 1 mo.
Antwort von

Intuit

Hi Jullian. You've been through quite the ordeal, so I appreciate you leaving this honest and thorough review. I want to exhaust my resources to turn this around, so please know I have the tools and visibility to help. I encourage you to reach out to me at your earliest convenience ([email protected]). That's my inbox, and I'd like to dig into your account and ensure these data entry and import issues are cleared away once and for all. I'll help you do so with the least amount of strain on you and your time, as I realize you have a thousand other things to do than delete duplicates. You deserve better, and I'll see to it that happens.

I'll be on the lookout for your message, and I thank you in advance.

Jess, The QuickBooks Team

Beantwortet am 28.9.2018
Branche: Marketing & Werbung
Unternehmensgröße: 11–50 Mitarbeiter

Wöchentlich

für

6-12 Monate

genutzt
Quelle der Bewertung
Preis-Leistungs-Verhältnis
5
---
Review of QuickBooks Desktop Enterprise
Vorteile
Robust reporting capabilities, allowing users to generate customised financial reports, track key performance indicators (KPIs), and analyse business data.
Nachteile
QuickBooks Desktop Enterprise has specific system requirements, including hardware and software specifications, that need to be met for optimal performance.
Gründe für den Wechsel zu QuickBooks Desktop Enterprise
It is a well known software . I didn't even think twice to choose this over anything
Branche: Schreiben & Editieren
Unternehmensgröße: Selbstständig

Täglich

für

Mehr als 2 Jahre

genutzt
Quelle der Bewertung
Preis-Leistungs-Verhältnis
5
---
My "go to" program has always been QuickBooks.
Quickbooks is a useful tool for small businesses overall for keeping track of spending, sending invoices to clients, and tracking bills received. it really helps me a lot
Vorteile
For 2 years, I ran my own firm, and without spending thousands of dollars extra each month for an additional staff, I never would have succeeded. I'm about to launch a couple web-based businesses, and before the websites go live, QuickBooks will be set up and ready to go.
Nachteile
The only thing I don't like about QuickBooks is the limitations on the number of users.