Über Nutshell
Nutshell is an all-in-one CRM and email marketing platform that helps B2B organizations work together to win more deals. Simple enough for any user and sophisticated enough for any business, Nutshell is built for teams who are tired of juggling separate sales and marketing tools and don't want to pay a full-time admin to manage their software. Every Nutshell subscription includes unlimited CRM contacts and data storage, fully customizable reporting tools, free data migration assistance, and world-class live support, all at an extremely affordable price. Nutshell integrates with the software small businesses already use, including Google Workspace/Gmail, Microsoft Office/Outlook, QuickBooks Online, Intercom, and Slack. Nutshell also offers native iPhone and Android apps, allowing sales reps to create, search, and edit contact information while in the field. Launched in 2010, Nutshell serves thousands of businesses around the world and has been named a top CRM for both user-friendliness and affordability. Nutshell has been honored as a "Leader" in G2's Grid® Report for CRM every quarter since Fall 2020. In 2021, Nutshell released Nutshell Marketing, which allows Nutshell customers to design and send beautiful marketing emails and automated drip sequences, and instantly measure their engagement, directly out of Nutshell. Nutshell Marketing seamlessly connects to your CRM data, so you can target custom audiences in a snap and manage all your outreach out of a single tool.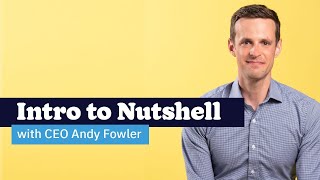 Nutshell bietet keine Gratisversion, aber eine kostenlose Testversion. Die kostenpflichtige Version von Nutshell ist ab 16,00 $/Monat verfügbar.
Startpreis:
16,00 $/Monat
Kostenlose Testversion:
Ja
Alternativen für Nutshell
Branche: Finanzdienstleistungen
Unternehmensgröße: 11-50 Mitarbeiter

Täglich

für

Mehr als 2 Jahre

genutzt
Quelle der Bewertung
Preis-Leistungs-Verhältnis
5
---
Bang for your Buck
Great! It helps the team stay on track whether it's sales or implementation.
Vorteile
Reporting and filtering reports.
Keeping a track record of our leads.
Nachteile
Have to move over to pro to get more then one sales process. Pro is so expensive.
Warum Nutshell gewählt wurde
So complicated we weren't using any functionality
Gründe für den Wechsel zu Nutshell
Price, others had better functionality but this Nutshell had enough 2 years ago to get us going. It has really come into it's own and now has way more.
Branche: Maschinerie
Unternehmensgröße: 11-50 Mitarbeiter

Täglich

für

Mehr als 2 Jahre

genutzt
Quelle der Bewertung
Preis-Leistungs-Verhältnis
5
---
Excellent CRM for our Niche Application - Best of Multiple Reviewed/Used
Excellent! The customer service has been responsive and the system has been 100% reliable.
Vorteile
Barrier to entry was low with minimal upfront cost needed to evaluate the software. Ease of use for a small company with minimal resources to devote to developing, executing, and maintaining the system.
Nachteile
So far the only con that we have experienced has been in the reporting functions. This could be a by-product of our unique needs or our lack of resources available to investigate it further. It does seem limited compared to Salesforce.
Warum Nutshell gewählt wurde
Cost. Ease of implementation and end user usage.
Branche: Metallabbau
Unternehmensgröße: 11-50 Mitarbeiter

Täglich

für

Mehr als 2 Jahre

genutzt
Quelle der Bewertung
Preis-Leistungs-Verhältnis
3
---
leads don't allow you to easily sell services, only products. After sale service is hindered.
We get a cost effective CRM that frees up cash flow for use elsewhere in our business.
Vorteile
Nutshell offers a unique ability to tag people in activities and run reports on calling activities for my sales reps.
Nachteile
Every lead typically has a company or contact. But if you don't save the activity in the lead, and instead under the company or individual contact, you can't see it when your client calls in regarding the sale they want service for, so your customer service is hindered and your sales people look like they don't know the history of the account. It's embarrassing to use this software because Nutshell says they are only helping to land the sale, not support it, but this mindset about how they build their software results in a horrible disconnect with regards to how we are forced to serve our customers, and thus we are using a CRM that doesn't support the full life cycle of a sale. We keep hoping Nutshell will fix this and improve because their customer service is great, and their people mean well, but after several years of patiently waiting, we are concerned that we may never see this problem fixed. The mobile app also has so many glitches with the UX that it can't even compare the experience to how you can use leads in a web browser. Further, when we have a customer call in to ask about their account, the recent leads puts the oldest first in the list, which means we have to scroll through several hundred orders just to open the last order we did for that client. If you are trying to sell to a major corporate account with multiple facilities / departments, forget it with Nutshell; linking subcompanies / vendors / partners / other locations is a nightmare in Nutshell.
Branche: Marketing & Werbung
Unternehmensgröße: 11-50 Mitarbeiter

Täglich

für

1-5 Monate

genutzt
Quelle der Bewertung
Preis-Leistungs-Verhältnis
5
---
An Elegant Yet Powerful CRM
We are now better organized with our sales process and are more collaborative. This allows us to keep our important information in one place that is easy to use and work as a team to get things done!
Vorteile
I love the filtering ability with our companies and people lists. It allows us to really drill down and get the exact metrics we want. We are better able to see a lot of information at a glance in a dynamic way.
Nachteile
I would love more options when emailing groups of people in the system. Currently, I need to only use templates when emailing groups and I would like to be able to type out the email in one shot instead.
Warum Nutshell gewählt wurde
We realized we did not need a ticketing software but something more like a CRM, in looking over a lot of options this was the best price point and the best fit for what we needed.
Gründe für den Wechsel zu Nutshell
A lot of the other systems seemed overly complicated to use, we had a relatively short onboarding period to get our people trained quickly. The price point for the number of features was the best and most sustainable for our company. And we feel like we can grow with Nutshell.
Branche: Unternehmensberatung
Unternehmensgröße: 2-10 Mitarbeiter

Täglich

für

Mehr als 2 Jahre

genutzt
Quelle der Bewertung
Preis-Leistungs-Verhältnis
5
---
Nutshell product review
I have used a number of different systems including Zoho, Hubspot, Pipedrive. I like Nutshell's flexibility and ease of use.
Vorteile
Tags - are the most used feature - so I can easily segment lists. The ability to sort with multiple tags. Easy importing from a spreadsheet.
Nachteile
Having to add a tag into the system BEFORE uploading a contact spreadsheet. If the tag doesn't already exist - the import fails. Which is an extra step and a waste of time.
Warum Nutshell gewählt wurde
Highrise was no longer in development - or being supported.
Gründe für den Wechsel zu Nutshell
Price and ease of use. Pipedrive misses a number of features like Tags