Über QuickBooks Desktop Enterprise
QuickBooks Enterprise is an accounting solution designed for SMBs across different industry verticals such as construction, nonprofit distribution, manufacturing, and retail. With QB Enterprise solution, any business owner can expand business operations using advanced inventory, reporting, and invoice tools, in addition to premium support from Enterprise's CS and Payroll teams. Quickbooks includes inventory management, inventory tracking, expense tracking, payroll management, invoicing, multi-user management, advanced reporting tools, and more. QuickBooks Enterprise offers customizable reporting tools that help users analyze data and make informed business decisions. With over 200+ auto-filled templates and 70 industry-specific reports, this Quickbooks accounting software helps businesses find the QuickBooks data to solve any business issue. Quickbooks advanced inventory tools allow businesses to gain visibility and control over the inventory management process with the ability to track inventory movement, automatically scan and update inventory items, manage any purchase order/sales order from one dashboard, and plenty more. QuickBooks Enterprise also allows businesses to control, customize, and automate financial transactions with job costing tools, batch invoicing, invoice tracking, cash flow management, fixed asset tracking, sales tracking, payment processing, and more. Businesses also have to ability to scan and attach multiple documents including receipts and quotes for multiple accounting tasks. The tool enables businesses to arrange documents into categories and keep track of important accounting files. This solution also maintains a change log to record changes within each document with the proper date and time stamp. QB also offers different QuickBooks software such as QuickBooks Premier and QuickBooks Pro that includes include different functionality and features.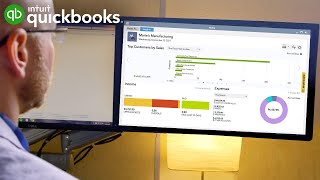 QuickBooks Desktop Enterprise Preis
QuickBooks Desktop Enterprise bietet keine Gratisversion, aber eine kostenlose Testversion.
Startpreis:
Nicht vom Anbieter bereitgestellt
Preisinformationen:
Three hosted packages are available - Silver, Gold, and Platinum. Pricing is based on the number of users required. Starting price for one user: Sliver: $111.20/month Gold: $119/month Platinum: $121/month
Kostenlose Testversion:
Ja
QuickBooks Desktop Enterprise Alternativen & Ähnliche Produkte
QuickBooks Desktop Enterprise Erfahrungen
Branche: Verlagswesen
Untern. Größe: 2-10 Mitarbeiter
Verwendet:

Täglich

für

Mehr als 2 Jahre

Quelle der Bewertung
Preis-Leistungs-Verhältnis
4
---
Worth the price tag
I started out learning QuickBooks on the desktop version for a previous job, and the software has come a long, long way since then. The online version is well organized, easy to use, and in the three years I've been using it I've never run into a single glitch.
Vorteile
QuickBooks online gives me one place to track everything related to money for my small business: income, expenses, taxes, and payroll. It's easy to set up and use, and I like knowing that even when I'm not paying as much attention to some of the bookkeeping as I should, it's still being tracked for when I have time to get to it.
Nachteile
It's a little pricey and the help/FAQs aren't always that helpful, but those quibbles are greatly outweighed by how easy and useful it is.
Branche: Internet
Untern. Größe: 11-50 Mitarbeiter
Verwendet:

Täglich

für

Mehr als 1 Jahr

Quelle der Bewertung
Preis-Leistungs-Verhältnis
5
---
Great Value for the Price
Overall, my company has been happy with our switch to QuickBooks. We previously used Netsuite for our accounting software, but the subscription fees were outrageous and the features were difficult to manage and execute. QuickBooks offers what we need for a very reasonable price on a user-friendly format. I would definitely recommend this to small businesses who do not need a lot of advanced functionality.
Vorteile
The QuickBooks software is very affordable with lots of good out-of-box features. AR and AP functions are very easy to use for novice users of the software. There are a lot of templated reports that are very helpful for weekly and monthly accounting tasks (Payroll, Vendor Payments, Sales, etc.). The software also allows you to add on a variety of additional features through plug-ins, which you can access for a nominal monthly fee. For example, the BIll.com integration is excellent for paying your vendors online, eliminating the need for mailing out checks each month.
Nachteile
The biggest issue with QuickBooks is their customer service department. Whenever we have issues that cannot be resolved by an internal administrator, it takes days and sometimes weeks before an Intuit rep returns our messages. We've been using the software a little over a year and have already been passed around to several different account reps. At one point, their response time was so poor I had to request a different rep. The other thing I find cumbersome with the software is the sales reporting. While the templates are helpful, I often end up with a lot of superfluous information, and the reports are not very malleable, even once exported to Xcel. This is an area I feel could be greatly improved with minimal effort from Intuit.
Branche: Computer-Software
Untern. Größe: 2-10 Mitarbeiter
Verwendet:

Täglich

für

Mehr als 2 Jahre

Quelle der Bewertung
Preis-Leistungs-Verhältnis
5
---
Our business depends on Quickbooks
Overall, I am very happy with Quickbooks, we have been a customer since 2014 - it works, it's dependable and the support is there if we need it (thankfully infrequently :) )
Vorteile
I love how easy it is to use and look up the information I need. It handles all the financial stuff we need to do without requiring a huge amount of expertise. It's also user friendly enough that I can train our staff in how to use it :)
Nachteile
One thing I notice is that the bank account in the software has never tracked our bank account exactly - so we always manage our bank account separately and use Quick books as a guide. I also find the ledger a little confusing to use, however I think that is more on my own accounting knowledge than any fault of the software
Branche: Einzelhandel
Untern. Größe: 11-50 Mitarbeiter
Verwendet:

Täglich

für

6-12 Monate

Quelle der Bewertung
Preis-Leistungs-Verhältnis
0
---
QuickBooks Enterprise - not really suitable for multi-location businesses
QuickBooks Enterprise at first glance seemed like a good fit for my 5-location business. The feature set is rich, is a widely accepted accounting package and came with a nice support package. The fundamental features of the software are quite impressive and met the core needs of my business with range from retail sales to large projects. To handle the multiple locations, there is a "class" (location) construct that allows you to use a single chart of accounts and use class to designate where things apply. For standard income/expense accounts this works well and I can track sales and expenses easily. Where the implementation fall very short is with asset/liability accounts. For example, if you have 100 widgets in class A and 0 in class B (store A and store B) and you transfer 50 widgets to class B, the count of widgets is done correctly, but the inventory value of the transferred widgets still remains in the first class. It's made a mess of my inventory values and we've had to resort to processing manual GL entries anytime we transfer items from store to store. The same holds true with banking - the class structure is only partially implemented. There are work-arounds, but they're slow and cumbersome.
Reporting is another soft spot. There are plenty of pre-made reports that are decent and you can build custom reports. The issue is that custom reports are very unstable and more often than not, you'll find that reports lock up (or frozen as you'll read everywhere). This makes them pretty much worthless unless you enjoy creating a new custom report every time you want to use one.
Customer support is very energetic, but it's mainly people who have never used accounting software outside a PowerPoint driven training scenario. The usual answer is to either use Google or look on the Intuit community forums. Fairly disappointing. We've managed to figure most things out, but it's taken far longer than if we had access to people with real-world experience. There are a couple of great YouTube users (Hector) who were very helpful with their videos.
Vorteile
Simple interface
Widely used by the industry
30 user capability
Mid-rage price tag on a subscription basis
Nachteile
The class implementation is only partially implemented and causes great pain when using this to run multiple locations
The performance is marginal
Required a lot of extra plug-ins to accomplish things
Custom reports are reasonably flexible, but are very, very unstable and aren't very usable.
Customer support is lackluster with the common answer being, "have you looked on Google?"
Credit card processing through Intuit is not competitively priced
Branche: Öffentliche Sicherheit
Untern. Größe: 2-10 Mitarbeiter
Verwendet:

Wöchentlich

für

Mehr als 2 Jahre

Quelle der Bewertung
Preis-Leistungs-Verhältnis
4
---
Advertising versus delivered
Overall, the software is very functional and user friendly. The extra steps that I use outside the software would be nice if they were integrated, but I have been doing them for the last 4 years, so it doesn't affect my routine. I like how quickly I can create an invoice if someone asks and I can fill in the blanks for tracking later without affecting my bottom line.
Vorteile
This software is very user friendly. Getting to individual accounts is easy and straight forward. The importing of bank records saves me a ton of time doing payroll and reimbursements each month. I can track all of the owner's businesses in one place without paying extra per company added.
Nachteile
We opted for this version because of the PO tracking. The problem is, the PO's are not created by us. They are created by our customers so we can't actually use that part of the software that we paid for. I can still run reports and track project time and expenses, but I can't track a PO given to us and how much left to be billed. I still have to do that manually. It also doesn't integrate with T-sheets without renaming projects on one platform or the other. One is for my engineers, the other is for our customers tracking. The two do not use the same formatting.