Über EHR 24/7
Founded in 2000, Office Ally's EHR 24/7 is a standalone, web-based electronic health record (EHR) for all medical specialties. The solution is ONC-ATCB certified and HIPAA-compliant and offers users secure login and data storage. EHR 24/7 is also Meaningful Use Stage 2 certified. Users have access to a multitude of features, which include customizable templates and SOAP notes, patient follow-up reminders, e-prescribing and laboratory integration. Healthcare professionals can use the e-prescribing feature to send prescriptions electronically to the pharmacy of a patient's choice. Providers and their patients can also access Patient Ally, Office Ally's online patient portal, free of charge. Patients can view their medical records (including lab results and visit notes), request appointments and medication refills and communicate with their healthcare professionals online. Office Ally EHR 24/7 also integrates with several dictation platforms, including Dragon, allowing users to seamlessly dictate and attach sound files to patient charts.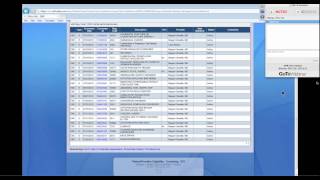 EHR 24/7 bietet keine Gratisversion und keine kostenlose Testversion. Die kostenpflichtige Version von EHR 24/7 ist ab 29,95 $/Monat verfügbar.
Startpreis:
29,95 $/Monat
Preisinformationen:
$29.95/provider/monthly payment
Kostenlose Testversion:
Nein
Alternativen für EHR 24/7
Branche: Krankenhausversorgung & Gesundheitswesen
Unternehmensgröße: Selbstständig

Täglich

für

Mehr als 2 Jahre

genutzt
Quelle der Bewertung
Preis-Leistungs-Verhältnis
5
---
Excellent Software for Medical billing and EHR management
My experience with EHR/ 24/7 has been very good. I help set practitioners up with this software all the time. What I do is create a template from speaking with the providers and then have them submit it to Office Ally and go through the set-up that way. This method allows the providers to really personalize the categories and wording to their office and specialty. Thumbs up Office Ally you have made this program very easy to set-up, use and personalize.
Data entry during a visit is very smooth once you get the initial programming of your common phrases saved. This speeds up the provider's data entry time considerably and allows more time with their patients.
Vorteile
I like the simplicity of Office Ally. It is very easy to use for scheduling your patient, managing their electronic health record with easy to use templates and following the electronic billing process.
Nachteile
The only thing I would add to Office Ally after using it for 8 years plus, would be the ability to print out a patient ledger with the provider's name, address and phone number at the top. If there isn't a balance due on the account the statements won't include the visits dso the only option for me to print a form that our patients need for their HSA and FSA accounting is the patient ledger. If you print a superbill at the time of service it will be inclusive of all these things but the aftercare for financials is where this pops up. Other than this one little thing I am very happy with Office Ally and you can't beat the pricing!
Branche: Medizinische Praxis
Unternehmensgröße: 2-10 Mitarbeiter

Täglich

für

Mehr als 1 Jahr

genutzt
Quelle der Bewertung
Preis-Leistungs-Verhältnis
3
---
Great system with some drawbacks
This is a great system if you don't need advanced notifications of appointments, or want outside vendors to interact with the system for reviews. And, if your clinic doesn't care that the clinician can't look at the financials or schedule, it works well. To us, this was a huge drawback. But, we loved the ease of use for the actual charting.
Vorteile
Charting is quick as long as you use Text Blaze Snippets on chrome with it. Otherwise, it can be long. It is customizable by the provider and for specialties which is nice. Each specialty can have their own template. Adding patients is easy. Re-prescribing doesn't require an actual note, so the MA's or RN's can do this and send to provider for authorization. Uses "superbills" for charting, meaning you can bundle specific CPT codes with allowed ICD10's. Interacts with their billing clearinghouse for rapid notification of coverage.
Nachteile
It is segmented. You can't look at the patient financial's without going into a completely different system (the practice manager). Same goes for scheduling. In other words, if you want to schedule, you have to be logged into 2 systems they have that communicate. But, requiring you to have multiple types of browsers (not just tabs) up and running. The system only allows notifications of appointments outside of a 24 hour period, such that if you wanted to setup notification of appointment on the same day, ie. 3 hours before appointment, it doesn't let you. And, there is no system outside that interacts with officeally. So, if you want to do patient reviews, emails, etc., you have to manually upload your file to the outside vendor.
Warum EHR 24/7 gewählt wurde
We had used OfficeAlly's clearinghouse for years and were happy with them. And, Charm does not do billing well, plus the charting took too long.
Gründe für den Wechsel zu EHR 24/7
Cost for Advanced EHR and the ease of charting. For us, quick charting is the best. AdvancedEHR was expensive and took too long to chart. We switched to WRS health after a year with officeally. Clinicians didn't like the switch as OA is easy for charting, but the staff likes WRS for the front-desk. In the end, we are still looking for a viable option.
Branche: Medizinische Praxis
Unternehmensgröße: 11-50 Mitarbeiter

Täglich

für

6-12 Monate

genutzt
Quelle der Bewertung
Preis-Leistungs-Verhältnis
3
---
One of the Worst EMRs I've used
Vorteile
Just about the only real benefit of this software is the price tag. Our office used it when we were first launching and costs were a concern.
Nachteile
The interface is awful. Workflow is horrendous. At least 3 of my notes would get deleted every Friday while I was charting and had to re-do them.
Every page took forever to load and if you clicked something before the little circle stopped, it would freak out and refresh/you would lose everything you did.
There is an E-prescribe but it was pretty terrible. Luckily I had a backup mobile app from another company to prescribe when OA wouldn't let me complete my task. Trying to navigate records was a nightmare. No smart search feature. Labs were not integrated, rather they were received as documents and uploaded into a document section. Thus, you had to spend countless time clicking through each document to find what you were looking for. No way to trend results.
Branche: Gesundheit, Wellness & Fitness
Unternehmensgröße: 2-10 Mitarbeiter

Täglich

für

Mehr als 2 Jahre

genutzt
Quelle der Bewertung
Preis-Leistungs-Verhältnis
5
---
EHR 24/7, Office ally's EHR solution
Office Ally's EHR 24/7 is great. Anything we have an issue with the customer service is happy to teach us, and if its complicated or necessary we can schedule training for employees and staff on different aspects of the service.
Vorteile
It works hand and hand with Practice Mate, so that your entire practice can be integrated through one electronic system. Patient scheduling, medical records, prescriptions, patient charts, billing, claims, payments, invoices, all in one.
Nachteile
There really are not many drawbacks to Office Ally's Practice Mate and EHR 24/7, I highly recommend them for any practice looking for a comprehensive software solution for their business.
Unternehmensgröße: 11-50 Mitarbeiter

Täglich

für

Mehr als 1 Jahr

genutzt
Quelle der Bewertung
Preis-Leistungs-Verhältnis
5
---
I mainly use this software for filing patients claims and checking Medicare payments.
It's so much easier and less time consuming filing claims electronically and less chances of having claims rejected.
Vorteile
What I like most about using this software is that it's convenient and free. This software stores patients information to be pre-filled into the HIPAA form saving time it takes to file a claim. Another plus is it allows you to file the claims electronically and it checks for accuracy before the final submission.
Nachteile
Once you complete a claim you have to print it right away for your receipt or else you won't be able to retrieve it later.