Über Podio
Citrix Podio ist ein Tool für Projektmanagement und Social Collaboration. Die Lösung ermöglicht es Unternehmen, nutzerdefinierte Anwendungen zu erstellen, die den individuellen Unternehmensanforderungen und den bevorzugten Arbeitsabläufen am besten entsprechen – ohne dass technische Kenntnisse oder Entwicklungsressourcen erforderlich sind. Der Podio App Market gewährt Nutzern Zugriff auf Hunderte kostenlose Apps, die von Podio-Nutzern vorgefertigt wurden, um eine Reihe branchenspezifischer Anforderungen und Projektmanagementfunktionen wie Projektportfolio-, Problem- und Aufgabenmanagement zu erfüllen. Es gibt auch Anwendungen für Funktionen wie CRM und Bewerber-Tracking. Podio bietet über alle Anwendungen hinweg eine Reihe von Social-Collaboration-Funktionen, einschließlich "Likes" wie bei Facebook und File-Sharing im gesamten System sowie interne Instant-Messaging- und Videochat-Funktionen. Dank der Funktionen zur Entwicklung von Anwendungen ist Podio eine Lösung für kleinere Unternehmen, die ein hohes Maß an Anpassung erfordern – insbesondere Unternehmen, die mehrere Geschäftsprozesse in einem einzigen System verwalten möchten.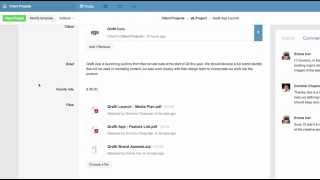 Podio bietet eine Gratisversion und eine kostenlose Testversion. Die kostenpflichtige Version von Podio ist ab 9,00 $/Monat verfügbar.
Kostenlose Testversion:
Ja
Branche: Computer-Software
Unternehmensgröße: 1.001–5.000 Mitarbeiter

Täglich

für

Mehr als 2 Jahre

genutzt
Quelle der Bewertung
Preis-Leistungs-Verhältnis
5
---
Podio is the best tracking software for the multiple projects.
Podio is the best to keep track all of our important emails, tasks and projects in a simple manner. Podio is an outstanding software for the project and management. I can share all of my important projects with my friends and team members but one by one. It really allow me to manage all of my important tasks and store the important information in a one place such as assign projects. My project management activities are easily handle by the extreme planner software. Wen I complete all of my tasks assignment and multiple projects, then I always choose the Podio software. Podio is the great for the project and tasks assignments. I would recommended this software to everyone.
Vorteile
Podio is the great customizable software. The best thing about the Podio software is that we can track all of our important tasks and multiple projects at a one time and it is the only possible through the Podio software. We can easily collaborate with our team members and colleagues in a more efficient way. I can always use this efficient software for better manage my personal projects.Podio is one of the best project management software. The another great advantage of this software is that we can easily organized all of our important projects and assignment tasks in a group and colleagues. This software has outstanding features such as it has the great ability to create the custom folders in a more efficient way. Through this software, it is so easy for us to create a tasks and store a large amount of information in a project software.
Nachteile
The disadvantage of this software is that for the new users that they faced a lot of problem about the sharing of the multiple projects with our colleagues and team members at a one time. Hence, sharing of projects is so difficult for the beginners and users. This software lack a lot of features which is very essential for the new users. Podio software is not so easy to use. For the beginners, it is a little challenges for us to create a tasks and better manage our projects . It is so difficult in learning to use many of the features in a properly manner. But otherwise it is very simple for us to create a tasks to the specific projects.
Branche: Bau
Unternehmensgröße: 501–1.000 Mitarbeiter

Täglich

für

Mehr als 1 Jahr

genutzt
Quelle der Bewertung
Preis-Leistungs-Verhältnis
4
---
Serves it's purpose
The big boss also loves this program, because it can generate many different reports for him, from bid activity, pending logs, securement logs, win percentages with different customers or geographic areas. allows him to see many different metrics with just a few clicks.
Vorteile
The website is incredibly customizable, which allows you make this program perform many tasks that vary greatly. Our main purpose was to use this as a bid center for our company, allowing all of our branches to see who was bidding which jobs. After setting that up, we were able to have podio send out reminders after certain amounts of time to follow up on the bid results. If we were awarded the job, it will then send out notices to our purchasing department, project managers, and super intendents with the relevant information (start end dates, contract prices, labor hours estimated, location, contact info, etc). It is very helpful to make sure our branches do not double up estimating the same projects.
Nachteile
Being very customizable also means it can be quite tedious to set up initially. There are, however, many premade modules you can either use as is, or customize to fit you needs.
Antwort von

Cloud Software Group

Hi Justin, thanks for the review! Much appreciated. Cheers, Sara from Podio

Beantwortet am 9.9.2019
Branche: Informationstechnologie & -dienste
Unternehmensgröße: 11–50 Mitarbeiter

Täglich

für

Mehr als 1 Jahr

genutzt
Quelle der Bewertung
Preis-Leistungs-Verhältnis
4
---
Very flexible software, but increasingly unreliable
Overall, pretty good for a budget CRM. But it feels like a platform with its better days behind it.
Vorteile
Podio is designed for project managers, but we used it as our CRM - which shows how flexible it is.
It worked well, the UI is nice, the workflows save you a lot of time and you can link up items well for automation (e.g. if you close a deal, mark the associated company item as 'customer').
The reporting worked quite well too. You can pull data into reports and create nice dashboards. And you can export to Excel.
Nachteile
Citrix aren't investing in Podio - it looks the same as when we started using it years ago. It's also increasingly unreliable - there have been numerous all-day outages in 2018. This is frustrating when you depend on Podio to run your business.
We have since moved onto a different CRM software because of these issues.
Antwort von

Cloud Software Group

Thanks for sharing your review of Podio! We are dedicated to improve the reliability and performance of Podio in the future. Please read more details here: https://blog.podio.com/2018/01/10/2017-year-in-review/

Beantwortet am 29.10.2018
Branche: Bildungsmanagement
Unternehmensgröße: 51–200 Mitarbeiter

Täglich

für

Mehr als 2 Jahre

genutzt
Quelle der Bewertung
Preis-Leistungs-Verhältnis
3
---
a good collaboration tool for begginners of companies that can spend a lot of time in it
it is quite good, the best for us was to share information about leads
Vorteile
we can have in one place all the leads we have and all the workers can upload information about that lead, so we check there all we have from them.
Nachteile
the support it is not very good, the price it is quite high and at the end we were moving to MNprogram but we still could not do the change
Branche: Professionelles Training & Coaching
Unternehmensgröße: 11–50 Mitarbeiter

Täglich

für

Mehr als 2 Jahre

genutzt
Quelle der Bewertung
Preis-Leistungs-Verhältnis
5
---
Customization is the key
You can build a whole information system to support all your organization's areas in the same platform. Obviously, in a service with so many possibilities, everything can be as good as an average solution. If you need a specialized CRM, there's a more expensive alternative and the same is true for email marketing, database manager, webform embeds, etc. The upside of Podio is having it all in the same place, which makes it really convenient.
Vorteile
Podio is like a canvas that comes blank and can be as deep as your imagination goes. It's extremely customizable and that makes it more than viable to any organization. It's a platform that can go in any direction you need, you just have to learn javascript to get it's full potential.
Nachteile
Platform outages are more common than i'd like. Every month there are at least 2 or 3 incidents that make reliability the goal Citrix should be after.
Gründe für den Wechsel zu Podio
Price. The licensing model used by Podio works better for us.