Über Zoho Campaigns
Zoho Campaigns ist eine Cloud-basierte E-Mail-Marketing- und SMS-Marketing-Software aus der Anwendungssuite von Zoho. Dieses Produkt ermöglicht es Unternehmen, ihre Kunden zu erreichen und mit ihnen in Kontakt zu treten, indem sie den Marketingprozess automatisieren, von der Erstellung benutzerdefinierter E-Mail- und SMS-Kampagnen bis hin zur Pflege und Trennung von Listen zum Senden, Automatisieren und Analysieren von E-Mails und SMS. Mit Zoho Campaigns können Benutzer E-Mail-Kampagnen mit vordefinierten oder benutzerdefinierten Vorlagen erstellen. Das System bietet Massenmailing an Listen, einschließlich der Verfolgung und Berichterstattung von E-Mails und SMS-Kampagnen, um die Einbindung des Publikums zu verbessern. Zoho Campaigns bietet die Integration mit Anwendungen von Drittanbietern wie Sugar CRM, SurveyMonkey, GoToWebinar usw. Es bietet auch die Integration mit internen Anwendungen wie Zoho CRM, Zoho Meeting, Zoho Survey, Bigin by Zoho CRM usw. Nutzer können ihre Kampagnen auf Social-Media-Plattformen teilen. Zoho bietet einen für immer kostenlosen Plan, bei dem 6000 E-Mails an 2000 Kontakte gesendet werden können. Andere Pläne sind Professional-, Standard- und Pay-as-you-go-Preispläne. Darüber hinaus wird Support per Telefon, E-Mail und Live-Chat angeboten. Kombinieren Sie jetzt Ihre Marketingbemühungen mit SMS- und E-Mail-Marketing, da Zoho Campaigns ein eigenes Gateway zum Versenden von SMS bereitstellt. Erweitern Sie Ihre Reichweite, indem Sie Kurznachrichten an Ihre Kontakte senden. Das eigene Gateway von Zoho Campaigns hilft Ihnen beim Senden von Nachrichten, ohne dass Integrationen von Drittanbietern erforderlich sind.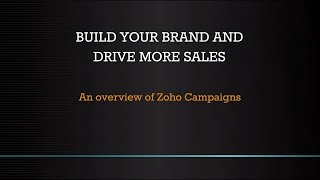 Zoho Campaigns bietet eine Gratisversion und eine kostenlose Testversion. Die kostenpflichtige Version von Zoho Campaigns ist ab 4,00 €/Monat verfügbar.
Kostenlose Testversion:
Ja
Alternativen für Zoho Campaigns
Zoho Campaigns Erfahrungen
Branche: Informationstechnologie & -dienste
Unternehmensgröße: 201–500 Mitarbeiter

Wöchentlich

für

Mehr als 1 Jahr

genutzt
Quelle der Bewertung
Preis-Leistungs-Verhältnis
5
---
Simplest way to stay connected with all your customers
Zoho Campaigns can easily integrate with other Zoho apps which allows for centralizing all our work. This improves our overall working efficiency
Vorteile
It is very easy to design and schedule email campaigns using Zoho campaigns. The reports are very much extensive which enables us to draw very cool and in-depth insights. Also loading contact lists and segmenting them is pretty awesome and easy.
Nachteile
Honestly, I do not have any dislike for Zoho Campaigns
Warum Zoho Campaigns gewählt wurde
More features were required
Branche: Biotechnologie
Unternehmensgröße: 5.001–10.000 Mitarbeiter

Wöchentlich

für

Mehr als 1 Jahr

genutzt
Quelle der Bewertung
Preis-Leistungs-Verhältnis
3
---
Best option email marketing for small business
Wide verity of options available in the tool and their constant improvement of the product. I can campare the tool which I was using in 2009 and the difference now. There are more in terms of features introduced and look and feel of the platform has been changed a lot. This is one of the best Indian based platform for small and medium business
Vorteile
Continues improvement of the product and more number of features available to manage your email marketing campaigns. the ability to test the dynamic content is one of the good feature they added to the list. Predefined automation flow which sync with CRM toll is one of the great feature.
Nachteile
Sometime, the platform runs slow. It's really pain to manage when it perform very slow. Some of the templates looks good on the platform where as the same have issues. Specifically the compatibility across multiple email platforms need to be improved.
Warum Zoho Campaigns gewählt wurde
We used to face the campaign get block and reason they state as spam. It get hold for some time and we used to connect with support team multiple time.
Gründe für den Wechsel zu Zoho Campaigns
We started used way back in 2007. That time we used to have all the features for free and Zoho is the first option use to chose and also we were using Zoho CRM before we start using the campaigns.
Branche: Medienproduktion
Unternehmensgröße: 2–10 Mitarbeiter

Täglich

für

6-12 Monate

genutzt
Quelle der Bewertung
Preis-Leistungs-Verhältnis
4
---
I feel like I'm a beta tester.
Clunky, slow and an overall terrible user experience.
From a distance, it looks shiny with a ton of functionality. But when you actually start using it, you'll see a myiad of small aesthetics that don't look right (loading bar doesn't extend full width, loading dots are blurred) and the loading times are among the slowest for any software I've ever used.
Now all of those things are OK, because functionality is what matters the most, right?
This would be true if the functionality of the platform actually worked as intended. We've run into issues like:
-Duplicating a workflow gets stuck and never duplicates. The bug required Zoho team to fix it on their side which took 3-5 business days.
-Changing a font color for an HTML email doesn't work. You'll see the updated font color in the HTML code, and in the email preview you will see the font color you want. But when you send the email, the font color is almost always wrong.
-Their simple condition filter in their workflow component didn't work originally. I had to speak to their engineering team twice to show them the problem, and then they fixed it 5 days later.
The list goes on and on. I wish this program just worked and I didn't have to write this review.
The one good thing about this software is that their customer service team is very responsive, and they normally fix the problems. But again, I feel like I'm a beta tester working with them through all of these bugs.
I don't recommend this software to anyone.
Vorteile
Campains has a lot of features out of the box and is a very affordable option for startups looking for an email solution.
Nachteile
This entire platform is riddled with bugs, quirks, and errors that make your job so much harder. When things don't work, you normally assume you're doing it wrong with most software. Not with Zoho Campaigns.
When things don't work, it's most likely broken on their side. 3 months into using this software every day, and we've already reported 3 different instances where their software was not working as intended.
If I was getting this software for free, that would be OK. But since we're paying hundreds of dollars each month to use it, this is not acceptable.
Gründe für den Wechsel zu Zoho Campaigns
Because campaigns was cheaper and had similar functionality. Plus, we are using Zoho CRM so we wanted the two programs to have a seamless sync.
Branche: Marketing & Werbung
Unternehmensgröße: 5.001–10.000 Mitarbeiter

Wöchentlich

für

Mehr als 1 Jahr

genutzt
Quelle der Bewertung
Preis-Leistungs-Verhältnis
5
---
An Effective Tool for Automated Email Marketing
My overall experience with Zoho Campaigns has been positive. I found the platform to be user-friendly and easy to navigate. I was able to quickly get up and running with the platform, as it offers helpful tutorials and support. I appreciated the automation features, which enabled me to save time and increase efficiency. I also found the reporting and analytics to be useful in tracking the performance of my campaigns. That being said, I did find the design options to be limited and the price to be a bit higher than some of its competitors.
Vorteile
1. Automation Capabilities: Zoho Campaigns offers triggers and scheduled emails, allowing users to increase efficiency by automating their campaigns.2. Connectivity: With Zoho Campaigns, users can sync data across their entire organization, as it integrates with a variety of third-party apps, such as Salesforce and Google Analytics.3. Detailed Reports: The platform provides users with in-depth reporting and analytics to track the performance of their campaigns.4. A/B Testing: Zoho Campaigns enables users to compare different versions of their emails to determine which performs the best.5. Mobile Optimization: Zoho Campaigns emails have been optimized for mobile devices, so that recipients can view them clearly on their phones or tablets.
Nachteile
1. Contact List Limitations: Zoho Campaigns does not support contact list imports from external sources.2. Design Restrictions: The platform does not offer a wide range of design options, which may reduce the creativity of users.3. Automation Limitations: Depending on the size of a user's contact list, the automation capabilities of Zoho Campaigns may be limited.4. Limited Support: Zoho Campaigns does not offer telephone support, making it difficult for users to get assistance quickly.
Branche: Chemikalien
Unternehmensgröße: 51–200 Mitarbeiter

Wöchentlich

für

Mehr als 1 Jahr

genutzt
Quelle der Bewertung
Preis-Leistungs-Verhältnis
5
---
Advantages of using Zoho to create and document a successful digital marketing campaign.
It is an excellent tool, the campaign management is very complete, as well as the role administration for the assignment of tasks within Zoho. It guarantees the number of email outputs for each period of time that we want to establish, design default templates, have generalized views of our campaign, and much more. It also allows us to inform senior management of the results achieved and how leads become customers.
Vorteile
Zoho Campaigns makes it possible for us to launch entire marketing campaigns with a couple of clicks and without having to hire an advertising agency, which has really allowed us to reduce costs and increase leads in the organization. It is one of the most powerful and easy-to-use tools currently on the market, and it guarantees us to manage the monitoring of our campaigns to get our products and services to the correct audience.
Nachteile
Every good campaign requires good research, which is why we must fully consider, carry out a preliminary investigation of other digital marketing campaigns that have been carried out related to our product, plan in advance the objectives to be achieved in the short, medium and In the long term, research our competition well, find out what they are doing now, and after that, through Zoho campaigns, design in the tool the way we can communicate our added value.