Über A2X
A2X ist eine ETL- (Extract, Transform, Load)- und Finanzmanagementlösung, mit der Unternehmen die Buchhaltung für mehrere E-Commerce-Plattformen wie Walmart, Shopify, Etsy, Amazon und eBay automatisieren können. A2X ermöglicht es Unternehmen, die Plattform in verschiedene Buchhaltungslösungen Dritter wie Xero, Sage und QuickBooks zu integrieren, Back-Office-Prozesse zu rationalisieren und neue Möglichkeiten für den E-Commerce zu erschließen. A2X bietet einen strengen Abgleich und erfüllt die anspruchsvollen Standards einer professionellen Buchhaltung.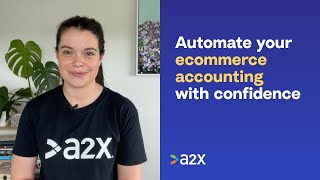 A2X bietet keine Gratisversion, aber eine kostenlose Testversion. Die kostenpflichtige Version von A2X ist ab 19,00 $/Monat verfügbar.
Startpreis:
19,00 $/Monat
Kostenlose Testversion:
Ja
Branche: Buchhaltung

Monatlich

für

Mehr als 1 Jahr

genutzt
Quelle der Bewertung
Preis-Leistungs-Verhältnis
5
---
Best app to automate revenue entry into Xero (and other softwares)
It eliminates the need for complicated journal entries and cuts the time reconciling FBA to minutes.
Vorteile
FBA charges are very complicated. A2X is set up once by mapping accounts and then automatically imports data into Xero. It automatically splits the data between months, so regardless of when your payment comes in (which is every 2 weeks in my experience), the data is in the correct period. It will also give you default accounts which is great if you only sell on Amazon. This setup, along with a good online accounting software, can make your accounting work extremely easy and quick. Seriously, for the time I spent before doing journal entries, A2X is well worth the price. I currently use this software for all clients selling on Amazon.
Nachteile
The worst part is more on Amazon's side, with their myriad of charge types, inventory types and revenue types. A2X doesn't have any cons in my experience except that the initial mapping can take some time to work out.
Branche: Buchhaltung
Unternehmensgröße: 11-50 Mitarbeiter

Täglich

für

Mehr als 1 Jahr

genutzt
Quelle der Bewertung
Preis-Leistungs-Verhältnis
5
---
If you're not using A2X for Amazon Accounting you're doing it wrong!
Vorteile
Easy to use and immediately saw the value. Splitting Amazon deposits between months was a brutal exercise and now A2X handles it all. A2X & Xero is a a no brainer tech stack for any Amazon seller.
Nachteile
That it doesn't work for other sales channels.
Branche: Einzelhandel
Unternehmensgröße: 11-50 Mitarbeiter

Monatlich

für

1-5 Monate

genutzt
Quelle der Bewertung
Preis-Leistungs-Verhältnis
3
---
Very useful for simple set ups But struggles on complexity
Turnover with FBA £300,000 with 4000 skus - FBA across the 5 EU countries of UK ,DE FR,IT ES
As we have our own website we our over Sales Thresholds for DE and FR
Germany at 19% VAT and France at 20% VAT supplies have to identified and paid to the correct government agencies the rest have to be paid to HRMC UK. Lots of analysis to work correctly.
The A2X mapping is a major headache but once identified imports into quickbooks correctly. Still in the process of getting mapping completely working. Problems with missing countries and jurisdictions
Vorteile
There is only perhaps 4 in the market and this is the only one that has a chance with quickbooks.
Reasonable attempt has been made to Cater for Multiple EU VAT countries, Inventory and mapping
Help desk has very knowledgeable staff about the product.
Attempts at downloads can be applied to QBO and erased if errors are made.
Nachteile
Mapping cannot be backed up and reapplied - constant crashing and having to start from scratch
Mapping not organised coherently - income mixed with fees - not enough breakdown of shipping
Branche: Einzelhandel
Unternehmensgröße: Selbstständig

Wöchentlich

für

Mehr als 1 Jahr

genutzt
Quelle der Bewertung
Preis-Leistungs-Verhältnis
0
---
Quick and easy
Vorteile
It's easy to use and mostly automatic, if you have any experience with accounting then you will have no problems using A2X, or if you are like me: your accountant will go through it with you in about 30 minutes. There are also plenty of tutorials online if you would prefer to do it that way, or just need a little reminder. I also have my Xero account connected to make things even easier.
Nachteile
I don't know, honestly with most of it being automatic I don't have to do much.
Wöchentlich

für

Mehr als 2 Jahre

genutzt
Quelle der Bewertung
Preis-Leistungs-Verhältnis
5
---
I love this software. It has been extremely hepful
Vorteile
I love the integration and ease of use. It is fairly easy to set it up and forget it. It automates the transactions from the 3 exchanges my clients use to sell their products
Nachteile
I dislike how the inventory is tracked and how negative invoices are posted. I wish the integration was a bit more user friendly in this way.