Über Birdview PSA
Birdview PSA bringt Teams durch erhöhte Transparenz und eine zentrale Informationsquelle für Projekte, Ressourcen und Finanzen zusammen. Birdview bietet Dienstleistungsunternehmen ein umfassendes Toolset für die Verwaltung und Ausführung von Projekten, die Ressourcenoptimierung und die Projektbuchhaltung. Dashboards und Business-Intelligence-Berichterstattung ermöglichen es Teams, auf Erkenntnissen gestützte Entscheidungen zu treffen und Prozesse für eine höhere Produktivität und Rentabilität zu optimieren. Birdview PSA lässt sich in Tausende von Anwendungen integrieren, darunter: CRMs, Buchhaltungssoftware, Ticketingsysteme, E-Mail-Clients, ERPs (Enterprise Resource Planning) und vieles mehr. Mit dem schnellen Implementierungsprozess und der einfach zu bedienenden Oberfläche von Birdview PSA sind Unternehmen schneller auf dem Laufenden und profitieren schneller von den Vorteilen.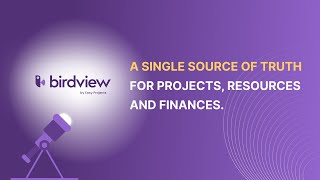 Birdview PSA bietet keine Gratisversion, aber eine kostenlose Testversion. Die kostenpflichtige Version von Birdview PSA ist ab 9,00 $/Monat verfügbar.
Kostenlose Testversion:
Ja
Alternativen für Birdview PSA
Branche: Hochschulbildung
Unternehmensgröße: 501–1.000 Mitarbeiter

Täglich

für

6-12 Monate

genutzt
Quelle der Bewertung
Preis-Leistungs-Verhältnis
5
---
Easy Projects has proven to be a great way to bring all of the assets of a project together.
All conversations, assets and proofing is done in one easily accessible place. We can more easily assign team members, switch designers working on a project and freelance projects to outside designers.
Vorteile
1. It's easily tweakable to fit our workflow.
2. We've had great, responsive customer service.
3. There's auto notifications to keep projects on track that can be set up according to the licensed user's preferences.
4. We can finally keep all conversations about projects in one place and they are archived to be reinitiated in the same way the next year.
5. It fit the budget well. It wasn't the most expensive nor the cheapest but had all of the options we were looking for in an online project management system-online proofing, forms that convert to projects, tweakable workflow, ability to have free guest users and automatic notifications.
Nachteile
1. The guest user experience isn't as strong.
2. We'd like to tweak the notifications for guest users per project but can't. There is a universal notification for all guest users that works well. Sometimes bugs the guest user too much though.
3. If 2 people are on a task and one clicks that they're done, they will still get notifications until the other person clicks done. It would be great if the notifications could stop for the person that completed their portion of the task once they click that they're done.
4. I really liked the Outlook integration option but wish it was available for Mac users. Over 50% of our office is on a Mac.
Branche: Forschung
Unternehmensgröße: 51–200 Mitarbeiter

Täglich

für

1-5 Monate

genutzt
Quelle der Bewertung
Preis-Leistungs-Verhältnis
5
---
It's a game changer for project managers
Using Birdview PSA has been an incredible experience for me in my professional work. It's like having a one-stop shop for all my project management needs. The key features that have truly helped me on a daily basis include project planning, task and time estimation, resource planning, progress tracking, and budget analysis. Having all these functionalities in one platform is extremely handy and saves me a lot of time and effort. Birdview PSA has become an invaluable tool that streamlines my work and makes project management a breeze. It's been incredibly helpful in keeping everything organized and ensuring smooth execution of my projects.
Vorteile
This platform has truly revolutionized the way I handle projects in the most professional and user-friendly way. What sets Birdview PSA apart is its seamless setup process. Adding project tasks and assigning team members is a breeze, and the intuitive interface makes it a easy to navigate. It provides comprehensive project status and with just a glance, I can quickly assess progress, identify any roadblocks, and keep things on track with ease. One feature that has been an absolute game-changer is the time estimates and actuals functionality. Being able to track and compare the time spent on tasks against initial estimates has been invaluable. It has empowered me to make informed decisions, optimize resource allocation, and stay on top of project expenditures. In a nutshell, Birdview PSA has become my go-to project management tool. It's professional, user-friendly and efficient.
Nachteile
I've found most of Birdview's features to be incredibly useful. It's been a game-changer for my project management needs. However, there is one minor hiccup that I've encountered. When assigning multiple people to a task and wanting to allocate different estimated hours for each person, it becomes a bit tricky.
Branche: Marketing & Werbung
Unternehmensgröße: 10.000+ Mitarbeiter

Wöchentlich

für

Mehr als 2 Jahre

genutzt
Quelle der Bewertung
Preis-Leistungs-Verhältnis
0
---
I use the system to request design and development of creative assets and materials.
Vorteile
Organized manner to assign and keep track of work development. Good record of projects, resources and timing. Good theory for integrated collaborative vehicle. Need to promote mobile app (I need to take time to see how I might use this) and encourage clients on best practices for mobile usage.
Nachteile
I don't use it enough and the way we use it internally rquires access to our server for design files instead of providing files in easy projects. This isn't convenient - particularly since many of us are mobile/on the go and not at a PC. I also can never easily find stuff in there without searching for it. Would be great if there was an automated dashboard and user home screen that was personalized according to usage.
Branche: Einzelhandel
Unternehmensgröße: 51–200 Mitarbeiter

Täglich

für

6-12 Monate

genutzt
Quelle der Bewertung
Preis-Leistungs-Verhältnis
5
---
I love this software
Birdview PSA helps us track task progress effectively.It enables efficient resource management across projects.The project planning process is effortless.Project templates streamline the project initiation process.I definitely would recommend it
Vorteile
The customer support team provided assistance whenever needed. The availability of extensive customizations allows us to tailor the tool to meet our organization's unique requirements.Collaboration is effortless, with easy task editing and assignment across teams and projects. The integration with MS Teams and Jira enhances our workflow and communication.The time tracking and estimation feature within projects is highly valuable.
Nachteile
It would be great to have integration with some add apps
Branche: Computer-Software
Unternehmensgröße: 11–50 Mitarbeiter

Täglich

für

Mehr als 1 Jahr

genutzt
Quelle der Bewertung
Preis-Leistungs-Verhältnis
0
---
Cloud based Project Management tool
works well for us
Vorteile
Ease of use, cloud based, resource and time management tool
Nachteile
sometimes information required is not as easy to get to,