Über Campaigner
Campaigner ist eine cloudbasierte E-Mail-Marketing-Lösung, die sich an kleine und mittelständische Unternehmen in verschiedenen Branchenvertikalen richtet. Fachleute können mithilfe einer Drag-and-Drop-Oberfläche Automatisierungsworkflows erstellen und das Kundenengagement durch bedingte, verhaltens- und ereignisbasierte Auslöser verbessern. Zu den Funktionen gehören A/B-Tests, anpassbare Vorlagen, Geolokalisierung, eine Medienbibliothek, ein Bildeditor, Berichterstattung, Compliance, Anmeldeformulare und mehr. Mit Campaigner können Unternehmen Daten in die Plattform importieren und Abonnentenprofile automatisch ausfüllen, indem sie nutzerdefinierte Datenfelder hinzufügen. Führungskräfte können wiederkehrende E-Mail-Kampagnen planen und Zielgruppensegmente basierend auf den Kontoaktivitäten, demografischen Daten und dem Kaufverhalten von Kunden erstellen. Campaigner erleichtert die Integration in verschiedene Drittanbieteranwendungen wie Google Analytics, Magento, Shopify, PieSync und mehr. Das Produkt ist im Rahmen monatlicher und jährlicher Abonnements verfügbar und der Support erfolgt per Telefon, über Dokumentationen und ein Anfrageformular.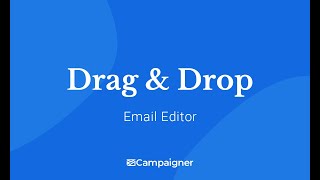 Campaigner bietet keine Gratisversion, aber eine kostenlose Testversion. Die kostenpflichtige Version von Campaigner ist ab 59,00 $/Monat verfügbar.
Startpreis:
59,00 $/Monat
Kostenlose Testversion:
Ja
Alternativen für Campaigner
Branche: Architektur & Planung
Unternehmensgröße: 201–500 Mitarbeiter

Wöchentlich

für

Mehr als 2 Jahre

genutzt
Quelle der Bewertung
Preis-Leistungs-Verhältnis
5
---
Use What You Know
We send a weekly email to 40k users and this program has worked for us for the last 8 years.
Vorteile
This program was already in use when I joined the company and the learning curve was minimal. It has all the standard templates, contacts, and reports that you would need. Every time I have called customer service, they have been helpful.
Nachteile
Working with the templates can be really finicky. It can be difficult to get it to do what you want at times. It is also not as user friendly as MailChimp, for instance. Their reporting is there but you have to do click more time to get to it and comparing email sends can be annoying the way it's laid out.
Antwort von

Ziff Davis

Hi Kristi,
Thank you for leaving a review of Campaigner.

We are happy to hear that the platform works well for you and your team. We also appreciate th feedback you provided and have passed it along to our product team.

If you have any additional questions please do not hesitate to contact us.

-The Campaigner Team

Beantwortet am 15.10.2018
Branche: Medizinische Praxis
Unternehmensgröße: 51–200 Mitarbeiter

Wöchentlich

für

Mehr als 1 Jahr

genutzt
Quelle der Bewertung
Preis-Leistungs-Verhältnis
5
---
Love the Drag & Drop Editor!
Overall, I give Campaigner 5-stars for cusotmer service and email marketing. We appreciate that they continue to develop and improve the software overtime too.
Vorteile
When Campaigner updated the software to utilize the drag and drop editor it was a game-changer! So easy to design templates for simple or more detailed email campaigns. Campaigner has been the best email marketing software that we've used so far and helps us to automate communications to our patients quickly and effectively. We also have to shout-out Campaigner's responsive customer service and support teams. Whenever we have had any issues with our account, the team is quick to respond and resolve any issue that we are experiencing. Speedy support is hard to come by in the software industry.
Nachteile
We do experience a lot of issues with the SMTP email relay function, which isn't Campaigner's email software directly but within its portfolio that we pay Campaigner for.
Warum Campaigner gewählt wurde
We've used DemandForce, SolutionReach, and DoctorConnect and they all pale in comparison to Campaigner. The other platforms were clunky to use, not intuitive or user-friendly, outdated, and constrictive when it came to designing email templates.
Gründe für den Wechsel zu Campaigner
Mailchimp's support team is virtually non-existant. We tried reaching out to start an account and they never returned our messages. If problems arise with a software, customer service is a priority for us.
Antwort von

Ziff Davis

Hello Laura,

Thank you very much for your feedback and so happy to hear that you are enjoying the drag and drop email editor! It is also really great to know that our support team has been there to help you when you are in need.

We look forward to continuing to serve your email marketing needs for years to come.

All the best,

Carlos Petersen, Customer Marketing Manager

Beantwortet am 19.10.2020
Branche: Zeitung
Unternehmensgröße: 11–50 Mitarbeiter

Täglich

für

Mehr als 1 Jahr

genutzt
Quelle der Bewertung
Preis-Leistungs-Verhältnis
1
---
Really big disappointment - AVOID this ESP
Really disappointing experience they charged me a lot of money and it was a year contract when features which were vital were not working i asked to pause billing till i could use the platform - i tried to negotiate instead they made general promises and when i asked specifically to pause billing so i can use it they locked me into a recurring billing despite many tech glitches and features not working. Now I am forced to dispute with my credit card company which is first time this year and something i almost never do. I dont recall ever being locked into such an expensive long term contract where so much inflexibility was shown especially when They promise a lot and deliver little. Also the PCMag review says Campaigner is great but Campaigner and PCMag are owned by the same parent company, i wish i had not read that review. Look at the review prior to mine also it seems that their service is deteroarting .
Vorteile
If the platform actually worked like it was supposed to and customer support was actually there i could mention 24/7 support and great features but this has not been the case at all
Mailchimp and Mailigen both of which i reviewed are far far better bets
Nachteile
Customer service is supposedly 24/7 but when i would go to chat with them online they were usually unavailable even during normal business hours. My dedicated account manager would not answer emails and when i had tech issues he would ant to schedule conference calls to give vague assurances even when the issues were specifically tech related and from their end. Also when i first signed up it took weeks to solve the issue which turned out to be related to a program many use (think like IOS) and they do not plan a fix anytime soon. So if you use this very popular sofgtwar you cannot use Campaigner on it for foreseeable future
Branche: Personalbeschaffung & -besetzung
Unternehmensgröße: Selbstständig

Monatlich

für

Mehr als 2 Jahre

genutzt
Quelle der Bewertung
Preis-Leistungs-Verhältnis
4
---
Easy to learn and great customer service, when necessary
Excellent -- customer service reps are quickly available and have always been able to resolve the issue, which in all honesty could be because of my lack of advanced html coding knowledge.
FYI, I had been using a bulk-emailing PC software prior to Campaigner, but navigating how to overcomer spam filters became too complicated and was ultimately unsuccessful.
Vorteile
Very straight-forward managing multiple mailing lists; useful and detailed analytics for email campaigns; very helpful and quick customer service (I suppose that the reason customer service reps are available so quickly is because they are not needed often, which speaks to the high quality of the software).
Nachteile
Because I do very time-sensitive campaigns, sometimes the test email doesn't arrive as quick as it should.
Antwort von

Ziff Davis

Hello Bruce,

Thanks for this excellent feedback! It's great to hear that we have been a great service for you regarding list management and analytics for your email campaigns and that our customer service team has been there for you.

We are looking forward to continuing to service your email marketing needs for years to come.

Take care,

Carlos P, Community Manager

Beantwortet am 19.11.2021
Branche: Hochschulbildung
Unternehmensgröße: 2–10 Mitarbeiter

Monatlich

für

Mehr als 2 Jahre

genutzt
Quelle der Bewertung
Preis-Leistungs-Verhältnis
5
---
Hotchkiss Brain Institute review
Overall, I like using Campaigner. I have become more proficient with the software. I am EXTREMELY thankful for the tech support. I always get the help I need and they are professional, quick, and reliable. If the tech support was not as great as it is, I would possibly seek out a different software, due to the spacing/formatting issues that seem to happen in each of my campaigns.
Vorteile
I like the look of the finished product. It is quite professional looking. And once I got the hang of how to build a newsletter, I really liked it.
Nachteile
I found it difficult to learn how to best use the product. There tend to be spacing issues (usually too many spaces between articles) that I am unable to adjust and always have to call tech support to fix.
Warum Campaigner gewählt wurde
It was before my time, but I believe we had no option, we had to evolve to the new version.
Gründe für den Wechsel zu Campaigner
Marketo is used by many at our university. I understand it is very user unfriendly with many glitches and problems. We do not have a large support team at the university to help with Marketo, so I hope to keep using Campaigner.
Antwort von

Ziff Davis

Hello Holly,

Thank you for your feedback, its great to hear that you are making good use of Campaigner and that our support staff has been there for you.

The other feedback that you have provided will be brought up with out product and development team.

Hope that you have a great day,

Carlos, Customer Marketing Manager

Beantwortet am 14.9.2020