Über Missive
Missive ist ein Teamposteingang für die E-Mail-Zusammenarbeit. Nutzer können mit Teamkollegen direkt über den Posteingang chatten, Anhänge freigeben und Aufgaben zuweisen. Die Lösung enthält gemeinsame Labels, mit denen Fachkräfte Gespräche nach Projekt oder Abteilung wie Kundenbetreuung, Marketingkampagnen und mehr organisieren können.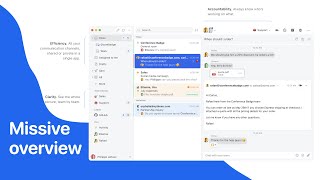 Missive bietet eine Gratisversion, aber keine kostenlose Testversion. Die kostenpflichtige Version von Missive ist ab 14,00 $/Monat verfügbar.
Startpreis:
14,00 $/Monat
Kostenlose Testversion:
Nein
Branche: Gewerbeimmobilien
Unternehmensgröße: 11–50 Mitarbeiter

Täglich

für

6-12 Monate

genutzt
Quelle der Bewertung
Preis-Leistungs-Verhältnis
4
---
Loving and Growing with Missive
Overall Missive has exponentially improved out workflow and operations. Our team is much more connected and communicative than ever.
Vorteile
We love the collaborative email features, chatting, assigning, and observer features in Missive. Missive allows managers to supervise employees and make sure that no lead or email is missed but also isn't so intrusive that employees feel creeped out by it. Though we're sharing emails, everyone has their own Missive account and tasks they can have ownership of. The chatting allows our team to communicate so much better than before when we all had different google hangouts.
Nachteile
Missive is still growing so sometimes we run into technical or feature limitations of things they haven't worked out yet. I also don't like how only the owner of the account can do certain things. As an administrator I hate to have to bother the owner of the company every time I need to add a new alias.
In Betracht gezogene Alternativen
Front
Warum Missive gewählt wurde
Having new and different employees logging in to different Gmail accounts was too confusing and inconvenient. Managers could not oversee. Things were easily missed.
Gründe für den Wechsel zu Missive
Missive is true shared email, chat, and collaboration. Most other shared email platforms are also trying to shove their CRM features down your throats, which we definitely did not need.
Branche: Informationstechnologie & -dienste
Unternehmensgröße: 2–10 Mitarbeiter

Täglich

für

6-12 Monate

genutzt
Quelle der Bewertung
Preis-Leistungs-Verhältnis
5
---
Missive for the win!
Love, love, love Missive. The lads are excellent with their onboarding and support. I have no idea how such a little team does so much at such a high level - it is truly inspirational.
Vorteile
We reviewed this alongside Front. It was attractive to me as it is a small team that is bootstrapped, and I like to support that.
But most critically when doing the technical review of Missive v Front (and others) we found that they had the deepest integration with Gmail and an excellent API that allowed us to build a custom integration with our internal tooling.
We were driven to find a common collaborative inbox tool for the team as Intercom wasn't working as well as we needed (we still use it for outbound messages), plus we get lots of messages from other channels and for other reasons beyond support - like sales.
It also works well with PipeDrive - seeing that PD was using it themselves was reassuring, although it would be *excellent* if they shared some of the internal integration learnings with the PD integration off the shelf (it does the job, but only just)
Nachteile
There is still some confusion about how to best handle closing and archiving with team emails - so it is closed from an individuals box but not the shared box and similar when trying to hand over an email and removing the email from your inbox - we still have a fear we will archive it for everyone. This is the most confusing part of the platform.
We tend not to use Tasks as we have Pipedrive, Trello, TidyHQ all generating tasks which makes it confusing - I do wish we could push all tasks centrally to one of the above tools.
In Betracht gezogene Alternativen
Front
Warum Missive gewählt wurde
Intercom's collaborative Inbox loses a lot of formatting and attachment when bouncing emails around. It isn't a genuine email handler and also didn't allow us to use it for emails and other incoming messaging gracefully.
Gründe für den Wechsel zu Missive
Front was tested for some months but it isn't a tight enough integration with Gmail - after some weeks of using it and then heading back into my Gmail Inbox, it was a mess, although my Front Inbox was neat, it wasn't being reflected in Gmail perfectly - very frustrating. Plus it's much, much more expensive than Missive.
Branche: Professionelles Training & Coaching
Unternehmensgröße: Selbstständig

Täglich

für

1-5 Monate

genutzt
Quelle der Bewertung
Preis-Leistungs-Verhältnis
5
---
Missive is a game-changer and I won't go back.
I am amazed with Missive, and can't picture myself using another email client. I've never felt so organized or on top of my inbox!
Vorteile
The ability to create a flexible, customized structure for my email management has changed the game. I have multiple inboxes, used for multiple purposes, and Missive streamlines the entire thing for me. There are so many ways to customize and automate it, and it has all the features I look for in a good email client, such as scheduled sending, snoozing emails, automated rules, templates, and more. I love that I can also use the same tool for social media, calls, texts, web chat, etc. The interface is simple, and you can build it out as much as you want. The team collaboration features within Missive are easy to use, full-featured, and essential to my clients' and my workflow.
Nachteile
I would love to see more integrations! Currently the cloud-based phone software I use is not supported in Missive. I would also love a Slack integration.
Branche: Immobilien
Unternehmensgröße: 201–500 Mitarbeiter

Täglich

für

6-12 Monate

genutzt
Quelle der Bewertung
Preis-Leistungs-Verhältnis
0
---
Missive Review
A great resource when working with many different types of email platforms and communication platforms.
Vorteile
My favourite part of missive was that we were able to integrate other programs and platforms into our Missive. Giving us more abilities than if we were just using one program.
Nachteile
Because of the fact that we were integrate other platforms into our Missive use we would sometimes run into troubles if one platform upgraded and the functionality stopped between the two.
Branche: Übersetzung und Lokalisierung
Unternehmensgröße: 2–10 Mitarbeiter

Täglich

für

Mehr als 2 Jahre

genutzt
Quelle der Bewertung
Preis-Leistungs-Verhältnis
5
---
Do not miss it!
Overall, I highly recommend Missive to any team looking for a comprehensive and efficient shared inbox solution. Whether you are a small business, startup, or large corporation, Missive has everything you need to manage your communications and work collaboratively in one place.
Vorteile
What I like best about Missive is how it streamlines communication and collaboration within my team. No longer do we have to go back and forth between multiple email accounts and platforms, as Missive allows us to manage all of our shared inboxes in one place. The ability to assign tasks and messages to team members, as well as track progress and keep everyone on the same page, has greatly improved our workflow and productivity.
Nachteile
What I dislike about Missive is the limited integration options with other tools and platforms. However, this is a minor inconvenience in comparison to the many benefits that Missive provides.