Über Missive
Missive ist ein Teamposteingang für die E-Mail-Zusammenarbeit. Nutzer können mit Teamkollegen direkt über den Posteingang chatten, Anhänge freigeben und Aufgaben zuweisen. Die Lösung enthält gemeinsame Labels, mit denen Fachkräfte Gespräche nach Projekt oder Abteilung wie Kundenbetreuung, Marketingkampagnen und mehr organisieren können.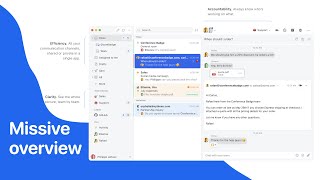 Missive bietet eine Gratisversion, aber keine kostenlose Testversion. Die kostenpflichtige Version von Missive ist ab 14,00 $/Monat verfügbar.
Startpreis:
14,00 $/Monat
Kostenlose Testversion:
Nein
Branche: Bekleidung & Mode
Unternehmensgröße: 2–10 Mitarbeiter

Täglich

für

6-12 Monate

genutzt
Quelle der Bewertung
Preis-Leistungs-Verhältnis
5
---
One software to rule them all
Thanks to Missive, we've been able to use only 2 softwares for all our communications.
Internal communication (team members interacting with each others) is done through Basecamp, and external communication (team members interacting with customers, suppliers, media, bizdev, etc.) is done through Missive.
This really helps to keep our focus at the right place in the correct software.
Disclaimer: We still have to use other softwares to send our newsletter, for example, but that wasn't the point in my review.
Vorteile
The team inbox feature is simply incredible. It allows our team to chat between responses to our customers or suppliers to make sure we say the correct things and that we have all the information needed before sending those emails. It's much better than Zendesk for the workflow and the fact that Missive doesn't break all the time (like it happened to us on Zendesk back then, before we switched).
As a small business, Missive allows us to centralize all our "external communication" (Customer service, BizDev, Media/Press contacts) into one software, instead of scattering our team between a help desk, a CRM, and some other tools and software to make it all work. We have different e-commerce websites, so we can actually have all our projects and different emails on the same software for a single price.
Nachteile
Since this isn't a help desk, there are no "ticket numbers", where everything has a clear number attached to it (Customer request ticket #1001, #1002, etc.). But that's understandable because Missive isn't built only for being a help desk.
What I also like the least about Missive is the lack of hierarchical structure implemented in the pre-built responses our team created. It's already great (the search tool for searching through your quick responses is already great, but the lack of visual structure can be hard for beginner employees when you have 50+ quick responses for every possible situation when dealing with customer service. This is something that I miss from Zendesk, when we could separate our quick responses (aka macros) into different folders/categories
In Betracht gezogene Alternativen
Intercom
Warum Missive gewählt wurde
The cost, the fact zendesk was breaking constantly. We never knew if customers were getting our messages via Messenger because Zendesk kept breaking and unsyncing with our facebook page every 2-3 months. Missive is just $15/user/month for all its features. It's amazing compared to others.
Gründe für den Wechsel zu Missive
Missive is much cheaper, Intercom is overkill.
Branche: Informationstechnologie & -dienste
Unternehmensgröße: 2–10 Mitarbeiter

Täglich

für

6-12 Monate

genutzt
Quelle der Bewertung
Preis-Leistungs-Verhältnis
5
---
Missive for the win!
Love, love, love Missive. The lads are excellent with their onboarding and support. I have no idea how such a little team does so much at such a high level - it is truly inspirational.
Vorteile
We reviewed this alongside Front. It was attractive to me as it is a small team that is bootstrapped, and I like to support that.
But most critically when doing the technical review of Missive v Front (and others) we found that they had the deepest integration with Gmail and an excellent API that allowed us to build a custom integration with our internal tooling.
We were driven to find a common collaborative inbox tool for the team as Intercom wasn't working as well as we needed (we still use it for outbound messages), plus we get lots of messages from other channels and for other reasons beyond support - like sales.
It also works well with PipeDrive - seeing that PD was using it themselves was reassuring, although it would be *excellent* if they shared some of the internal integration learnings with the PD integration off the shelf (it does the job, but only just)
Nachteile
There is still some confusion about how to best handle closing and archiving with team emails - so it is closed from an individuals box but not the shared box and similar when trying to hand over an email and removing the email from your inbox - we still have a fear we will archive it for everyone. This is the most confusing part of the platform.
We tend not to use Tasks as we have Pipedrive, Trello, TidyHQ all generating tasks which makes it confusing - I do wish we could push all tasks centrally to one of the above tools.
In Betracht gezogene Alternativen
Front
Warum Missive gewählt wurde
Intercom's collaborative Inbox loses a lot of formatting and attachment when bouncing emails around. It isn't a genuine email handler and also didn't allow us to use it for emails and other incoming messaging gracefully.
Gründe für den Wechsel zu Missive
Front was tested for some months but it isn't a tight enough integration with Gmail - after some weeks of using it and then heading back into my Gmail Inbox, it was a mess, although my Front Inbox was neat, it wasn't being reflected in Gmail perfectly - very frustrating. Plus it's much, much more expensive than Missive.
Branche: Bau
Unternehmensgröße: 2–10 Mitarbeiter

Täglich

für

Mehr als 1 Jahr

genutzt
Quelle der Bewertung
Preis-Leistungs-Verhältnis
4
---
Great App!
Integration with another apps and team colaboration in chat
Vorteile
I love the integration with another apps and chat option.
Nachteile
Integration with another apps like notion, and improve the integration with asana.It misses the print option with the chat conversations
Branche: Immobilien
Unternehmensgröße: 201–500 Mitarbeiter

Täglich

für

6-12 Monate

genutzt
Quelle der Bewertung
Preis-Leistungs-Verhältnis
0
---
Missive Review
A great resource when working with many different types of email platforms and communication platforms.
Vorteile
My favourite part of missive was that we were able to integrate other programs and platforms into our Missive. Giving us more abilities than if we were just using one program.
Nachteile
Because of the fact that we were integrate other platforms into our Missive use we would sometimes run into troubles if one platform upgraded and the functionality stopped between the two.
Branche: Non-Profit-Organisation Management
Unternehmensgröße: 11–50 Mitarbeiter

Täglich

für

Mehr als 1 Jahr

genutzt
Quelle der Bewertung
Preis-Leistungs-Verhältnis
5
---
Perfect team collaboration tool
Vorteile
This product has rapidly sped up our decision-making and response time to external users. It takes minimal effort to share emails, ask for input from the team and make collaborative decisions. It's like a secret back channel where we can get things done away from the mess of other platforms, apps, tools, etc.
Nachteile
Very little to dislike here. Missive team continually works on the product, adds features, and are responsive to feedback.