Über Marketing 360
Marketing 360 ist eine cloudbasierte Marketingplattform, die sich sowohl für Einzelunternehmen als auch für kleine und mittlere Unternehmen eignet. Diese Lösung ermöglicht Unternehmen, Social-Media-Werbekampagnen durchzuführen, Suchmaschinenoptimierungsprogramme auszuführen und die digitale Marketingleistung zu analysieren. Die UXi-Website-Funktion von Marketing 360 hilft Nutzern, Webseiten mit Branding zu erstellen, die Call-to-Action-Schaltflächen enthalten. Darüber hinaus bietet das System Website-Vorlagen, die mithilfe von Drag-and-Drop-Funktionen angepasst und bearbeitet werden können. Die Natural-Listing-Ads-Funktion von Marketing 360 hilft Nutzern, organische Suchergebnisse zu verwalten, indem sie das Suchvolumen von Keywords und das Ranking verfolgt. Darüber hinaus analysiert die Plattform die SEO-Leistung der Konkurrenz mit denselben Schlüsselwörtern und teilt Echtzeitberichte, die organische Konversionsraten bieten. Mit Social Targeting Ads können Unternehmen Kunden auf der Grundlage von persönlichen Details wie Alter, Geschlecht, Standort und Interessen segmentieren und ansprechen.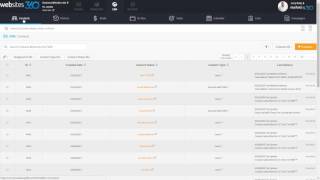 Marketing 360 bietet eine Gratisversion und eine kostenlose Testversion. Die kostenpflichtige Version von Marketing 360 ist ab 25,00 $ verfügbar.
Kostenlose Testversion:
Ja
Alternativen für Marketing 360
Marketing 360 Erfahrungen
Täglich

für

6-12 Monate

genutzt
Quelle der Bewertung
Preis-Leistungs-Verhältnis
5
---
Great Team of Professionals to Work With
It all works together. That is incredibly important. You need all your sources to be able to come into one location and be tracked. Leads are the businesses life blood.If you can't track everything you do, you are just shooting in the dark.
Vorteile
Most small businesses have a person to do their website, another to do their social media. Working with the team at Marketing 360 I have an expert in every field working on my businesses that are working together. They created a great logo, an incredible website that I have received major accolades for, social media, blogs, videos, etc. that all work together to make my business look professional and keep me on page one for all my keywords. Then they do all the things I hate doing like setting up and populating my CRM. They provide a calendar where my assistance can update my calendar. Then they do something most small businesses never do; they track EVERYTHING. We know immediately when something is working or not working. Most businesses are just shooting in the dark. This process take a while. If you only tried Marketing 360 for 6 months, you haven't given it a fair shake. Marketing takes a while. I know. I have been doing marketing for several years. It takes time to dial it in. Time busy business people do not have. That why I turned 99% of my marketing over to a TEAM, the team of Marketing 360; They work together to bring me customers and brand my business with a consistent message.
Nachteile
I wish the calendar would tie into my other calendars. Other than that, I have been very satisfied with Marketing 360 and the software.
Antwort von

Madwire

Roy, thank you so much for your review and feedback. We appreciate and value the feedback. All ships rise together and we are excited to work with you and build your business up continuously. Thanks for your business.

Beantwortet am 11.7.2018
Branche: Automotive
Unternehmensgröße: 2-10 Mitarbeiter

Täglich

für

Mehr als 2 Jahre

genutzt
Quelle der Bewertung
Preis-Leistungs-Verhältnis
5
---
Best decision I ever made was joining marketing 360
I made the switch to marketing 360 a little over 2 years ago and it was the best decision I could of made. [SENSITIVE CONTENT] and his team have no doubt helped grow my business hands down. He is very attentive to detail and always gets right back with me. He truly cares about how my business is doing and wants us to suceed in our marketing goals year after year. I couldnt recommend markeing 360 enough to handle any business's marketing needs.
Vorteile
I love how simple everything is to use. Very user friendly and I like how I can create sales pipelines with the CRM software and everything stays very orginized
Nachteile
There really isnt one down fall I have found to marketing 360
Branche: Einzelhandel
Unternehmensgröße: 2-10 Mitarbeiter

Täglich

für

Mehr als 2 Jahre

genutzt
Quelle der Bewertung
Preis-Leistungs-Verhältnis
0
---
A lot of money for little results.
Vorteile
There is not much to what we used it for.
Nachteile
This company supposedly does SEO optimization and such and website design. They did make a decent video and information only website for us, but we were paying way too much a month for something we could have been doing ourselves with a little bit of research and a lot less money.
Antwort von

Madwire

Hi, Heather. It sounds like you aren't utilizing the software to its full potential. Definitely want to make sure you're getting as much value as possible! We're having a hard time finding your account based on the information provided, but please reach out to us directly so we can explore the possibility of our Onboarding team or Support team providing additional resources to ensure you are benefiting from all apps within the platform.

Beantwortet am 9.5.2022
Branche: Automotive
Unternehmensgröße: 2-10 Mitarbeiter

Täglich

für

Mehr als 2 Jahre

genutzt
Quelle der Bewertung
Preis-Leistungs-Verhältnis
5
---
[SENSITIVE CONTENT] Review
One of the best moves I have made for our business.
Vorteile
Not so much about the software but about the person who handles the account. [SENSITIVE CONTENT] is simply amazing. Total professional, friendly and has knowledge and expertise that is just awesome. Always willing to help me and has my best interest in mind always. I have been very impressed while working with him and I think he should me acknowledged for what he does.
Nachteile
Nothing that I know of. So far there has been no negatives.
Branche: Finanzdienstleistungen
Unternehmensgröße: 51-200 Mitarbeiter

Täglich

für

Mehr als 2 Jahre

genutzt
Quelle der Bewertung
Preis-Leistungs-Verhältnis
5
---
Marketing 360 - an extra pair of hands
Madwire/Marketing 360 is like having an extra person assisting with all of the marketing implementations. Our company has been onboard for the past 4 years and our brand is professionally displayed on most of the social media outlets. They assist with email blasts and flyer prep. We would be lost without Marketing 360! We work with several people, however [SENSITIVE CONTENT] is absolutely outstanding with whatever we dream up - she implements! Highly recommend Madwire/Marketing 360.
Vorteile
The availability of assistance at Marketing 360
Nachteile
We have no complaints - everything has worked seemlessly