Über Marketing 360
Marketing 360 ist eine cloudbasierte Marketingplattform, die sich sowohl für Einzelunternehmen als auch für kleine und mittlere Unternehmen eignet. Diese Lösung ermöglicht Unternehmen, Social-Media-Werbekampagnen durchzuführen, Suchmaschinenoptimierungsprogramme auszuführen und die digitale Marketingleistung zu analysieren. Die UXi-Website-Funktion von Marketing 360 hilft Nutzern, Webseiten mit Branding zu erstellen, die Call-to-Action-Schaltflächen enthalten. Darüber hinaus bietet das System Website-Vorlagen, die mithilfe von Drag-and-Drop-Funktionen angepasst und bearbeitet werden können. Die Natural-Listing-Ads-Funktion von Marketing 360 hilft Nutzern, organische Suchergebnisse zu verwalten, indem sie das Suchvolumen von Keywords und das Ranking verfolgt. Darüber hinaus analysiert die Plattform die SEO-Leistung der Konkurrenz mit denselben Schlüsselwörtern und teilt Echtzeitberichte, die organische Konversionsraten bieten. Mit Social Targeting Ads können Unternehmen Kunden auf der Grundlage von persönlichen Details wie Alter, Geschlecht, Standort und Interessen segmentieren und ansprechen.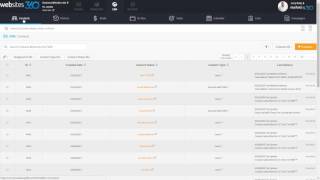 Marketing 360 bietet eine Gratisversion und eine kostenlose Testversion. Die kostenpflichtige Version von Marketing 360 ist ab 25,00 $ verfügbar.
Kostenlose Testversion:
Ja
Alternativen für Marketing 360
Marketing 360 Erfahrungen
Branche: Computer-Software
Unternehmensgröße: 1.001–5.000 Mitarbeiter

Täglich

für

Mehr als 1 Jahr

genutzt
Quelle der Bewertung
Preis-Leistungs-Verhältnis
0
---
Improves your marketing and sales rates.
I was introduced to Marketing 360 by a friend who had used their services prior to me. I was intrigued by the concept of their marketing services and was excited to have them work with me. At first, I was skeptical about the services they provided, as I had never heard of their company. After using their services, I was pleasantly surprised to learn that their services are actually very affordable, especially in comparison to other marketing companies. Their services are very affordable and effective.
Vorteile
I've done a lot of online marketing for the past 6 years but I've only recently discovered marketing360.com. I'm amazed at how much I've been missing out on, especially when it comes to email marketing. I'm new to marketing and this has been a wonderful resource. Through the email marketing program, I have built a mailing list of hundreds of contacts that are all interested in my products.
Nachteile
I have tried dozens, if not hundreds, of email marketing services over the years and have yet to find one that is more successful than Marketing 360. It has an easy-to-use interface, I really liked it in general and I didn't have any problems.
Branche: Unterhaltung
Unternehmensgröße: Selbstständig

Täglich

für

1-5 Monate

genutzt
Quelle der Bewertung
Preis-Leistungs-Verhältnis
5
---
Great Results from an Incredible Team
Marketing 360 has been great. I was fortunate to be partnered up with [SENSITIVE CONTENT] and his team. We have been able to achieve more in the few months I've worked with him than I was able to on my own over the past several years. He is responsive, awesome to work with, takes my suggestions and ideas, and is able to stay with me and the goals I have.
Vorteile
The software is fairly simple to use. I have used different CRMs, payment processors, and website tools in the past. This software is right on par (if not more advanced) than the others. It is incredibly easy to use! The built-in automation, payment processor, and nurture tools are incredible.
Nachteile
The only part of the software that I think could be improved upon would be the social media tools. This could be (mostly) because I haven't used them a whole lot. I find it is almost easier to jump in and post on the different social media accounts myself.
Branche: Medizinische Praxis
Unternehmensgröße: Selbstständig

Täglich

für

Mehr als 2 Jahre

genutzt
Quelle der Bewertung
Preis-Leistungs-Verhältnis
0
---
Don't Trust Them
Overall do not trust this company. You can say they don't know what they are doing when it comes to ads. They screwed me over on their sales pitch and nothing they said they would do to my website was carried over into their work. Plugins were deactivated and deleted from my website when we were done.
Vorteile
Prior to signing up with this company their sales team was contacting me almost everyday with their pressure sales tactics. "What's taking you so long to finish what you're doing with your website". So many statements like that which then lead them to say they could do what was needed. Which they didn't. There wasn't one good thing about this company. Ads were late, not promoted, graphic design was poor quality and no imagination.
Nachteile
We planned on launching the first ads campaign on Black Friday and they missed the launch. Their excuse was they were snowboarding. They didn't think it was a big deal and brushed it off.
I signed up with them because their sales department said they could help me with my website. I needed video integration, stats and a email pop up. They were confident prior to signing their contract that they could do it until after I paid them.
Prior to signing their contract I ran my own ads for 3 weeks on Google and I brought 30,000 visitors to my website with a average stay of 5 minutes. In their 4.5 months of ads they brought a total of 3,500 visitors with a average stay of .5 seconds.
Nothing they said in the beginning was carried over into their advertising strategies.
Zero remarketing was done the majority of the money spent was on Facebook. When you sign up with them you basically pay for someone to take a image off Google and add caption to it. That is all they did.
When I was done with their advertising I had a lot of plugins (wordpess) deactivated prior to them leaving my website. They were also following random people on Instagram.
Antwort von

Madwire

Hi Tyler, Thank you for providing your feedback. It disappoints us you feel this way and would like to address your concerns. We developed a marketing game plan for one of your two businesses, and we trusted the information you gave us was up-front and correct. Just before signing on, you made the decision to change which business you would be bringing on board with us but chose to utilize a marketing strategy developed for your other business. The planned Black Friday campaign was, in fact, ready to launch, pending your final approval. We made multiple attempts to reach you for final approval well in advance of Black Friday. However, you weren't able to respond to us until the Monday following Black Friday. It also seems that either your analytics are off, or you misrepresented your previous marketing strategy to our team. 30,000 visitors in three weeks via Google ads would indicate you spent more on ads in two days, before hiring us, than what you invested into your ads over the course of our four month (not 2+years) relationship. We agree that trust is important in a partnership, and we'd likely agree it must go both ways. We work hard for our clients. We're sure you do as well. We wish you the best moving forward.

Beantwortet am 26.9.2018
Branche: Buchhaltung
Unternehmensgröße: Selbstständig

Täglich

für

Mehr als 2 Jahre

genutzt
Quelle der Bewertung
Preis-Leistungs-Verhältnis
4
---
A Comprehensive Review of Marketing 360"
What business problems are you solving with Marketing 360?Marketing 360 has helped me solve several business problems, including managing multiple marketing channels, automating tasks, and tracking the effectiveness of marketing campaigns.What benefits have you realized?I have realized several benefits from using Marketing 360, including saving time by automating tasks and streamlining my marketing efforts, gaining insight into my audience with detailed analytics and reporting, and increasing the effectiveness of my marketing campaigns. Additionally, the ability to manage all aspects of my marketing in one platform has helped me stay organized and make more informed decisions.
Vorteile
What features are most impactful ?As a user of Marketing 360, I have found several features to be particularly impactful in my marketing efforts. The post scheduling feature has been very useful in helping me plan and execute my social media campaigns. Additionally, the automated publishing feature has saved me a lot of time and made it easier to consistently publish content across multiple channels. Is the product easy to use?Overall, I found Marketing 360 to be a very user-friendly product. The interface is intuitive and easy to navigate, and the platform offers a range of helpful support resources, including video tutorials and a knowledge base. The customer support team is also very responsive and helpful in addressing any questions or issues that arise. Was integration with your existing business processes easy?Integrating Marketing 360 with my existing business processes was a smooth process. The platform offers integrations with a range of popular business tools, including CRMs and ecommerce platforms, which made it easy to connect Marketing 360 to my existing tech stack. Additionally, the platform offers robust automation features, which have helped streamline my marketing workflows and reduce manual input.
Nachteile
Are there features you feel are missing or could be improved?In my experience with Marketing 360, I have not come across any significant missing features. However, some features could be improved, such as the user interface design for some sections of the platform.Are there aspects of the product that are difficult to use?Overall, I found Marketing 360 to be relatively easy to use. However, some aspects of the platform, such as setting up certain types of campaigns, can be a bit challenging for new users.Was integration with your existing business processes difficult?Integrating Marketing 360 with our existing business processes was relatively straightforward. The platform offers integrations with several popular tools, and the customer support team was available to help with any issues we encountered.
Branche: Gesundheit, Wellness & Fitness
Unternehmensgröße: 2–10 Mitarbeiter

Täglich

für

6-12 Monate

genutzt
Quelle der Bewertung
Preis-Leistungs-Verhältnis
5
---
The CRM soft ware is not difficult to understand. For me it's about TIME BLOCKING ....
I enjoy my team [SENSITIVE CONTENT]. The entire experience from start until now has been professional. I like having the support. Speaking weekly is invaluable.
Vorteile
The CRM soft ware is not difficult to understand. For me it's about TIME BLOCKING and actually taking the time to learn and push buttons. It's kind of like having a new cell phone. You learn new features along the way. I liked that everything is at your finger tips
Nachteile
Maybe it was me. Maybe it was system interface errors. Not often but sometimes languages simply were not communicating. That's when you walk away and go have Margaritas. This happens in every situation where Tech is involved. Nothing to be concerned about .
Antwort von

Madwire

Hi, Coach Kenya. So glad to hear you've enjoyed working with our team. Please let us know if there's ever anything specific in the platform that is giving you errors or putting you into a margarita-induced state. Our tech team definitely wants to know about that stuff so we can address them. We're looking forward to working with you for years to come!

Beantwortet am 16.9.2021