Über Marketing 360
Marketing 360 ist eine cloudbasierte Marketingplattform, die sich sowohl für Einzelunternehmen als auch für kleine und mittlere Unternehmen eignet. Diese Lösung ermöglicht Unternehmen, Social-Media-Werbekampagnen durchzuführen, Suchmaschinenoptimierungsprogramme auszuführen und die digitale Marketingleistung zu analysieren. Die UXi-Website-Funktion von Marketing 360 hilft Nutzern, Webseiten mit Branding zu erstellen, die Call-to-Action-Schaltflächen enthalten. Darüber hinaus bietet das System Website-Vorlagen, die mithilfe von Drag-and-Drop-Funktionen angepasst und bearbeitet werden können. Die Natural-Listing-Ads-Funktion von Marketing 360 hilft Nutzern, organische Suchergebnisse zu verwalten, indem sie das Suchvolumen von Keywords und das Ranking verfolgt. Darüber hinaus analysiert die Plattform die SEO-Leistung der Konkurrenz mit denselben Schlüsselwörtern und teilt Echtzeitberichte, die organische Konversionsraten bieten. Mit Social Targeting Ads können Unternehmen Kunden auf der Grundlage von persönlichen Details wie Alter, Geschlecht, Standort und Interessen segmentieren und ansprechen.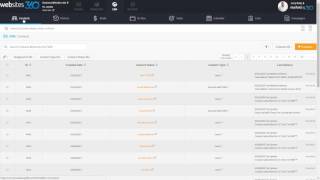 Marketing 360 bietet eine Gratisversion und eine kostenlose Testversion. Die kostenpflichtige Version von Marketing 360 ist ab 25,00 $ verfügbar.
Kostenlose Testversion:
Ja
Alternativen für Marketing 360
Marketing 360 Erfahrungen
Täglich

für

6-12 Monate

genutzt
Quelle der Bewertung
Preis-Leistungs-Verhältnis
5
---
Great Team of Professionals to Work With
It all works together. That is incredibly important. You need all your sources to be able to come into one location and be tracked. Leads are the businesses life blood.If you can't track everything you do, you are just shooting in the dark.
Vorteile
Most small businesses have a person to do their website, another to do their social media. Working with the team at Marketing 360 I have an expert in every field working on my businesses that are working together. They created a great logo, an incredible website that I have received major accolades for, social media, blogs, videos, etc. that all work together to make my business look professional and keep me on page one for all my keywords. Then they do all the things I hate doing like setting up and populating my CRM. They provide a calendar where my assistance can update my calendar. Then they do something most small businesses never do; they track EVERYTHING. We know immediately when something is working or not working. Most businesses are just shooting in the dark. This process take a while. If you only tried Marketing 360 for 6 months, you haven't given it a fair shake. Marketing takes a while. I know. I have been doing marketing for several years. It takes time to dial it in. Time busy business people do not have. That why I turned 99% of my marketing over to a TEAM, the team of Marketing 360; They work together to bring me customers and brand my business with a consistent message.
Nachteile
I wish the calendar would tie into my other calendars. Other than that, I have been very satisfied with Marketing 360 and the software.
Antwort von

Madwire

Roy, thank you so much for your review and feedback. We appreciate and value the feedback. All ships rise together and we are excited to work with you and build your business up continuously. Thanks for your business.

Beantwortet am 11.7.2018
Branche: Bildungsmanagement
Unternehmensgröße: 11–50 Mitarbeiter

Täglich

für

Mehr als 2 Jahre

genutzt
Quelle der Bewertung
Preis-Leistungs-Verhältnis
3
---
My experience with Marketing 360
This program enabled me to save time through tools, analytics and reporting data to measure campaign effectiveness, and enable data-driven decision making. Social media monitoring and engagement can help improve interactions with customers. And this is a very good thing in my opinion
Vorteile
The thing I liked the most is enabling me to manage social media, analytics and automation, and enabling me to strengthen relationships and gain customer satisfaction.
Nachteile
Yes, I may feel that there are some shortcomings such as incorporating machine learning for more predictive and accurate marketing analytics, advanced search engine optimization (SEO) tools for better search engine rankings, Video marketing tools...
Branche: Transport/Güterfrachtverkehr/Schienenverkehr
Unternehmensgröße: Selbstständig

Monatlich

für

1-5 Monate

genutzt
Quelle der Bewertung
Preis-Leistungs-Verhältnis
1
---
Lies lies lies, don't believe the salesman. It's all lies
Garbage. Lies lies lies. Told me one thing to get me to sign contract. I've paid nearly 4k and gotten not a single lead what so ever.
Vorteile
Nothing. I liked nothing about the platform. They said I'd get leads and now I've paid over 4000$ and have not received a single lead
Nachteile
Salesman Brandon lied and sold me on the company with nothing buy lies. Paid nearly 4k and havent received a single lead
Branche: Krankenhausversorgung & Gesundheitswesen
Unternehmensgröße: 11–50 Mitarbeiter

Wöchentlich

für

1-5 Monate

genutzt
Quelle der Bewertung
Preis-Leistungs-Verhältnis
3
---
Christopher Kokelea
Good
Vorteile
The different website template, the fast payment processing and multi account management.
Nachteile
The price of the plans were a little bit high for my budget.
Branche: Computer-Software
Unternehmensgröße: Selbstständig

Täglich

für

1-5 Monate

genutzt
Quelle der Bewertung
Preis-Leistungs-Verhältnis
5
---
The awesome Marketing 360 !
Overall, mine experience with Marketing 360 has been positive. The platform has helped us streamline our marketing efforts and has provided us with the insights we need to make data-driven decisions. While the cost may be a barrier for some businesses, the personalized approach and comprehensive features make it worth the investment!
Vorteile
Marketing 360 offers a range of tools and services that help streamline our marketing efforts. From email marketing to social media management to website design, everything we need to reach our target audience is available in one platform. The website takes a personalized approach to their services, ensuring that the solutions they provide fit our specific business needs. The team of experts assigned to our account are knowledgeable and helpful, providing us with advice and guidance whenever we need it. The Marketing 360 interface is intuitive and user-friendly, making it easy for us to manage our marketing campaigns. The platform is well-designed, and it's easy to navigate to the different features and tools. One of the standout features of it is the analytics and reporting capabilities. The platform provides in-depth insights into our marketing efforts, including detailed reports on website traffic, social media engagement, and email campaign performance.
Nachteile
The cost of using Marketing 360 can be high, especially for smaller businesses. However, the platform's comprehensive features and customized solutions make it a worthwhile investment and like any new software, there is a learning curve when it comes to using Marketing 360 effectively. However, the team at Marketing 360 provides ample support and resources to help us get up to speed.