Über Marketing 360
Marketing 360 ist eine cloudbasierte Marketingplattform, die sich sowohl für Einzelunternehmen als auch für kleine und mittlere Unternehmen eignet. Diese Lösung ermöglicht Unternehmen, Social-Media-Werbekampagnen durchzuführen, Suchmaschinenoptimierungsprogramme auszuführen und die digitale Marketingleistung zu analysieren. Die UXi-Website-Funktion von Marketing 360 hilft Nutzern, Webseiten mit Branding zu erstellen, die Call-to-Action-Schaltflächen enthalten. Darüber hinaus bietet das System Website-Vorlagen, die mithilfe von Drag-and-Drop-Funktionen angepasst und bearbeitet werden können. Die Natural-Listing-Ads-Funktion von Marketing 360 hilft Nutzern, organische Suchergebnisse zu verwalten, indem sie das Suchvolumen von Keywords und das Ranking verfolgt. Darüber hinaus analysiert die Plattform die SEO-Leistung der Konkurrenz mit denselben Schlüsselwörtern und teilt Echtzeitberichte, die organische Konversionsraten bieten. Mit Social Targeting Ads können Unternehmen Kunden auf der Grundlage von persönlichen Details wie Alter, Geschlecht, Standort und Interessen segmentieren und ansprechen.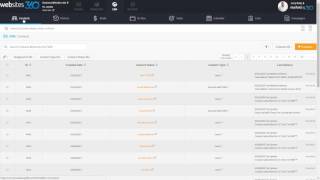 Marketing 360 bietet eine Gratisversion und eine kostenlose Testversion. Die kostenpflichtige Version von Marketing 360 ist ab 25,00 $ verfügbar.
Kostenlose Testversion:
Ja
Alternativen für Marketing 360
Marketing 360 Erfahrungen
Täglich

für

6-12 Monate

genutzt
Quelle der Bewertung
Preis-Leistungs-Verhältnis
5
---
Great Team of Professionals to Work With
It all works together. That is incredibly important. You need all your sources to be able to come into one location and be tracked. Leads are the businesses life blood.If you can't track everything you do, you are just shooting in the dark.
Vorteile
Most small businesses have a person to do their website, another to do their social media. Working with the team at Marketing 360 I have an expert in every field working on my businesses that are working together. They created a great logo, an incredible website that I have received major accolades for, social media, blogs, videos, etc. that all work together to make my business look professional and keep me on page one for all my keywords. Then they do all the things I hate doing like setting up and populating my CRM. They provide a calendar where my assistance can update my calendar. Then they do something most small businesses never do; they track EVERYTHING. We know immediately when something is working or not working. Most businesses are just shooting in the dark. This process take a while. If you only tried Marketing 360 for 6 months, you haven't given it a fair shake. Marketing takes a while. I know. I have been doing marketing for several years. It takes time to dial it in. Time busy business people do not have. That why I turned 99% of my marketing over to a TEAM, the team of Marketing 360; They work together to bring me customers and brand my business with a consistent message.
Nachteile
I wish the calendar would tie into my other calendars. Other than that, I have been very satisfied with Marketing 360 and the software.
Antwort von

Madwire

Roy, thank you so much for your review and feedback. We appreciate and value the feedback. All ships rise together and we are excited to work with you and build your business up continuously. Thanks for your business.

Beantwortet am 11.7.2018
Branche: Unterhaltung
Unternehmensgröße: Selbstständig

Täglich

für

1-5 Monate

genutzt
Quelle der Bewertung
Preis-Leistungs-Verhältnis
5
---
Great Results from an Incredible Team
Marketing 360 has been great. I was fortunate to be partnered up with [SENSITIVE CONTENT] and his team. We have been able to achieve more in the few months I've worked with him than I was able to on my own over the past several years. He is responsive, awesome to work with, takes my suggestions and ideas, and is able to stay with me and the goals I have.
Vorteile
The software is fairly simple to use. I have used different CRMs, payment processors, and website tools in the past. This software is right on par (if not more advanced) than the others. It is incredibly easy to use! The built-in automation, payment processor, and nurture tools are incredible.
Nachteile
The only part of the software that I think could be improved upon would be the social media tools. This could be (mostly) because I haven't used them a whole lot. I find it is almost easier to jump in and post on the different social media accounts myself.
Warum Marketing 360 gewählt wurde
An all-In-One platform that also had amazing customer service behind it.
Gründe für den Wechsel zu Marketing 360
The customer service. After the initial meeting, I was a little worried about getting the biggest bang for my buck. I did my research and thought that I would give it a go. I trusted my gut and put some faith into [SENSITIVE CONTENT]., his team, and Marketing 360. So far...I feel that I made the right decision.
Branche: Medizinische Praxis
Unternehmensgröße: 11-50 Mitarbeiter

Täglich

für

6-12 Monate

genutzt
Quelle der Bewertung
Preis-Leistungs-Verhältnis
1
---
Not as great as it appears
Not impressed, no one was in a rush to help with anything or get anything done. They do not make you feel like a priority whatsoever.
Vorteile
I LIKED all the effort and platforms they had put together to sell the product. I have not seen any of those things since that first call.
Nachteile
I don't like being promised a something and never get anything close to it. Especially when your paying a lot for it.
Branche: Informationstechnologie & -dienste
Unternehmensgröße: 10.000+ Mitarbeiter

Täglich

für

Mehr als 1 Jahr

genutzt
Quelle der Bewertung
Preis-Leistungs-Verhältnis
5
---
I recommend Marketing 360 100%
The platform's increased trustworthiness stems from the fact that it can be accessed via the cloud, the online, and mobile devices. Since we can handle both content management and social media management inside Marketing 360, we can more efficiently reach a wide audience and capitalize on the growing trend toward online marketing. It has been remarkable to see how the platform has contributed to the development of both our company and the surrounding community.
Vorteile
Several marketing execs at Madwire including the most current one were great to deal with. To begin, if you're looking to promote your business on social media, Madwire is hands down the best option. Due of my lack of experience with social media, I was confused as to how everything operated. The help desk team put everything together, helped me grasp the concepts I required, and took over the rest without a hitch. She has simplified our social media marketing strategies and provided us with actionable advice and direction every step of the way. Her expertise, reaction speed, and originality really beyond my expectations, and I would suggest her and Madwire to anybody trying to boost their social media marketing efforts.
Nachteile
We have no complaints from Marketing 360, rather our department is happy
Branche: Gesundheit, Wellness & Fitness
Unternehmensgröße: 2-10 Mitarbeiter

Täglich

für

6-12 Monate

genutzt
Quelle der Bewertung
Preis-Leistungs-Verhältnis
5
---
The CRM soft ware is not difficult to understand. For me it's about TIME BLOCKING ....
I enjoy my team [SENSITIVE CONTENT]. The entire experience from start until now has been professional. I like having the support. Speaking weekly is invaluable.
Vorteile
The CRM soft ware is not difficult to understand. For me it's about TIME BLOCKING and actually taking the time to learn and push buttons. It's kind of like having a new cell phone. You learn new features along the way. I liked that everything is at your finger tips
Nachteile
Maybe it was me. Maybe it was system interface errors. Not often but sometimes languages simply were not communicating. That's when you walk away and go have Margaritas. This happens in every situation where Tech is involved. Nothing to be concerned about .
Antwort von

Madwire

Hi, Coach Kenya. So glad to hear you've enjoyed working with our team. Please let us know if there's ever anything specific in the platform that is giving you errors or putting you into a margarita-induced state. Our tech team definitely wants to know about that stuff so we can address them. We're looking forward to working with you for years to come!

Beantwortet am 16.9.2021