Über Nifty
Nifty ist ein New-Wave-Projektmanagement-Tool, das Projektentwicklungszyklen verkürzt und die Teamproduktivität verbessert, indem alle wichtigen Funktionen des Projektmanagements in einer Software kombiniert werden. Das Endergebnis ist ein Meilenstein-gesteuerter Fortschritt, der die Teams inspiriert und sicherstellt, dass die Unternehmensziele innerhalb des Zeitplans erreicht werden. Mit der Software von Nifty kannst du Aufgaben sowohl über die Kanban- als auch über die Listenansicht verwalten. Der Kalender kann in Google integriert werden und die Anwendung bietet zudem Datei- und Dokumentenfreigabe. Die Kollaboration auf Nifty laut ganz natürlich ab, da jedes Projekt einen individuellen Diskussions-Thread hat, der die projektspezifische Kommunikation fördert. Nifty verfügt auch über eine Integration mit GitHub, die Nifty einzigartig macht, da die Anwendung so die abteilungsübergreifende Kollaboration wie keine andere fördert.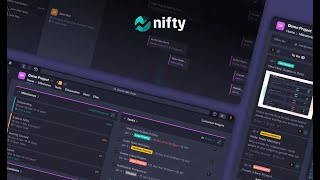 Nifty bietet eine Gratisversion und eine kostenlose Testversion. Die kostenpflichtige Version von Nifty ist ab 49,00 $/Monat verfügbar.
Startpreis:
49,00 $/Monat
Kostenlose Testversion:
Ja
Branche: Non-Profit-Organisation Management
Unternehmensgröße: 2–10 Mitarbeiter

Täglich

für

Mehr als 1 Jahr

genutzt
Quelle der Bewertung
Preis-Leistungs-Verhältnis
5
---
Excellent & affordable project management tool
I use Nifty to run a fairly large team of volunteers and interns, who are essential to helping us get our work done. There is no way we could afford licenses for all these occasional users, so the guest allowance really helps. And besides that, the usability of the tool is excellent.
Vorteile
Nifty is a great tool. Its feature set is comprehensive and intuitive to use. We've tried Clickup, Asana and Monday and for whatever reason, those other tools just never took with our team. I love the collaborative "nifty documents". And the mobile app works great - duplicates the website experience very well.
Nachteile
Guests cannot chat with each other - only the account admin. So it's not quite a Slack replacer, which we really wanted to get away from. They can talk in the Discussions area of a project, however. Also, you have to attach a google document by creating it FIRST inside Nifty. It doesn't work well to try and attached a pre-existing google document when you are in Nifty. Also, I'd like more markup features on the Nifty docs pages - like highlighting, and a better commenting experience.
Warum Nifty gewählt wurde
Monday was unnecessarily complicated and also rather expensive.
Gründe für den Wechsel zu Nifty
Better feature set, better pricing, easier to use - more intuitive
Branche: Marketing & Werbung
Unternehmensgröße: Selbstständig

Täglich

für

6-12 Monate

genutzt
Quelle der Bewertung
Preis-Leistungs-Verhältnis
5
---
Forget Asana and Trello when you have Nifty
Nifty is my go-to project management tool both for my business. Switching from Asana was super smooth and I was able to transfer all of my projects exactly as they were, with all my numerous notes, too. The other great thing about Nifty is that you can work on Google docs within the app. It's not something I actively use, but it's quite handy if you want to share docs with someone without sharing dozens of links in one go. The templates and the customization of Nifty in general are absolutely amazing. Since I set up my workflow and everything I needed inside the app, I've never looked back.
Vorteile
Since I started using Nifty after looking for an Asana alternative, I haven't looked back. I start my day by firing it up and keeping all my focus-tasks for the day in front of me. I am pretty minimalistic with my setup and don't like a lot of fancy stuff, so I know I'm not even using half of what's available. But that's what makes Nifty perfect for me. I've also created my own super basic custom CRM to keep track of new leads and any client-related projects I'm working on alongside my own.
Nachteile
One things I'd love is fr the time tracker tool to be a little more intuitive. Right now, tracking time or even manually editing or adding time when you've forgotten to start the timer is a bit cumbersome. I'd also like to have more customization options for those custom tags because the color palette is limited and it leads to occasionally messing up some tags.
Branche: Einzelhandel
Unternehmensgröße: 5.001–10.000 Mitarbeiter

Täglich

für

Mehr als 1 Jahr

genutzt
Quelle der Bewertung
Preis-Leistungs-Verhältnis
4
---
Increased productivity and effortless task management
Because of the platform's intuitive design and user-friendly interface, team members can rapidly learn to utilize it and get back to work on their projects.
Vorteile
Nifty lets you divide up large projects into smaller, more manageable chunks by creating tasks and subtasks. The structured hierarchy aids communication and ensures everyone knows their place.
Nachteile
Nifty has many useful features, however some customers may wish for even more flexibility so they can make the platform work for their specific needs in terms of project management.
Branche: Konsumgüter
Unternehmensgröße: 11–50 Mitarbeiter

Täglich

für

6-12 Monate

genutzt
Quelle der Bewertung
Preis-Leistungs-Verhältnis
1
---
Think well before you buy
Unfortunately the app looks promising but the overall experience wasted a lot of my time and main reason because of customer support.
Vorteile
the user interface is friendly and you can understand it quickly
Nachteile
1-Their database management and recording user data, for example, have an issue of duplication, and if you created a workspace and then deleted you will not be able to use this name again and the nifty system will keep sending you notifications about It like it still exists.
2-Customer support is not professional and most of the time they take around 4-5 days to reply to your questions. This is the main reason I left the App.
In Betracht gezogene Alternativen
Flowlu
Warum Nifty gewählt wurde
The App Really Great and have a lot of options that can manage your work and give your real value for your money.
Zuvor genutzte Software
Flowlu
Gründe für den Wechsel zu Nifty
I choose it because of the reviews and comments on app sumo but actually, it was misleading
Branche: Marketing & Werbung
Unternehmensgröße: 2–10 Mitarbeiter

Täglich

für

1-5 Monate

genutzt
Quelle der Bewertung
Preis-Leistungs-Verhältnis
5
---
Revolutionizing Project Management
My overall experience with Nifty has been extremely positive. The platform offers a comprehensive set of features that address various aspects of project management, making it a reliable and efficient tool for teams. From the moment I started exploring Nifty, I was impressed by its user-friendly interface, which made navigation and task management a breeze. The intuitive design allowed me to quickly grasp the platform's functionalities and start using it effectively.One of the highlights of my experience was Nifty's emphasis on collaboration. The seamless integration of collaboration tools and the ability to leave comments, tag team members, and share files within the project workspace greatly enhanced communication and teamwork. Real-time updates and notifications kept everyone informed, ensuring that tasks were completed efficiently and project progress was transparent.Nifty's project planning and scheduling capabilities were also commendable. The intuitive drag-and-drop interface and the ability to set task dependencies made it easy to create and manage projects effectively. The Gantt chart view provided a visual representation of project timelines and task dependencies, enabling better resource allocation and project planning.Additionally, Nifty's integration with other popular tools added immense value to my experience. The ability to connect with applications like Google Drive and Slack streamlined workflows and eliminated the need to switch between multiple platf
Vorteile
One of the aspects I liked most about Nifty is its seamless collaboration features. The platform provides a range of tools that facilitate effective communication and teamwork within project teams. The ability to leave comments, tag team members, and share files directly within the project workspace creates a collaborative environment where ideas can be exchanged, feedback can be provided, and project-related discussions can take place in a centralized location. This promotes transparency, enhances productivity, and ensures that everyone is on the same page. The real-time updates and notifications further contribute to efficient collaboration, keeping team members informed about task assignments, changes, and completions. Overall, Nifty's dedication to fostering collaboration and streamlining teamwork stood out as a notable strength of the platform.
Nachteile
While Nifty impressed me with its comprehensive features, there was one aspect that I found could be improved. The platform's mobile application experience was not as robust as its web version. While the web interface provided a seamless and user-friendly experience, the mobile app felt slightly limited in terms of functionality and responsiveness. Some features that were easily accessible on the web platform were not as intuitive or readily available on the mobile app. Enhancing the mobile app's functionality and ensuring a smoother user experience would greatly benefit users who rely on mobile devices for project management on the go. Despite this minor drawback, the overall performance and capabilities of Nifty remained highly commendable.