Über Factorial
Factorial ist eine cloudbasierte Personalmanagementlösung, die sich an kleine Unternehmen in verschiedenen Branchen richtet. Zu den wichtigsten Funktionen gehören Zeitmanagement, Talentmanagement, Mitarbeiterportal, Digitale Personalakte und mehr. Factorial hilft HR-Managern bei der Verwaltung von Urlauben, Abwesenheiten und Krankheitszeiten ihrer Mitarbeiter. Nutzer können diese direkt in der Lösung akzeptieren oder ablehnen. Man kann auch die Vergütung von Mitarbeitern regeln und verschiedenen Mitarbeitern maßgeschneiderte Vergütungspläne anbieten. Das Mitarbeiterportal von Factorial bietet Mitarbeitern Zugriff auf ihre persönlichen Konten, um Urlaub zu beantragen, ihre Arbeitgeber über Krankheitstage zu informieren und ihre Gehaltsschecks zu überprüfen. Das Portal hilft Managern auch bei der Kommunikation und dem Austausch von Ressourcen mit ihren Teammitgliedern. Die Dienste werden als integrierte Suite angeboten, sind aber auch als einzelne Module erhältlich. Support per Telefon und E-Mail ist inbegriffen.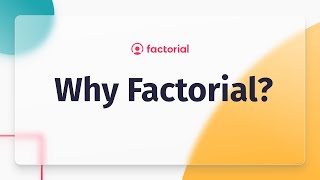 Factorial bietet eine Gratisversion und eine kostenlose Testversion. Die kostenpflichtige Version von Factorial ist ab 5,25 €/Monat verfügbar.
Alternativen für Factorial
Branche: E-Learning
Unternehmensgröße: 51-200 Mitarbeiter

Wöchentlich

für

Mehr als 2 Jahre

genutzt
Quelle der Bewertung
Preis-Leistungs-Verhältnis
5
---
Definitely a good tool for upcoming businesses
Vorteile
Support team, easy to use... I think FactorialHR hasn't thousands of functionalities, but those that are included just do the job. Price per user and functionality is definitely a great value.
Nachteile
It lacks some automation flows but since they implemented integration with Zapier it's almost solved.
In Betracht gezogene Alternativen
BambooHR
Branche: Marketing & Werbung
Unternehmensgröße: 51-200 Mitarbeiter

Täglich

für

Mehr als 1 Jahr

genutzt
Quelle der Bewertung
Preis-Leistungs-Verhältnis
5
---
Factorial for our changing process
We use to make the payrolls with a company and for me this process was terrible, was that time of the month when i really not wanted to be on. Now all this process is really easy and the communication with payroll staff is vry clear and fluid so any doubt it´s solved at the moment.
Vorteile
What we like the most was how easy is understand the platform and used. There´s no one who can not be able to find what they need or registered in the platform.
How easily is complete the payroll process and how attent are the payroll staff.
That i can use the platform for more than just one use, as example: payroll, recruitment, as documentary, to share documents with the employees, etc...
Nachteile
What i like least is that in the lead product that i think is the payroll i mis some usabilities as do changes directly in the payroll when are ready, like last minute changes that make the process return to scratch. Will be more easy if i can do it online.
I really miss create differents document folders. I think that right now you have it but it´s a differente package.
Branche: Erneuerbare Energien & Umwelt
Unternehmensgröße: 51-200 Mitarbeiter

Täglich

für

1-5 Monate

genutzt
Quelle der Bewertung
Preis-Leistungs-Verhältnis
0
---
Good for a very small company
It's a free software so I guess it does just enough for companies that can't afford a more robust solution. That said, I don't think there's anything better for free.
Vorteile
Being able to easily upload pay stubs, work and birthday anniversary notifications on the feed. Ability to set up different time-off types.
Nachteile
- impossible to integrate with other apps.
- reports are very very limited, which makes the process of salary reviews or any other kind of review very difficult and impractical.
- impossible to pull historical reports
- impossible to customise reports
- managers can't easily see their direct reports unless you set up teams
- the process of terminating an employee and "re-hiring" them in the future is clunky (tenure adds up and vacation time accrues)
Branche: Verbraucherdienste
Unternehmensgröße: 501-1.000 Mitarbeiter

Täglich

für

6-12 Monate

genutzt
Quelle der Bewertung
Preis-Leistungs-Verhältnis
3
---
All hr information Conected in one platform
for me it is a great HR Platform, because you can manage everything in one tool! even if you are from the HR Department, or an user (employee) that self manage their neccesities.
Vorteile
it's easy to use. to ask for a free day it's quick, because your manager receive an alert to be approved or denied, you can control the schedules of all the employees, vacations, the exact hours an employee has worked. Also, all the information of all the employees in one hand.
Nachteile
I think it is necessary to find another way to control attendance, either by synchronizing with a work tool to avoid forgetting to record worker attendance. In my case, I had to set a daily alarm to remember to fill it.
Branche: Informationstechnologie & -dienste
Unternehmensgröße: 11-50 Mitarbeiter

Täglich

für

6-12 Monate

genutzt
Quelle der Bewertung
Preis-Leistungs-Verhältnis
5
---
Factorial for IT
The "problem" that this has solved is abiding by the Spanish law implemented last year for employees to clock in daily working hours. If we get an inspection, thanks to Factorial, we Will not have any problems. It is also easy for our travelling consultants to clock in wherever they may be worldwide.
Vorteile
It is easy to use and as the administrator it is easy for me to see if employees are clocking in their hours and chase them if they are not. Also if one forgets to clock in one day it is easy to fill in the hours afterwards. I believe the payslips and time off work well (from a friend who uses it in his company) but we have our own system internally so I do not use this personally. Also when I have had an issue client services get back to me very quickly.
Nachteile
Can´t think of anything that I do not like about it.