Über Creatio CRM
Creatio ist eine einzigartige Synergie aus einheitlichem CRM und intelligenter BPM-Plattform (Business Process Management) für Marketing, Vertrieb und Serviceautomatisierung. Die Lösung ermöglicht es mittelständischen und großen Unternehmen, den Kundenlebenszyklus vom Lead über den Vertrieb bis hin zum laufenden Kundenservice zu verwalten. Die Lösung gibt Nutzern die Möglichkeit, Marketing-, Vertriebs- und Dienstleistungsaktivitäten über eine einzige CRM-Plattform einzusehen. Creatio bietet drei integrierte Produkte, die separat oder in einem einzigen CRM-Paket genutzt werden können: Marketing Creatio, Sales Creatio und Service Creatio. Marketing Creatio ist eine Multichannel-Marketinganwendung, mit der Marketingspezialisten eine kontinuierliche Kommunikation mit Kunden erstellen und unterstützen können. Sales Creatio ist ein SFA-Tool (Sales-Force-Automation) zur Verwaltung des Vertriebszyklus von der Lead-Generierung bis zur Verwaltung von Bestandskunden. Service Creatio bietet Kundenservice-Tools, die beim Kundenengagement helfen. Die Bereitstellung von Creatio kann bei Bedarf als cloudbasierte Lösung oder vor Ort erfolgen, wo die Daten dann intern auf den Servern des Unternehmens gehostet werden. In beiden Fällen können Nutzer über einen Webbrowser oder die mobile App auf Creatio zugreifen. Das System ist sowohl mit Windows als auch mit iOS kompatibel.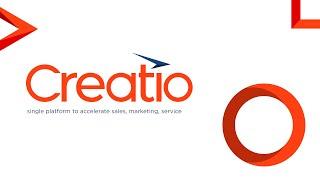 Creatio CRM bietet keine Gratisversion, aber eine kostenlose Testversion. Die kostenpflichtige Version von Creatio CRM ist ab 25,00 $/Monat verfügbar.
Alternativen für Creatio CRM
Branche: Informationstechnologie & -dienste
Quelle der Bewertung
Preis-Leistungs-Verhältnis
5
---
Great CRM running over a nice business process tool
BPMOnline, like most of the commercial tools out there, is a CRM build over a customizable framework. The main different with other tools, is what this framework offers, and the knowledge required to work on it. First, the business process tool is easy to use yet powerful and robust. It can be used to automate business tasks, implement rules and also, to develop integrations with third party tools. The framework was build in .NET, so certain customizations and scripts are build either in c# (server side code) or javascript (client side code). If you know those languages, your learning curve in BPMOnline (which is normally shorter than others) will be even shorter than the rest of users.
On the user side, the system is very friendly and intuitive, so you normally don't get lost in tons of options. Most of then are hidden and reserved for administrators.
Vorteile
Main advantages for BPMOnline:
1) Marketing, Sales and Services is fully integrated and normally don't require external or additional tools to work.
2) No hidden costs. The cost model and licenses are quite simple. Your contract normally provides all (and more) of what you need. It's really weird to find unexpected restrictions in the licenses you buy.
3) Learning curve for users, administrators and technicians is very short. With good guidance during implementation, you can take control very fast.
Nachteile
Some areas that requires improvements:
1) Integration to third party tools. There are certain integrations that come with the tool like email and phone systems. But others like legacy system or very particular solutions, requires development that can be difficult (not impossible). The lack of existing solutions in the market (free or paid) force you to develop those integrations.
2) Changes are easy to do, but they normally requires compilation. This can take some time, and if it's executed incorrectly, you can affect your instance.
3) The security is very detailed and can be aligned to every model. But, some changes applies just to new records, not to historical information. This can require customizations to work properly.
4) Analytics tool is simple to use and powerful, but it still require some additional features, like calculated variables and export.
Branche: Informationstechnologie & -dienste
Unternehmensgröße: 201–500 Mitarbeiter

Täglich

für

6-12 Monate

genutzt
Quelle der Bewertung
Preis-Leistungs-Verhältnis
5
---
This is a highly scalable and customizable solution, must-have for businesses seeking a CRM
This is a highly scalable and customizable solution that offers a comprehensive suite of tools to design workflows that align with your organization's unique business processes. Its adaptability to cater to the diverse needs of various departments and companies is unmatched, making it a must-have for businesses seeking a CRM solution. The ability to manage workflows and business processes is essential for any organization, and this software delivers on that front, providing a robust platform to integrate all corporate solutions into a single IT environment. Effective data visualization is critical to making informed decisions, and this software ensures that the visualization of data is accurate and precise. With virtually limitless customization options, businesses can tailor the software to their specific requirements. Furthermore, built-in reporting and analytics offer valuable customer insights, making it easier for businesses to stay on top of their game. The software is user-friendly, cost-effective, and has gained significant popularity in the market.
Vorteile
Creatio offers great agility, enabling us to quickly adapt and make changes as necessary. We often refrain from altering anything that is already functioning well and instead utilize the out-of-the-box modules for tasks such as sales forecasting, opportunity management, marketing autometion and more
Nachteile
Overall everything is good, any question and inconvenience can be solved promptly
Täglich

für

Kostenlose Testversion

genutzt
Quelle der Bewertung
Preis-Leistungs-Verhältnis
1
---
Potential Buyer
Vorteile
The prompt response from the sales team and the willingness to answer my questions. Many vendors just ignore your questions.
Nachteile
I had a very specific needs related to users having an online calendar to schedule call back support. I was clear with BPM staff prior to the call and accepted the call because they believed they had a solution. On the call they listened to my needs again and then took me through a boilerplate pitch. They were going to investigate their ability to deliver and even offered to build a mock up to show me.
That call as the last time I heard from them. I reached back out and heard nothing. Not even a simple we looked into your need and we are unable to provide the support you desire.
I came away believing they will say anything just to get you on a call for their pitch.
Where are we going? Salesforce with Timetrade as a plugin
Branche: Finanzdienstleistungen
Unternehmensgröße: 501–1.000 Mitarbeiter

Täglich

für

Mehr als 2 Jahre

genutzt
Quelle der Bewertung
Preis-Leistungs-Verhältnis
5
---
CRM that meets your business needs
The bpm'online tools with omnichannel capabilities improved the communication not only with our clients but also within each team and department of our company. Our team had access to all emails, calls, notifications and could track client communications efficiently. It synchronized the work of our marketing, sales and services departments creating a single business environment.
Vorteile
There are many things that we like about the bpm'online system. Firstly, availability of advanced tools for omnichannel communications. It ensures effective and direct communication with our clients and we also benefit from always having up-to-date data about all our clients and their preferences.
We liked the easy customization and user-friendly interface. The scalability and security of our data was also important.
Working with the customer support team during the implementation was pleasant as they demonstrated strong technical expertise and understanding of our organizational needs.
Nachteile
The eco-system is not as large as some of the other big vendors have. At the same time, we got a more personalized approach from bpm'online.
Branche: Eventservice
Unternehmensgröße: 11–50 Mitarbeiter

Täglich

für

Mehr als 2 Jahre

genutzt
Quelle der Bewertung
Preis-Leistungs-Verhältnis
5
---
An amazing solution for organising all your business processes all together!
With BPMOnline you maintain your data base, you manage your projects, sales and cash flow, as well as keep your team well organised and focused. The most amazing thing about BPMOnline for the company staff is that it's also interactive and really fun to use!
Vorteile
All our work is based inBPMOnline! We start the day by logging in and end the day by logging out. All our Clients, suppliers, customer relationship, sales & marketing, project management, calendars, cash flow and even accounting system are all in one place! The way we can link all of them just by clicking a button makes our life easy and lets us perfectly focus on business outside 'admin work'.