Über Front
Front ist ein cloudbasiertes Kollaborationstool für kleine und mittlere Unternehmen. Front konsolidiert verschiedene Kommunikationskanäle wie E-Mail-Konten, Facebook und Twitter und hilft den Nutzern, Kommunikationsabläufe zu automatisieren.
Wenn eine Nachricht bei Front eintrifft, haben die Nutzer die Möglichkeit, Nachrichten bestimmten Teammitgliedern zuzuweisen, interne Diskussionen über Nachrichten innerhalb der Anwendung zu starten und die Arbeit über andere Software wie Salesforce und GitHub zu synchronisieren. Nutzer können auch Regeln für automatische Aktionen einrichten, wenn Nachrichten bestimmte Bedingungen erfüllen.
Zu den weiteren Funktionen gehören Erinnerungen, Antwortvorlagen sowie die Möglichkeit, Konversationen und Echtzeitwarnungen zu verfolgen, wenn ein anderer Nutzer auf eine Nachricht antwortet. Front enthält auch Analyse- und Berichterstattungstools, mit denen Nutzer Kennzahlen für Kategorien wie Posteingänge, Nutzeraktivitäten, Tags und Kunden anzeigen können.
Support wird per E-Mail und in einem Online-Support-Forum bereitgestellt. Die Preise gelten pro Nutzer pro Monat, und die Nutzung wird jährlich in Rechnung gestellt.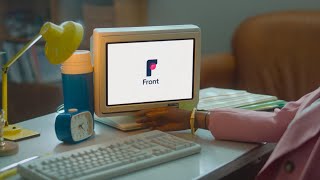 Front bietet keine Gratisversion, aber eine kostenlose Testversion. Die kostenpflichtige Version von Front ist ab 19,00 $/Monat verfügbar.
Branche: Verbraucherdienste
Unternehmensgröße: 5.001-10.000 Mitarbeiter

Wöchentlich

für

1-5 Monate

genutzt
Quelle der Bewertung
Preis-Leistungs-Verhältnis
0
---
A Great Software to Communicate With Customers
Vorteile
I've used Zendesk for years, which is a really popular customer ticket support software, and this software is way better than it! The UI is already familiar as its set up like the main inbox to your Gmail or Outlook account and you can actually see when a customer has 'Seen' your message! The software has its own Desktop app unlike a lot of others, but I mostly use it through the web to sift through multiple tickets easily. A great benefit, as well, is how easily you can integrate other software into their plug in feature. So you can connect it with your business' Shopify, Salesforce, WhatsApp, Google drive and many many other apps! There's a comment section on each conversation that you can use to communicate with team members and because it's a true emailing software, you can CC and BCC other people on your customer's messages, if necessary. You can set a time limit for how long you have to cancel a sending response and you can create templates for canned responses/macros that you will have to use on a regular. It's a really great software and I wish I could use it for every email/ticket customer support role I'm ever in.
Nachteile
The only dislike I have is when I was first given access to it, I selected the option to log in with my work's Google account to make the process easier. I then realized that my work emails were actually coming into the main Front's inbox and all the other teams could see those messages. I found the option to turn off all personal incoming messages but I could not unlink my Google account from it so I can still see all my old messages in my inbox and have no way of removing them without them being deleted from my actual work account's email.
Branche: Telekommunikation
Unternehmensgröße: 2-10 Mitarbeiter

Täglich

für

Mehr als 2 Jahre

genutzt
Quelle der Bewertung
Preis-Leistungs-Verhältnis
2
---
Great Software, Terrible Billing and Support Policies
Vorteile
It has a number of very good features for helping teams work together for sales and support. The abilities to share, assign, comment on, snooze and resurface issues makes zero inbox possible. Keeps clutter down and focus on what is most important at the moment. We really like the 'product'.
Nachteile
-Front's Billing policies are absurd. If one signs up for an annual plan adding a user even if only temporarily for a day or a month while transitioning employees results in a charge for as much as a full year for that seat.
-During the sales process, you will experience significant personal, real-time communications. Once the sales process is over, don't hope to EVER be able to have a real-time conversation with anybody. Regardless of the severity or complexity of the issue, the only option is email that often takes days to get a response which can be a real problem when the platform is down since it is the only way to contact them. They had a chat ability for a while but turned it off apparently because customer expectations for a timely response were too high.
-Don't bother making suggestions. Although they have what appears to be a strong attitude towards involving customers, suggestions get a pat on the head and swept into a 'we'll pass that on' basket. No methods or interest to surface ideas and suggestions in a way that other end-users can expand upon or upvote/prioritize.
Branche: Essen & Trinken
Unternehmensgröße: 11-50 Mitarbeiter

Täglich

für

6-12 Monate

genutzt
Quelle der Bewertung
Preis-Leistungs-Verhältnis
1
---
Good tool - but SaaS typical pricing issues
Overall, a great tool with great potential that could be even better if it were more targeted. The high complexity, mediocre documentation, and poor practice of hiding basic features in the overpriced "Enterprise/Scale" level bring the rating to only three stars.
Vorteile
It's great as a multi purpuse tool for a lot of different scenarios. Has a lot of features and well made integrations.
It helps working and collaborating as a team on messages, requests and tasks very efficiently.
Nachteile
As it does offer a lot of functions, it's kind of bloated with options to configure and customize it. It can be tricky to find the right config and approach for the usecase you have. As it can be used for a lot of different scenarios (helpdesk, crm, communication, ...) it's not fitting to a specific usecase as good as tools that are specialised to one - it would help if Front would try to focus on something rather trying to be a solution for "everything".
The pricing of Front is unintuitive - basic features like a user and team management are exclusive to the highest tier. For this even managing just a few users and their permission and settings is a real pain as long as you're not willing to upgread to the highest tier (99$/user/month). Hiding essential/basic features in highly overpriced tiers is a disease a lot of SaaS tool have - a practice that really needs to end.
Branche: Finanzdienstleistungen
Unternehmensgröße: 201-500 Mitarbeiter

Täglich

für

6-12 Monate

genutzt
Quelle der Bewertung
Preis-Leistungs-Verhältnis
4
---
Great Experience with Front
I love Front. It's a great tool, very easy to implement, teach and use. The communication between teams is great and we can track and talk to our customers in a great way.
Vorteile
The interface and how is easy to teammates collaborate and organize conversations with customers.
Nachteile
Language only in English
Some features were thought exclusive for emails and we use a lot WhatsApp and Chat channels (custom channels) that not might work that great
API Rate Limit for custom channels that we always talked that would be our main channel and after purchasing, we discovered this "limitation"
Warum Front gewählt wurde
We didn't like Zendesk layout and support
Gründe für den Wechsel zu Front
Layout, features, support, sales proccess, pricing.
Branche: Grafikdesign
Unternehmensgröße: 2-10 Mitarbeiter

Täglich

für

6-12 Monate

genutzt
Quelle der Bewertung
Preis-Leistungs-Verhältnis
4
---
The best email software I've used
It's revolutionised the way we run things.
For a company that interacted with 90% of it's customers on Etsy, it was always a bit of a chore when someone wanted to email. Now with front, I would say we're 80% emails and we encourage even our Etsy customers to email us directly.
Vorteile
It's simplifies complex processes, breaks down your work into digestible chunks. It's intuitive, straightforward and has lots of time saving tricks and tips.
Nachteile
There's a couple of features that would be really handy, that I've requested a couple of times .
For example, dragging and dropping a jpeg into an email, adds it as an inline image. I would like a preference to select to have all files - regardless of format, to be added as an attachment.
I'm also unable to change my Download Location in my preferences, it simply doesn't work when I try to change this. Granted, I haven't reported this yet and I'm sure they'd be very helpful in solving this.