Über Connecteam
Connecteam wurde als All-in-one-Lösung entworfen und entwickelt. Mit einer mobilen All-in-one-App kannst du problemlos Außendienstmitarbeitende einbinden und verwalten. Connecteam bietet eine leistungsstarke Mobile-First-Plattform, die die Kommunikation sowie tägliche Prozesse verbessert und Zeit einspart. Connecteam wird von über 8.000 Unternehmen und mehr als 100.000 Mitarbeitenden genutzt. Ab nur 39 $/Monat für bis zu 50 Nutzer – melde dich jetzt an und starte deine kostenlose 14-Tage-Testversion, danach kannst du mit einem kostenlosen Plan fortfahren. Die Führung eines Unternehmens ist schwierig und manchmal überwältigend. Aus diesem Grund wurde Connecteam entwickelt, sodass Unternehmen leicht mit ihren Remoteteams kommunizieren, sie verwalten und schulen können, egal wo sie sich befinden. Die Mission des Anbieters ist es, Unternehmen bei ihrem Erfolg zu unterstützen, indem der tägliche Stress und die Komplexität der Teamverwaltung eliminiert werden, damit sie in Ruhe ihr Geschäft steigern und führen können. Der Anbieter bietet auf einer einfach zu bedienenden Plattform alles, was Mitarbeitende und Vorgesetzte benötigen, um ihren Alltag besser zu verwalten: mehrere Tools zur Verbesserung der Mitarbeiterkommunikation und -bindung, Mitarbeiterschulung und -einstellung, Mitarbeitereinsatzplanung, Zeiterfassung, Arbeitszeittabellenverwaltung, digitale Checklisten und Formulare, Aufgabenmanagement, Personalwesen und Wohlbefinden, Wissenszentren, Dateispeicherung und vieles mehr. Vorteil: Connecteam funktioniert wie Lego. Jedes Unternehmen kann die Funktionen aktivieren, die es benötigt, und sie an die eigenen Bedürfnisse anpassen.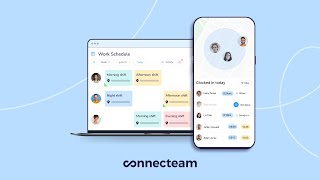 Connecteam bietet eine Gratisversion und eine kostenlose Testversion. Die kostenpflichtige Version von Connecteam ist ab 0,00 $ verfügbar.
Kostenlose Testversion:
Ja
Alternativen für Connecteam
Branche: Hochschulbildung
Unternehmensgröße: 501–1.000 Mitarbeiter

Täglich

für

Mehr als 2 Jahre

genutzt
Quelle der Bewertung
Preis-Leistungs-Verhältnis
5
---
A Great App with Great Support at a Great Price
It is a user friendly tool that has made communication within the department of the institution easy.
Vorteile
Connecteam is a sofware that is being used departmentally in the institution.It makes it possible for members of each department to internally communicate. It has different options in which employees can use to be kept up to date and feel connected. One of the thing that excites me the most is the great customer support that is always reachable. The software is also easy to use and come at a market friendly price.
Nachteile
Hardly can i mention any dislike. It is a great product and i love it.
Branche: Druck
Unternehmensgröße: 11–50 Mitarbeiter

Täglich

für

6-12 Monate

genutzt
Quelle der Bewertung
Preis-Leistungs-Verhältnis
5
---
The UPS Store
Excellent, the support team is always available and can assist me with what I need.I would highly recommend this to any other companies, hence why we agreed to film the advertisement.
Vorteile
Accessibility and interface are excellent.This app makes admin side of keeping track of staff hours the easiest I've seen.It is particularly helpful when it comes to employees that work in multiple places/
Nachteile
Getting staff used to a new clock in system will always be difficult. Some features I think can be improved on (i.e. accepting multiple shifts at a time in job scheduler, easier schedule making in app)
Antwort von

Connecteam

Thank you so much for recommending Connecteam, Faith :)

We truly appreciate your willingness to help us spread the word about how Connecteam helps businesses with a majority of employees that do not sit in front of a desk, to better communicate and operate their day-to-day :)

As for improving the ability for users to accept multiple shifts at once, and making a better scheduling experience for admins in the mobile app - we completely agree and already have plans for those areas.

Thanks again for everything :)

Beantwortet am 13.6.2023
Branche: Unterhaltung
Unternehmensgröße: 51–200 Mitarbeiter

Täglich

für

6-12 Monate

genutzt
Quelle der Bewertung
Preis-Leistungs-Verhältnis
3
---
Buyer beware (you get what you pay for!)
Their "customer service" is all online through chat, and they will always "put in a fix" and then expect you to go read some stupid newsletter to see if the fix has been implemented. They can't seem to see anything from their end as well, so they're constantly asking me for screenshots or videos of the issues. Their managers don't seem to care either. I had a video chat with one to discuss a bunch of the time-eating features, he didn't take any notes and only seemed interested in one thing that "should've been working," and still doesn't. They clearly don't care that their product is sub-par.
Vorteile
The employee use and ease is great. They love it. I hate it as the person who has to put things in, it's so un-intuitive and I spend WAY to much time scheduling.
Nachteile
They've clearly not done good product testing in this program, simples tasks like right-clicks and basic functions just aren't there. It's A LOT of mouse clicks to schedule anything. It is sold as a time saving program, but it's not, and I consider myself pretty tech-savvy. It's just very not user-friendly.
Gründe für den Wechsel zu Connecteam
Price, but again, you get what you pay for I guess.
Antwort von

Connecteam

Thank you for your feedback, Josh.

We're sorry to hear you have such negative feelings about the platform and would like to improve as much as we can.

As for the schedule - did you try to have a live meeting with your account manager? That can help us understand what's important for you when scheduling your team, and advise on the best tools to do that (templates, open shifts, repetitions, etc.).

As for the customer service you've received, the reason the team asks for screenshots or videos is in order to identify the problem. If it's a technical issue that's not happening in all accounts, it means we can't reproduce it. If we can't reproduce it, we can't understand what needs to be fixed. While this can be annoying, it's important so we can help. If it's not a technical issue, we need to understand exactly what you're doing in order to advise.

My name is Chen and I'm from the product team. If you'd like to talk to me directly, please email me at [email protected]. Thanks!

Beantwortet am 8.3.2023
Branche: Freizeit, Reisen & Tourismus
Unternehmensgröße: 11–50 Mitarbeiter

Täglich

für

1-5 Monate

genutzt
Quelle der Bewertung
Preis-Leistungs-Verhältnis
4
---
Easy to use employment software
Vorteile
The thing I love most about Connecteam is the simplicity of using it. It really is just so easy! It's got a really clean interface. Customer service is BANG ON!!!
Nachteile
There's a few minor issues such as not being able to change employees kiosk codes, I feel like if they made it something like their bank card pin number, then they'd be less likely to share between each other. It's pretty costly... we have an advanced plan, which is expensive for the simplicity of what we need, but worth it, but need to pay more for additional features, and different items are in different packages, so essentially if you wanted one thing from each feature then you'd end up paying a LOT. I'd love a simple calendar option as well.
Gründe für den Wechsel zu Connecteam
ease of use.
Antwort von

Connecteam

Thank you so much for recommending Connecetam :)

The Kiosk PIN codes are being generated automatically for 2 reasons: (1) More secure - as they're random, it's hard to guess the code of a user (2) Less time-consuming for managers - managing unique codes can be tedious and very time-consuming for management as they need to create a code for each user, especially for larger companies with hundreds or thousands of employees.

That said, we're aware it's not perfect and we are reviewing more solutions on that matter and new improvements for the Kiosk app in general.

As for the pricing - we appreciate your feedback on that :) Connecteam still offers the best prices out there as it does far more than the competition and for a very low price, especially compared to the alternatives considered.

That said, if you feel you could use some help from our end with pricing or features you're missing - please don't hesitate to contact us at [email protected] :) Thanks again for the review!

Beantwortet am 11.6.2023
Branche: Medienproduktion
Unternehmensgröße: 11–50 Mitarbeiter

Täglich

für

6-12 Monate

genutzt
Quelle der Bewertung
Preis-Leistungs-Verhältnis
4
---
Pleased with the product
My team was hesitant to use Connecteam but it was so easy to learn! I love that I have access to it on my phone & computer - it really keeps me organized and I can easily stay on top of everything that is going on. Before, things would pile up quickly and communication wasn't as efficient as it is now. Any problem I encounter is QUICKLY addressed by customer service representatives!
Vorteile
Every feature we use has streamlined and organized my team for the better. The customer service is excellent and the ease of using the app & website is so simple! I really appreciate the videos on each feature - I much prefer learning it on my own and then sharing the videos with my team to help them become more efficient as well.
Nachteile
I wish there could be a combo package. While I primarily use Connecteam for "Operations" it would be nice to have some more than the free options in HR.
Warum Connecteam gewählt wurde
This was cheaper and gave us more options. I also like that I didn't need to "build" it - the structure was already there and all I needed to do was adjust it to our needs.
Antwort von

Connecteam

Thank you so much for recommending Connecteam! We're happy to hear you're able to get more with Connecteam, all from the same place :)

Our Hubs are already extremely low-priced compared to other solutions in this class, but if you'd like a discount, we can talk :) Please contact me personally at [email protected] so I can assist you as quickly as possible. Thanks again!

Beantwortet am 28.4.2023