Über Direct Mail
Direct Mail ist eine E-Mail-Marketinglösung für Mac, mit der du personalisierte E-Mails erstellen und an Abonnentenlisten senden kannst. Direct Mail wurde sowohl für Freiberufler und KMU als auch für Großunternehmen entwickelt und umfasst anpassbare E-Mail-Vorlagen, Bildbearbeitung, Live-Vorschauen, nutzerdefinierte E-Mail-Anmeldeformulare, automatische und manuelle Listensegmentierung, E-Mail-Verfolgung, Kampagnenanalyse, Berichterstattung über die Aktivitäten der Abonnenten und vieles mehr. Passe deine E-Mails mit Bildern, Videos, Schaltflächen, Umfragen und mehr an. Zieh Bilder per Drag-and-Drop direkt in deine E-Mail und bearbeite sie in der Anwendung (einschließlich Zuschneiden, Entfernen von Hintergründen und Hinzufügen von Filtern). Mit bedingter Logik kannst du den Inhalt für jeden Empfänger individuell anpassen. Spam-Tests warnen dich vor dem Versenden vor Fehlern, z. B. vor fehlerhaften Links, falsch geschriebenen E-Mail-Adressen und Problemen mit dem Spam-Filter. Mit Direct Mail kannst du deine Nachrichten gezielt an bestimmte Abonnenten senden – entweder manuell oder automatisch. Zu den Metriken gehören Öffnungen, Klicks, Abbestellungen und Bounces.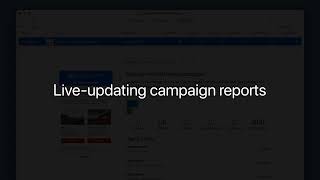 Direct Mail bietet eine Gratisversion und eine kostenlose Testversion. Die kostenpflichtige Version von Direct Mail ist ab 15,00 $/Monat verfügbar.
Startpreis:
15,00 $/Monat
Kostenlose Testversion:
Ja
Alternativen für Direct Mail
Branche: Essen & Trinken
Unternehmensgröße: 2–10 Mitarbeiter

Monatlich

für

Mehr als 2 Jahre

genutzt
Quelle der Bewertung
Preis-Leistungs-Verhältnis
5
---
Nearly Perfect
I have maintained various mailing lists and mailings over the years and DirectMail has always been the perfect tool for me. Now that I am retired and I only use the app to organize my monthly dinner parties, it has scaled down nicely and is still the perfect tool.
Vorteile
Easy organization makes easy to maintain compliance with all laws and common decency.
Nachteile
It doesn't bend to my personal case use, but I could hardly expect it to.
Warum Direct Mail gewählt wurde
Needed a single solution for multiple lists and html formatted mailings that could be administrated easily from a single source.
Gründe für den Wechsel zu Direct Mail
More Mac friendly.
Branche: Medizinische Geräte
Unternehmensgröße: 2–10 Mitarbeiter

Täglich

für

Mehr als 2 Jahre

genutzt
Quelle der Bewertung
Preis-Leistungs-Verhältnis
5
---
I've never looked back!
Without a doubt the best system I've used and I love that it's simple and smart at the same time.
It's easy to use and I never feel overwhelmed. Other systems go too far and make the experience feel like you need to be an expert (even though they say it's "easy").
We currently have the smaller of the packages but look forward to expanding to the next level soon - thanks to Direct Mail.
Vorteile
Where to begin?
• import from Google Sheets (because we use Google forms to add to our database)
• personalised emails with reference to specific fields (with a fallback)
• the reporting (especially the bounce report)
• smart groups
• templates
Nachteile
Four features I would love to see developed:
1) The ability to include a table with rows and columns
2) The ability to embed HTML/iframe
3) Some widgets like a countdown timer.
4) I would like to feature all our previous newsletters on our website and short of creating a button to each web version, I would love to see an archive site that we could use.
Warum Direct Mail gewählt wurde
Direct Mail makes developing communications to clients easy and very good looking - not the case with competitors.
Gründe für den Wechsel zu Direct Mail
SEE "Why did you make the switch?"
Branche: Hochschulbildung
Unternehmensgröße: 1.001–5.000 Mitarbeiter

Wöchentlich

für

Mehr als 2 Jahre

genutzt
Quelle der Bewertung
Preis-Leistungs-Verhältnis
3
---
Customer Service Just Stopped Communicating with Me 2 1/2 Months Ago!
It worked fine until there was an issue. They made an initial response and never followed up to my subsequent questions or requests. I have been sending them the same request for 2 1/2 months and zero response by email or the online chat.
Vorteile
My predecessor used it and it was easy to continue to use.
Nachteile
Customer Service when you have a problem.
Branche: Marketing & Werbung
Unternehmensgröße: 2–10 Mitarbeiter

Täglich

für

Mehr als 2 Jahre

genutzt
Quelle der Bewertung
Preis-Leistungs-Verhältnis
5
---
Direct Mail always hits the spot
One of my oldest clients is a company that offers PR monitoring software and for the last five years we have been sending out email campaigns every week (Tuesdays through Thursdays) and I know that they are getting customers signing up to their services as a result. We update their campaigns on a regular basis and with Direct Mail's excellent interface I can adapt and amend things very quickly.
For all our email marketing clients Direct Mail allows me to schedule highly personalised campaigns for weeks ahead – a feature that is especially invaluable when we go away, ensuring that our clients' campaigns never miss a beat even when we're on the beach.
Getting notifications on my iPhone, via their Stamps app, means that whenever I am out of the office I am always aware how our campaigns are performing and can provide instant updates if clients need information even when I am away from my Mac.
Direct Mail is a real gem; the pricing policy is very fair and you can easilty up and downgrade your plans as needed. Their support is excellent, and I must shout out to [SENSITIVE CONTENT HIDDEN]; even though we're on different continents we're on the same page and I appreciate being able to have direct contact with support and not having to go raise support tickets.
I very much look forward to continuing to send out compelling campaigns via Direct Mail in the months and years ahead.
Vorteile
Direct Mail is a powerful and comprehensive, but easy-to-use, email delivery platform that makes every email campaign a joy to design, develop and implement.
It's intuitive interface allows you to design a campaign, create a distribution list and then monitor the results in realtime. The templates that are provided by Direct Mail are almost infinitely adaptable, but you can create your own formats or import templates. Either way, you have at your fingers tips a professional system that I would now not want to be without.
Nachteile
There is very little, if anything, to dislike, but if there is one improvement they could make it would be to have the option to use the email sign-up forms as a contact form.
At the moment, when creating automated sign-up forms, the only option is for users to 'subscribe', but if Direct Mail could incorporate the option to choose 'submit' and not 'subscribe' that instantly turn it into a powerful and highly editable contact form, which you can incorporate into any website.
Branche: Professionelles Training & Coaching
Unternehmensgröße: Selbstständig

Täglich

für

Mehr als 2 Jahre

genutzt
Quelle der Bewertung
Preis-Leistungs-Verhältnis
5
---
Direct Mail because it's easy to use
I use Direct Mail heavily with DM campaigns for services and products, weekly and monthly newsletters both for my business, my local Rotary Club, and for my Rotary District.
Vorteile
What I like most with Direct Mail is how easy it is to use - especially for newsletters. Easy to design own templates and administer the address databases and opt-in functionality. It is also a good thing that you only pay for what you use by "digital stamps".
Nachteile
I would probably want a more visual way to make "workflows" and the possibility to make more tailor-made opt-in and landing pages for campaigns.
Warum Direct Mail gewählt wurde
Direct Mail is easier to use and costs less. Saving me both time and money.