Über Direct Mail
Direct Mail ist eine E-Mail-Marketinglösung für Mac, mit der du personalisierte E-Mails erstellen und an Abonnentenlisten senden kannst. Direct Mail wurde sowohl für Freiberufler und KMU als auch für Großunternehmen entwickelt und umfasst anpassbare E-Mail-Vorlagen, Bildbearbeitung, Live-Vorschauen, nutzerdefinierte E-Mail-Anmeldeformulare, automatische und manuelle Listensegmentierung, E-Mail-Verfolgung, Kampagnenanalyse, Berichterstattung über die Aktivitäten der Abonnenten und vieles mehr. Passe deine E-Mails mit Bildern, Videos, Schaltflächen, Umfragen und mehr an. Zieh Bilder per Drag-and-Drop direkt in deine E-Mail und bearbeite sie in der Anwendung (einschließlich Zuschneiden, Entfernen von Hintergründen und Hinzufügen von Filtern). Mit bedingter Logik kannst du den Inhalt für jeden Empfänger individuell anpassen. Spam-Tests warnen dich vor dem Versenden vor Fehlern, z. B. vor fehlerhaften Links, falsch geschriebenen E-Mail-Adressen und Problemen mit dem Spam-Filter. Mit Direct Mail kannst du deine Nachrichten gezielt an bestimmte Abonnenten senden – entweder manuell oder automatisch. Zu den Metriken gehören Öffnungen, Klicks, Abbestellungen und Bounces.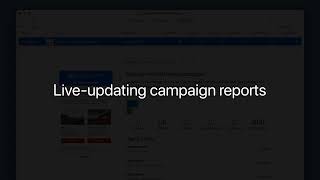 Direct Mail bietet eine Gratisversion und eine kostenlose Testversion. Die kostenpflichtige Version von Direct Mail ist ab 15,00 $/Monat verfügbar.
Alternativen für Direct Mail
Branche: Essen & Trinken
Unternehmensgröße: 2-10 Mitarbeiter

Monatlich

für

Mehr als 2 Jahre

genutzt
Quelle der Bewertung
Preis-Leistungs-Verhältnis
5
---
Nearly Perfect
I have maintained various mailing lists and mailings over the years and DirectMail has always been the perfect tool for me. Now that I am retired and I only use the app to organize my monthly dinner parties, it has scaled down nicely and is still the perfect tool.
Vorteile
Easy organization makes easy to maintain compliance with all laws and common decency.
Nachteile
It doesn't bend to my personal case use, but I could hardly expect it to.
Warum Direct Mail gewählt wurde
Needed a single solution for multiple lists and html formatted mailings that could be administrated easily from a single source.
Gründe für den Wechsel zu Direct Mail
More Mac friendly.
Branche: Unterhaltung
Unternehmensgröße: 2-10 Mitarbeiter

Wöchentlich

für

Mehr als 2 Jahre

genutzt
Quelle der Bewertung
Preis-Leistungs-Verhältnis
5
---
Perfect Platform for Small Batch Mailing
This is a core part of my communication toolkit. While I still use other mailing list platforms for specific purposes, this solves very specific bulk mailing needs.
Vorteile
I use this program for lists which have small and specifically targeted audiences. This mainly includes press lists for producing events, and for teaching large classes or workshops. It allows me to create simple mailings where I do not want a lot of noise or fuss, more like direct mail as opposed to broadcasting a message. It's the perfect scale and I love the ease of understanding the reporting, which becomes of direct benefit for following up and moving between lists. It functions for me like the perfect basic database for supporting the ways I need to communicate.
Nachteile
At this point I don't have a lot of complaints, as I've been using it for probably a decade. The cloud synchronization has been greatly improved more recently. I often send things which are just this side of plain text for ease of reading and sharing the content with the audiences I send to, and I do find that it's best to bring in any text unformatted and do the formatting within Direct Mail as the styles can get funky when one copies and pastes.
Branche: Verlagswesen
Unternehmensgröße: 2-10 Mitarbeiter

Monatlich

für

Mehr als 2 Jahre

genutzt
Quelle der Bewertung
Preis-Leistungs-Verhältnis
3
---
Sending mails from an external database was easier before
Time
Vorteile
It is doing what I want. Connect to an external database, send mail via an externa provider. But things are not working so well. The thing is that data in database are evolving and, in the new version, I have to re-right the request to the database each time in different adress group coming from different database. Spam test is not working. Preferences ares sometime not kept, situation on the screen for exemple.
Nachteile
Again it does exactly what i want but less easier than previous version . Main point is database connection.
Antwort von

e3 Software

Thanks for your review, Pascal. If you are having any trouble with importing, spam tests, or preferences, please contact our support team and they'll be happy to get things straightened out. Thanks!

Beantwortet am 17.7.2018
Branche: Schreiben & Editieren
Unternehmensgröße: 2-10 Mitarbeiter

Monatlich

für

Mehr als 2 Jahre

genutzt
Quelle der Bewertung
Preis-Leistungs-Verhältnis
5
---
Great E-Blast Program
It's absolutely helped us to expand our reach. Recipients often comment on how beautiful our emails are. Very satisfying to use and to receive such feedback.
Vorteile
We've found Direct Mail extremely versatile, enabling us to send clear, elegant, eye-catching e-blasts to our main list (2000+ addresses) and numerous sub-lists organized by interests and geography. Also LOVE the reporting feature.
Nachteile
Still find it cumbersome to add smaller lists to our main one (for example list of 2022 program alumni) while keeping the original small list. I often have to do this several times or else the original (smaller) list winds up empty. Also, some issues with formatting paragraphs within sections of text and closings (ex, my name, with title underneath, comes out double-spaced no matter how much I've tried to make it single-spaced...)
Branche: Elektrische/elektronische Fertigung
Unternehmensgröße: 2-10 Mitarbeiter

Wöchentlich

für

6-12 Monate

genutzt
Quelle der Bewertung
Preis-Leistungs-Verhältnis
5
---
Great mail program with extensive features
I was looking for a low-cost mail program that was very easy to learn and get up and running. The major issue was getting a zap to work, but once that was working, I was very happy with the result. Likewise, zaps for onsite forms. But the learning curve for actually USING it, and sending emails. Cost per email is very very low - I buy 10K at a time for $99 so one cent each. Pretty good pricing! Delivery is almost instantaneous, and it is fun to watch the responses roll in.
Vorteile
Low cost per email, campaign reports, mailing lists easy to build and maintain, easy to use block editor. I use this via zaps with Shopify, as well as forms on my WP site. Much smaller learning curve compared to mail chimp.
Nachteile
Not as common support - required a zap to connect to Shopify, rather than directly connect, as will bigger company products. I appears to not detect duplicates in lists. I would like a more powerful editor, more like Divi for constructing emails. However, the basic block editor works pretty well.
Gründe für den Wechsel zu Direct Mail
It does the basic job of mailing out form letters. Very easy to use and learn. Inexpensive. Fast. The learning curve on other alternatives was daunting, with all of their marketing crapola. Probably very powerful, but not what I wanted at this point.