Über Bloomfire
Bloomfire ist eine cloudbasierte Kollaborationsplattform, die Unternehmensangestellten bei der Suche nach Informationen unterstützen soll, damit sie ihre Arbeit erledigen können, indem sie Menschen mit Informationen und Wissen verbindet. Bloomfire bietet Inhaltsmanagement- und soziale Kollaborationsfunktionen in einer Webanwendung. Kundenorganisationen nutzen Bloomfire, um interne Experten und Expertinnen zu finden und zu verfolgen, Inhalte zu erstellen und zu veröffentlichen, interessante Themen zu durchsuchen und Fragen zu stellen und zu beantworten. Diese Lösung unterstützt verschiedene Inhaltstypen, einschließlich Video, PDF-Dateien, PowerPoint-Präsentationen, Bildschirmaufnahmen und mehr. Bloomfire ist Smartphone-fähig und kann von kleinen und großen Unternehmen in Branchen wie IT, Gastgewerbe, Immobilien, Gesundheitswesen und Bildung genutzt werden. Nutzer können Bloomfire an ihre Unternehmensmarken anpassen und Sub-Communities erstellen, z. B. eine für den Vertrieb, eine für das Onboarding von Personal, eine für das Sicherheitspersonal und mehr. Bloomfire-Kunden und -Kundinnen erhalten Unterstützung, um ihre Communitys einzurichten, zu optimieren und zu pflegen.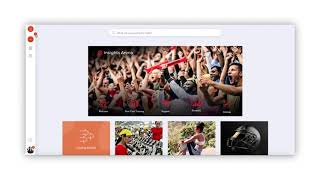 Bloomfire bietet keine Gratisversion.
Kostenlose Testversion:
Nicht verfügbar
Alternativen für Bloomfire
Branche: Non-Profit-Organisation Management
Unternehmensgröße: 51-200 Mitarbeiter

Täglich

für

6-12 Monate

genutzt
Quelle der Bewertung
Preis-Leistungs-Verhältnis
5
---
Easy to use
Implementation was a dream. They had a team that helped us manage the project and uploaded all our content for us. As a small team, this was important.
Vorteile
It transposes videos, provides full text search, allows for different groups to be created, user analysis so we know if we are getting our money's worth for the tool.
Nachteile
I wish I could edit docs in the tool. But there are few cons that we have found at this point in time.
In Betracht gezogene Alternativen
Enverus
Gründe für den Wechsel zu Bloomfire
Video transcription, Google type search function, price
Branche: Unternehmensberatung
Unternehmensgröße: Selbstständig

Wöchentlich

für

Mehr als 2 Jahre

genutzt
Quelle der Bewertung
Preis-Leistungs-Verhältnis
0
---
Easy to use
We use it to house all of the information for a product that I license. We share information across the user base, add articles and find relevant information about using the tools that we license.
Vorteile
Very clear navigation, you know where to find what you are looking for
Nachteile
Sometimes I have a hard time finding older articles and get mixed up with new and old material when I am looking for a specific piece of informaiton
Branche: Computer-Software
Unternehmensgröße: 51-200 Mitarbeiter

Täglich

für

6-12 Monate

genutzt
Quelle der Bewertung
Preis-Leistungs-Verhältnis
0
---
Recent Updates Diminish Value of Product Usability
The initial experience was extremely positive, the recent updates significantly reduce the usefulness of the product specifically where tables and embedded documents are concerned.
Vorteile
We use the system as a knowledge base to inform our ongoing software implementations and keep our Support team up to speed on current functionality.
I love that articles/posts are really easy to create and categorize. The search functionality works well which makes finding information very easy.
Nachteile
The product allows you to embed documents and create tables into posts. Unfortunately, a recent update to the user interface reduces the size of the article to about 1/3 the width of a monitor. As a result, tables and embedded documents are extremely difficult to read as the formatting is severely impacted. I am not sure how to post screenshots.
I have escalated to our site administrator who was informed by Bloomfire support that there is no way to revert the settings.
Given that we use the system as a knowledge base, we use tables extensively to summarize information for quick and simple digestion. We also regularly embed word documents, PDFs, and Excel files. The new layout/format makes those embedded documents unreadable without extensive zooming or direct downloading of the articles.
Prior to this change, the product met our needs and was highly functional. That is no longer the case.
Antwort von

Bloomfire

We're sorry to hear that the new format and layout changes have impacted your ability to read tables and embedded documents. Our Client Success team has reached out and would love to work with you to find a solution to this readability issue. We want Bloomfire to continue being as useful to your company as it was when you first started using it.

Beantwortet am 13.6.2019
Branche: Marketing & Werbung
Unternehmensgröße: 51-200 Mitarbeiter

Täglich

für

Mehr als 2 Jahre

genutzt
Quelle der Bewertung
Preis-Leistungs-Verhältnis
5
---
Enables employees with a trove of knowledge
Vorteile
I love how Bloomfire empowers everyone in our company to contribute to our knowledge base and interact with each other's contributions. The community features - commenting, liking, thumbnails - are key to creating that community feel. And it makes such a difference day-to-day to have a single source of truth for our organization.
Also, you can't beat Bloomfire staff. Everyone I've interacted with from customer success to product to engineering has been top notch. They are responsive to immediate support needs and they evolve the product based on customer feedback.
Nachteile
Some employees find the navigation and search to be challenging. There are some things we need to change about our own implementation to address these issues, and we look forward to future product updates as well.
Branche: Telekommunikation
Unternehmensgröße: 1.001-5.000 Mitarbeiter

Täglich

für

Mehr als 2 Jahre

genutzt
Quelle der Bewertung
Preis-Leistungs-Verhältnis
4
---
Great way to socialized sales content and news
It allowed us to have a searchable content repository of sales collateral and training as well as an announcement board for news and market research.
Vorteile
The "timeline view" for latest content and news. It allows sales to have a quick refresh of the latest developments in the business.
Nachteile
The search engine could use some optimization and has no easy tools to build product taxonomies which limits a bit its adoption as a sales enablement tool