Über Google Classroom
Google Classroom ist ein cloudbasiertes Lernmanagementsystem, das Teil der Google Apps for Education ist. Das Produkt eignet sich nur für Schulen und Hochschulen. Mit Google Classroom können Studierende von Computern, Tablets und Smartphones aus auf die Plattform zugreifen. Nutzer können Google Docs erstellen, um Aufgaben zu verwalten, YouTube-Videos portieren und Dateien von Google Drive anhängen. Sie können mithilfe von Kommentaren auch Feedback zu den Dokumenten geben. Lehrkräfte können Online-Klassenzimmer einrichten, um Lernmaterialien zum Herunterladen und Anzeigen freizugeben. Online-Aufgaben können erstellt werden, um den Fortschritt der Lernenden im Blick zu behalten. Dank des Zusammenspiels von Google-Produkten wie Google Docs, Google Spreadsheets und Google Slides können Lernende ihre Aufgaben kinderleicht einreichen. Der Zugriff auf Google Classroom ist über mobile Apps für Android und iOS möglich.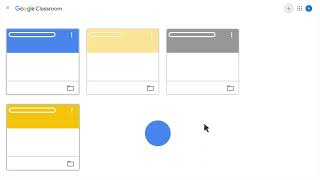 Google Classroom bietet eine Gratisversion.
Startpreis:
Nicht vom Anbieter bereitgestellt
Kostenlose Testversion:
Nein
Alternativen für Google Classroom
Google Classroom Erfahrungen
Branche: Bildungsmanagement
Unternehmensgröße: 51–200 Mitarbeiter

Täglich

für

Mehr als 2 Jahre

genutzt
Quelle der Bewertung
Preis-Leistungs-Verhältnis
5
---
A great platform for managing online education system..
Overall, I love to use this software as my daily driver. It saves my time & helps me to manage my studies in this pandemic effectively.
Vorteile
This software has almost everything that is required to conduct the course online. Our faculties can do Assigning courses, assignments, quizzes, share their class notes & attachments easily on this software. It has a great notification system for smartphones thus student doesn't miss out any important topic. It can also integrate many features from google service & our lecturer love this media more than other available alternatives. It has a clean UI & I love it personally.
Nachteile
I don't find any cons for this software. But the software would be self-sufficient if it integrates a group calling feature for conducting classes like the Microsoft team.
Branche: Informationstechnologie & -dienste
Unternehmensgröße: 10.000+ Mitarbeiter

Täglich

für

Mehr als 2 Jahre

genutzt
Quelle der Bewertung
Preis-Leistungs-Verhältnis
4
---
Google Classroom- No constraint in Learning
Google Classroom helps to collaborate teachers & Students in the most crucial situation like COVID. It is most used medium for education and most importantly it is available at free of cost
Vorteile
It helps to collaborate with people from anywhere through the internet. It is cloud based LMS solution so I use classroom without installing any dedicated application on my mobile. It is integrated with Google Drive, Docs, Sheets, Slides. And Gdrive provide dedicated folder for Classroom where the files are store so it helps me to find the files easily.
Nachteile
Initially when large number of people joins the meeting, the application becomes unresponsive & it lags.
Branche: E-Learning
Unternehmensgröße: 51–200 Mitarbeiter

Täglich

für

Mehr als 1 Jahr

genutzt
Quelle der Bewertung
Preis-Leistungs-Verhältnis
0
---
Google Classroom Lacks Many Features
In a pinch, with online learning during the pandemic, Google Classroom has given us a way to communicate with students and assign/collect student work. It is relatively easy to learn to use given time to adjust to this type of platform. However, there are features that it lacks - grade transfer to grading programs, ease of duplicating AND scheduling work at the same time for multiple classes to name a couple.
Vorteile
It is relatively easy to set up a class and invite students to join. You will likely need to watch a tutorial first, but after that, it is pretty straightforward. I like that it time-stamps submitted work. you know exactly the time a student turned something in.
The ability to ask a simple multiple-choice question (I only gave the option of one answer - the word "here:)makes it easy to have students check-in for attendance purposes.
Nachteile
There is no easy way to transfer scores from Google Classroom to our grading system. There are no built-in comments when responding to student work. You cannot create assignments that can be both scheduled and added to multiple classes at the same time. For example, I have 3 sections of Geometry. I have to create an assignment and schedule for one class, then share and redo the scheduling for each of the other 2 classes. There is no way to hide old assignments so that students can't go back several weeks and try to submit old/late work, particularly at the end of each marking period.
I don't like the fact that many educators have already asked for some of the features I feel are lacking, and yet updates have not been made.
Branche: Bildungsmanagement
Unternehmensgröße: 51–200 Mitarbeiter

Täglich

für

Mehr als 2 Jahre

genutzt
Quelle der Bewertung
Preis-Leistungs-Verhältnis
0
---
First Place I tell students to go.
Overall I really enjoy using Google Classroom. Rather than having to maintain a website where students from a variety of class go to then have to navigate their way to info I want them to have, with Google Classroom everything is tailored to the class students are enrolled in and I don't have to worry about turning on and off the visibility of items each marking period.
Vorteile
Google Classroom has replaced my teacher website, my homework help page, and even the "what did I miss" file folder in my classroom. I can get any information to students I need to via the stream, all classwork is published in that section, so they have access to and they know to look there if they missed days to find any work. Its integration with Google Meets means even if a student is absent they have an easy way to participate virtually.
Nachteile
There are still some bugs with the SIS Export in the Gradebook, but they are getting better each year. Currently scores export, but aren't categorized correctly which is a small annoyance, but an easy fix.
Branche: Bildungsmanagement
Unternehmensgröße: 1.001–5.000 Mitarbeiter

Täglich

für

Mehr als 2 Jahre

genutzt
Quelle der Bewertung
Preis-Leistungs-Verhältnis
4
---
Google Classroom : An easy tool for effective learning.
Google Classroom helps in improving Educational Collaboration, Efficiency, and Participation.
Vorteile
Google Classroom is useful for global or online education since it allows both instructors and pupils to engage with one another. The greatest benefit is the fact it is flawlessly synced with all of Google Workspace's other productive programmes such as calendar, Gmail, and so on.
Nachteile
There is nothing to dislike regarding this platform, except that its file uploading feature frequently take longer time. Nonetheless, I had a positive experience as a whole using Google Classroom.