Über d-one
d-one is Digitalsoft's Intelligent Planning, Manufacturing and Warehouse System, designed to enable "end-to-end connected supply chain" and lean factory management from inception. Based on modern technology and intuitive design, It supports in the optimization of: - production planning process (S&OP / IBP / MPS), -manufacturing execution management and control of operations (MES, IIoT), - warehouse and inbound logistics activities (WMS). The platform can be purchased in a modular way, to ensure an immediate return in investment. Customers can easily scale-up, implementing more modules, naturally integrated, rather than having multiple systems with complex and high-cost integrations. Customers' results include: - inventory reduction by 10%, about 40M $ - productivity efficiency increase by +12% in the first year - customer service improvement of 25% six months after the implementation. d-one is built on modern technology (e.g., AI/ML, Big Data & Analytics, Voice Interaction, Cloud) and it easily integrates with the ERP and tools in use (API for interface) as well as with Machines and Sensors (IIOT for integration). The tool is available On-Cloud and On-premise, with subscription or investment price model.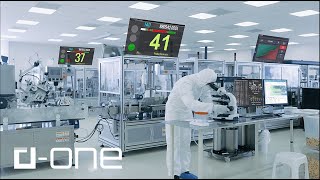 d-one bietet keine Gratisversion und keine kostenlose Testversion.
Startpreis:
Nicht vom Anbieter bereitgestellt
Kostenlose Testversion:
Nein
Branche: Elektrische/elektronische Fertigung
Unternehmensgröße: 10.000+ Mitarbeiter

Täglich

für

Mehr als 2 Jahre

genutzt
Quelle der Bewertung
Preis-Leistungs-Verhältnis
4
---
Finalmente Planning
Pianificazione fatta con tutti i numeri integrati in un unico posto, facilità di analisi grazie ai reports disponibili e con la possibilità di fare versioning, creando appunto delle versioni a cui fare riferimento periodo dopo periodo.
Vorteile
Pianificazione fatta con i numeri veri e non solo grafici o Gantt, possibilità di introdurre customizzazioni a più livelli con pochissimi vincoli legati alla struttura del software. Grosso supporto nello sviluppo e nel risolvere problemi.
Nachteile
Performance in termini di velocità, alcuni piccoli bugs, comunque risolti una volta segnalati, ma che andrebbero evitati prima del rilascio di un nuovo sviluppo.
Antwort von

Digitalsoft

Thanks Tommaso for your feedback! We will keep working hard to improve ourselves and provide you with best tool performances!

Beantwortet am 28.10.2020
Branche: Automotive
Unternehmensgröße: 10.000+ Mitarbeiter

Täglich

für

Mehr als 1 Jahr

genutzt
Quelle der Bewertung
Preis-Leistungs-Verhältnis
0
---
Duarte (Aptiv) Feedback
The experience so far is good as D-One development although with some issues is facilitating the process implementation by being a tool that can be shaped to accommodate the user requirements.
Vorteile
- User friendly,
- Development flexibility, it's been possible to make adjustments with the development team as per the user requirements
- Analysis capability
Nachteile
- Report limitation, however is being worked on and fixed with the new reporting system
- Low speed some menus, some queries may need to be optimize in order to better accommodate high amounts of data
Antwort von

Digitalsoft

Thanks Jo?o for your feedback! We will keep working hard to improve ourselves and provide you with best tool performances!

Beantwortet am 4.11.2020
Branche: Elektrische/elektronische Fertigung
Unternehmensgröße: 10.000+ Mitarbeiter

Täglich

für

Mehr als 1 Jahr

genutzt
Quelle der Bewertung
Preis-Leistungs-Verhältnis
0
---
Demand planning
Overall very good experience.
Competence, kindness and complete availability from D-one Team to support also last minute requirements
Vorteile
Possibility to get at the same time latest picture in terms of:
- Customer order
- Demand plan
- Late/Early
- Production plan
- Shipment plan
- Revenue projection
on weekly/monthly bucket
Nachteile
Tool start up very low (too much time to run report/often run out message)
well improvment in the incoming months
Antwort von

Digitalsoft

Thanks Annalisa for your feedback. Happy to know you appreciate our job! We will keep working hard to provide you with best tool performances!

Beantwortet am 28.10.2020