Über AWeber
AWeber bietet E-Mail-Marketing-Services für kleine Unternehmen an. Diese Lösung hilft bei der Automatisierung von E-Mail-Follow-ups und der Zustellung von Newslettern. AWeber umfasst einen Auto-Responder, mit denen Unternehmen gezielte, personalisierte und zeitnahe Nachrichten an Kunden senden können. Nutzer können ihre E-Mail-Marketing-Konten in verschiedene Online-Dienste integrieren und so den Informationsaustausch zwischen verschiedenen Unternehmensabteilungen verbessern. Mit AWeber können Nutzer E-Mail-Abonnementformulare in ihre Blogs, Websites und Facebook-Seiten einbetten. Die AWeber-Konten von Nutzern können auch in die meisten Warenkorb-Tools integriert werden, sodass neue Kunden zu E-Mail-Listen hinzugefügt werden können, sobald sie einen Kauf auf der Nutzer-Website abgeschlossen haben. Nutzer können auch AWeber API, eine Programmierschnittstelle, verwenden, um ihre eigenen maßgeschneiderten Anwendungen und Tools zu erstellen, die ihre spezifischen Anforderungen erfüllen.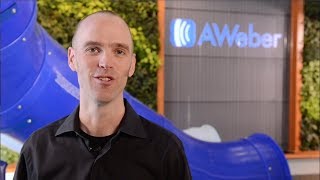 AWeber bietet eine Gratisversion und eine kostenlose Testversion. Die kostenpflichtige Version von AWeber ist ab 0,00 $/Monat verfügbar.
Kostenlose Testversion:
Ja
Branche: Marketing & Werbung
Unternehmensgröße: Selbstständig

Wöchentlich

für

Mehr als 2 Jahre

genutzt
Quelle der Bewertung
Preis-Leistungs-Verhältnis
4
---
One of the best
I have had a great experience with AWeber and I can say it helped me alot basically when I was at the beginning on the digital marketing industry.
Vorteile
Since I work with clients in order to achieve some Digital Marketing results AWeber has been some of the tools I have used the most. I like that it has some pretty form designs and that it has integration with a lot of themes and plugins for optin forms. I also like that AWeber has ease of use.
Nachteile
I use to regret about AWeber for its lack of automation features, but since this is not a limitation any more, I think AWeber is a great email & automation marketing tool.
Gründe für den Wechsel zu AWeber
I choose AWeber because I made a research and I thought AWeber was the best for me based on some of the reviews I read about it.
Branche: Marketing & Werbung
Unternehmensgröße: 2–10 Mitarbeiter

Weitere

für

Mehr als 2 Jahre

genutzt
Quelle der Bewertung
Preis-Leistungs-Verhältnis
4
---
AWeber: A Good Start With Email Marketing
I enjoyed using AWeber. It was easy to set up lists and broadcast emails. And it made it possible for me to get started building my business online without much tech skill. However, as I became a more advanced marketer and wanted more control in my business, the way AWeber was set up did not seem to make certain advanced automation features possible. Or the interface was set up in such a way to dissuade you from using it for more complex features.
Vorteile
The best part about AWeber is how easy it is to use. There aren't a whole lot of bells and whistles which means that it's super fast to get up and running. And honestly, though it's not my favorite tool, most businesses would do better to use AWeber than their current email marketing system. Also, it's got good deliverability which means your emails actually show up in the inbox instead of spam.
Nachteile
I call AWeber a "beginner" email marketing tool because that's what it feels like. Yes, it'll get you up and running. But it doesn't "feel" powerful and the lack of features leave some things to be desired. But "something" is better than "nothing", so if using something easy gets you and your business to do email marketing, than by all means use AWeber.
In Betracht gezogene Alternativen
Keap
Warum AWeber gewählt wurde
I don't have anything good to say about MailChimp. Not only is the interface clunky, but oftentimes deliverability suffers. And as if that isn't enough, a lot of businesses that are totally ethical, GOOD businesses are forbidden from using the platform. I have many friends who have woken up to their accounts banned, locked out of all their email contacts without so much as a reason. And these weren't people running aggressive offers. They were just regular businesses (like flower shops) that apparently tried to sell their products a little too "hard" and therefore caught the ban hammer.
Gründe für den Wechsel zu AWeber
At the time I was just getting started in internet marketing, I wanted to use what the "big names" used. So I looked into the platforms they "recommended." This was before I understood affiliate marketing and didn't know they were getting paid to say how awesome these platforms were. When in reality, yes they are super powerful. But they're also really clunky and take a SUPER long time to learn. Plus, I quickly realized I wouldn't use MOST of what these other platforms offered, so I quickly decided on AWeber so I could get started with my business.
Branche: Marketing & Werbung
Unternehmensgröße: 2–10 Mitarbeiter

Wöchentlich

für

Mehr als 1 Jahr

genutzt
Quelle der Bewertung
Preis-Leistungs-Verhältnis
5
---
My Favorite Email Marketing Tool
Vorteile
AWeber has significantly contributed to the growth of my business through Email Marketing. I am using many platforms but AWeber is super easy to set up and use. The features are awesome especially integrations, marketing automation, email sequences and Landing pages.
Nachteile
Nothing to say so far. Everything is perfect
Warum AWeber gewählt wurde
Mailchimp was more complicated and slow.
Branche: Verbraucherdienste
Unternehmensgröße: 2–10 Mitarbeiter

Täglich

für

1-5 Monate

genutzt
Quelle der Bewertung
Preis-Leistungs-Verhältnis
2
---
Good for a small company mail list, but lacks integration
Also, it became too costly an option when trying to integrate my WooCommece store data without purchasing a $49 plugin. The more I wanted to do, the fewer options because available not making this a suitable option for me. Overall, my experience with AWeber was less than stellar and I had to drop it for a better solution.
Vorteile
AWeber is good for maintaining a customer list and sending campaigns. It also provides the capability to use a single list among a couple websites with some integration and upgrades. Overall, I would consider it an entry-level list management option.
Nachteile
AWeber lacks the capability to integrate multiple website data seamlessly without some third-party apps. Not being able to maintain a single list among my three websites was a definite downside to continuing using the software. The form builder and landing pages were difficult and cumbersome to configure, setup and integrate. The RSS options was clunky and the templates were lacking any customization.
Warum AWeber gewählt wurde
I was looking for a better solution for the limitation in Mailchimp, but AWeber was less than stellar. Mailchimp did not give me much analytical data and email marketing options.
Gründe für den Wechsel zu AWeber
I initially choose AWeber because I thought it was a improvement over Mailchimp. However, it did not meet my needs as well. So, I switched to ActiveCampaign and glad I did.
Branche: Marketing & Werbung
Unternehmensgröße: 11–50 Mitarbeiter

Wöchentlich

für

6-12 Monate

genutzt
Quelle der Bewertung
Preis-Leistungs-Verhältnis
4
---
One of the most effective pieces of software for online marketing via email.
If you're seeking for a dependable and simple email marketing solution, AWeber is what you need. It's an effective tool for organizing marketing campaigns because to its automated features and ability to connect with other apps. It may not be the greatest option, though, if extensive personalization and detailed reporting are must-haves for your business.
Vorteile
My first foray into email marketing was with Aweber. It's perfect for mass emailings like newsletters. Once among the finest, its email delivery rates were respectable. It also gives decent options for customizing emails for each individual consumer.
Nachteile
Although Aweber has many useful capabilities, I have found that its email template customization possibilities are limited, making it difficult to create truly unique layouts.