Über Apptivo
Apptivo is a cloud-based suite of applications designed to help small businesses manage a range of functions including financials, human resources and supply chain management. Apptivo's customer relationship management (CRM) applications provide modules for contact management, lead management, opportunity management and customer service ticket management. Marketing applications include campaign management, lead segmentation and loyalty management. Businesses can select necessary applications and omit applications they do not need. Other applications include expense reports, license and insurance tracking, sales planning and territory management, cash management and budgeting. Users can access Google app integrations for Drive, Calendar and Tasks, and mobile apps are also available. Pricing is per user per month, billed annually.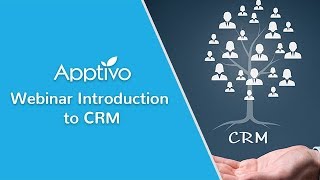 Apptivo bietet eine Gratisversion und eine kostenlose Testversion. Die kostenpflichtige Version von Apptivo ist ab 8,00 $/Monat verfügbar.
Preisinformationen:
Starts at just $8 per user/ Billed annually. - comes with 18 Apps, 100 Custom Fields Per App 25 Workflows 8 Custom Dashboards 3rd Party Service Integration 24x7 Support
Kostenlose Testversion:
Ja
Täglich

für

Mehr als 2 Jahre

genutzt
Quelle der Bewertung
Preis-Leistungs-Verhältnis
5
---
Customer Support is very Responsive
Our business started Apptivo when we were quite small, and there were several issues with the program when we first began using them. The support at Apptivo is awesome, every time that we have a difficulty using any of the programs feature, they have gotten back to us within hours or sometimes days. The recent issue with using their Ledger App took a bit longer to resolve but we enthusiastically appreciate their dedication to resolving the issues, and how thoroughly they did resolve it.
The features we use most often include: Emailing Invoices and Estimates, keeping track of our Finances with their Ledger App, and keeping track of correspondence with Clients. There are some many other features to the program including tracking Inventory, tracking Accounts with Suppliers, and creating Projects with clients/collaborations with other professionals just to name a few.
I will continue to use and support the Apptivo program. They continue to grow and offer more features, clearer and efficient options for tracking the growth of our business as it continues to grow!
Vorteile
Easy to use features - Sending out invoices - Receiving payments and notifications - Receving Emails and Client feedback - Tracking client info - Reviewing, Updating, and tracking Inventory and Accounts Payables. There are many other features but these we use in general.
Nachteile
Some errors with Invoices through paypal that require the client to input the info more than once, especially when there is Updates to the program. This has happened on some occasions, but is no longer an issue that we experience.
Branche: Konsumgüter
Unternehmensgröße: Selbstständig

Wöchentlich

für

Mehr als 2 Jahre

genutzt
Quelle der Bewertung
Preis-Leistungs-Verhältnis
4
---
Decent Suite of Productivity Apps
I would give this 4 out of 5. I love the fact that it is offered for FREE for up to 3 users so great for small start up companies. There are tons of apps you can add and customize per your needs.
Vorteile
One stop shop for many productivity apps such as supply chain, CRM, HR, Accounting etc. Customer service are always available via chat and very helpful. They will even do screen share and troubleshoot the issues.
Nachteile
Some of the templates such as purchase order, packing slip are hard to customize. Some of the fields do not display consistently.
Branche: Gewerbeimmobilien
Unternehmensgröße: 2-10 Mitarbeiter

Täglich

für

1-5 Monate

genutzt
Quelle der Bewertung
Preis-Leistungs-Verhältnis
5
---
Apptivo - new course of business
After having been using Apptivo for a couple of months now, we can see that we made a good decision choosing Apptivo. The user team loves it and we are still exploring new ways to use it in its full potential.
It is packed with lots of brilliant solutions.
Vorteile
Apptivo is a great system, it so simple and intuitive from a user perspective that only basic training is enough to start working in it. It is great that we could customise the fields and we could build it to mirror our process map perfectly.
Nachteile
I think, Apptivo has a certain system logic and it wasn't explained to us very well in the training materials. so when we started to build the system we made some big learning curves that would have been avoidable. There are lot's of training materials available but it's a pain to find answer to our questions when trouble shooting. Help line chat very handy though.
Gründe für den Wechsel zu Apptivo
Based on recommendations, value and functionality
Branche: Unternehmensberatung
Unternehmensgröße: 2-10 Mitarbeiter

Täglich

für

1-5 Monate

genutzt
Quelle der Bewertung
Preis-Leistungs-Verhältnis
2
---
To Basic and Not Ready
Not good. I will find another CRM solution.
Vorteile
Dirt simple and cheap to see up and use.
Nachteile
The eMail lacks basic features, like Smart Folders, Spam filters, etc. You cannot send .ics files as attachments because of "security." The eMail app on iPhone rarely works well. Then the Newsletter app for campaigns also has a lot of problems. It does not always save your changes.
Branche: Krankenhausversorgung & Gesundheitswesen
Unternehmensgröße: 11-50 Mitarbeiter

Täglich

für

6-12 Monate

genutzt
Quelle der Bewertung
Preis-Leistungs-Verhältnis
5
---
Intuitive Software with Good Customer Service
Apptivo allows us to utilize and provide reporting (snapshots of our progress) easily within one application.
Vorteile
Our implementation specialist who helped us set everything up was great. Really like the in-depth customization options as well.
Nachteile
Would love to see a mapping tool to use when scheduling appointments for customers close to one another.