Über Apptivo
Apptivo is a cloud-based suite of applications designed to help small businesses manage a range of functions including financials, human resources and supply chain management. Apptivo's customer relationship management (CRM) applications provide modules for contact management, lead management, opportunity management and customer service ticket management. Marketing applications include campaign management, lead segmentation and loyalty management. Businesses can select necessary applications and omit applications they do not need. Other applications include expense reports, license and insurance tracking, sales planning and territory management, cash management and budgeting. Users can access Google app integrations for Drive, Calendar and Tasks, and mobile apps are also available. Pricing is per user per month, billed annually.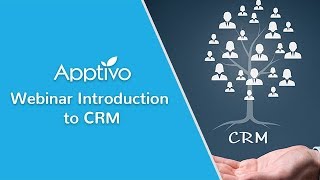 Apptivo bietet eine Gratisversion und eine kostenlose Testversion. Die kostenpflichtige Version von Apptivo ist ab 8,00 $/Monat verfügbar.
Kostenlose Testversion:
Ja
Täglich

für

Mehr als 2 Jahre

genutzt
Quelle der Bewertung
Preis-Leistungs-Verhältnis
5
---
Customer Support is very Responsive
Our business started Apptivo when we were quite small, and there were several issues with the program when we first began using them. The support at Apptivo is awesome, every time that we have a difficulty using any of the programs feature, they have gotten back to us within hours or sometimes days. The recent issue with using their Ledger App took a bit longer to resolve but we enthusiastically appreciate their dedication to resolving the issues, and how thoroughly they did resolve it.
The features we use most often include: Emailing Invoices and Estimates, keeping track of our Finances with their Ledger App, and keeping track of correspondence with Clients. There are some many other features to the program including tracking Inventory, tracking Accounts with Suppliers, and creating Projects with clients/collaborations with other professionals just to name a few.
I will continue to use and support the Apptivo program. They continue to grow and offer more features, clearer and efficient options for tracking the growth of our business as it continues to grow!
Vorteile
Easy to use features - Sending out invoices - Receiving payments and notifications - Receving Emails and Client feedback - Tracking client info - Reviewing, Updating, and tracking Inventory and Accounts Payables. There are many other features but these we use in general.
Nachteile
Some errors with Invoices through paypal that require the client to input the info more than once, especially when there is Updates to the program. This has happened on some occasions, but is no longer an issue that we experience.
Branche: Forschung
Unternehmensgröße: 2-10 Mitarbeiter

Täglich

für

Mehr als 2 Jahre

genutzt
Quelle der Bewertung
Preis-Leistungs-Verhältnis
5
---
Great Product
Overall, this product has streamlined and simplified the way we do business, contact our clients, and regulate their access to data.
Vorteile
Apptivo CRM is very user friendly. It is also very flexible so it can suit your business the way you do business
Nachteile
If I feel like there is something missing, I can report it to Apptivo and they usually put it in their pipeline and add it to the software.
Branche: Informationstechnologie & -dienste
Unternehmensgröße: 51-200 Mitarbeiter

Täglich

für

1-5 Monate

genutzt
Quelle der Bewertung
Preis-Leistungs-Verhältnis
3
---
Apptivo Review from Recruiting
The team we worked with at Apptivo was very responsive. They met their commitments on time. They have been a pleasure to wrok with.
Vorteile
Working with the Apptivo team to move our data from Sugar to Apptivo was a good experience. I haven't used the software enough to comment on what I like most about it.
Nachteile
I wish it was more of an applicant tracking system. I need to be able to search on Tags.
Branche: Elektrische/elektronische Fertigung
Unternehmensgröße: 5.001-10.000 Mitarbeiter

Täglich

für

1-5 Monate

genutzt
Quelle der Bewertung
Preis-Leistungs-Verhältnis
5
---
Good value for your buck
Apptivo team was great through and through. They are responsive and efficient, they are able to customize the tool to your wish. The overall experience has been great so far. We will need more time of use to really make the best of it.
Vorteile
Apptivo is very easy to use compared to our previous solution. From an admin point of view, you don't really need a tech guy to maintain the tool. It is fast to load, the information is readily available and the support team is super responsive. On top of that, it is very inexpensive compared to other software. Let's see how it goes going forward :)
Nachteile
For now, I would say the layering is a little strange. It works in columns so when you want your opportunity page in a certain way, it is a bit difficult to organize. But so far, not much more than this.
Gründe für den Wechsel zu Apptivo
Mainly for the price and the fact that it offered all that we need from a CRM point of view, if not more. Also, the ease of configuration for a non-tech person was a major factor.
Branche: Unterhaltung
Unternehmensgröße: 2-10 Mitarbeiter

Täglich

für

Mehr als 2 Jahre

genutzt
Quelle der Bewertung
Preis-Leistungs-Verhältnis
5
---
good review
Vorteile
Everything about this product works especially since it is customizable
Nachteile
nothing to be improved at this time, but will keep you posted.