Über Metallic SaaS Backup & Recovery
Protect, secure, recover. Stay two steps ahead with Metallic data management as a service. Simple to adopt, simple to use, and simple to scale. From the minds of Commvault—ten times a leader in the Gartner Magic Quadrant—Metallic is a SaaS portfolio for enterprise-grade backup and recovery, designed to protect your data from corruption, deletion, ransomware, and any other threat out there. No matter where your data lives — on premise, cloud, hybrid, or SaaS — Metallic combines unmatched flexibility with proven security and industry-leading Commvault technology. Metallic offers a wide breadth of data protection capabilities across a broad range of different workloads: -- VM & Kubernetes: VMware, Kubernetes, Hyper-V, Azure VM, Amazon EC2 -- Databases: Microsoft SQL, AWS, SAP HANA, and Oracle -- File & Object: Azure Blob & Files, Microsoft Windows, UNIX/Linux, Amazon S3 -- Office 365: SharePoint, Exchange, OneDrive, Teams, Project -- Dynamics 365: Sales, Marketing, Field and Customer Service CRMs -- Salesforce: Production and Sandbox Environments -- Endpoint: Laptops and Desktops -- Active Directory: Microsoft and Azure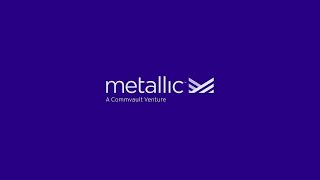 Metallic SaaS Backup & Recovery Preis
Metallic SaaS Backup & Recovery bietet keine Gratisversion, aber eine kostenlose Testversion. Die kostenpflichtige Version von Metallic SaaS Backup & Recovery ist ab 3,60 $/Monat verfügbar.
Preisinformationen:
Metallic Pricing offers value and flexibility for pricing that fits you. Paying for our product offerings is as straightforward as using them. We believe in an honest system designed for real ROI. If you want to commit and sign an annual contract, get rewarded with 10-30% savings—or more. Set your monthly commitment level for the year and only get billed for monthly overages if you exceed it.
Kostenlose Testversion:
Ja
Alternativen für Metallic SaaS Backup & Recovery
Metallic SaaS Backup & Recovery Erfahrungen
Branche: Marketing & Werbung
Unternehmensgröße: Selbstständig

Täglich

für

6-12 Monate

genutzt
Quelle der Bewertung
Preis-Leistungs-Verhältnis
5
---
Metallic is the Apple of Backup and Recovery Solutions!
My overall experience with Metallic has been AMAZING! I can't say enough things good about them. The pricing the support and getting up and going was so easy. I call them the Apple of Backup solutions because its true. One call and they get you all setup until your data is protected! They will work with big and small businesses which I personally like. Everyone needs protection.
Vorteile
I like how easy it is to get setup and started. You can be up and running backing up your office 365 same day! I put in a request for service within that day I was speaking with a rep to get me activated and up and running. Its gives me peace of mind that I can set this up and running same day and move forward on with my day.
Nachteile
There isn't any experience I could say that is bad. The experience I had with them was nothing but good.
Branche: Bau
Unternehmensgröße: 10.000+ Mitarbeiter

Täglich

für

Mehr als 2 Jahre

genutzt
Quelle der Bewertung
Preis-Leistungs-Verhältnis
5
---
Metallic is easy, secure, and reliable.
It handles endpoint backups very well. Encrypted and reliable.
Vorteile
Once Metallic is setup, you can forget about it and let it do its thing. I like the daily reports that I've setup to run and I don't have to worry about it.
Nachteile
The user interface can be a little tricky but not hard to understand and configure.
Branche: Computer- & Netzwerksicherheit
Unternehmensgröße: 2-10 Mitarbeiter

Täglich

für

6-12 Monate

genutzt
Quelle der Bewertung
Preis-Leistungs-Verhältnis
0
---
Why we are looking else were for a back-up solution
Our backs are failing every day since early April
Vorteile
We have made multiple appointments but I never connected. I was ask to go into Office, but no detailed instructions.
Nachteile
Tech Support - very hard to get the assistance needed
Antwort von

Commvault

Hi Bob.
Customer experience is top priority for us. We contacted you within hours of learning of your support request last month, and have reached out again several times since. In case your contact information has changed please contact us directly at [email protected]
As you know, we've been able to identify the issue is with expired credentials unrelated to your Metallic deployment. We hope to hear from you soon so we can help you resolve this quickly, walking through the fix as we've offered.

Beantwortet am 18.5.2021
Branche: Einzelhandel
Unternehmensgröße: 501-1.000 Mitarbeiter

Täglich

für

1-5 Monate

genutzt
Quelle der Bewertung
Preis-Leistungs-Verhältnis
5
---
Metallic 0365 Backup new customer
Implementation was simple enough to diy without reaching out to support. From my first conversation to the most recent, the Metallic team is excited about their product.
Vorteile
Metallic for O365 is very easy to setup and maintain. It makes life easier for our busy team. It has been a set it and forget it solution. Metallic's support and success teams are receptive and helpful. We have been Commvault customers for many years and their support team has always impressed us.
Nachteile
Documentation is somewhat limited. IP filtering is not currently an option.
Branche: Maschinerie
Unternehmensgröße: 201-500 Mitarbeiter

Täglich

für

6-12 Monate

genutzt
Quelle der Bewertung
Preis-Leistungs-Verhältnis
3
---
Mark' view of Metallic
It has done the job I need without much hassle or fuss, just what an infrastructure product should do.
Vorteile
Easy of integration with Commvault, a package deal.
Nachteile
Have to go thru a vender to add additional capacity/licensing.