Über MarketBox
MarketBox is a B2B SaaS-based product designed to boost sales and productivity for service businesses with mobile and virtual workforces. Mobile workforce? Virtual appointments? Bricks and mortar locations? MarketBox handles scheduling across all three, factoring in travel time and travel zones for employees on the go. Plus self-serve online booking for customers, payment processing, video conferencing and more. We help businesses grow and convert more leads into sales with an interface that is easy and engaging for customers to use and automation that cut down on admin headaches for you and your team.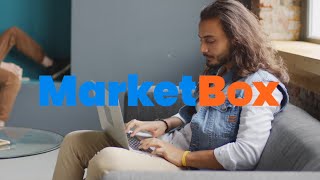 MarketBox bietet eine Gratisversion und eine kostenlose Testversion. Die kostenpflichtige Version von MarketBox ist ab 40,00 $/Monat verfügbar.
Startpreis:
40,00 $/Monat
Kostenlose Testversion:
Ja
Alternativen für MarketBox
Branche: Bildungsmanagement
Unternehmensgröße: 2-10 Mitarbeiter

Täglich

für

6-12 Monate

genutzt
Quelle der Bewertung
Preis-Leistungs-Verhältnis
5
---
MarketBox, thank you!
It's been a great experience so far, the support team is very receptive and helpful. As customers, we feel engaged, valued and most importantly heard, when our feedback is taken into consideration!
All the best to the MarketBox team!
Vorteile
MarketBox has helped us to optimize the time needed to onboard a provider, make changes to an existing booking and even better, it allows our providers to manage their own schedules with complete ease.
The dashboard has real-time data for our daily sales performance, we appreciate that, since it serves as motivation for the time to hit our daily targets.
The automated notification feature (Ex: When a booking is made or a customer placed an inquiry) has been crucial to our response times and our overall customer experience.
Nachteile
MarketBox does a great job capturing different data points for different stakeholders. With that being said, it would be great have more flexibility to create custom reports (Ex: Sales in a given city).
Otherwise, everything else is great, the team loves
Branche: Unternehmensberatung
Unternehmensgröße: Selbstständig

Täglich

für

6-12 Monate

genutzt
Quelle der Bewertung
Preis-Leistungs-Verhältnis
5
---
Marketbox - great solution for my personal training business!
Pretty happy - I have more time to take on additional clients, or not work ridiculous hours.
Vorteile
Marketbox is a great all in one app for personal trainers and fitness professionals to easily sell services and reduce the amount of manual work associated with running a small business. When I looked to the market to see what was available to run my business, I was left with three poor options until I found MarketBox:
1) Cough up the cash for a solution that is really only aimed at a big box gym (I don't need half the functions and the fee structure doesn't make sense)
2) Spend a lot of time and money cobbling together a bunch of scheduling apps with basic booking and payment abilities
3) Do it on the cheap, and with lack of a technology option, use sweat labour and google drive + social and hope for the best
Marketbox has clearly done its homework – and there is hope for the independent personal trainer to be able to make money and survive in this industry. FINALLY! I couldn't be more happy.
My fav things include:
1. Managing all of my business data in one location. This includes client sales, bookings, payments. I'm spending less time doing admin work.
2. Option to easily sell services at different locations; sometimes I travel to meet a client, or I train them virtually. This flexibility is key
3. MarketBox is the only system I've seen that allows me to set up travel zones and a zoom integration all at once.
4. Client self-booking - The interface is easy to use (even if you aren't a techie), and my clients love it.
Nachteile
Cool to have more integrations with additional apps like Fitness Pal, Apple Health, and TruCoach so I can have the complete picture of my client. But these are nice to have.
Branche: Verbraucherdienste
Unternehmensgröße: 2-10 Mitarbeiter

Täglich

für

6-12 Monate

genutzt
Quelle der Bewertung
Preis-Leistungs-Verhältnis
5
---
Best e-commerce option for service businesses with a travelling workforce. Customizable and...
Overall, this is a powerful and customizable booking platform while empowering our providers with proper technology to scale our business.
Vorteile
MarketBox easily allows our instructors to set their preferred travel zones, availability, and manage their bookings whether it's online or via the mobile app. This keeps them more engaged, decreasing turnover, minimizing back and forth logistics issues with our support team, and allowing our team to focus on building customer demand/revenue.
The MarketBox team is incredibly responsive to feedback and is pushing out features at an impressive rate. It seems like every month at least one major improvement is announced that helps make our team's jobs easier.
Powerful features like self-book for clients, automated reminders to our providers, customizable services and skills, and regional pricing allow us to focus on sales and marketing, and not logistics.
Nachteile
The admin portal could have better UX. But what it lacks in design, it makes up for in power.
Warum MarketBox gewählt wurde
Our internal tech team just couldn't keep up with our user's needs and we were falling behind by losing talent and customers when the user experience wasn't up to modern standards. All the while becoming increasingly expensive. Lost revenue opportunities and increased costs forced us to look for different options.
Antwort von

MarketBox

We're so glad to hear that you've been having a great experience with our MarketBox software! We're continuously adding new features so it will continue to be an even more powerful tool!

Beantwortet am 12.3.2021
Branche: Bildungsmanagement
Unternehmensgröße: 51-200 Mitarbeiter

Täglich

für

1-5 Monate

genutzt
Quelle der Bewertung
Preis-Leistungs-Verhältnis
5
---
Outstanding Customer Service & Easy-To-Use
10/10
Vorteile
I like how customizable the software is so we can turn on the features that apply to our services (and turn off the ones that don't). The booking flow is so simple and quick and learning how to maneuver the admin dashboard is too! The customer service is also super speedy to attend to any questions or concerns we may have which makes the onboarding process stress-free.
Nachteile
Any minor roadblocks we've encountered during the onboarding process have been not only answered by customer service but incorporated into their next round of changes/updates.
Gründe für den Wechsel zu MarketBox
The support during the onboarding process and customizable options.
Branche: Verbraucherdienste
Unternehmensgröße: 2-10 Mitarbeiter

Täglich

für

6-12 Monate

genutzt
Quelle der Bewertung
Preis-Leistungs-Verhältnis
5
---
Incredible software for managing bookings, schedules & travel areas through a mobile app &...
Switching to MarketBox has been invaluable for us.
Overall, the automations, scheduling software, booking and provider profile management have been useful features for our team.
Vorteile
MarketBox includes great capabilities that work for our business (private home swimming lessons) and solves many problems we were facing with our old system.
We have a lot of part time workers. Instructors have the ability to add multiple travel zones that include different service types and schedules, allowing them to accept bookings in advance conveniently. When an instructor can't accept a booking, MarketBox will even send out a job request to other instructors in the area to see who can accept it, so that we can get our instructors more jobs, and keep clients happy with a good matching instructor.
Additionally, client bookings can be confirmed via text message rather than logging in to the account online or on the mobile app (resulting in quicker response times).
Nachteile
The availability section needs improvement. Some Instructors have difficulty understanding the functionality at times.
Image size of the profile picture has to be less than 100kb.