Über monday.com
Die herausragende Kollaborations- und Projektmanagementplattform monday.com hilft Teams bei der gemeinsamen effizienten Planung und Durchführung komplexer Projekte für eine termingerechte Lieferung von Ergebnissen. Das Team- und Aufgabenmanagement-Tool von monday.com bietet Nutzerfreundlichkeit und die Flexibilität, jedes Team einzubinden und mehrere Projekte im gesamten Team zu verwalten. Mit einer Vielzahl von Produktivitätsfunktionen wie Zeiterfassung, integriertem Kanban-Board, automatisierten Benachrichtigungen, Workflow-Automatisierung, Abhängigkeiten, mehreren Ansichten und Kalenderintegration können Teams für jeden Projektmeilenstein bessere und schnellere Ergebnisse erzielen. monday.com bietet eine kollaborative Umgebung, in der Projektmitglieder kommunizieren, eine Wissensdatenbank erstellen und Dateien, Bilder, Designs und andere Spezifikationen teilen können. Mit unbegrenzten Boards und einer integrierten Zeitleistenfunktion können Nutzer effektiv zusammenarbeiten und den Projektfortschritt und wiederkehrende Aufgaben über mehrere Boards hinweg verfolgen. monday.com kann in verschiedene Kollaborations- und Aufgabenmanagement-Anwendungen von Drittanbietern wie Google Drive, Dropbox, Pipedrive, Google Kalender, Jira, Mailchimp und andere integriert werden. Das System ermöglicht es Nutzern auch, spezifische Informationen mit externen Gästen wie Kunden oder Freiberuflern auszutauschen. monday.com bietet ein REST-JSON-API-Tool, mit dem Nutzer die CORS-Anforderungen (Cross-Origin Resource Sharing) verwalten können. Die monday.com-App ist für mobile Geräte auf iOS und Android verfügbar. Das Tarifangebot umfasst vier verschiedene Pläne: Basic-Plan, Standard-Plan, Pro-Plan und Enterprise. Support ist über eine Online-Wissensdatenbank, Videotutorials oder das Support-Team von monday.com verfügbar.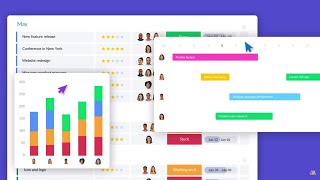 monday.com bietet eine Gratisversion und eine kostenlose Testversion. Die kostenpflichtige Version von monday.com ist ab 10,00 €/Monat verfügbar.
Alternativen für monday.com
Branche: Verbraucherdienste
Unternehmensgröße: 2-10 Mitarbeiter

Wöchentlich

für

6-12 Monate

genutzt
Quelle der Bewertung
Preis-Leistungs-Verhältnis
2
---
Monday.com - Great for 2 -3 People, Expensive for Anything Larger
Overall, If I really understood the costs upfront, I would have been more hesitant to transfer literally everything to Monday.com. I felt that it was kind of a hidden surprise and not in a good way. However, the project management for 2-3 people was incredible. I was moving at light speed, so much so that I needed to expand to more users. However, money doesn't grow on trees and I was ultimately stifled by the growing cost of each additional user. It definitely helped me organize all of my ideas into neat little boxes that could be expanded and tracked, which really gave me a birds eye view of my business.
Vorteile
At first, I loved Monday.com. The ease of use. The beautiful and simple design. I was enamored by every feature of this tool. Previously, I had notes jumbled on papers, in Apple Notes, and in Microsoft Excel. This was my solution to everything. I was able to transition all of my projects into one, sleek looking interface that inspired me to delve deeper into what was working about my company.
Nachteile
After the trial period ended, I realized the prices skyrocketed for adding multiple users. That totally sucked because I already transferred my entire digital life to Monday.com. 1 to 3 people was a do-able price for my small business. However, when I wanted to include 7 or 8 people, it was too cost prohibitive for the income that we were generating. Every penny matters when managing a business and this was the straw that broke the camels back for my utilization of Monday.com
Warum monday.com gewählt wurde
The ease of use and absolutely gorgeous design. And how it perfectly mimicked the desktop version on my phone. I was blown away. None of the other tools were able to come even close to the integration that I was able to achieve on Monday.com
Gründe für den Wechsel zu monday.com
Monday.com was by far the most advanced tool and gave me all the features I was looking for in one easy to use interface. I was absolutely sold on it as soon as I really delved deeper into it. I found that I was able to run my business more effectively and initially had huge success implementing it.
Branche: Freizeit, Reisen & Tourismus
Unternehmensgröße: 11-50 Mitarbeiter

Täglich

für

6-12 Monate

genutzt
Quelle der Bewertung
Preis-Leistungs-Verhältnis
3
---
Monday - project management aims to simplify
As for interacting with the project and its tasks - it's very easy. Set status, assignee, dates, add items , etc. Notifications are great tool to stay on top of things , and my tasks screen is a life saver - you can see all your tasks without scrolling through long items in a project.
Vorteile
The UI is built with simplicity in mind. That means that almost every action is made to be easy and without to jump around many screens. Also, templating projects on Monday is one of the best features that we use to spin up new projects. Notifications are a great tool and you can have desktop notifications instead of mails to reduce clutter in your inbox.
Nachteile
Somehow the simple UI is not very intuitive for me. The rows display of items seems a bit off as opposed to the boards display. That also makes the screen seem full of tasks that usually irrelevant for some users.
In Betracht gezogene Alternativen
Jira
Warum monday.com gewählt wurde
Azure DevOps is a great tool, though too complicated for our non technical members in the project.
Gründe für den Wechsel zu monday.com
Our teams loved the user interface. Also we got recommended from some of our customers who use it.
Branche: Personalbeschaffung & -besetzung
Unternehmensgröße: 2-10 Mitarbeiter

Täglich

für

6-12 Monate

genutzt
Quelle der Bewertung
Preis-Leistungs-Verhältnis
0
---
Confusing
Overall I would not use Monday. com again.
Vorteile
The alerts when someone completed or made changes were nice, however once you logged in to see the changes it was very confusing.
Nachteile
The layout is confusing and hard to follow the chain of events in each task.
Antwort von

monday.com

Thanks so much for taking the time to leave a review and for your feedback. We will let our team know.

Beantwortet am 6.5.2022
Branche: Rechtsberatung
Unternehmensgröße: 501-1.000 Mitarbeiter

Täglich

für

Mehr als 1 Jahr

genutzt
Quelle der Bewertung
Preis-Leistungs-Verhältnis
3
---
Monday.com Review
I use it on a day to day basis mainly for project management and it works extremely well. The automation and integration aspects make it an easy to use system that the team enjoys working with.
Vorteile
It is extremely easy to use and does all the project planning and management grunt work for you. It can also integrate with quite a few systems to automate processes like creating a ticket system for your IT that makes IT more engaging with the end user.
Nachteile
The biggest draw back is how you get to allocate users. You have to add in increments of 5 which leads to paying for users that you don't use. There are also some nice features that can only be accesses with a PRO license which is a bit pricey.
Warum monday.com gewählt wurde
We needed something easier to use
Gründe für den Wechsel zu monday.com
It was friendlier to the end user and easier to use
Branche: Marketing & Werbung
Unternehmensgröße: 2-10 Mitarbeiter

Täglich

für

Mehr als 1 Jahr

genutzt
Quelle der Bewertung
Preis-Leistungs-Verhältnis
3
---
Gran software, requiere mucho trabajo de implementación, le falta integrarse con otros...
El factor humano es lo más difícil de configurar con Monday, durante la cuarentena por la pandemia pensamos que nos ayudaría muchísimo a controlar mejor los proceso de la agencia, y fue lo contrario. Si el personal no completa sus tareas o le da seguimiento a sus proyectos via Monday porque encuentra que la integración con Gmail u otros aplicativos no es tan intuitiva, dejan de utilizarlo o lo utilizan incorrectamente.
Vorteile
Es sencillo de instalar, crear proyectos y tareas con el equipo es bastante sencillo. La visualización es buena y permite medir la productividad.
Nachteile
Implementarlo tecnológicamente es fácil, pero emitir los reportes de productividad por empleado y / o equipo de trabajo nos resultó bastante difícil al grado que dejamos de intentarlo. Los planes están un poco rígidos en lo que respecta a las vistas de proyectos.
Warum monday.com gewählt wurde
Porque eran demasiados archivos o archivos demasiado robustos por producto.
Gründe für den Wechsel zu monday.com
En su momento nos pareció que el costo beneficio era bueno.