Über Kaltura Video Platform
Kaltura is the market leader in cloud-based video experiences, offering video SaaS solutions for virtual events, virtual classrooms, meetings, webinars, town halls and live streaming, video asset management, and cloud TV. The Kaltura Video Experience Cloud is an open-source platform that powers highly reliable, flexible, and scalable video experiences to your audience. Over 50,000 organizations worldwide rely on Kaltura's video cloud solutions to power their communications, virtual events, education and training programs, and TV experiences, reaching millions of users every day.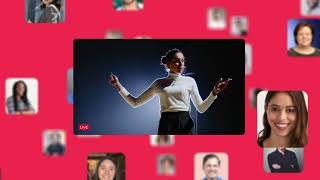 Kaltura Video Platform Preis
Kaltura Video Platform bietet eine Gratisversion und eine kostenlose Testversion.
Preisinformationen:
Kaltura offers the broadest range of deployment options. You can sign-up for fully hosted Software-as-a-Service offering, or self-host the video platform behind your firewall, or on the cloud. Kaltura offers on-premise edition under both a commercial licenses as well as under an AGPL license (Kaltura Community Edition). For more information about prices, contact sales.
Kostenlose Testversion:
Ja
Alternativen für Kaltura Video Platform
Kaltura Video Platform Erfahrungen
Branche: Forschung
Unternehmensgröße: 501-1.000 Mitarbeiter

Wöchentlich

für

6-12 Monate

genutzt
Quelle der Bewertung
Preis-Leistungs-Verhältnis
4
---
Awesome features for screen captures
I like what the software does, it just seems to be slow when posting videos.
Vorteile
I like all the features that come with the screen capture capabilities. It allows recording from multiple different cameras and can even let you jump through the video when the lecture slide has changed.
Nachteile
It takes forever to upload once the recording has finished. I'm not sure what kind of processing has to take place here, but I often can't access videos for hours after the recording has finished.
Branche: Bildungsmanagement
Unternehmensgröße: 5.001-10.000 Mitarbeiter

Täglich

für

Mehr als 2 Jahre

genutzt
Quelle der Bewertung
Preis-Leistungs-Verhältnis
3
---
Kaltura - Great Experience for the End User - Horrible Experience for a Systems Admin
Kaltura is a valuable tool that integrates wonderfully with Canvas LMS. We have it set up for Teachers and Students to upload and publish videos. Kaltura has also launched In-Video Quizzing, so students watch a portion of a video, and then are prompted to answer a quiz question before they're able to continue watching. This interaction is awesome.
Kaltura's customer service, however, is horrendous! Out of all of the technologies I manage for Utah Valley University, Kaltura is by far the worst at responding to emails and fulfilling customer requests. For example, I sent an email to their customer support account and cc'd our customer success manager and technical rep over a month ago, using the instructions provided on their site, and have yet to receive any response.
Also, the Kaltura Management Console (KMC) is all Flash based. It's 2016. Seriously. Update the KMC.
Vorteile
Great product for end users, especially the integration with Canvas LMS.
Nachteile
Customer Support is the absolute worst. And the KMC is Flash based.
Branche: Bildungsmanagement
Unternehmensgröße: 5.001-10.000 Mitarbeiter

Weitere

für

1-5 Monate

genutzt
Quelle der Bewertung
Preis-Leistungs-Verhältnis
1
---
Kaltura is the worst product I have ever used
My overall experience with Kaltura has been horrible. I will never use it again.
Vorteile
I will never use Kaltura again, this is my 6th try using the software and I find it impossible.
Nachteile
Kaltura needs some sort of software update to improve functionality, it is probably the most clunky software I have ever used. Examples of issues I have had with Kaltura include: recording lectures for a class - as I am recording a lecture the software will just quit. When I try to reopen the software to see if the recording saved it will not re-open. It unexpectedly quits regularly. I also has an issue with editing videos. This software and its integration into Canvas is beyond slow to the point of not functional.
Branche: Informationstechnologie & -dienste
Unternehmensgröße: 10.000+ Mitarbeiter

Weitere

für

Mehr als 2 Jahre

genutzt
Quelle der Bewertung
Preis-Leistungs-Verhältnis
5
---
Record your meetings with Kaltura Capture space recorder
easy to record the meetings for future reference and has inbuilt feature to pause/start and upload the recording to the enterprise servers
Vorteile
Very easy desktop application. 1 click recording of meetings with audio and video and screen recording. Clarity is best and can be directly uploaded to the server from the application itself
Nachteile
Desktop application is little bit heavy so you need a good configuration machine in order to use it or else you want be able to use your machine properly as it will slow down the machine
Antwort von

Kaltura

Thank you so much for the positive review, Gaurav!

We love to read how customers enjoy our solutions.

Regarding the speed of your system, I recommend you contact our help desk to give us more details and discuss the specifics of your issue. Maybe together we can find a solution.

Again, thank you for awarding us 5 stars across the board.

All the best!

The Kaltura team

Beantwortet am 3.8.2021
Branche: Hochschulbildung
Unternehmensgröße: 5.001-10.000 Mitarbeiter

Wöchentlich

für

6-12 Monate

genutzt
Quelle der Bewertung
Preis-Leistungs-Verhältnis
0
---
Enhance Your Online Classroom Experience with Kaltura
This tool has been useful in providing an easy to use interface to record live sessions, welcome announcements, discussion posts, and provide media enhanced student feedback.
Vorteile
I love the convenience of Kaltura Video Platform because it is built into my university's learning management system (Blackboard), which does not require downloading any external tools. I like the functionalities of video with screen share capture, audio and webcam recording within an easy to use platform. Also, this platform allows you to upload and store media into your repository to later use across any of your online courses.
Nachteile
I have experienced technical issues while using the video capture appliance (Personal Capture). For example, after recording, the media library pops up and then my screen would freeze for a length of time. I would switch browsers and enable Adobe Flash, but was unsuccessful. So, I often use a different recording device and use Kaltura Video Platform to upload, edit, and store my media.