Über JumpCloud Directory Platform
JumpCloud Directory-as-a-Service ist eine IT-Management-Software, mit der Unternehmen jeder Größe Geräte oder Workstations wie Windows, MacOS und Linux verwalten und auf IT-Ressourcen und Nutzeridentitäten zugreifen können. Die Lösung bietet eine zentralisierte Identität, mit der Admins Systemsicherheitsrichtlinien, Multi-Faktor-Authentifizierungsprozesse und öffentliche SSH-Schlüssel verwalten können. Fachkräfte können das Selfserviceportal nutzen, um Befehle auf mehreren Servern auszuführen, die Dateispeicherinfrastruktur zu steuern und Nutzer als Einzelperson oder Teil von Gruppen zu verwalten. JumpCloud Directory-as-a-Service bietet Single-Sign-On-Funktionen für den Zugriff auf verschiedene Anwendungen wie Slack, Zendesk, Meraki, GitHub, Dropbox und weitere. Darüber hinaus können Führungskräfte die Aktivitäten der Mitarbeitenden über mehrere Endpunkte hinweg überwachen. JumpCloud Directory-as-a-Service bietet eine API, mit der Unternehmen das System in verschiedene Drittanbieteranwendungen wie G-Suite, Azure Active Directory, Workday und andere integrieren können. Das Produkt ist als Monats- oder Jahresabonnement erhältlich. Der Support erfolgt über FAQs, Wissensdatenbank, E-Mail und andere Onlineressourcen.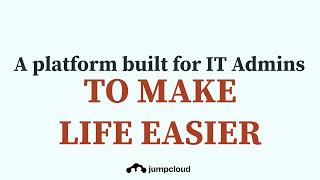 JumpCloud Directory Platform Preis
JumpCloud Directory Platform bietet eine Gratisversion und eine kostenlose Testversion. Die kostenpflichtige Version von JumpCloud Directory Platform ist ab 3,00 $/Monat verfügbar.
Alternativen für JumpCloud Directory Platform
JumpCloud Directory Platform Erfahrungen
Branche: Computer-Vernetzung
Unternehmensgröße: 2–10 Mitarbeiter

Täglich

für

6-12 Monate

genutzt
Quelle der Bewertung
Preis-Leistungs-Verhältnis
3
---
Pricey but Worth it to the Right Organizations
With the move to the Cloud for so many applications and the move to the home for so many workers, Active Directory doesn't make sense for the typical organization. Based on trust of devices and better suited for office-centric installations, the "Zero Trust" aspect of JumpCloud allows you to free the users from the office network and safely access corporate data from anywhere with a high degree of security and control.
Vorteile
Powerful features allowing you to integrate Single Sign-On and develop a platform for frictionless access from any device to any resource. It gives me as an MSP (Managed Service Provider) the ability to manage access security from a single cloud-based platform.
Nachteile
Pricing can add up quickly, and a prospective user should carefully plan out your implementation strategy so you can look at their different pricing scenarios and not overbuy. Also, there is weakness in the strategies for security revolving around password resets and for lost/stolen mobile devices.
Branche: Computer-Software
Unternehmensgröße: 51–200 Mitarbeiter

Täglich

für

6-12 Monate

genutzt
Quelle der Bewertung
Preis-Leistungs-Verhältnis
5
---
Look out Microsoft AD...
I was hired into my organization to bring on a directory platform and consolidate our IT practices among users and computers. I came from a microsoft active directory shop, but my new company was not interested in AD. That was a seemingly tall task, until I found JumpCloud. I thoroughly enjoy coming into work and using jumpcloud to build the next era of our IT practices and procedures. We are primarily focused on SSO at the moment, and that is proving to be very simple to configure. I am looking forward to getting devices managed with JC in the next coming months using their pre-defined policies, as well as their command runner feature and powershell module. JumpCloud will soon be a serious competitor to Microsoft's admin suite, and I am very happy to be on board.
Vorteile
SSO integrations are incredibly easy to configure, no matter if you are using a prebuilt configuration or need to make a custom connector. Having SSO, LDAP, Radius, MFA in the same platform as device authentication and configuration policies is something I have not found outside of Microsoft AD and JumpCloud. There are remote management and monitoring tools out there that claim to do these things, but so far JumpCloud has proven to be incredibly simple. I am constantly amazed that my tests just work within the first few tries. I am used to Microsoft environments where testing gets very tedious and gives minimal feedback on how to make things work. JumpCloud supports MacBooks like a champion. If your office is heavily invested in MacBooks, and you are looking for an easy way to centrally manage authentication and hardening, JumpCloud is the tool for you. By far my favorite feature is "Submit an idea" right in the admin console. You get the sense that they really care about their admins and want to make a tool that is always getting better.
Nachteile
1) No nested user groups! I feel this is essential for identity and access governance.
2) The device policies that they have available cover a lot of the base security hardening needs, but I am excited to see just how much of the various supported OS jumpcloud will eventually be able to tap into. I would love to see JC mirror Active Directory Group Policies as much as possible, and continue to get more configurations added for MacOS.
3) iOS and Android devices are not able to be managed by JumpCloud, but I have been told this is coming by the end of 2021/early 2022.
4) Only TOTP MFA is supported for the admin console, and after getting SSO set up on a lot of tools the pain of that is getting to me, but I know they are working on this feature as well.
5) I personally believe that a remote desktop tool would make JumpCloud the king of IT tools.
Warum JumpCloud Directory Platform gewählt wurde
The criteria for my search was an IDP for SSO. Device management was a nice-to-have, down-the-road goal, and Microsoft AD was off the table. After finding JumpCloud it was a breeze to convince my higher-ups that Device Management could and should be a top priority along with identity and SSO. We were using Jamf for Macs, and had no central management for Windows devices. With jumpcloud those are all in one place.
Gründe für den Wechsel zu JumpCloud Directory Platform
Simple: Identity, access, device management all in one platform. Okta - only Identity. If you want to manage devices you need to integrate another platform. We wanted one tool. Jamf - No Windows support, no identity or access management. Google Workspace - No laptop support. Workspace One - Not an actual identity provider, device management was not as simple as JumpCloud. Kaseya - Clunky, heavily dependent on computers being tied to a domain, which we don't have.
Branche: Telekommunikation
Unternehmensgröße: 51–200 Mitarbeiter

Täglich

für

1-5 Monate

genutzt
Quelle der Bewertung
Preis-Leistungs-Verhältnis
4
---
Happy with our decision
Great!
Vorteile
The features seem straightforward, and I have heard no complaints from the users and security engineers.
Nachteile
I'm not entirely clear what it does, but maybe that's the point? It's supposed to work without hindering day to day activities.
Branche: Computer-Vernetzung
Unternehmensgröße: 2–10 Mitarbeiter

Täglich

für

Mehr als 2 Jahre

genutzt
Quelle der Bewertung
Preis-Leistungs-Verhältnis
5
---
JumpCloud allows you to easily set up directory access for remote users
JumpCloud made a usually complicated process simple. That makes it easy to recommend.
Vorteile
We needed to set up a Radius Server for remote authentication and authorizations. JumpCloud allowed us to set this up in a matter of minutes.
Nachteile
Setting up a list of allowed Radius Clients was counter intuitive. You're asked to enter the IP's of Radius SERVERS, but they mean Radius CLIENTS.
Branche: Finanzdienstleistungen
Unternehmensgröße: 201–500 Mitarbeiter

Täglich

für

Mehr als 2 Jahre

genutzt
Quelle der Bewertung
Preis-Leistungs-Verhältnis
5
---
Satisfied Jumpcloud Organization
We have had a very positive experience. From the onset, we have had great customer support throughout. The customer success teams and engineering teams have all been responsive, and it is clear that they care about the voice of the customer. Our inquiries are responded to quickly, and we are kept in the loop on a monthly basis, or more frequently if necessary, of any changes and what the roadmap looks like.
Vorteile
Jumpcloud has provided us with a full DaaS solution which we were able to scale easily, and have seen the benefits versus our prior environment. We are able to implement policies and enhance our security posture very easily by utilizing Jumpcloud. The SSO integration is a great feature which is included in the standard plan, and allows us to save money and resources on having an additional solution in our tech stack. The ability to manage all users and endpoints through the console allows for streamlined processing of requests through our Sys admin team.
Nachteile
I don't like the lack of readily available reporting which can be generated directly from Jumpcloud. The data is all there, and we can get it through various extracts, but I would like to see some high quality embedded reporting with the ability to share and customize reports. I also want to see more integration with services like Slack.