Über Teamwork
Teamwork ist eine cloudbasierte Projektmanagementlösung, die Unternehmen Funktionen zur Verwaltung verschiedener Vorgänge eines Projekts bietet. Zu den Funktionen zählen Aufgabenlisten, Zeiterfassung, Datei-Uploads und Nachrichten. Teamwork hilft Teams bei der Verwaltung von Gruppenzielen, der Kommunikation und der Etablierung von Geschäftsprozessen. Mit der Projektplanungsfunktion von Teamwork kann das Projektmanagement Projektaufgaben definieren, sie Personen zuweisen und laufende Aufgaben verfolgen. Die Lösung bietet auch Dokumentenmanagement, mit dem Nutzer Dokumente innerhalb des Teams über ein Online-Portal freigeben können. Mit der Kundenabrechnungsfunktion können Nutzer Rechnungen basierend auf geleisteten Arbeitsstunden und angefallenen Ausgaben erstellen. Dashboards bieten Einblick in die Projektziele, während die Funktionen für die Projektkollaboration die Kommunikation über mobile Geräte ermöglichen, sodass Teammitglieder und das Projektmanagement die Projektausführung aus der Ferne überwachen können. Teamwork kann in Anwendungen wie FreshBooks, Dropbox, Google, Box und weitere integriert werden. Die Dienstleistungen werden auf monatlicher Abonnementbasis angeboten, einschließlich Support über Telefon, E-Mail und FAQs.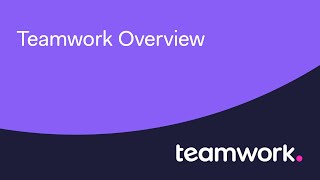 Teamwork bietet eine Gratisversion und eine kostenlose Testversion. Die kostenpflichtige Version von Teamwork ist ab 12,50 $/Monat verfügbar.
Startpreis:
12,50 $/Monat
Kostenlose Testversion:
Ja
Alternativen für Teamwork
Branche: Marketing & Werbung
Unternehmensgröße: 2-10 Mitarbeiter

Täglich

für

Mehr als 2 Jahre

genutzt
Quelle der Bewertung
Preis-Leistungs-Verhältnis
5
---
We tried everything - And love Teamwork Projects
We tried literally everything we could find in the market place for Project management software. We switched from Basecamp originally and the big push for us was the TimeTracking with tasks that could be brought into invoices. I know Freshbooks has that feature too, but freshbooks doesn't have project management in the way that we needed that total collaboration environment.
We looked at Monday.com too recently but since we have full buy-in on Teamwork I don't think we are in a place to switch and a lot of the features and pricing just don't make sense. That is where I think Teamwork has really cornered the niche well in terms of pricing and features.
Vorteile
Gantt charts
Tasks
Task Creation
Inviting Clients into the space
TIME TRACKING!
Nachteile
User interface was updated but could be better, especially when compared to Monday.com
Antwort von

Teamwork.com

Hey Adam,

Thank you for your wonderful review of Teamwork Projects! Five stars and a 10/10?! All our Monday morning dreams are coming true!

We are delighted that you are enjoying the software, and that it has filled that gap in your Marketing Stack! We also love the time tracking features, it was an important one for us to get right - we are glad that you agree!

Another great thing about Teamwork is our support team - should anything ever come up in your use of the software! They are coffee fuelled problem solvers - what a fantastic combination! You'll find them over at [email protected]

Have a great day!
Nancy at Teamwork :)

Beantwortet am 11.11.2019
Branche: Internet
Unternehmensgröße: 1.001-5.000 Mitarbeiter

Täglich

für

Mehr als 2 Jahre

genutzt
Quelle der Bewertung
Preis-Leistungs-Verhältnis
4
---
Teamwork improves project and task management
Our group is more efficient, task-oriented, and collaborative when we work together as a team. It's ideal for companies with a large workforce. As a result of its ease of use and adaptability, it's ideal for usage by a wide range of organizations. It's great that we can contact with the vendor via Outlook and the tool keeps track of what we say. On top of that, we've got all of the project files saved on the server.
Vorteile
This software's user interface is well-designed and simple to operate. Reports, calendars, and Gantt charts may all be created. This program allows us to work with a variety of file types. All members of the team will be able to more readily communicate with each other thanks to this program.
Nachteile
I have seen better user interfaces in other products, but this one falls short. While getting acclimated to the UI takes some time, managing and controlling project activities becomes much simpler once you have.
Branche: Internet
Unternehmensgröße: 2-10 Mitarbeiter

Täglich

für

Mehr als 1 Jahr

genutzt
Quelle der Bewertung
Preis-Leistungs-Verhältnis
1
---
Predatory Billing Practices - Avoid like the plague
They do their predatory billing near Christmas hoping you won't notice the massive charge or your team will be on vacation. Everything about what they do is deceptive and dishonest. I spent $700 with them and I would have been happy to keep paying them some small amount according to how much I use the service, but after downgrading and then suddenly being billed $1200 I am appalled. Then they have no customer support ability to refund. No other service I use operates this poorly. Even my cable internet provider can refund a mistaken charge. No notification, no approval, just $1200 out of nowhere.
Vorteile
It was fine to use for a year. It can be a bit slow and clunky. It can be hard to find thing and there are more ways to use it than necessary. It probably has too many features, but it gets the job done once you figure it out. I would say it's adequate.
Nachteile
The billing is way off in nightmare land. It's just fraud how they bill. They say it's pro-rated but they actually charge you ahead of time for use you haven't used yet. This is not how pro-rated works. Pro-rated means you pay for what you use. What they do is the opposite. Then they will count the highest number of users you had during the year concurrently or not and create a charge for you for a year in advance without notifying you first. Then their policy is no refunds. So what happens is you suddenly get a bill for $1200 when you only have 2 users, which you expect to be like $20 / month at most. Their customer support is useless. So you are paying in advance for something you didn't ask for and won't use and they won't just refund it. This should be an automatic easy refund for them. They lose nothing by refunding you for a service they have not provided yet, so it seems their policy is just to trap people and drop massive bills on them and hope they pay them.
Gründe für den Wechsel zu Teamwork
Recommended by a friend.
Branche: Marketing & Werbung
Unternehmensgröße: 11-50 Mitarbeiter

Täglich

für

6-12 Monate

genutzt
Quelle der Bewertung
Preis-Leistungs-Verhältnis
3
---
Great for tasking, mediocre to terrible at everything else
Teamwork excels at tasking and basic project management, but don't count on it for any company or portfolio insights and/or big picture views.
This is a good tool for small teams that worry about pipeline and traffic control but not for large interconnected teams that require account management, efficiency evaluation or budget oversight.
Vorteile
The UI is very intuitive and clear.
Actions around tasks have short paths to complete and work well.
The features for tasking are useful and easy to work with.
The knowledge base covers almost every topic and support is responsive, friendly and helpful.
Nachteile
The reporting tools are basically non-existent and any historical evaluation of data almost impossible.
Teamwork does not distinguish or allow to filter for late tasks historically, which means once a task/milestone is completed it becomes impossible to tell if that task was late or on time.
This makes tracking efficiency and employee performance impossible as we do not know if tasks are on time in general and where the bottleneck lie.
Similarly not being able to construct dashboards and manipulate data around time, late tasks, etc. for teams rather than projects hampers decision-making.
Compared to something like Celoxis or even Jira which for example allows to compare any data with custom scripts etc, Teamwork feels incredibly inflexible and dated to have to export excel sheets to manipulate and evaluate data.
Our account managers are not able to find out if they are doing good or not on a specific account as data can not really be filtered and displayed that way either.
Warum Teamwork gewählt wurde
Tool incompatible with teams.
Gründe für den Wechsel zu Teamwork
Cost and team buy-in
Antwort von

Teamwork.com

Hi Sophie,

Thanks for your review of Teamwork.

We apologise for the issues you have experienced with our product. Could you email us at [email protected] so we can try resolve these problems?

Kind regards,
Karen at Teamwork

Beantwortet am 29.1.2021
Branche: Pharmazeutika
Unternehmensgröße: 11-50 Mitarbeiter

Täglich

für

Mehr als 1 Jahr

genutzt
Quelle der Bewertung
Preis-Leistungs-Verhältnis
3
---
Great tool. Need to be able to customize notifications a little better
Vorteile
The different styles of project management are all captured here. You can use board view, gantt view, task view. Love the reminders you can set for tasks.
Nachteile
Wish the 'my tasks' feature was more distinctly displayed. I also wish you could make tasks 'related' without linking them by dependencies. Some info gets lost in closed tickets.
Warum Teamwork gewählt wurde
Jira is better for dev, Teamwork is better for project management
Zuvor genutzte Software
Jira