Über HoneyBook
HoneyBook ist eine cloudbasierte CRM-Lösung für kleine und mittlere Unternehmen. Die Lösung hilft Nutzern, Geschäftsprozesse von der Anfrage bis zur Rechnungsstellung zu verwalten. Mit HoneyBook können Nutzer Projekte verwalten, Kunden buchen, Verträge online unterzeichnen, Rechnungen senden und Zahlungen abwickeln. HoneyBook bietet ein Aufgabenmanagement, mit dem Nutzer verschiedene Phasen eines Projekts anzeigen und verfolgen können. Nutzer können ihre Rechnungen, Verträge und andere Dokumente an einem Ort aufbewahren. Nutzer können mit automatisierten Terminanforderungen und Follow-ups über personalisierte Vorlagen und Benachrichtigungen auf Kunden reagieren. Darüber hinaus können automatisierte Zahlungserinnerungen gesendet und projektbasierte Aufgabenerinnerungen erstellt werden. HoneyBook lässt sich in Tools wie QuickBooks, Calendly, Zapier, Gmail und Google Kalender integrieren. HoneyBook bietet seine Dienste im Rahmen eines monatlichen Abonnements an. Die Lösung bietet eine mobile Anwendung für Android- und iOS-Nutzer. Der Support erfolgt über E-Mail, ein Online-Helpcenter, ein Community-Forum und das Telefon.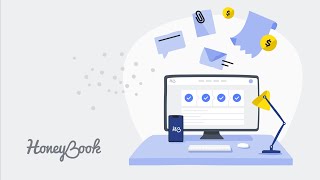 HoneyBook bietet keine Gratisversion, aber eine kostenlose Testversion. Die kostenpflichtige Version von HoneyBook ist ab 39,00 $/Monat verfügbar.
Startpreis:
39,00 $/Monat
Kostenlose Testversion:
Ja
Alternativen für HoneyBook
Branche: Rechtsberatung
Unternehmensgröße: 2-10 Mitarbeiter

Täglich

für

Mehr als 2 Jahre

genutzt
Quelle der Bewertung
Preis-Leistungs-Verhältnis
5
---
The Best Client Management Resource-- goes beyond normal software
Before I used HoneyBook, I had tried several other client management platforms. All of them were clunky, and often I'd have to hunt around for things in the interest of the app developer's attention to folders and organization. What a mess! I'm so glad I switched to HoneyBook. They've consistently made product improvements and seem to really care about their customers. It gets easier and more fun to use every day, with just enough features to accomplish what I need without overwhelming me. I highly suggest this to anyone who is managing multiple clients, especially if you have client projects that tend to go dormant for awhile then pick back up.
Vorteile
I love how easy it is to use, and how amenable the HB team is to updating the software if you have a feature request or complaint. It provides very visual, easy user prompts that allow me to easily accomplish what I need in a fraction of the time of other software apps I've tried.
Nachteile
It's annoying that I can't delete the default emails that came with my account to replace them with my own workflow, so myself or a team member doesn't get confused with their suggested emails vs. the ones I actually want to use.
Antwort von

HoneyBook

Christina, thank you for you being a HoneyBook member! We are so happy to hear that HB allows you to manage your clients in a fraction of time of other systems! Our Product Team works hard to consistently meet and exceed our members expectations. Thank you for the feedback on the default email templates. I will share with our team. Incase you didn't know, you can edit the default templates text and format to meet your needs.

Beantwortet am 23.9.2019
Branche: Unterhaltung
Unternehmensgröße: Selbstständig

Täglich

für

Mehr als 2 Jahre

genutzt
Quelle der Bewertung
Preis-Leistungs-Verhältnis
5
---
CRM Made Simple, Slick , and Seamless
HoneyBook truly helped me "level up" my business in nearly every area. The integrations, automation, templates, and payment processing systems all stand out both to me and my clients.
Vorteile
HoneyBook's "Pipeline" feature makes tracking inquiries, keeping up with contracting and following up after events nearly effortless. The power to automate these steps in the process while still being able to customize the automation allows me to keep my client interactions prompt, professional, and most importantly - personal. Email reminders keep me on top of my inbox, and templates turn once-tedious processes into a breeze. HoneyBook's client-facing side is deeply customizable and helps me maintain a professional aesthetic even when I'm drowning in the background.
Nachteile
HoneyBook shines for many industry professionals but isn't without a few details in need of improvement. Uploading files to customize templates can be difficult due to the restrictions placed on file types and sizes. Businesses with more non-traditional models may also find HoneyBook difficult to customize to meet their needs.
Branche: Gesundheit, Wellness & Fitness
Unternehmensgröße: 2-10 Mitarbeiter

Täglich

für

1-5 Monate

genutzt
Quelle der Bewertung
Preis-Leistungs-Verhältnis
1
---
Buyer BEWARE! Poor Customer Service/Racial Inequality
Very insulting. I invested a lot of my time and energy into researching this software and felt it met the need I was trying to address for an additional division we are establishing with my company. An unsolicited internal situation occurred in which the staff at Honeybook was clearly at fault. As opposed to utilizing the philosophy of 'the customer is always right or even considering my point of view, they immediately justified the racist actions of their staff, confirmed she was following protocol, and terminated our relationship. I respect their right to do so, but I was completely blind-sided as EVERYTHING offensive was done TO ME by their internal staff. Also, the harsh, dismissive, condescending mannerism used towards me was so offensive it disrupted the rest of my day.
Vorteile
None. Their marketing campaign is not transparent. All customers are NOT treated equally.
Nachteile
Unfortunately, in almost 2023, this is one of the only companies in my professional experience I've ever experienced racial bias. They went out of their way to offend me and as a privately-owned company, I guess they have it as a right, but I think the diverse demographic should be aware prior to spending money with this company.
Branche: Fotografie
Unternehmensgröße: Selbstständig

Täglich

für

1-5 Monate

genutzt
Quelle der Bewertung
Preis-Leistungs-Verhältnis
5
---
Best I've Used So Far
Overall it has been a Godsend. I am feeling much better about how I manage my business with Honeybook.
Vorteile
I love using Honeybook! I've tried a couple other CRM softwares, and this one is by far the easiest to deploy and keep me on track. It is logical and feels easy to use, which has kept me using it rather than reverting to inefficient paper tracking. The customer service has been great: always quick and friendly to answer questions and help me through something I didn't understand. I would highly recommend Honeybook to anyone.
Nachteile
The calendar sync is sometimes glitchy, but that could also be user error. One thing that would make it better would be an easy way to override when I am considered "busy" on my Google Calendar that syncs in. I'd also love to have SMS communication with my clients, but rumor has it they are working on this.
In Betracht gezogene Alternativen
17hats
Warum HoneyBook gewählt wurde
Zoho was just too confusing - I love that it's one big suite to manage Social, and Website, and Accounting, and CRM, and washes my windows...but it was overwhelming, and to have someone help me set it up would require an additional subscription. Studio Cloud was just clunky. I may not have given it enough effort, but it just wasn't quite there for me.
Branche: Fotografie
Unternehmensgröße: Selbstständig

Wöchentlich

für

Mehr als 2 Jahre

genutzt
Quelle der Bewertung
Preis-Leistungs-Verhältnis
5
---
Honeybook is my all in one project management software!
Excellent customer service, affordable and reliable. I love honeybook and trust them with my business projects.
Vorteile
I can integrate calendly and google calendar making scheduling and booked events easily and always up to date. Emails, payments, questionnaires etc are all kept together for each project.
Nachteile
It is a lot to set up in the beginning but way worth it. It saves so much time in the long run with workflows and saved templates.