Über Zoho Invoice
Zoho Invoice ist eine zu 100 % kostenlose cloudbasierte Fakturierungslösung, die kleinen Unternehmen bei der Rechnungsstellung, der Verfolgung von Ausgaben und der Annahme von Online-Zahlungen hilft. Zu den wichtigsten Funktionen gehören Projektabrechnung, Zeiterfassung, Berichterstattung, anpassbare Vorlagen und ein Kundenportal. Teams, die Zoho Invoice verwenden, können Kostenvoranschläge verfolgen, sie in Rechnungen konvertieren und Erinnerungen an Kunden senden, damit sie ihre ausstehenden Zahlungen tätigen. Darüber hinaus können Nutzer Aufgaben erstellen, Vorauszahlungen für Projekte einziehen und ihre Rechnungshistorie verfolgen. Die Lösung ist in 17 Sprachen verfügbar: Arabisch, Bahasa-Indonesisch, Bulgarisch, Kroatisch, Niederländisch, Englisch, Französisch, Deutsch, Italienisch, Japanisch, Koreanisch, Chinesisch (vereinfacht), Portugiesisch, Spanisch, Schwedisch, Thai und Vietnamesisch. Die Lösung lässt sich in verschiedene Drittanbieteranwendungen wie Slack, Office 365, Google Workspace und andere integrieren. Zoho Invoice erfüllt die Anforderungen von Unternehmen jeder Größe, insbesondere von kleinen Unternehmen. Die Lösung bietet eine effiziente Fakturierungslösung zum Erstellen und Versenden professioneller Rechnungen in Minutenschnelle. Vorteile der Verwendung von Zoho Invoice: 1. Verwaltung von Kunden- und Artikelinformationen 2. Nahtlose Rechnungsstellung 3. Zeiterfassung 4. Zahlungseinzug 5. Kosten-Verfolgung 6. Kundenportal 7. Berichte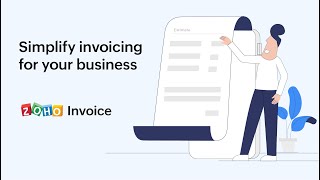 Zoho Invoice bietet eine Gratisversion, aber keine kostenlose Testversion. Die kostenpflichtige Version von Zoho Invoice ist ab N/A verfügbar.
Kostenlose Testversion:
Nein
Alternativen für Zoho Invoice
Branche: Informationstechnologie & -dienste
Unternehmensgröße: 501-1.000 Mitarbeiter

Täglich

für

Mehr als 2 Jahre

genutzt
Quelle der Bewertung
Preis-Leistungs-Verhältnis
5
---
Zoho Invoice: Invoicing on the go...
Zoho Invoice is gamechanger tool for invoicing. Quick and easy to create invoice. Variety of available invoice templates to choose from.
Free of Cost available. Very convenient for freelancers and small businesses.
Vorteile
Zoho Invoice helps in creating invoice anywhere and anytime. Following are the key features of Zoho Invoice:
- Zoho Invoice is a free tool
- Variety of available templates and formats
- Easy to collaborate with team to create and manage invoices
- Easy payment reminders to customers
- Mobile applications are also available
- Track and Trace time and expenses
- Great support from the Zoho Support Team
Nachteile
The is nothing to dislike about Zoho Invoice. Zoho Invoice is a great tool available for free.
Branche: Marketing & Werbung
Unternehmensgröße: Selbstständig

Wöchentlich

für

Mehr als 1 Jahr

genutzt
Quelle der Bewertung
Preis-Leistungs-Verhältnis
5
---
Great value
Overall I love Zoho Invoice simply because of how effectively they automate the process of sending invoices and collecting payment. It saves me so much time every month and is worth every penny.
Vorteile
I needed an invoicing system that could send recurring invoices. I was spending too much time every month manually creating invoices, and would often send them out late, which meant I'd get paid late. Of all the options I researched (there were a lot) Zoho had the most features for the lowest price. Set up was easy, and they keep adding new features that are included with my subscription. They even have automatic reminder emails you can have sent to clients who are late in paying. This happens so often in my industry, that this feature has actually helped me collect my payments faster, without me having to spend time trying to get paid.
I also love that as my business grows, Zoho has so many other products that I could add to my Zoho dashboard. I've also noticed that most of the other 3rd party programs I use have options to connect to Zoho.
Nachteile
Their customer support is a bit slow. There's a new feature they've rolled out that I'd like to use, but there's not much documentation about it. I reached out a few days ago for help and still haven't heard back. It would be nice if step by step instructions were easy to find for their new features.
Gründe für den Wechsel zu Zoho Invoice
Zoho offered the cheapest price for the feature of sending recurring invoices. After using this program, I've seen there are many other handy features that come along with their low rate. Because it also connects to so many 3rd party programs, I don't foresee switching to another company for quite some time.
Antwort von

Zoho

Hi Julieanne,

Thank you for taking the time to review us! We're glad to hear you were able to streamline your invoicing and payment collection processes.

Regarding your feedback on the documentation, it would be very helpful if you could share more details. Please feel free to drop an email to [email protected]

Regards,
Harikrishna
The Zoho Invoice Team

Beantwortet am 29.2.2020
Branche: Krankenhausversorgung & Gesundheitswesen
Unternehmensgröße: 5.001-10.000 Mitarbeiter

Täglich

für

Mehr als 2 Jahre

genutzt
Quelle der Bewertung
Preis-Leistungs-Verhältnis
4
---
Excellent billing tool with good price and support
The fact that all the greatest and most helpful products can be found in a single location is the standout feature of the Zoho offering. It helps us save both time and money while also making our job easier and more pleasant.
Vorteile
This application makes it possible to collaborate on projects without the risk of confidential data being compromised, which makes it the ideal tool for my company's small business. This is a service that earns five stars from me.
Nachteile
It is a significant drawback and adds a lot of extra work for me to have to pay for each person after I have already signed up. I constantly get stopped while paying, and the procedure is a little bit sluggish. It has a sensation of danger.
Branche: Immobilien
Unternehmensgröße: 51-200 Mitarbeiter

Monatlich

für

Mehr als 1 Jahr

genutzt
Quelle der Bewertung
Preis-Leistungs-Verhältnis
3
---
good software - some useful features
Overall it got the job done with creating invoices but we ultimately cancelled the subscription. It was too expnesive for what it was and we just started doing invoices through Word or Excel. If you have the entire suite I could see why some businesses love and succeed with Zoho.
Vorteile
we used this software mostly to create intercompany and corporate invoices to vendors. I liked how you can set them up on a recurring basis, customize recipients and the look of the invoice and that you could access on your mobile device.
Nachteile
didn't integrate with our main accounting software so it was a lot of double entry. I also didn't like how every part of Zoho was a different section and product and price. For just Zoho invoice it was expensive and confusing for some users, being unable to use other parts of the system
Gründe für den Wechsel zu Zoho Invoice
At the time we just needed the invoice feature so it was easier and cheaper to set up than others.
Antwort von

Zoho

Dear Nicholas,

Thanks for taking the time to share your feedback.

We understand that you felt the product to be expensive and that some of your users found it could be more intuitive. Sorry about that. If you are ready to give us a chance, we are happy to schedule a call, know your requirements and suggest the best plan.

We believe the import/export functionalities and our REST APIs could help you with pushing the data to your accounting platform. Just drop an email to [email protected] and we shall get in touch with you.

We would love to have you back with us!

Regards,
Harikrishna
The Zoho Invoice team

Beantwortet am 28.10.2019
Branche: Krankenhausversorgung & Gesundheitswesen
Unternehmensgröße: 5.001-10.000 Mitarbeiter

Täglich

für

Mehr als 1 Jahr

genutzt
Quelle der Bewertung
Preis-Leistungs-Verhältnis
5
---
Zoho Invoice has been a wonderful and superb experience for me
So that I can capture clients at the exact time they are ready to on-board, Zoho's phone app and website interface flawlessly, allowing me to produce booking deposit invoices while on the go. Once I've set up all of my templates, sending an invoice to a new client through email or SMS is as simple as a few clicks.
Vorteile
Invoicing and bookkeeping in a small business are a snap with Zoho. Because I can simply compile and print out all of my billing and revenue information from the year, I no longer have to worry about tax season. If you're in the market for a straightforward and easy-to-use invoicing system, I highly suggest Zoho. We had a few difficulties with help early on, but they've been fixed and the assistance has been excellent since.
Nachteile
When premium plans were removed, a free forever plan was introduced, however Zoho branding was applied to the papers, which was a downfall. Zoho Invoice could charge a modest price to remove branding or a note that users may produce free invoices like this.