Über Marketing 360
Marketing 360 ist eine cloudbasierte Marketingplattform, die sich sowohl für Einzelunternehmen als auch für kleine und mittlere Unternehmen eignet. Diese Lösung ermöglicht Unternehmen, Social-Media-Werbekampagnen durchzuführen, Suchmaschinenoptimierungsprogramme auszuführen und die digitale Marketingleistung zu analysieren. Die UXi-Website-Funktion von Marketing 360 hilft Nutzern, Webseiten mit Branding zu erstellen, die Call-to-Action-Schaltflächen enthalten. Darüber hinaus bietet das System Website-Vorlagen, die mithilfe von Drag-and-Drop-Funktionen angepasst und bearbeitet werden können. Die Natural-Listing-Ads-Funktion von Marketing 360 hilft Nutzern, organische Suchergebnisse zu verwalten, indem sie das Suchvolumen von Keywords und das Ranking verfolgt. Darüber hinaus analysiert die Plattform die SEO-Leistung der Konkurrenz mit denselben Schlüsselwörtern und teilt Echtzeitberichte, die organische Konversionsraten bieten. Mit Social Targeting Ads können Unternehmen Kunden auf der Grundlage von persönlichen Details wie Alter, Geschlecht, Standort und Interessen segmentieren und ansprechen.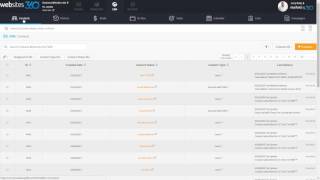 Marketing 360 bietet eine Gratisversion und eine kostenlose Testversion. Die kostenpflichtige Version von Marketing 360 ist ab 25,00 $ verfügbar.
Kostenlose Testversion:
Ja
Alternativen für Marketing 360
Marketing 360 Erfahrungen
Branche: Computer-Software
Unternehmensgröße: 1.001–5.000 Mitarbeiter

Täglich

für

Mehr als 1 Jahr

genutzt
Quelle der Bewertung
Preis-Leistungs-Verhältnis
0
---
Improves your marketing and sales rates.
I was introduced to Marketing 360 by a friend who had used their services prior to me. I was intrigued by the concept of their marketing services and was excited to have them work with me. At first, I was skeptical about the services they provided, as I had never heard of their company. After using their services, I was pleasantly surprised to learn that their services are actually very affordable, especially in comparison to other marketing companies. Their services are very affordable and effective.
Vorteile
I've done a lot of online marketing for the past 6 years but I've only recently discovered marketing360.com. I'm amazed at how much I've been missing out on, especially when it comes to email marketing. I'm new to marketing and this has been a wonderful resource. Through the email marketing program, I have built a mailing list of hundreds of contacts that are all interested in my products.
Nachteile
I have tried dozens, if not hundreds, of email marketing services over the years and have yet to find one that is more successful than Marketing 360. It has an easy-to-use interface, I really liked it in general and I didn't have any problems.
Branche: Bau
Unternehmensgröße: 11–50 Mitarbeiter

Täglich

für

Mehr als 2 Jahre

genutzt
Quelle der Bewertung
Preis-Leistungs-Verhältnis
5
---
Marketing 360 is the ultimate marketing tool to turbocharge your marketing experience
I have had a very worthwhile experience with Marketing 360. It provides me and my fellow marketing team a very robust and productive platform for spearheading our marketing activities using the modern digital marketing strategies so as to be guaranteed of better results and better performance of our marketing.
Vorteile
I like the pricing plan of Marketing 360. It offers a flexible and cost effective purchase plans where you can choose the one which works best for your needs. Also, it brings to your disposal very dedicated marketing success manager who helps you leverage the modern digital marketing strategies so as to help you achieve better results from your marketing. With features like Return On Investment (ROI), it makes it possible for you to make very informed decisions on where to put more emphasis on during marketing. It allows you to take your marketing activities to social media platforms which are commonly used meaning better chances of meeting potential leads and customers.
Nachteile
Absolutely nothing. All its features are very useful and reliable.
Branche: Bekleidung & Mode
Unternehmensgröße: Selbstständig

Täglich

für

1-5 Monate

genutzt
Quelle der Bewertung
Preis-Leistungs-Verhältnis
1
---
A Frustrating Journey with Marketing360: Promises Unfulfilled
I approached Marketing360 with high hopes and optimism, believing they would be the perfect solution to boost my business's online presence and increase customer engagement. Unfortunately, my experience with them has been nothing short of disappointing and frustrating. Four months into our partnership, I am left questioning the value of their services and the effectiveness of their promises.All I ever hear from Marketing360 is the same repetitive mantra: "Marketing takes time." They continuously try to reassure me that results will eventually come, but four months into our partnership - without ONE customer from their efforts, I can't help but feel like they aren't doing anything substantial to justify their claims. It's incredibly disheartening to invest my resources into a service that seems to offer no tangible progress or evidence of their efforts. Their excuses and empty promises of eventual success only serve to further erode my trust in their abilities. I expected a proactive and efficient team that would deliver on their commitments, not one that constantly makes me feel like I'm throwing my money into a void.
Vorteile
The website creation was a great start; however, I ended up doing most of the work with it once I figured out the program.
Nachteile
Everything other than the website development (the website shell - I did the rest), this has been a complete waste of money. So very disappointed.
Branche: Computer-Software
Unternehmensgröße: Selbstständig

Täglich

für

6-12 Monate

genutzt
Quelle der Bewertung
Preis-Leistungs-Verhältnis
4
---
A Comprehensive Review of Marketing 360
Our experience with Marketing 360 has been largely positive. The software has helped us solve various business problems, such as streamlining our marketing campaigns, tracking customer interactions, and analyzing campaign performance. As a result, we've realized numerous benefits, including increased efficiency, improved targeting, and better ROI.
Vorteile
One of the things I liked most about Marketing 360 is its wide range of features. The software offers a robust set of tools that are impactful for our business. Additionally, the product is incredibly user-friendly, making it easy for our team to navigate and utilize its functionalities. Integration with our existing business processes was smooth and hassle-free, saving us valuable time and effort.
Nachteile
While Marketing 360 has many strengths, there are a few areas that could be improved. We feel that certain features could benefit from further development or customization options. Additionally, there were a few aspects of the product that posed some difficulty during the initial stages of implementation. However, the support team was responsive and helped us overcome these challenges.
Branche: Grafikdesign
Unternehmensgröße: 2–10 Mitarbeiter

Wöchentlich

für

Mehr als 1 Jahr

genutzt
Quelle der Bewertung
Preis-Leistungs-Verhältnis
4
---
The complete solution for your digital marketing
Vorteile
As a user of Marketing 360, I was impressed with the ease of use of the software. The interface is easy to navigate and the features are well organized. Website creation is especially easy with the customizable templates and drag and drop functionality. Lead tracking is also very useful, as you can easily track prospects through the sales cycle.Marketing 360 also offers a full range of social media tools, including post management, paid advertising, and monitoring mentions of your business. SEO is also easy to manage with features like keyword optimization and rankings tracking.
Nachteile
It's important to note that Marketing 360's paid plans can be expensive, especially for small businesses with limited budgets. In addition, some advanced features may require the help of a marketing specialist to get the most out of them.Overall, I highly recommend Marketing 360 for businesses looking for a comprehensive solution for their online marketing. With comprehensive functionality and an easy-to-use interface, Marketing 360 is an excellent choice for growing your company's online presence.