Über InvGate Service Desk
InvGate Service Desk ist eine IT-Service-Management-Plattform, die Helpdesk-Anforderungsabwicklung, Kundenservice und Support sowie Selfservice-Wissensmanagement bietet. Das System ist mit Mac, Windows und iPad (oder anderen Tablets) kompatibel und kann direkt als On-Premise-Option oder SaaS mit einer wiederkehrenden Jahresgebühr erworben werden. Die Lösung lässt sich an die Bedürfnisse des Unternehmens anpassen. Mit InvGate können Nutzer Trouble-Tickets erstellen, erweiterte Berichte ausführen sowie Analysen anzeigen und Workflows automatisieren. Die Drag-and-Drop- und Drill-Down-Funktionalität ermöglicht es, dass Daten für alle Teammitglieder zugänglich sind. Die Lösung bietet Funktionen wie Ticketmanagement, Wissensdatenbank, Problemmanagement, Änderungsmanagement, Berichterstattung und Analysen. Das integrierte Analysetool verwendet den OLAP-Ansatz (Online Analytical Processing), um Daten und Informationen in Echtzeit bereitzustellen. InvGate bietet auch Web-Selfservice-Funktionen, sodass Mitarbeitende den Fortschritt von Trouble-Tickets verfolgen, die Wissensdatenbank durchsuchen und die Selbstauflösung für IT-Serviceanfragen fördern können. Support ist über ein Online-Portal und Telefon verfügbar.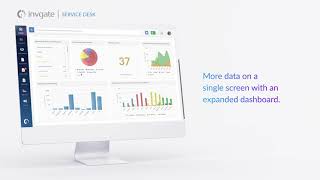 InvGate Service Desk Preis
InvGate Service Desk bietet keine Gratisversion, aber eine kostenlose Testversion.
Alternativen für InvGate Service Desk
InvGate Service Desk Erfahrungen
Täglich

für

Mehr als 2 Jahre

genutzt
Quelle der Bewertung
Preis-Leistungs-Verhältnis
5
---
The most flexible help desk software ever written. If you can think it, it will do it.
Ease of use. Ability to create multiple help desk divisions to keep service requests separated. One stop for our end. Great product.
Vorteile
Ease of use. We developed a short video and within minutes our end users were submitting help desk tickets. I am amazed how much information we can obtain from this software. The triggers and workflows are endless. Invgate support is phenomenal. "No" and "it can't" are not in their vocabulary. New feature development never ends. We have asked and they have created. One of the best choices we have ever made.
Nachteile
Active Directory integration is lacking features. I have submitted my ideas and what other programs are doing with AD and the Invgate team is working on it so this won't be a "Con" for long.
Branche: Import und Export
Unternehmensgröße: 201–500 Mitarbeiter

Täglich

für

Mehr als 2 Jahre

genutzt
Quelle der Bewertung
Preis-Leistungs-Verhältnis
0
---
Help Desk
In general is the best Help Desk i ever see. We could give more potencial, but is only a matter of time.
Vorteile
Easy use for the user.
Status of the tickets and who owns them works well.
Approvals and confirmations work very well.
The Report sistem of the tickets is very strong.
The solution's time system provide many information
The way to comunicate with user and managers makes a good comunication systema and the record helps to avoid misunderstandings.
Nachteile
There are some status that we dont understand
The configuration of the help desk and all the managment of tickets can be better
Export information of tickets is very dificult
The time reports arent the best, we have all in minutes, not hours.
So the SLA reports can be better
The dashboards are slow to configure, for example backlog tickets can´t be use with filters.
Antwort von

InvGate

Thanks for your taking the time to leave us a review! We are glad you are finding Service Desk helpful and overall are enjoying your experience working with InvGate. Our Customer Success team will reach out to help you with the issues you bring up.

Beantwortet am 22.7.2022
Branche: Bildungsmanagement
Unternehmensgröße: 501–1.000 Mitarbeiter

Täglich

für

Mehr als 1 Jahr

genutzt
Quelle der Bewertung
Preis-Leistungs-Verhältnis
3
---
I'm not very impressed with this software
I can track my service tickets by calling in and checking on them
Vorteile
I like the fact that it assigns a ticket number to your request and that you can use the ticket number to review your request even though you can only do it via phone call
Nachteile
it assigns multiple tickets that have no relation to each other to your service requests. And when you get a reply back via email that your service desk ticket has been submitted there's no references to what you called about so if you put multiple tickets and then you have no idea what your ticket was about
Branche: Krankenhausversorgung & Gesundheitswesen
Unternehmensgröße: 1.001–5.000 Mitarbeiter

Täglich

für

Mehr als 1 Jahr

genutzt
Quelle der Bewertung
Preis-Leistungs-Verhältnis
5
---
Our experience with the InvGate Service Desk has been excellent
I have been able to simplify many processes for our business and provide one place for our users to communicate with various departments within the business.
Vorteile
There are many things that I enjoy but the ability to customize the product to handle whatever situation our business has is a major pro. I have been able to setup tickets and workflows for many different departments within the business that helps simplify processes for them.
The gamification process adds a unique experience for our agents and allows for friendly competition.
The InvGate service desk also provides a better visual experience for our agents and end users compared with our previous product. It allows the agents to better tell what is happening with a quick view of the dashboards and the tickets assigned to them so they know what they need to work on.
Nachteile
I would like to see more built in templates for the badge system including icons that are built in as well. It would also be nice to have multiple views for coins earned for agents rather than the standard 60 days rolling period.
Täglich

für

Mehr als 2 Jahre

genutzt
Quelle der Bewertung
Preis-Leistungs-Verhältnis
5
---
InvGate is very easy to use for both helpdesk and end users. It doesn't try to be a Swiss army...
Organization, problem tracking, time management
Vorteile
Its simplicity. In looking at similar software packages I found that there were just too many features, too many things crammed into one software. I also found them to be very inflexible, wanting you to run your help desk their way. Their support has been great.
Nachteile
My only problem is that although InvGate supports SSO through Office 365, they do not have an integrated app within MS Azure. Several other service desk software's do and it makes the login by end users seamless. There is little documentation on how to set it up and it took a little trial and error to get it working so that users can click the "Log In with Office 365" button but it would be so much nicer if there was an Azure app so that it could be added to the O365 launch pad and clicking on it took you right into the service desk.