Über Hiver
Hiver ist laut Hersteller der erste Helpdesk, der für Google Workspace entwickelt wurde. Hiver hilft Teams, einen schnellen und einfühlsamen Kundenservice zu bieten, und zwar direkt über das Tool, mit dem sie bereits vertraut sind: Gmail. Das bedeutet, dass Kunden-E-Mails zugewiesen, verfolgt und an ihnen kollaboriert werden kann, damit fortschrittlichste Analysen und Automatisierung über die Gmail-Schnittstelle ausgeführt können, ohne Zeit für das Erlernen einer neuen Software oder das Wechseln von Registerkarten zu verlieren. Hiver verfügt über alle leistungsstarken Funktionen eines Helpdesks, wie E-Mail-Tags für gemeinsam genutzte Posteingänge, automatische Zuweisung zur Verteilung von E-Mails an Teams im Rundlauf-Verfahren, E-Mail-Vorlagen und Analysen zur Verfolgung aller wichtigen Kennzahlen aus dem Kundenservice. Mit Kollisionswarnungen können Nutzer Benachrichtigungen erhalten, wenn jemand auf eine E-Mail antwortet, um doppelte und widersprüchliche Antworten zu vermeiden. Hiver ermöglicht es Managern, Vereinbarung zum Servicelevel und Geschäftszeiten einzurichten und die Kundenzufriedenheit zu messen, indem sie eine kurze Umfrage am Ende von E-Mails senden. Die Lösung bietet einen sicheren Kundenservice von Gmail und aktiviert Gespräche zwischen Menschen, ohne E-Mails zu speichern. Hiver unterstützt jede Art von Unternehmen, von innovativen Start-ups bis hin zu traditionellen Unternehmen wie Canva, Lonely Planet, Flexport, Pluralsight, Oxford Business Group und Upwork.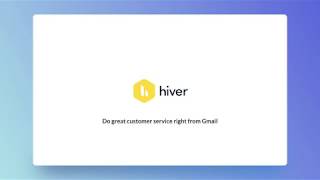 Hiver bietet keine Gratisversion, aber eine kostenlose Testversion. Die kostenpflichtige Version von Hiver ist ab 15,00 $/Monat verfügbar.
Startpreis:
15,00 $/Monat
Kostenlose Testversion:
Ja
Branche: Informationstechnologie & -dienste
Unternehmensgröße: 11–50 Mitarbeiter

Täglich

für

Mehr als 2 Jahre

genutzt
Quelle der Bewertung
Preis-Leistungs-Verhältnis
5
---
Hiver has been a game changer our account management team!
Vorteile
Hiver has made it so much easier for our client-facing teams to collaborate with each other and better serve all of our clients' needs. Everybody can see all the emails coming in, leave internal notes for each other, mark emails as pending/closed, use templates...the list goes on. It's been a huge game changer!
Nachteile
I wish we could use Hiver for even more. Everything about it is great, including amazing customer service, and so now I want to get rid of our other software/integration app providers and just use Hiver exclusively.
Gründe für den Wechsel zu Hiver
Hiver integrates with Gmail right in your inbox so you don't have to have multiple windows and apps open at the same time. It's all in one-place and it's affordable!
Branche: Übersetzung und Lokalisierung
Unternehmensgröße: 2–10 Mitarbeiter

Täglich

für

Mehr als 1 Jahr

genutzt
Quelle der Bewertung
Preis-Leistungs-Verhältnis
5
---
Hiver is the absolutely best Shared Inbox service and helped us optimizing our workflows by...
We tried several providers of Shared Inboxes and we ended up staying with Hiver for the solely reason that they choose to focus on the core aspects of mail management and not various other features, that businesses at our size usually use other Sales or Project services for. We have used Hiver for more than a year now and it has so far saved us from hundreds of hours by providing us with a great overview and management of all incoming mails/task to be taken care of. The service is not the cheapest on the market, but it's absolutely worth every penny. Hiver has given us the opportunity to work more effective, close deals faster, collaborate better resulting in overall higher turnover since we started using the tool. It integrates smoothly with G Suite and we would highly recommend this tool for any business.
Vorteile
The mail management part is alfa omega. Its the core of this service, that makes it stand out from competitors. This tool allows you to manage hundreds of mails weekly without losing the overview. It integrates smoothly with G Suite, so are you already comfortable with Gmail, then you cannot miss Hiver!
Nachteile
Setting rules for the automations could be optimized to handle more criteria and it would be great to be allowed to bulk add email adresses instead of manually adding one by one. It works though and its great.
Warum Hiver gewählt wurde
Gmelius had too many bugs. I wrote the support constantly and many of the features I needed were still on their roadmap. I believe Gmelius is a great mail management tool, but they need more development before they are able to compete with Hiver.
Gründe für den Wechsel zu Hiver
We tested all products out and evaluated them on the same criterias. Ease of use, integration, features, core focus and Hiver scored highest apparently.
Täglich

für

1-5 Monate

genutzt
Quelle der Bewertung
Preis-Leistungs-Verhältnis
1
---
Awful experience!!! After integrating this tool, my clients stopped receiving my emails.
None. Hiver completely derailed our operations at a period of peak media coverage.
Vorteile
Hiver features initially seemed great. I was eager to make use of their promised benefits. Unfortunately, Hiver completely halted our operations for over a week and lost us a great deal of business. Throughout it all, their team was unapologetic and dismissive of the role that Hiver had in derailing our email communications with clients. Rather than seeing this as an opportunity to resolve and repair clear technical defects, they blatanly blew off our repeated requests for support.
Nachteile
I tested out many collaborative email tools before deciding to go with Hiver. I was impressed by the intuitive design, canned response functionality and mobile app. Unfortunately, several days after installing the tool, we began to suspect that our clients were not receiving our emails consistently. I reached out to Hiver several times over the course of a few days and received no response. This lapse in email functionality coincided with some significant and favorable press coverage - our site traffic was nearly double what it normally was - and yet we went for 10 entire days without a single new client at a time when we would normally have 10-15 new clients typically. I tried for an entire week to engage help from the Hiver team. They insisted - and continue to insist- that their tool does not impact email sending functionality. I would beg to differ. As soon as I uninstalled Hiver, my communications with clients returned to normal. On a final note, to top this off, my team and I are 3 women. When we called Hiver's India-based support team, they were loudy making obvious, derogotary remarks about our being female and unable to understand their tool - calling us 'Dumb Blondes'. Highly inept and unprofessional team. Also worst nightmare for a growing startup!
Branche: Immobilien
Unternehmensgröße: 11–50 Mitarbeiter

Täglich

für

6-12 Monate

genutzt
Quelle der Bewertung
Preis-Leistungs-Verhältnis
4
---
First Year of Hiver
I have been very pleased with Hiver in our first year. It has really added some great features to Gmail and once we can get everyone on board I imagine we'll gain even more benefit from it. I am very happy with the service and would definitely recommend it. It has great potential when used to the fullest!
Vorteile
I really liked the fact that emails can be added to a shared mailbox and everyone on the team will be able to see them. This makes it much easier when we change team members, as they can be added and will see all the email history. We no longer have to save emails that are worthy of archiving, as they are automatically filed nicely and accessible by the current team - with attachments in place! I really didn't like when you forwarded an email and you needed to reattach the attachments - We can now just add an email to the shared inbox and the new user can see everything as though they were there all along!I also really like the automations - As much of our email traffic is fairly routine, and we can use this to automatically route emails appropriately - And tag them automatically for metrics/analytics!Additionally, the fact that it integrates into Gmail is great, as we looked at competitors, but I didn't want to have another login with more emails. The fact that everything in one place was the major selling point for me
Nachteile
The most difficult part of Hiver is our internal training - As getting everyone to use it as desired can be difficult. I can imagine everything working perfectly in my head, but getting the whole team on board has been the issue. I also wish we had more bulk features - Such as bulk tagging, bulk status updates, bulk tag adding, etc. Although your support team has been great!
Branche: Marketing & Werbung
Unternehmensgröße: 11–50 Mitarbeiter

Täglich

für

Mehr als 1 Jahr

genutzt
Quelle der Bewertung
Preis-Leistungs-Verhältnis
5
---
Easy Email Management
Great overall experience that has helped us become more efficient and communicate very effectively.
Vorteile
Hiver is a great way to manage a shared inbox efficiently and integrates easily with Gmail. Our team is able to assign emails, share notes, and easily see a chain of communication ensuring all incoming enquiries are dealt with quickly and efficiently.
There are easy ways to set up template copy too, accessible to the whole team.
Nachteile
No cons, it's good to be aware that once an email is assigned to a staff member, you won't see this email thread again unless you actively search for it.