Über Bitrix24
Bitrix24 ist ein Online-Arbeitsplatz für Unternehmen und Organisationen aller Art und Größe. Die Plattform beinhaltet über 35 Social Collaboration Tools für schnelle Kommunikation, produktive Projektarbeit und effiziente Kundenbetreuung. Sie können Bitrix24 über Ihren Browser, die mobile App (iOS und Android) oder die Desktop-App (für Mac, Windows oder Linux) nutzen. Bitrix24 ist bereits bei über 10 Mio. Organisationen im Einsatz, wahlweise als Cloud- oder On-Premise Version erhältlich und im Free Tarif für eine unbegrenzte Nutzeranzahl kostenfrei. Gehostet in Deutschland und DSGVO konform. Der Preis wird bei Bitrix24 nicht pro Nutzer berechnet. Diese fortschrittliche Plattform vereint leistungsstarke Module, die ein gesamtes Spektrum an Tools für Zusammenarbeit anbieten: - CRM: Leads, Kontakte & Unternehmen, Aufträge, Angebote & Rechnungen, benutzerdefinierte Pipelines, Automatisierung von Geschäftsprozessen, Online-Marketing, Online-Formulare und Geschäftsanalytik; - Projektmanagement: Arbeitsgruppen (Projekte) mit Aufgaben, Kalendern, Drives, Wissensbasis, Chats und Videoanrufen; - Personalverwaltung: Abwesenheitslisten, Dienstpläne, Arbeitsberichte, Mitarbeiterverzeichnis, HR-Workflows, Persönliche Daten und Analytik; - Zeitmanagement: Kalender, Zeiterfassung, Online-Stempeluhr, Tagesplaner, regelmäßige Berichte; - Dokumentenmanagement: Onlinebearbeitung von Dokumenten, Drives mit flexiblen Zugriffsberechtigungen, Versionierung, Integrationen mit Box, Dropbox, Google Drive, Microsoft OneDrive; - Websites: visueller Website-Builder, Onlineshops, Landingpages, Domain & Hosting, über 100 branchenspezifische Vorlagen, Cookie-Zustimmungen, CRM-Integration, Online-Formulare und Live-Chats. Das Zusammenspiel aller Tools & Features macht Bitrix24 zu einer idealen All-in-One-Lösung. Andere Apps für Kommunikation und Zusammenarbeit werden überflüssig, da alles an einem zentralen Ort zur Verfügung gestellt wird.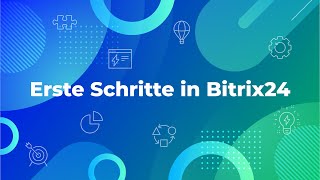 Bitrix24 bietet eine Gratisversion und eine kostenlose Testversion. Die kostenpflichtige Version von Bitrix24 ist ab 61,00 €/Monat verfügbar.
Alternativen für Bitrix24
Branche: Marktforschung
Unternehmensgröße: 2-10 Mitarbeiter

Wöchentlich

für

Mehr als 2 Jahre

genutzt
Quelle der Bewertung
Preis-Leistungs-Verhältnis
5
---
A Strong CRM for Growing Businesses and Sales Teams
Bitrix24 is a great CRM for advanced users and professional sales teams and marketers. For new users, it's important to highlight the learning curve to achieve the maximum results with this platform.
Vorteile
Bitrix24 has an extensive CRM module, where we can track and store the data we need about our leads and clients. Even though Bitrix24 offer other modules like Websites builder, the CRM is the feature I like the most about this great app.
Nachteile
Me and some members of my team felt Bitrix24 user interface was a little bit overwhelming compared to other CRM platforms out there. I believe Bitrix24 user interface could be simpler.
Branche: Informationstechnologie & -dienste
Unternehmensgröße: 2-10 Mitarbeiter

Täglich

für

Mehr als 2 Jahre

genutzt
Quelle der Bewertung
Preis-Leistungs-Verhältnis
4
---
Crm ideal para automatizar formularios de citas y más
Vorteile
Lo mejor que tiene es que puedes incluir formularios con agenda de citas y cuando un lead llena el mismo se genera un perfil de cliente en forma automática dentro del crm, el cual es ubicado en el inicio de un funnel para su seguimiento.
Nachteile
No me gusta que a vi una vez en una reunión de trabajo con un cliente potencial que el chat del crm puesto en el ecommerce de una cliente no funcionaba correctamente.
Gründe für den Wechsel zu Bitrix24
Por qué su interfaz es visual completa e intuitiva, en cambio hubspot aburre verlo nomas, aunque es ponderable la gran biblioteca sobre inbound mkt que tienen ellos.
Branche: Informationsdienst
Unternehmensgröße: 201-500 Mitarbeiter

Täglich

für

Mehr als 1 Jahr

genutzt
Quelle der Bewertung
Preis-Leistungs-Verhältnis
2
---
Avaliação de usuário
Tem sido uma experiência ruim.
Vorteile
a visão de rede social. É muito importante ter uma visão agradável.
Nachteile
a complexidade para fazer coisas simples, e a gestão de tarefas não é tão fácil.
Branche: Bankwesen
Unternehmensgröße: 501-1.000 Mitarbeiter

Wöchentlich

für

6-12 Monate

genutzt
Quelle der Bewertung
Preis-Leistungs-Verhältnis
4
---
Bitrix24, a promising software in Business management.
CRM is the key element for any company to thrive in the digital world besides SEO (Search Engine Optimization). We cannot dig deep around it, since it is not our aim topic here. Just know that CRM is a tool that helps companies stay in touch with their clients by analyzing their needs to increase sales. Not only Bitrix24 has it. Microsoft, Salesforce, Zoho, to name just those, have it as well. I really like the fact that Bitrix24 has its own CRM integrated. We don't need to find another CRM tool elsewhere. It is very helpful because the software enables us to create a detailed database about our clients. This is a very promising product that needs to be improved. I think its whole potential is far from being completely unlocked. Meanwhile, before we have a new version, I globally enjoy this software.
Vorteile
First of all, what is Bitrix24? It is a multi-operations software that enables multi-tasking, from: Creating business sites, automating sales, and project management with rich communication features. That's why it is called the "All-In-One". The things that I like about this software lie in its essential tabs on the dashboard:
- The Activity Stream from which we can see the employees of a given project with whom we can interact through chats (both video or text) or comments; there's a comment section actually for the different projects. While writing, we can share files and use emojis;
- The Employees tab presents the organizational chart with the names of all the employees. And, we can organize it as we want by adding new members or removing some, creating different Departments, and sharing the roles. This makes team management very efficient;
- The Tasks and projects tab that permits us to create tasks and manage the different teams working on them. What is even cooler with this tab is that Bitrix24 gives us an Analytics kind-of-feature that shows in real-time the performances of the different projects, the timing from the beginning to the ending planned, the ongoing tasks, the completed ones, and the total;
- The CRM which stands for Customer Relationship Management. What is adorable with the CRM of Bitrix24 is that we have a whole tab dedicated called CRM, and it is actually very intuitive to use: We can add our clients' names, their contacts, and some notes about them.
Nachteile
2 things that are less-likable:
- The custom support is sometimes hard to reach. They take a long time to reply to our emails. This can make us feel lonely facing some bugs we would like to report and get the help we need;
- The price is too high for small businesses. Bitrix24 charges USD61 /month (from time to time we can have sales dropping the price) for an entry-level; while softwares like Zoho charges only USD12/month.
Branche: Gastgewerbe
Unternehmensgröße: 51-200 Mitarbeiter

Täglich

für

Mehr als 2 Jahre

genutzt
Quelle der Bewertung
Preis-Leistungs-Verhältnis
5
---
Bitrix24 Review
All in all, Bitrix is quite useful as it enhances collaboration and makes file sharing easy
Vorteile
Recurring tasks and processes can be automated. Collaboration has increased in our workplace, which has improved our workflow and productivity.It is compatible with a variety of business management services.
Nachteile
the network drive sometimes does not connect even with reasonable internet strength.
Gründe für den Wechsel zu Bitrix24
We wanted a platform that can easily integrate with most of our systems, which is also cost-effective and allows collaboration