Über Oracle Aconex
Oracle Aconex ist eine cloudbasierte Betriebsmanagementlösung zur Verwaltung von Informationen und Prozessen zwischen Unternehmen bei komplexen Bau- und Ingenieursprojekten. Die Funktionen schließen Dokumentenmanagement, Workflowautomatisierung, Angebotsmanagement, Problemmanagement, Übergabemanagement und Kontrolle der Projektkorrespondenz mit ein. Aconex bietet auch BIM-Dateimanagement (Building Information Modeling) und Prozesssteuerung, Vor-Ort-Besichtigungen und Problemmanagement sowie die Erstellung und Verwaltung von digitalen Betriebs- und Wartungshandbüchern. Als cloudbasierte Lösung ermöglicht Aconex den Projektmitgliedern, Dokumente und andere Projektinformationen von jedem Ort aus zu erstellen und zu bewerten. Das schließt RFIs, Zeichnungen, 3D-Modelle, Verträge, Berichte und mehr ein. Ein Echtzeit-Dashboard ermöglicht es den Nutzern, ihre KPIs festzulegen und wichtige Aktivitäten von einem einzigen Bildschirm aus zu überwachen. Die Lösung unterstützt auch die Integration von Anwendungen Dritter, die es den Nutzern ermöglichen, Daten innerhalb von Anwendungen gleichzeitig zu synchronisieren. Aconex unterstützt Bau- und Konstruktionsprojekte in verschiedenen Branchen, ist aber in erster Linie für die Bereiche Ressourceneigentum, Konstruktion, Architektur, Ingenieurwesen, Generalunternehmen, öffentliche Aufträge, Schwer- und Straßenbau sowie Bergbau, Leistung und Öl- und Gasunternehmen gedacht.
Was ist Oracle Aconex?
Oracle Aconex ist eine intelligente Lösung für das Dokumentenmanagement im Bau- und Ingenieurwesen, mit der du den gesamten Projektlebenszyklus der Außendienstverwaltung effizienter gestalten kannst.
Wie verwendet man Oracle Aconex?
Aconex-Nutzer wählen eines oder mehrere BIM-Modelle für Bauentscheidungen aus und verwenden diese, um Tausende von Dokumenten in jedem Prozessschritt des Projekts zu verwalten und dabei die Kontrolle und den Überblick zu behalten.
Wer verwendet Oracle Aconex?
Oracle Aconex wird im gesamten Bauwesen verwendet, von der Konstruktion über Subunternehmen, Vor-Ort-Besichtigungen bis hin zu Projektmanagement.
Wie viel kostet Oracle Aconex?
Oracle Aconex gibt keine Details zu den Preisen öffentlich bekannt. Wende dich direkt an Oracle, um Informationen über den Einstiegspreis und die verfügbaren Tarifangebote zu erhalten.
Verfügt Oracle Aconex über eine App?
Aconex ist eine cloudbasierte Lösung, die von den meisten gängigen mobilen Geräten unterstützt wird und über den Apple App und Google Play Store zugänglich ist.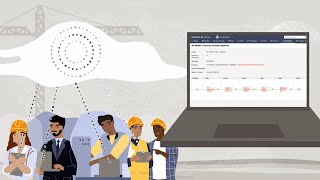 Oracle Aconex bietet keine Gratisversion.
Startpreis:
Nicht vom Anbieter bereitgestellt
Kostenlose Testversion:
Nein
Alternativen für Oracle Aconex
Oracle Aconex Erfahrungen
Branche: Bau
Unternehmensgröße: 51-200 Mitarbeiter

Täglich

für

6-12 Monate

genutzt
Quelle der Bewertung
Preis-Leistungs-Verhältnis
5
---
The Effective Solution for Project Sheduling.
The process reports creation is quick and very useful and the tracking of various projects transactions and expense is very effective.
Workflow and task management and also safety management using Oracle Aconex is excellent and productive.
Vorteile
Oracle Aconex delivers the best project management experience and incredible resource planning and accurate project budgets and estimates.
It allows easy sharing of Engineering and Construction documents and other files across multiple project Engineers.
Ability to monitor employees activities, effective time and cost management product and easy to start using.
Nachteile
This Oracle management product has all easy features and easy to set but the training to those new to Oracle Aconex can take some time.
Branche: Immobilien
Unternehmensgröße: 501-1.000 Mitarbeiter

Täglich

für

Mehr als 1 Jahr

genutzt
Quelle der Bewertung
Preis-Leistungs-Verhältnis
4
---
Oracle Aconex for Large Scale Construction
With aconex, its really easy to handle this large scale project. Without aconext it wouldve taken ages to submit approve and construct everything
Vorteile
The project I'm working in is Cinnomon Life. Which us a 1.2Billion USD Multi Purpose Real Estate Project in Sri Lanka.
In this project there are hundreds of Sub-Contractor companies working under the main contractor.
Without Aconext I dont know how we couldve handled all the drawings and Documents.
Its easy to use. Super easy to store and find documents. You can keep track of everything.
Nachteile
Since its web based. Speed depends in the quality of the internet connection. Takes a bit of time to download larger files
Gründe für den Wechsel zu Oracle Aconex
Because its easy to handle and worth the value
Branche: Unternehmensberatung
Unternehmensgröße: 11-50 Mitarbeiter

Täglich

für

Mehr als 2 Jahre

genutzt
Quelle der Bewertung
Preis-Leistungs-Verhältnis
2
---
Aconex is sold as a complete Project Management tool, it is far from that.
Vorteile
This is a Web Based application that can be accessed via any internet connect as well as mobile access. Reports can be set up for individual use or organization use for all users. They are trying to update features in workflows to be closer to Bluebeam. My direct Support contact is very responsive and always willing to help.
Nachteile
There are several cons, you do not have the ability to do bulk changes to date field and clear the date completely. Workflows does not allow multiple comments per sheets, it bulks them all together as one comment. The comments need to be tracked/closed individually and when its all bulked together that is not possible. There are certain fields that are listed Print Size why can't this be turned off? Mail does not currently have workflows. Mail is hard to run reports, you need to do it from Inbox and sent to get all necessary information. Workflow Comments is only available to vie in workflow, this should be visible in the document registry. Markup tool is not user friendly.
Branche: Architektur & Planung
Unternehmensgröße: 11-50 Mitarbeiter

Täglich

für

Mehr als 2 Jahre

genutzt
Quelle der Bewertung
Preis-Leistungs-Verhältnis
5
---
All the project management tools you'll ever need in one convenient location
Oracle Aconex has eliminated the need for us to switch between many programs in order to manage projects effectively. Aconex helps us keep submission data up to date and easily locate the files we need. Aconex by Oracle Inc. Aside from saving time and money by eliminating the need for a plethora of paper forms, we've also seen an increase in the timeliness of responses to submissions from various project stakeholders. This has allowed us to stay ahead of schedule and avoid numerous delays that would have otherwise occurred due to slow approval processes.
Vorteile
Construction projects can benefit from Oracle Aconex's ability to bring together project owners, consultants, prime contractors, suppliers, and other stakeholders under a single platform that allows them to share and manage tasks and project documents effectively. This platform is ideal for managing construction projects. Oracle Aconex's direct link to Primavera makes it easy for me to view the authorized schedule and all submissions and records. I can also discuss updates with my coworkers. As for the RFI and delivery requests for works and materials, as well as the numerous old protocols involving all parties involved in the project, I enjoy how we minimize a lot of procedures and ensure quick approvals. Using Oracle Aconex, we can provide detailed data and manage project funds more effectively.
Nachteile
One of the most frustrating aspects of working in a team is that you have to teach every new member because not everyone has the same ability to learn how to work effectively in a short period of time.
Branche: Immobilien
Unternehmensgröße: 501-1.000 Mitarbeiter

Täglich

für

Mehr als 2 Jahre

genutzt
Quelle der Bewertung
Preis-Leistungs-Verhältnis
4
---
Oracle Aconex for Industrial Projects and Professional
Since my organization is using this software, I have been also a user of this more than two years.
As an Engineer, everyday I get Aconex notifications to my outlook which is very helpful for me to get an idea of them before opening the Aconex. Since there are thousands of documents and emails, it is difficult for me to memorize everything. Therefore open and read in Aconex is easier than memorizing them. I normally use Aconex to send documents to other organizations since it is a secure medium.
I highly recommend Aconex to any organization and professional.
Vorteile
Oracle Aconex is a sophisticated Software platform to communicate and store documents securely for any scale of a project. Large number of users can be added and use it at the same time is one of the major advantages. Inbuilt Aconex email function which can also be linked in to outlook is an added advantage. One other thing I like most is that the user can preview and verify a document before downloading it. Documents in Aconex can be exported into an Excel sheet saves the time. Workflow function in Aconex allows to check the hierarchy of reviewing the documents. It also allows the user to sort the documents according to date, organization and etc. Those are some of the appreciative features I experienced in this software.
Nachteile
Expensive License is the major drawback I see in this software.
One other thing I noticed is, user has to write the name of the document using exact letters as per the documents' name, otherwise, it shows "no results found". Like google it doesn't suggest the words while typing.